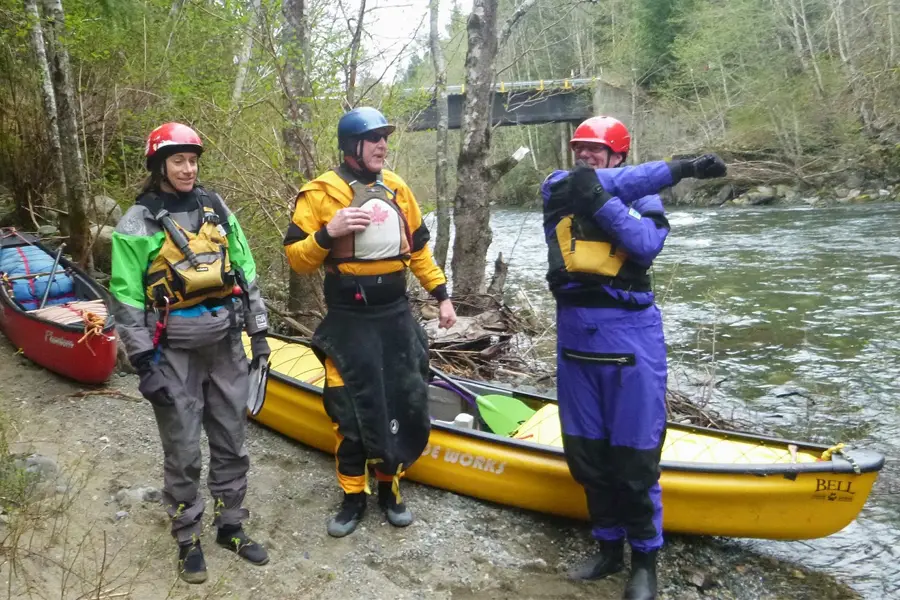 Kayak Helmet Reviews
Gone are the days where there was only one type of kayak helmet; it was made of plastic and came in a couple of different colors. Today there's a whole rainbow of colors to choose from and a number of different materials. Finding the style that works for you is as easy as asking yourself whether you need it to match your kayak! Every model is designed to protect your head from all kinds of unwanted impact. Any version that has a nice, hard outer shell, soft foam lining, and durable strap that keeps the helmet snug is going to work just fine. The only real distinction that you'll be dealing with is between a full cut or a half cut helmet. The full cut definitely offers more protection for the head, but if you desire something a little less cloying then the half cut (which sits above the ears) is a better bet.
Most Popular Kayak Helmet
Vihir
Vihir is the leader in producing quality kayak helmets, and the only instance where you'll need their super-deluxe Rocker Full Face is if you're kayaking down waterfalls. If you're not a total daredevil, this standard Rocker helmet will definitely provide you with all the protection that you need. The wonderful combination of thermoplastic and carbon fiber makes the shell nice and soft at the crown and more rigid at the sides for tougher impact. The lightweight EPP foam that lines the inside keeps your head cozy and safe at all times. These materials combined offer ample protection for versatile impacts that range from heavy, low-speed hits to high-speed knocks. The fit is perfect and the helmet always stays secure. The water drains out quite quickly and it's marvelously adjustable to all different skull sizes. There's also a fantastic 2 year manufacturers warranty attached to the helmet, so you know that if it doesn't work for you, you didn't waste your money.
Great for creeking, big water, and rougher conditions
CE EN 1385, class I-IV (whitewater) certification
2 year manufacturers warranty
Coolmax liner never makes you feel overheated
– Anthony Dawson
Best Overall Kayak Helmet
NRS
When you're hitting the rapids, the most important thing, apart from a lot of excitement, is safety. This NRS Havoc Helmet provides everything you need to hit the whitewater with confidence and security. This is a great one-size-fits-all helmet that fits securely on almost any adult head. Thanks to the ratchet-adjust DialFit system, you can custom fit the helmet to your needs with a simple twist of the knob. The chin strap is ultra comfortable, and will never budge, even under the hardest impact. This helmet is one of the comfiest that you can find because of the Plush FIT pads that reside at key contact points of the skull. There are 10 different ventilation and drainage points that ensure that the helmet never gets bogged down with water, and your noggin never overheats. The lightweight ABS plastic shell is ultra durable but still easy to wear, with no unnecessary neck strain. In other words, you'll never feel like you're wearing a motorcycle helmet.
DialFit, ratchet-adjust system
One size fits all adults
Adjustable chin strap
Superior drainage and ventilation
– Anthony Dawson
Best Budget Kayak Helmet
Shred Ready
There are some people that love a gentle kayak ride down a tranquil river, and then there are others that like to paddle down a waterfall. If you're an extreme kayaker, then you need extreme protection, and the Shred Ready Fullface helmet is just about as much protection as you can get. In fact, the only other option that provides this much safety is to sit on your couch and watch a movie about kayaking. The ABS-injection-molded shell with face mask is only made more tough by the multi-impact molded EPP liner. You can take a serious blow with this helmet and live to tell all your friends. There's no chance that the Standard is going to move out of place, thanks to the perfectly placed plush fitting pads and 2.0 Occipital Lock. Shred Ready is setting a new precedent for safety with this helmet, and other manufacturers are taking note. Whether you're an extreme sporting freak, or just a newbie that is completely terrified about the safety of rigorous kayaking, this helmet is the absolute perfect choice.
Molded shell with ABS-injection and sound holes for the ears
EPP liner is ideal for multi-impact situations
4-point retention system and 2.0 Occipital lock
Stainless steel hardware and nylon straps ensure safety and comfort
– Anthony Dawson
Kayak Helmet Buying Guide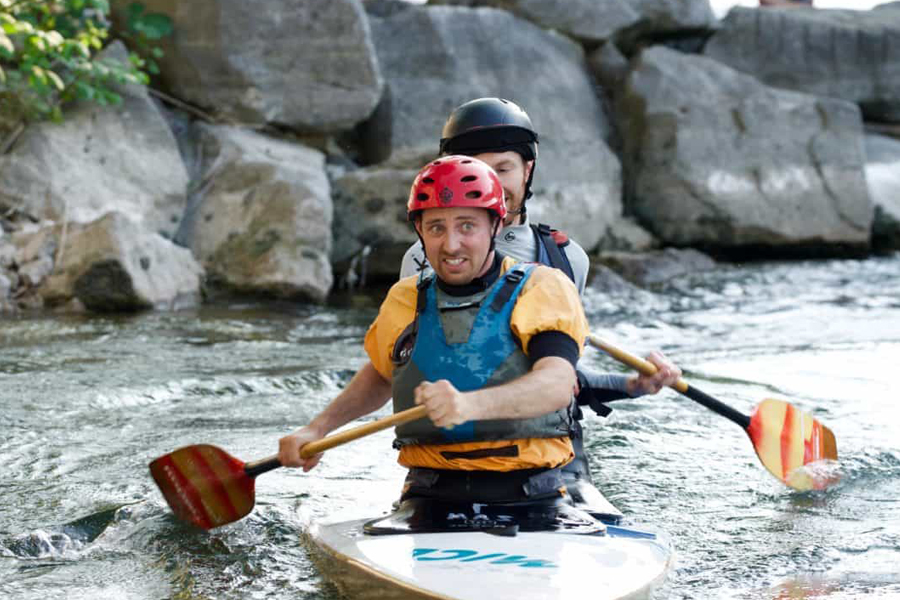 A helmet is a necessary piece of safety equipment that you can use for different activities, not only kayaking. However, it's vital that you find the right one to keep you best protected and that you remember to wear it every time you go out paddling.
Why You Need a Helmet When Kayaking
The primary purpose of a helmet is to protect your head from serious injuries. A helmet can save your life if you fall overboard or capsize. Therefore, you need to know how to wear it correctly.
Head injuries can cause brain damage and even death. You can reduce these risks by wearing a helmet that will absorb any impact.
Accidents can happen in any sport. In kayaking you may roll, capsize, fall out of your kayak or even be pushed into the rocks by strong water. A helmet can increase your chances of survival in case of a serious accident.
Types of Helmets
There are three types of helmets.
1. Half-cut Helmets
These helmets only cover the head and not the ears. They are ideal for various water sports such as kayaking.
2. Full-cut Helmets
These helmets offer more protection as compared to half-cut helmets. They cover the head and the ears to provide more protection. Full-cut helmets are suitable when paddling in cold weather because they provide insulation. However, you should not use this helmet when paddling as a group because it reduces your hearing ability.
3. Full Face Helmets
These helmets offer maximum protection for extreme sports such as whitewater kayaking. They protect your head, ears, and the face, including jaw. Full face helmets are suitable for people who kayak in dangerous places where there is a high chance of being involved in an accident.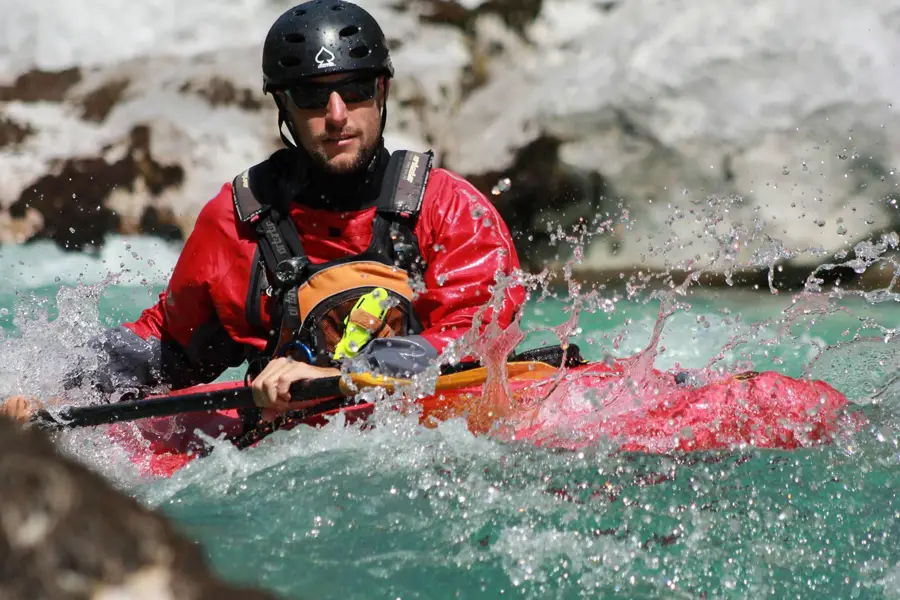 Things to Consider When Buying a Helmet
• Color
The color of the helmet is crucial, especially in a rescue situation. Helmets with bright colors like red, pink, yellow, and orange are more visible than dark-colored ones. Rescuers will be able to locate you in case of an accident.
• Drainage
Kayaking helmets usually have ventilation holes to allow water to drain out in case you end up in the water. Also, these holes let in air to prevent sweat from building up.
Some helmets don't have these ventilation holes. Such helmets are not suitable for kayaking since they can't drain out water if you dive into the water.
• Reflective Stickers
Reflective stickers enhance visibility. They ensure that you are visible even in low light, particularly in the event that rescuers are using flashlights to locate you.
Highly visible stickers are beneficial, especially on dark-colored helmets. You should, therefore, add some reflective stickers if your helmet is grey or black. It will help you to be noticeable in the water.
• Size
It's necessary that you find a helmet that fits your head perfectly. Most helmets have adjustments that can help you secure your fit to prevent the helmet from moving. The helmet should remain intact even when pushed by the force of water.
Your helmet should not move around your head. Some helmets have adjustable chin straps in front and behind the ears. These chinstraps hold the helmet in place. A good helmet should cover your entire head, including the forehead. It should also have an extension that covers the nose.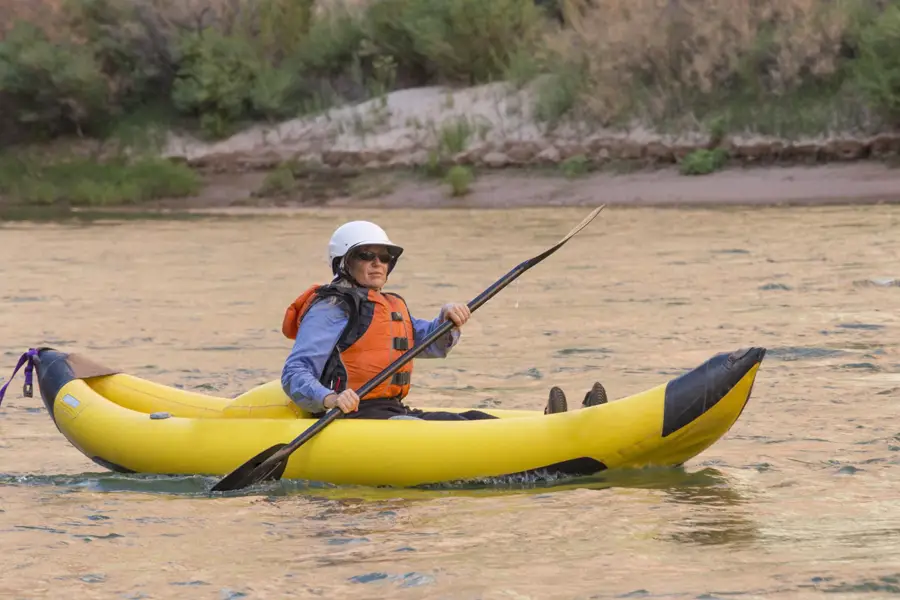 • Materials
Kayaking helmets are made using layers of materials. The outer layer is usually made of hard plastic reinforced with carbon fiber. The outer layer is designed to distribute the impact force throughout the shell.
On the inside, you will find a cell foam lining that absorbs the impact. It protects your head from damage. The layer closest to your head is made from a soft material that adopts the shape of your head. It makes the helmet more comfortable.
• Purpose
Helmets have different purposes, and you should look for a helmet that is specifically designed for kayaking. The helmet should protect you while on water. Whitewater helmets are buoyant than other helmets. You should, therefore, choose a mask specifically for water sports. Don't go paddling with a helmet designed for different sports.
Conclusion
A good whitewater helmet should fit perfectly on your head and also protect your head from injury. It should be comfortable and visible to enable the rescuers to notice you in case of an accident. When buying a helmet, you should ensure that it's suitable for kayaking.