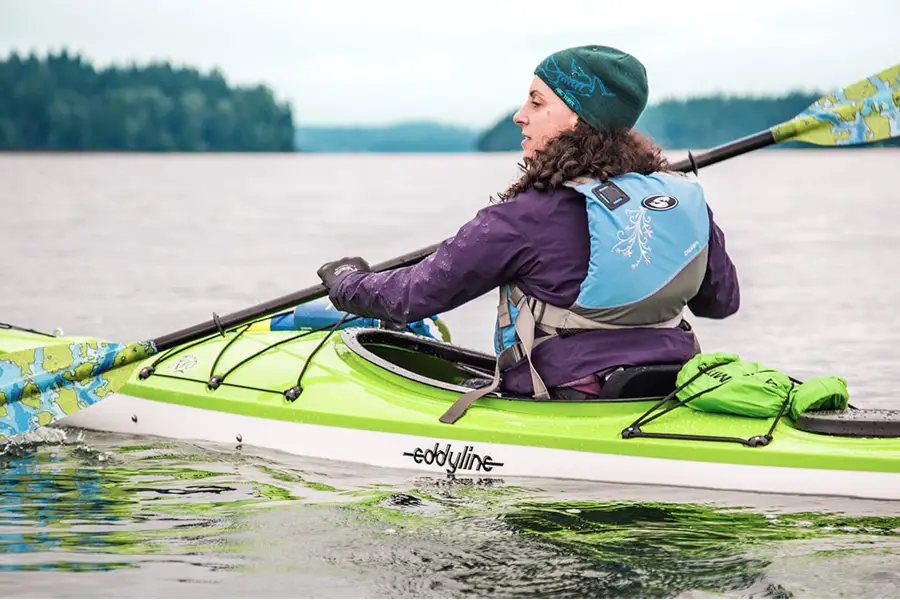 Kayak Jacket Reviews
The Fall and Spring are tremendous seasons for paddling, and taking in the rich colors of leaves and blossoms, but it can be quite chilly during these months. Not only is paddling in the cold uncomfortable, but it can be quite dangerous for your health. Being submerged in frigid waters will drastically decrease your body temperature, and this leads to cold incapacitation, cold shock, as well as hypothermia. Reducing the contact of cold water to your skin is the safest way to paddle, and you do this by finding the right kayak jackets to preserve your important body temperature. The right jacket will be waterproof, and provide insulation from the elements. There are a number of different styles and colors out there to suit your tastes, and there is a whole range of prices, from the very expensive to the more economical. Whether it's freezing cold outside or just slightly chilly, make sure that you find a kayak jacket that keeps you safe and protected at all times.
Most Popular Kayak Jacket
Stohlquist Waterware Long Sleeve
The Stohlquist Splashdown is a great way to protect your delicate skin from the sun, wind, and chilly waters. The design is meant to be exceptionally breathable and comfy to wear. A sprayshell like this is ideal for medium wet conditions while paddling, sailing, or touring on the open waters. The micro-denier is in the Supplex style, and it's lightweight, waterproof, and breathable, with a nice cottony feel on the inside. You won't have to worry about the clammy build-up of moisture inside this shell. The jacket is incredibly versatile and comes with a nice, affordable price tag. The exceptional waterproof quality comes from nylon 220T tactel technology, with crinkle PU inside the shell. Also, the Teflon DWR surface treatment makes this shell tough and durable in a number of paddling conditions. The final touch is a micro fleeced collar that keeps the cold and moisture out, while being comfortable and cozy around the neck.
High quality nylon
Waterproof 220T Tactel fabric with Teflon DWR surface treatment
Collar lined with plush micro fleecing
Bungee waist cord lock for adjustability
Handy chest pocket compartments
– Anthony Dawson
Best Overall Kayak Jacket
Onyx
If you want a waterproof, breathable shell that can stand the test of time, then Gore-Tex's innovative PacLite paddling jacket might be the thing for you. Produced by Onyx, one of the leaders in paddling jackets, this shell is super lightweight and provides years of durability. The fit is quite comfortable, and it's designed to fluidly move with your body for all your paddling motions. The seated seams provide extra defense against any moisture making its way inside the jacket. The cuffs and wrists are adjustable and gusseted, so there's no chance of water making its way in there either. There's a handy zippered sleeve pocket that is self-draining should any moisture find its way in, so you won't be left with pockets full of water when the day is done. Something to note about the placement of this pocket is that you can still get things from it when you're wearing your lifejacket.
Double layer waterproof and breathable GORE-TEX PacLite shell
Adjustable and gusseted collar and wrists to seal-out moisture
Bungee drawcord waist is another effective seal against water
Protects against sun and wind
– Anthony Dawson
Best Budget Kayak Jacket
Stohlquist Waterware Jacket-Sea Touring
Similar to the Torrent SS design, the Torrent Long Sleeve jacket has a nice adjustable skin-in neck feature, as well as customizable neoprene cuffs for the ultimate in comfort and protection. The waterproof and breathable fabric is provided by Eclipse technology. The cut and design of this jacket are meant to be roomy and casual. If you're not a fan of the paddling jackets cut for a tight, athletic fit, then this design might be more up your alley. Great for adding layers underneath or wearing on its own. All in all, the jacket is exceptionally well made and looks modest but stylish. Please note that it is perfectly waterproof, however, not insulated. If you need extra protection from frigid temperatures it is best to buy an insulated liner to wear underneath this. This is a great way to stay perfectly dry during a day of paddling, all while feeling like your skin can still breath-in the ocean air.
High quality nylon
Great pull-on closure
Superior waterproof breathability with 2.5 Layer Eclipse
Inner lining for added comfort on the skin
Adjustable neoprene wrist and neck enclosures
– Anthony Dawson