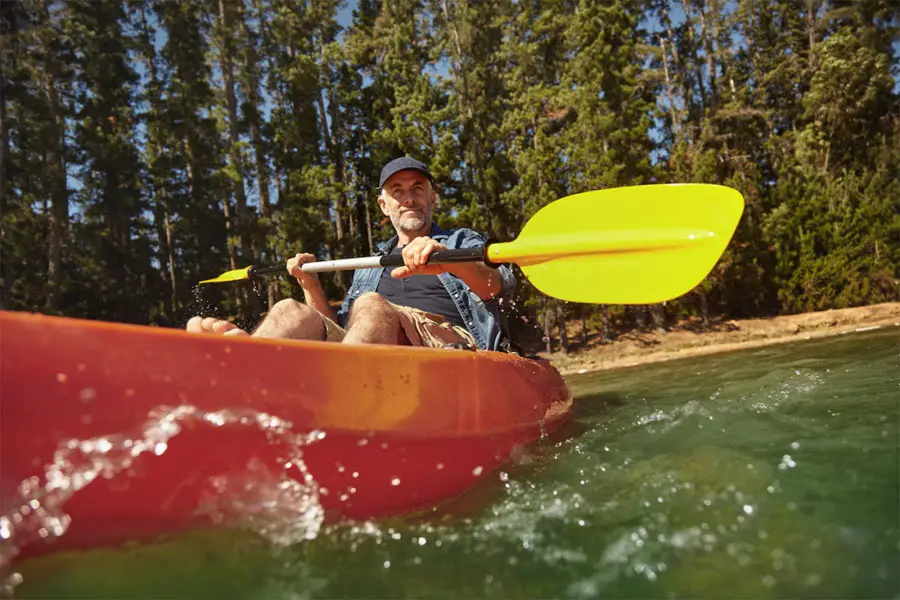 Kayak Paddle Reviews
Kayaks have come a long way over the years, but one element has always remained the same: the need for a quality kayak to make propulsion possible. The paddle a kayaker chooses makes a huge difference in his/her level of comfort and energy while out on the water. Kayak paddles come in lengths that range between 210 and 260 centimeters, and the correct choice depends on the user's height, style of paddling, and length/width of the vessel. While lightweight paddles will obviously make paddling easier, the paddle's weight shouldn't compromise on its strength. Recreational and touring kayakers will likely want something moderately strong and lightweight, while whiter kayakers will find increased control in a stronger, more rigid paddle. Kayak paddles are most often constructed of fiberglass, carbon fiber, or some kind of nylon, aluminum, or plastic. They're blades can either be feathered, meaning they are offset at an angle, or non-feathered and positioned along the same plane. Most modern blades have a wing-like asymmetrical dihedral shape that allows for a smoother flow and less energy consumption. The shafts are either oval or round shaped, the former of which offers more comfort, and many can be broken down into two or four pieces for compact storage.
Most Popular Kayak Paddle
SeaSense
Though not a kayak paddle, the 84-inch SeaSense Canoe Paddles are highly functioning paddles that will take you and your canoe to all the same places as you would in a kayak, and beyond. The paddles come in a set of two aluminum shafts with T-handle ends for a dynamic grip and more accurate steering. The handles are made of a lightweight yet highly durable aluminum that won't slow you down or wear you out on long outings on the water. The lightweight plastic blades are double riveted into the handle as to not come apart, and the black color keeps them discreet when flowing in and out of the water. Each paddle is about 84-inches long, making them easy to operate for all ages and skill levels.
Set of two, lightweight aluminum paddles
T-shaped handle allows for a custom grip and helps with steering and tracking
Lightweight, black blades stay low-profile in the water
Two-piece handle construction breaks down for easy storage in the boat, car, or shed
– Anthony Dawson
Best Overall Kayak Paddle
Carlisle Paddle Gear
Available in 220, 230, or 240 centimeters in length, the Carlisle Magic Plus Kayak Paddle is lightweight, durable, and highly visible. The paddle's polypropylene blades are fiberglass-filled for added strength that doesn't increase weight, and are offered in bright colors like cloud blue, sunrise orange, and dark cherry. The blades are asymmetrical with a spoon-like shape to allow for a smooth, horizontal stroke that requires minimal energy. The wound fiberglass shaft offers balanced compromise between strength and flexibility to allow for smooth and powerful strokes that minimize stress and fatigue. All in all, the Carlisle Magic Plus Kayak Paddle is an equally lightweight and powerful paddle that's suitable for a variety of conditions; it will withstand all you throw at it without compromising your energy or strength.
High-impact, fiberglass-filled polypropylene blades are lightweight and resilient
Bright colors offer high visibility and a degree of flare
Wound fiberglass shaft is stiff enough to increase power and flexible enough to reduce joint stress
Available in 220cm, 230cm, and 240cm, each weighing a little over 2-pounds
– Anthony Dawson
Best Budget Kayak Paddle
Shoreline
At 96-inches in length, the Shoreline Marine Kayak Paddle disassembles into two pieces so you don't have to worry about finding extra space on your roof rack or truck bed for the entire length of the paddle. The paddle has drip guards beneath the blades as to prevent water from dripping down the shaft onto your hands and arms. The shaft has an adjustable, three-position system that enables each paddler to find a customized fit that matches his/her paddling style and reach. Raised foam grips integrated onto the system increases your comfort and reduces stress, but do not allow your hands to slip off when inevitably splashed with water. The Shoreline Marine Kayak Paddle has blades that are contoured as to maximize propulsion through the water, whether still or flowing and good paddle for kayak fishing.
Integrated drip guards designed to keep your hands and arms dry
Two-piece shaft breaks down for easy storage
3-position system allows each paddler to find custom grip
Comfortable foam grips help reduce hand fatigue
– Anthony Dawson
Kayak Paddle Buying Guide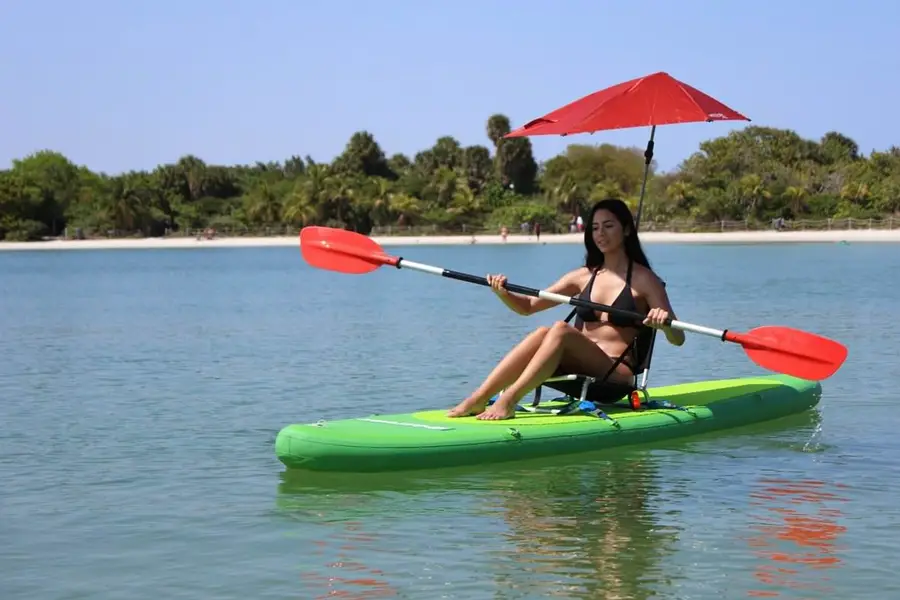 Having a kayak paddle with the right dimensions can make a huge difference when you are on the water. Regardless of the model or brand you purchase, a paddle that's too short will cause you to hit your hands on the walls of your kayak while paddling. On the other hand, a paddle that's too long will add more strain to your shoulders and cause zigzag movements while you have it in the water. It's essential to choose the right kayak paddle if you want a hassle-free adventure. Below are some top things to consider before purchasing a kayak paddle:
Things to Consider
1. Length
Choosing a kayak paddle with the right length is very easy if you know the width and height of your kayak. If your kayak is wider or has a relatively high height, you need a longer paddle. Your height is also an important aspect when choosing a kayak paddle. However, if you fall between 2 sizes, it's advisable to look for a shorter paddle. Your paddling angle also determines the paddle length to choose. Kayak paddles either have a low or high angle.
2. Blade Shape
When it comes to the blade shape, you'll have to consider whether you a high angle or low angle paddling style suits you. The low angle blade designs are long and narrow and are ideal for long distance paddling due to the comfort they have. On the other hand, high angle blades are wide and short and offer maximum power when paddling at a higher angle.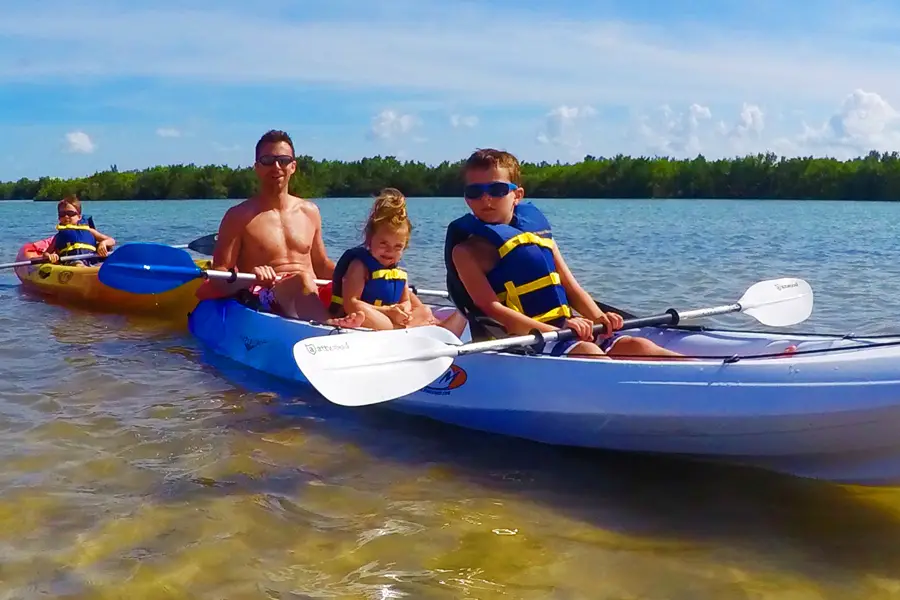 3. Dihedral vs. Spoon
These are the most common and popular shapes of kayak paddles you'll find on the market. However, most kayakers prefer dihedral blades due to their comfort. The major distinction between the two is that the dihedral blades have a ridge that runs across its center. This ridge is important since it helps an even flow of water over the blade surface, and thus preventing fluttering which makes paddling comfortable. On the other hand, spoon blades help in scooping water and provide a better bite. Their main downside is that they allow fluttering especially if your paddling style isn't perfect.
4. Asymmetrical vs. Symmetrical
The majority of kayak paddles are asymmetrical in shape and the bottom edge of the blade is shorter than the top. This is essential and assists in maintaining even water pressure on both the top and bottom of the blade and also prevents twisting of the shaft. On the other hand, symmetrical blades are mostly found in non-kayaking paddles although they can also be used.
5. Material Used
The material used to make a blade determines its weight which translates to better performance. The lightweight materials reduce fatigue when paddling. Different kayak blades are made using different materials which include plastic, fiberglass and carbon fiber.
Plastic/Nylon Blades
These are the cheapest kayak paddles and are mostly chosen by recreational paddlers. They're not much flexible, and thus they don't allow snapping. However, this lack of flexibility sacrifices stroke efficiency when in water to some extent. Their only downside is that they can easily crack especially when left in the scorching sun.
Fiberglass Blades
They've got relatively higher prices compared to the plastic blades, and they offer excellent performance. They're durable and lightweight than plastic blades. They also don't crack easily and are efficient in the water.
Carbon Fiber Blades
If you're able to cope with the high prices and top performance blades, you should invest in carbon fiber blades. They're ultralight and are excellent for energy transfer on your stroke.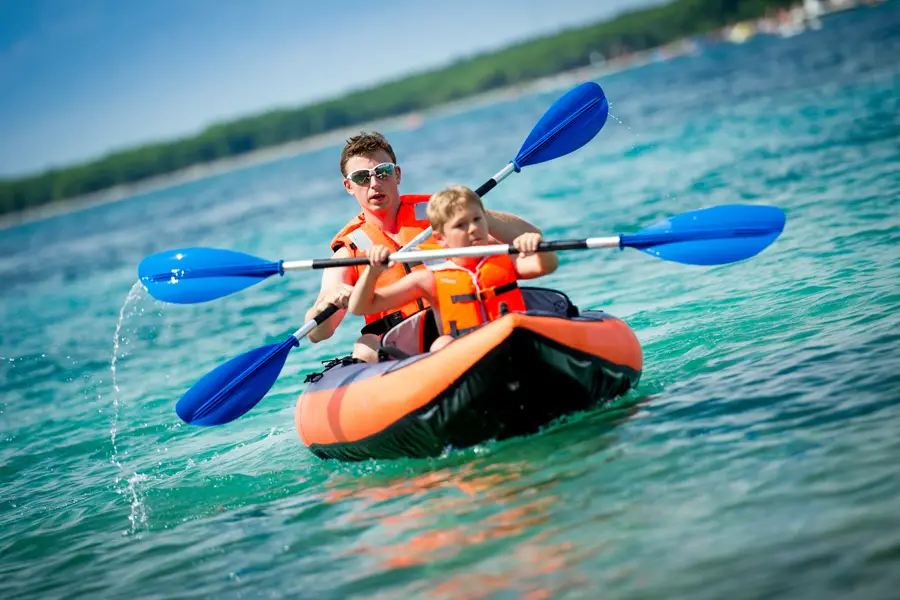 6. Shaft Design
There are different shaft designs of kayak paddles to choose from as follows:
Straight vs. Bent Shaft
Straight shafts are straight as the name suggests. On the other hand, bent shafts usually have a kinked section which gives your hands a more comfortable position and angle when paddling.
Small Diameter Shafts
These prevent fatigue by providing an excellent grip on your hands. They are ideal for people who can't touch their thumb and index finger right away when grabbing a paddle.
7. Price
Different kayak paddles come at different prices depending on the price, quality, and material used. You shouldn't always go for the cheapest ones because they won't last for long. It's essential to check out for online customer reviews before buying a kayak paddle.