Kayak Shoe Reviews
Buying water shoes used to be a simple task, because there was really only one kind to choose from. Today, there's a great proliferation of water shoes on the market that offer all the support and ergonomic innovation that you need to not only keep your feet dry, but also to provide support and comfort for troubled soles. With all the different models and colors out there it can be difficult to choose which kayak shoes to purchase, but it really comes down to how often you paddle, and how much you want to spend. If you're in the water constantly, then splurging on high-quality shoes is really a good idea. There's nothing more uncomfortable, and unsanitary, than soggy feet. The ideal shoe will provide protection from moisture, but also offer the support you need to wear them all day inside, and outside of the kayak. There are some tried-and-true, trusted brands that are a sure-bet.
Most Popular Kayak Shoe
Kokatat
Kokatat is one of the most trusted names in kayak gear, and these Kokatat Scout neoprene shoes offer all the moisture protection and comfortable support that you need for a long day out on the river. They're designed to be super lightweight, and their zipper-less design makes them easy to slip on and off. The neoprene is high quality, and 3mm, double-lined for extra protection. The medium thickness and vulcanized rubber outsole are great for traction, as well as the added benefit of a vulcanized toe cap and heel counter. A perfect day on the water means not only kayaking, but getting out of the boat and doing some hiking. These are some of the only shoes on the market that are accommodating for both activities. What you want to focus on when you're paddling down a serene river are the beautiful sites and the immense pleasure of being outdoors. What you don't want to be focused on are your soggy, uncomfortable feet.
High quality neoprene, 3mm and double-lined
Outsole made of medium vulcanized rubber for ultra traction
Vulcanized rubber toe and heel add protection and stability
Vulcanized rubber toe and heel add protection and stability
Slip-on design
– Anthony Dawson
Best Overall Kayak Shoe
KOKATAT Portage
Water shoes for kayaking purposes are becoming more advanced and versatile, allowing for both protection while in the water and traction when on land. These Portage Neoprene kayak shoes from Kokatat are ideal if you're looking for the best of both worlds. It's the perfect creaking bootie, combined with wonderful traction on the outsole for walking on land. The fiberboard insert only adds to the tremendous comfort and stability of these water/land shoes. An innovative covered lacing system allows you to adjust the shoe to the precise volume that you need for the perfect fit. Because the shoe is designed to be so streamlined, there's no need to worry about any snagging hazards happening inside the boat. All in all, this is one of the most innovative shoes on the market, and a tremendous investment for those who love to spend a whole day kayaking, hiking, and walking around, without having to change your shoes.
Vulcanized rubber outsole, medium in weight
Stitch construction is glued and blind stitched
Adjustable lacing
Made of highest quality 3mm double-lined neoprene
Added protection from vulcanized rubber toe cap
– Anthony Dawson
Best Budget Kayak Shoe
NRS
These flexible, compact watershoes from NRS are perfect when you're looking for protection and warmth with a lightweight design. It's no fun to try to tuck your feet into a tight kayak if your shoes are a boat in and of themselves. The lightweight design helps you to feel like you have more room, and if you're boarding, you can actually feel like you're making contact with the board. The 3mm Terraprene insole is reinforced with titanium to ensure that your feet stay dry all day long. The textured rubber sole adds absolutely no bulk, but only protection and comfort where you need it most. The stretchy rubber bands run laterally, and increase the level of flexibility while keeping the shoe snuggly on your foot. Armor patches guard the upper part of your foot from impact and abrasion. These Kinetic Water Shoes are some of the best that you can find if you need a lightweight, stream-lined form of protection that has the durability to last you for years to come.
3mm neoprene
Rubber support bands
Glued and stitched seams
2mm plastic shim
Non-marking sole
– Anthony Dawson
Kayak Shoe Buying Guide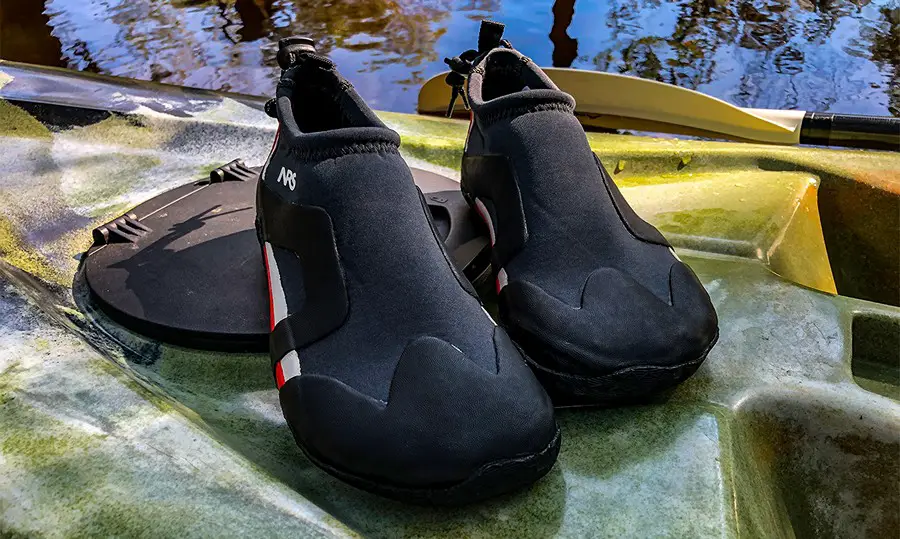 Kayaking is fun and has become a popular trend. There is something about being in the water that gives you a calm feeling. Best of all, it is enjoyable whether you're doing it alone or with other people.
However, to truly enjoy the experience, you must have the right gear. Kayak shoes are critical components because they keep your feet dry and comfortable when you are in the water. You also get to avoid the impact of the rough terrain that you will need to traverse while on your adventures.
Factors to Consider When Shopping for Kayaking Shoes
You will find many varieties, depending on your preference. You have the option of low-cut shoes that are excellent for hot or sunny weather. They have the main advantage of being lightweight, so that you stay comfortable throughout.
Ankle height kayak shoes offer better protection for your feet. You stay warm and have better protection for your sole. The third option is knee-high kayaking shoes which are excellent for cold water conditions. You get better waterproofing capabilities and better insulation due to their thickness. They are convenient for situations when you may need to wade through the water.
However, you need to ensure you get a pair that fits you well enough that there are no gaps. It will be uncomfortable for you if water enters the shoe and you have to stay wet for a long time.
You do not want to deal with uncomfortable shoes when you are trying to enjoy your kayaking. Look for a pair that fits you well. When trying on shoes, check that there are no gaps on the top or side because it will let in water. Think about your kayak casing and look for a shoe that compliments it. A good fit will ensure that your feet are flexible, and you have enough wiggle room for your toes.
You have the option of shoes that have straps and those without. The major advantage of straps is that you can adjust the shoe to fit you more comfortably. The disadvantage is that; if you are walking over specific terrain, the strap may latch onto a rock and trip you.
Pay attention to the size of the shoes you buy. You want something comfortable, which offers a natural feeling. It should have no gaps so that water cannot enter; you should also not constrict your feet.
If you are kayaking during winter, for example, consider purchasing knee-length boots. They offer better insulation and will keep your feet warm. If it is sunny, look for breathable, lightweight shoes so that your feet do not sweat.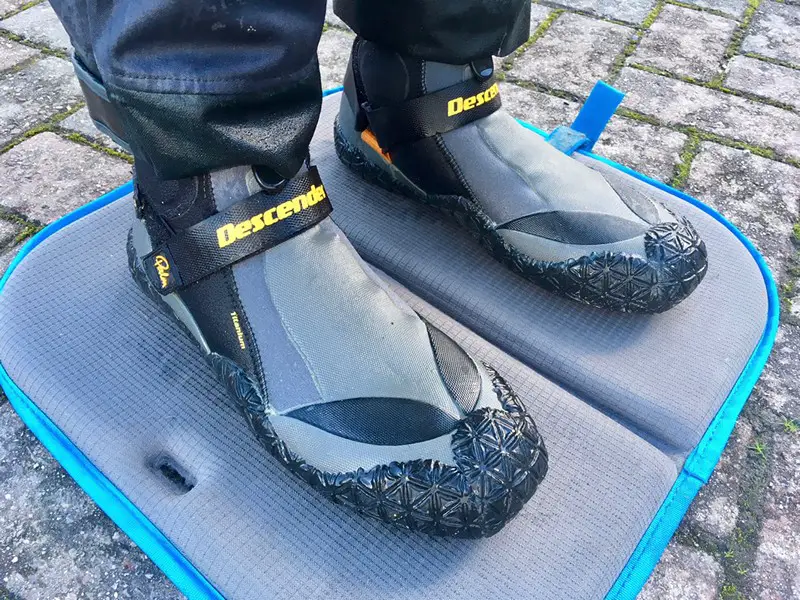 You will find many options with regards to the kind of material available in the different kayaking shoe brands. Most of them have neoprene as the primary material. It is excellent because it is lightweight, allows for flexibility, and is non-slip. Most importantly, your shoes will remain warm even in cold weather. Other brands have a mixture of titanium and neoprene. You get good quality, durability and optimal performance.
You also need a kayak shoe that has a sturdy sole and can protect your feet. Most are made of rubber, and have the added advantage of a good grip, no matter the terrain.
Kayaking conditions come with many different terrains. Some have sharp rocks, and you'll need a sole that is thick enough to give your feet enough protection. Other terrain has pebbles and smoother water, meaning you can buy shoes that are more breathable and lighter. However, the best option is to buy sturdy footwear that will remain comfortable in any kind of terrain.
We would recommend that you do not focus too much on the price. Rather, look for durability and optimal performance. You will find many options coming in at different price points. Determine what you want to spend only after taking in the factors we have highlighted above. Some brands are very comfortable, yet quite affordable.
Final Thoughts
Shopping for your kayak shoe requires that you pay attention to the material, durability, flexibility and performance. You want to be comfortable while giving your feet enough protection.