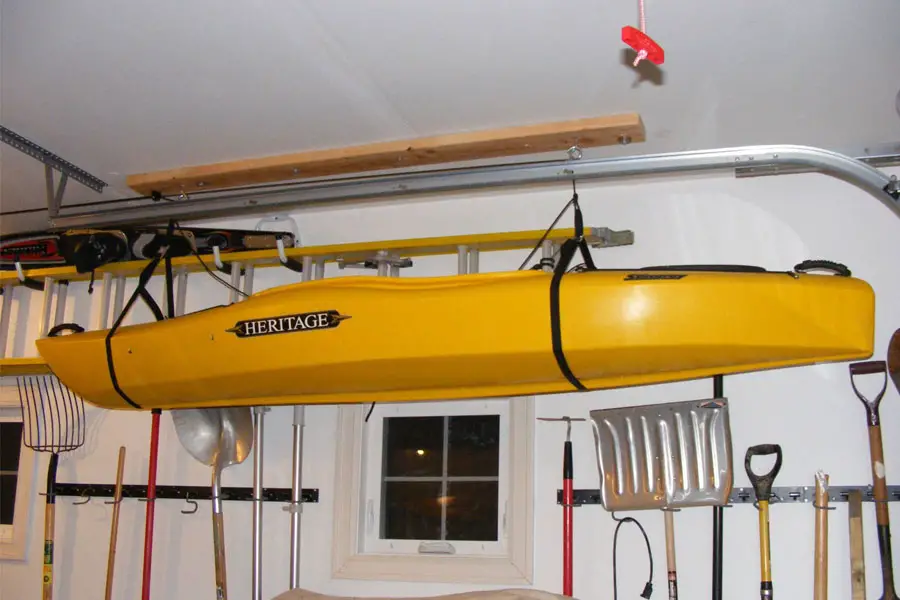 Kayak Storage Reviews
The best way to ensure that your kayak is going to stand the test of time is to store it properly. There's nothing more damaging to a kayak than hull distortion, and that's why storing it safely for either a full season, or even just a week, is of the utmost importance. Long-term exposure to sun and weather with tear the kayak down, and that's why it's best to store inside and above ground. What it comes down to is storing the boat so that the weight is properly distributed. The best method of storage is to hang the boat on its side, which is its strongest point. Laying the kayak improperly on a hard surface will only lead to a dented hull; and that's basically the end of your kayak. Suspending your kayak on UV webbing is the ideal form of storage, but lets be honest, most of us don't have the space for such a thing. The rest of us mortals look for hooks and shelves that can store the boat on its side inside an in closed environment.
Most Popular Kayak Storage
Mrhardware
Truly the most convenient and economical way to store your kayak is overhead or on a wall. The versatility of this storage equipment from Mrhardware is not to be overlooked. Thanks to the smooth pulleys and latches, you can customize where you store your kayak or canoe, dependent upon where you find the room. The rope locking mechanism keeps your treasured vessel safe at all times. The pulley system is incredibly easy to install, and will hoist a vessel up to 100 lbs, and the hooks are coated with rubber to prevent any unsightly scratches. The safe locking system is just another feature that prevents unnecessary release. Not only is this kind of storage great for kayaks, but it's ideal for canoes, ladders, and bikes as well. The entire thing is backed by a lifetime warranty and 100% money back guarantee. With that kind of insurance and versatility, this storage system from Mrhardware is a sure thing.
Rubber-coated hooks prevent scratching
Works for ceilings up to 12ft
No worrying about accidental release
Easy to use and install
– Anthony Dawson
Best Overall Kayak Storage
Seattle Sports
If you simply don't have the time to deal with mesh hammocks, pulleys, and wires, then this easy storage method from Seattle Sports might be perfect for you. There's no doubt that garage space is limited, and your kayak can't receive the same amenities as your car, so these handy wall-mount hooks allow you to store your kayak safely and out of the way. The Kayak Wall Cradles are incredibly easy to mount on the wall, and their lightweight powder-coasted steel makes them exceptionally durable and long-lasting. All the things that you need to install the mount are included, except the drill. The mounting lag bolts are built tough, and that means you never have to worry about your kayak taking a vertical plunge in the middle of the night. All in all, this is one of the simplest ways to store your kayak year-round, without the hassle and extra space that other storage features require.
Width: 14", Height: 24"
Lightweight steel that is strong and durable
Easy to mount
Comes complete with mounting lag bolts
– Anthony Dawson
Best Budget Kayak Storage
Gear Up
Storage straps are perhaps the most gentle way to keep your kayak in shape and out of the way when it's not in use. This storage system from Gear Up Hang-2 is one of the easiest strap systems to install, and provides the protection that you need for your treasured kayak. The straps are wonderfully adjustable, and they make it easy to quickly release and unload your kayak in a flash. The system works great, whether indoors or outdoors, and the straps can handle a 150 lb capacity. You have everything you need to install the system right out of the box, including heavy-duty eye bolts that allow you to adhere the mount to any ceiling or wall. Not only is this a lifesaver when you're storing your kayak, but it also works great for surfboards as well. There's no need to be intimidated about installing a strap-storage system, because this model from Gear Up Hang-2 is simple for even the most storage-challenged.
Works for mounting on either ceiling or wall
Perfect for kayaks and boards
Easy to install
150 lb capacity
– Anthony Dawson
Kayak Storage Buying Guide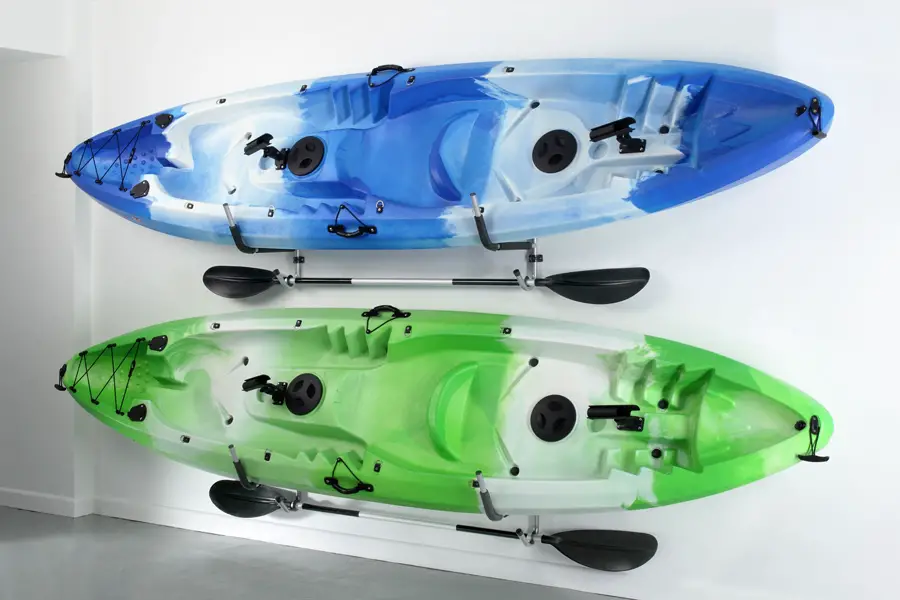 If you want your kayak to feel safe, and to last a long time, you should invest in a top-rated kayak storage system. Before you decide which storage system is best for you, take time to learn how racks, wall mounts and other storage methods can assist you in winterizing your kayak more easily. The racks provide solid structure storage that allows easy access to your canoe or boat. Most types of racks have space that can accommodate multiple kayaks. Some designs can store 2 or 3 kayaks while others can store even 6 or more kayaks. This type of storage is ideal for the outdoors and even the indoors where space isn't a limitation.
Points to Consider
On the other hand, there're wall mounts which are solid storage options that save a lot of space. You can easily mount your kayak to the wall of the garage, house, shed or basement and thus freeing up a lot of space. The other type of storage is the use of hoists which have a pulley to lift your kayak to the ceiling of your garage. Regardless of which type you choose, there're some top factors to consider before buying one as follows:
1. Garage Size
The size of your garage will determine whether you choose a hoist or rack storage solution. If your garage is small and doesn't leave much space that can accommodate your car and kayak, it's advisable to choose a ceiling storage solution. It's easy to use a hoist for lifting your kayak for storage. However, you must be certain that your garage's ceiling height is enough to store your kayak without any interference with your car. On the other hand, if you've got more space or your garage has a low ceiling height, you can consider storage racks which will be anchored into the wall.
2. Kayak Weight
When choosing a perfect kayak storage system, it's essential to determine the weight of the kayak. The weight will determine if it's safe to use a hoist system depending on the support offered by your garage structure or if a wall mounted rack would be a better option. The weight will also determine if you should look for an electric or manual lift system for easy lifting and storage of your kayak.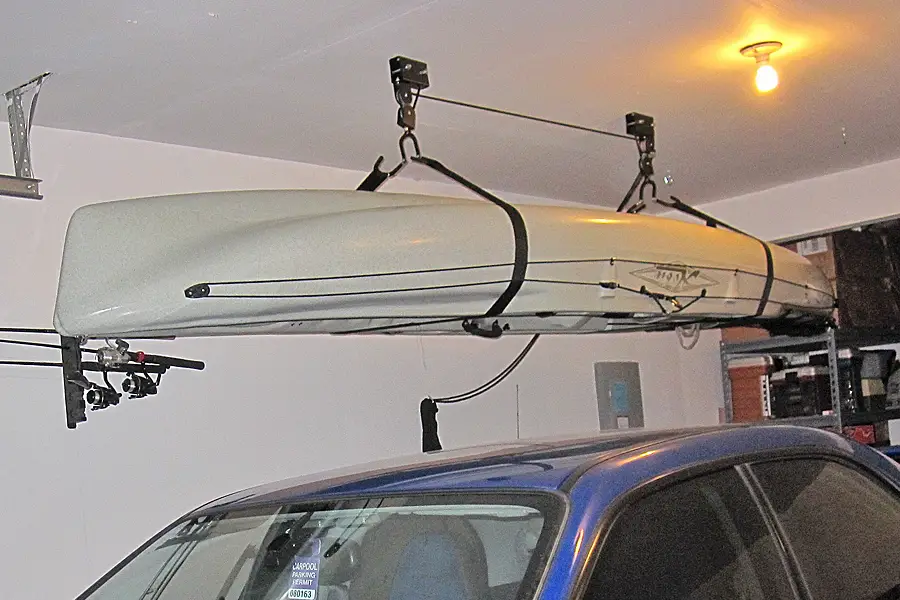 3. Electric vs Manual Lift System
If you decide to choose a kayak hoist storage system, you'll have to select between electric or manual lift systems. However, you need to understand that the electrically powered hoist systems are more expensive than the manual systems, although they're easier to store your kayak without exerting much strength when lifting. The only downside is that the electric system requires more maintenance and may sometimes malfunction.
4. Ease of Installation
When purchasing a kayak storage unit, it's essential to look at whether it comes with installation instructions or not, although the installation process may sometimes require basic knowledge. However, if you feel that you can assemble or install the storage system on your own, it's advisable to seek professional help. This is because improper installation can make your kayak to fall or cause damages to your car or other items.
5. Safety Locking Mechanism
If you decide to choose the hoist-style storage system, you need to ensure that a safe locking mechanism is available to prevent accidentally raising or lowering your kayak. The safety locking feature is essential for the user and the safety of the kayak. A good hoist storage system, i.e. Electric or manual should have this feature to prevent your kayak from accidentally falling when hanging in the ceiling.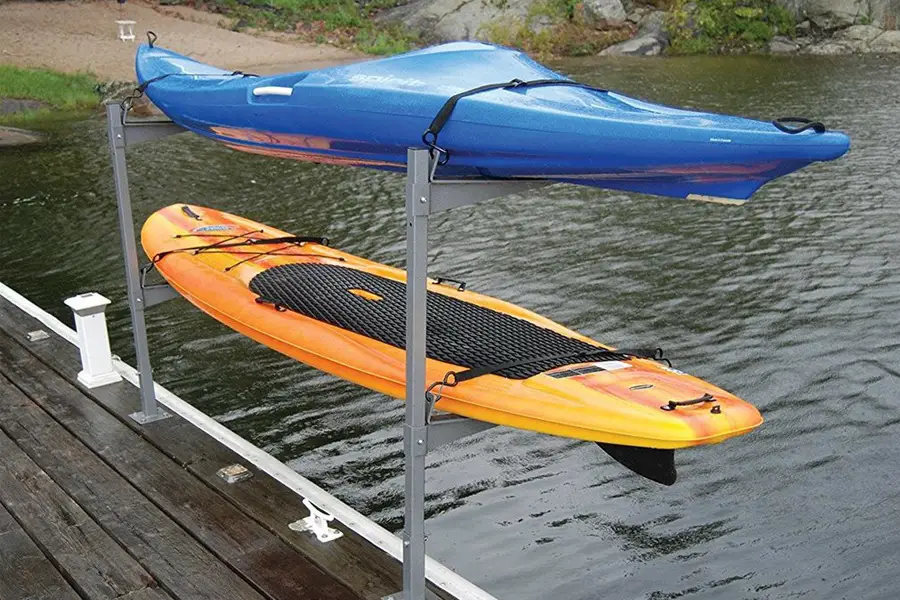 6. Price
Just like any other item, you'll need to consider price before choosing a certain kayak storage system. You should set a budget and stick to it when finding a kayak storage system. However, it's advisable to go through online customer reviews to distinguish between the trusted and untrusted brands and manufacturers. If you see many complaints from a certain brand or manufacturer, you shouldn't continue wasting your time there; move on to check on other websites what people are saying.
In conclusion, these are some of the top factors to consider before buying a kayak storage system. It's also essential to consider the attachment strength of the kayak storage system.