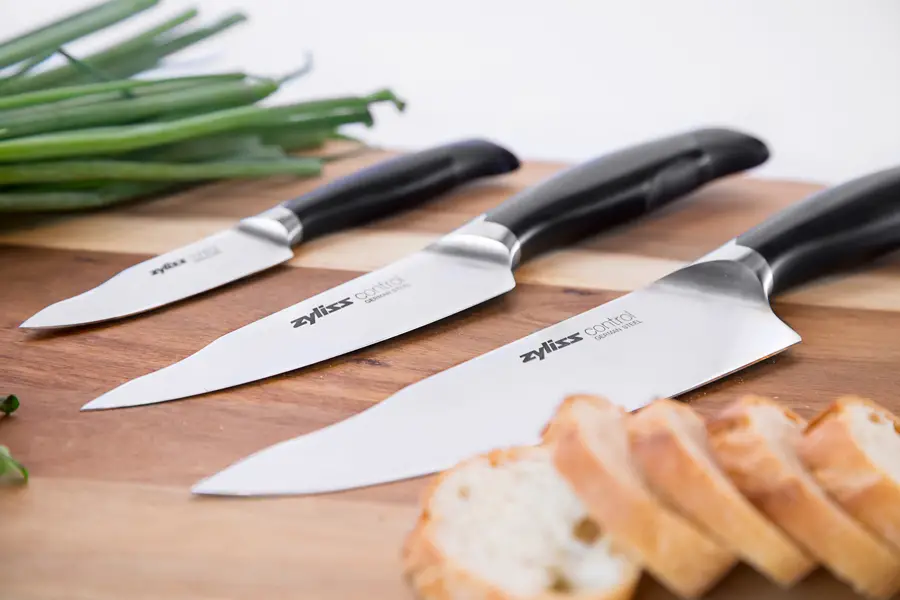 Kitchen Knife Reviews
When it comes to kitchen knives, there's no messing around. You need a no-nonsense knife set that gets right down to business with no hassle, is versatile enough to fulfil your every need and just keeps on working. Check out our selection below.
Most Popular Kitchen Knife
Chicago Cutlery
The sheer variety of tools contained in this set should be enough to keep any cooking enthusiast happy. The set includes a peeler, a parer, a utility tool, a partoku knife, a santoku knife, a serrated bread knife, a chef knife, a slicer, a sharpener, and 8 steak knives. All of this comes ensconced in a beautiful honey maple block. With the Chicago Cutlery Fusion 17-Piece Knife Set, you're not only investing in a useful collection for your kitchen, but your countertop will be aesthetically improved, too.
The knives are made from high carbon stainless steel. The carbon is instrumental in encouraging the metal to retain its shape for longer, which effectively means that your knives stay sharper for longer. Endless struggles with difficult-to-use knife sharpeners will be a thing of the past – but for the purposes of maintenance every now and then, your needs are still completely covered with the super simple knife sharpener included in the set.
Attractive-looking
Reasonable price
Great quality
Well-balanced
Stay sharp 
– Anthony Dawson
Best Overall Kitchen Knife
J.A. Henckels
If you're serious about investing in a high-quality set of knives for your kitchen, look no further than this set. The extensive variety of knives included in this set are as follows: 8 serrated steak knives, a parer, a serrated utility knife, a non-serrated utility knife, a santoku knife, a boning knife, a serrated bread knife, a chef knife, kitchen shears and steel sharpener. The collection is housed neatly in a lightwood storage block.
Comfort and control are key to the design of this collection of knives. The handles are crafted ergonomically for ease of use and are triple riveted for sturdiness. In addition, the silky smooth stainless steel blades further ensure complete precision.
Excellent quality
Sturdy in structure
Sharp
Reasonable price
Good variety
– Anthony Dawson
Best Budget Kitchen Knife
Ginsu
When it comes to kitchen investments, who better to trust in than a known, well-established brand? Enter Ginsu. They've been making knives for decades with fantastic results.
This knife set includes all the essentials and then some. It consists of a chef's knife, a slicing knife, a santoku knife, a boning knife, a utility knife, a paring knife, kitchen shears and six steak knives. Store your kitchen knives in style with the natural-look hardwood storage block, which has the added bonus of protecting your knives without blunting them.
Speaking of blunting, the knives are made of stainless steel which is known to be resistant to both blunting and rusting. The knives also make use of a unique technology which Ginsu calls "Always Sharp". The knives are constructed in such a way that each knife has a serrated pattern on both sides of the blade with the result that the knives never need to be sharpened. The symmetry of this design also makes these knives ideal for both right-handed and left-handed users.
Stay strong and sharp long-term
Great value for money
Easy-grip handles
Sturdy and attractive storage block
Variety in set
– Anthony Dawson
Kitchen Knife Buying Guide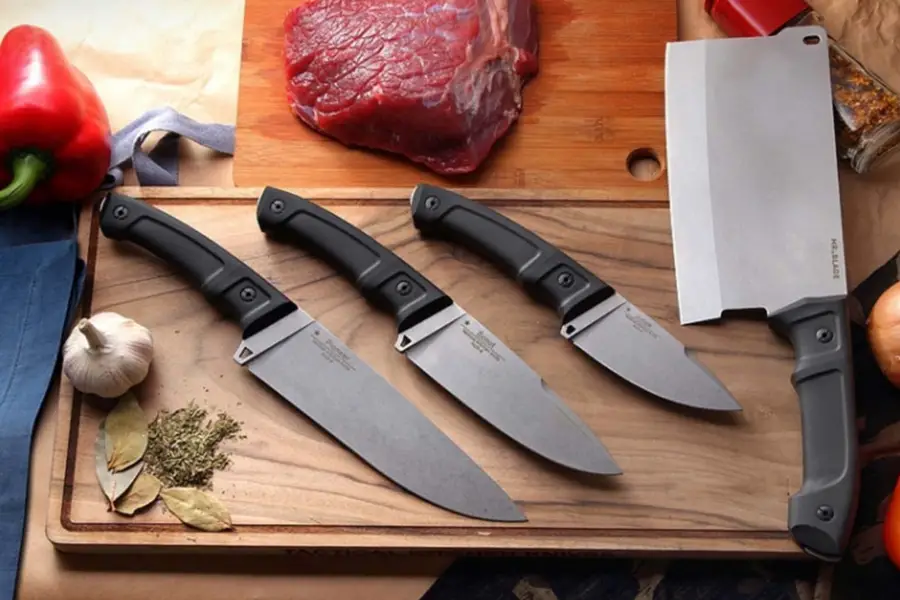 Among all the cooking equipment and kitchen utensils being used in preparing food, it is said that knives are considered as the most personal tool. They are normally used in the first part of cooking in preparation of ingredients.
Kinds of Kitchen Knife
Cutting, peeling, and carving are the primary duties of a knife. In each process, there is a particular kind of knife that should be used. If the wrong type is used, it may cause accidents like cuts and wounds. Listed below are the different kinds of knife used these days:
Chef's Knife – Considered as the most common knife, it is being used for slicing, chopping, carving, crushing, and precision cutting. The standard size of a chef's knife being used today measures 25cm; however, smaller versions of this kind are also handy.
Boning Knife – This knife has a very sharp and thin point that measures 12cm long. There are two types of boning knife: the one with a straight blade, and the other with an upward angle. There are no given differences in these two types of boning knife; it is more of the user's preference.
Cleaver Knife – Is one of the most expensive kinds of knife. It has a heavy, broad, and thick blade that is perfect for chopping bones.
Paring Knife – A small knife that measures 7cm used for cutting, trimming, peeling, and turning. With its size, it is also effective for making creative works such as food and fruit carving.
These are only a few of the commonly used knives these days. Other kinds perform a more specific role, but the kinds mentioned above can be used as an alternative.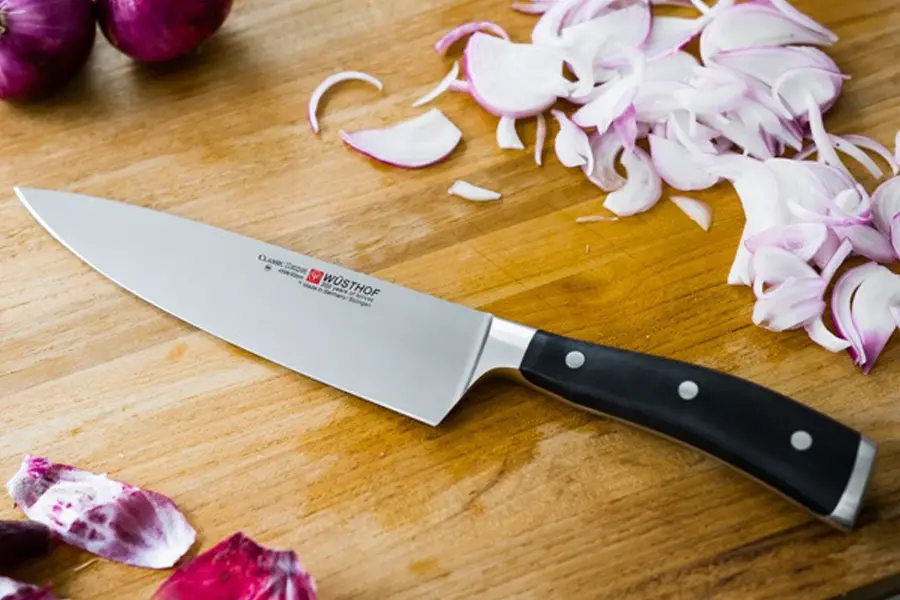 Buying the Right Set of Kitchen Knives
A lot of people consider cooking as their personal outlet. They call the finished product as their masterpiece, wherein they took control and all their preference is recognized. The right set of knives is very important to perform different tasks and also, with adding a personal touch.
Here are some things to consider when buying kitchen knives:
The cooking style and kitchen habits may help in identifying which types of knife are needed. Get oriented with the different kinds of knives and how they differ from each other. To save some money, try using alternatives.
Know the essentials. There should be at least 4 different kinds of knives in the kitchen. Based on research, the four most common kinds of knives are the chef's knife (for cutting and slicing), the paring knife (perfect for peeling), the slicer (for cutting cooked meat), and the utility knife (smaller version of a chef's knife).
Knives have different types of structure. Some people get confused with the terminologies such as forged, stamped, full tang, high-carbon, and more. Forged and stamped are the two most important terminologies that every buyer must know. Forged knife has the best quality. It is made from individual metal pieces, and is shaped under extreme heat. The stamped knife which is considered disposable has sharpened edges after getting tapped out in a sheet of steel. Its blade is lighter and more flexible, which makes it disposable.
The quality of steel is also significant. Since knives are used for food preparation, it is imperative that they are sanitized all the time. Regular steel, if not maintained consistently, is more likely to rust. Therefore, buying knives made up of stainless steel is much safer.
Choose the knife that comes with a bolster. This will help in balancing the knife, protecting the hands from accidental slips.
The safety of the user is the responsibility of handles. Buy knives with bare-wood, plastic, or rubber handles because these materials are the best for wet hands.
The budget also falls on the list. Avoid the common misconception of buyers that the more expensive an item is, the higher quality it has. Stick to the budget and get the best-quality knives that you can afford. If the budget is short, look for a knife that can be used in general.
Knives and the user need to have chemistry. Never buy a knife without having a chance of holding it, or at least try it out.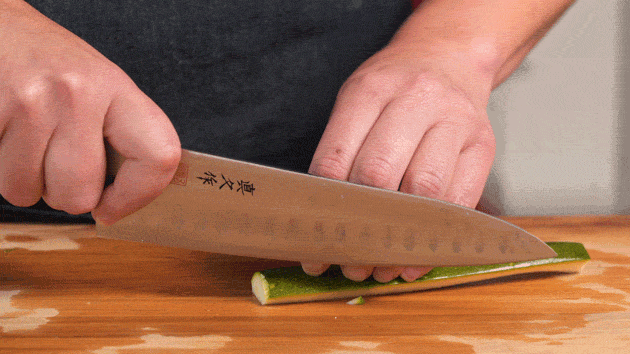 Best Places to Buy Kitchen Knives
Knives are like clothes. You should try them before deciding for a purchase. The typical place where knives can be bought is the department store. Some stores have specific tryout stations where buyers are free to slice, chop, and peel fruits and vegetables. Tryout stations are designed to encourage and convince the buyer with the knife's overall quality and performance.
Cutlery items are likewise available in online stores. Though there is no chance that the buyer can try it out, some online stores upload videos that will demonstrate how effective the knife is. While some says online buying is risky, online stores have fair terms and agreement in case problems exist. For example, the store owner accidentally shipped the wrong item. Some offer a discounted price to console the buyer from the inconvenience. Though this rarely happens, it still good to know that online stores have corrective measures that will satisfy the need of the customer.
Additional Tips for Buying Kitchen Knives
Falling for the marketing hype is prohibited from buying kitchen knives. It is the salesman's job to promote the brand they are selling, which is why asking for their suggestions and recommendation is a bad idea. Though they could not be blamed since they are only doing their job, a responsible knife buyer will never fall in the trap.
Brands, in general, are also responsible for misleading the buyers. Though expensive brands really have high-quality products, it does not mean that brands determine the overall performance of the knife.
The best way to get reliable suggestions is to do a research. A friend or a neighbor's opinion is safer than those of the sales people. Also, try to read consumer reviews over the Internet for better comparison. There are forums that specifically discuss about home products and this is more reliable.
To Sum It All Up
In buying knives, the safety, quality, and the price are the top things that should be examined. Since kitchen knives are known to be one of the most dangerous items used in the household, everyone should purchase the best-quality they can afford.