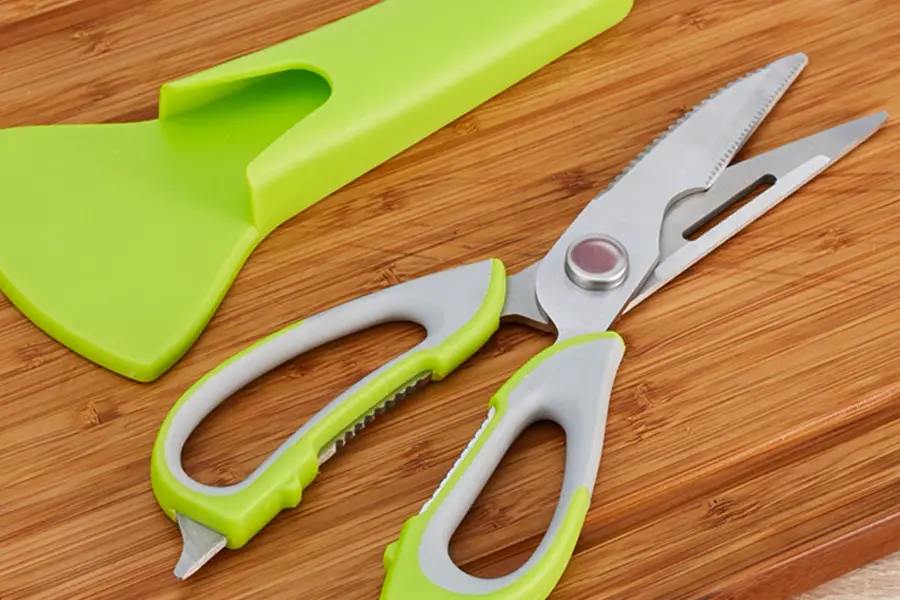 Kitchen Shears Reviews
If you haven't discovered the many uses for kitchen shears yet, you're really missing out on an excellent kitchen tool that you will never want to be without again, once you try them. Most people use sharp kitchen knives for cutting open bags and cutting chicken into pieces, etc, but a great pair of shears van make this job not only easier, but much safer too. Shears are much more durable than regular scissors and can handle cutting through small chicken bones with ease whereas regular scissors were not made for this type of use. A regular knife can slip and cause a pretty serious injury, especially if you get your hands messy or wet while you're using it. The shears below would all be an excellent addition to your kitchen cooking and preparation tools. Some of the many uses for kitchen shears include cutting herbs, making pita triangles, trimming crust off bread, slicing mushrooms, cutting whole chickens into pieces, cutting green peppers, cutting food into bite sized pieces, cutting dry spaghetti into smaller sections, and much, much more. You will be thrilled at all the jobs these excellent shears can take care of for you. It'll probably become one of your most used kitchen tools.
Most Popular Kitchen Shears
ZWILLING J.A. Henckels
You'll be all set for pretty much any kitchen cutting job with these kitchen shears from J.A. Henckels International. Whether it's cutting up a whole chicken or trimming crust from bread, you will enjoy the ease these shears provide. The stainless steel blades will never stain, no matter what you're cutting. The center area between the handle and the blade conveniently opens bottle caps and the serrated metal handle is great for cracking nuts and opening jars and bottles. The micro-serrated blade edge on one of the blades makes it much easier to use these shears and prevents dangerous slipping, even when your hands are wet. These kitchen shears come with a limited lifetime warranty. These shears can be washed in the dishwasher but J.A. Henckels International recommends that hand washing be used to preserve the life of the blades much longer. A great pair of shears to add to your kitchen tools.
Lifetime limited warranty
Stainless steel blades are long lasting
Handle area opens bottle caps
Corrosion resistant
Versatile and useful for most kitchen cutting jobs
– Anthony Dawson
Best Overall Kitchen Shears
Wüsthof
Get ready to cut anything from carpet to food with these 8" kitchen shears. High carbon stainless steel blades are curved inward so the cutting action you have is smooth and precise. One of the blades are serrated which gives security to the cut and prevents slipping. These well balanced shears are great for left and right handers equally. The shears can be taken apart for resharpening and cleaning if needed. They are dishwasher safe too, although hand washing will preserve the blades longer. You can even unscrew bottle and jar caps with the steel tooth inserts that are located in the synthetic handles. These shears are truly an all-around kitchen tool that you will use repeatedly.
High carbon stainless steel blades are durable and long lasting
Handle can be used as a jar opener
Take apart for easy sharpening
Dishwasher safe
Great for left and right handed cooks
– Anthony Dawson
Best Budget Kitchen Shears
Messermeister
If you're looking for a great pair of shears to help make your kitchen cutting jobs much simpler, than you have found them! These excellent take apart kitchen shears have been rated number one by many gourmet magazines but you don't have to be a gourmet chef to get a lot of use out of them. Made of long lasting stainless steel, they provide many different functions including a screwdriver, jar lid opener, bottle opener and bone cutter. (as in chicken bones) they can also be used for opening cooking bags, skinning chicken, trimming vegetables, cutting herbs and flowers and much more. Equally easy to use whether you are left handed or right handed. These shears come apart for easy cleaning and resharpening as well. They're dishwasher safe too!
8" stainless steel blades are long lasting
Take apart design for easy cleaning
Also has screwdriver, nut cracker, bottle opener and jar opener functions
Dishwasher safe
Easy for left handers or right handers
– Anthony Dawson
Kitchen Shears Buying Guide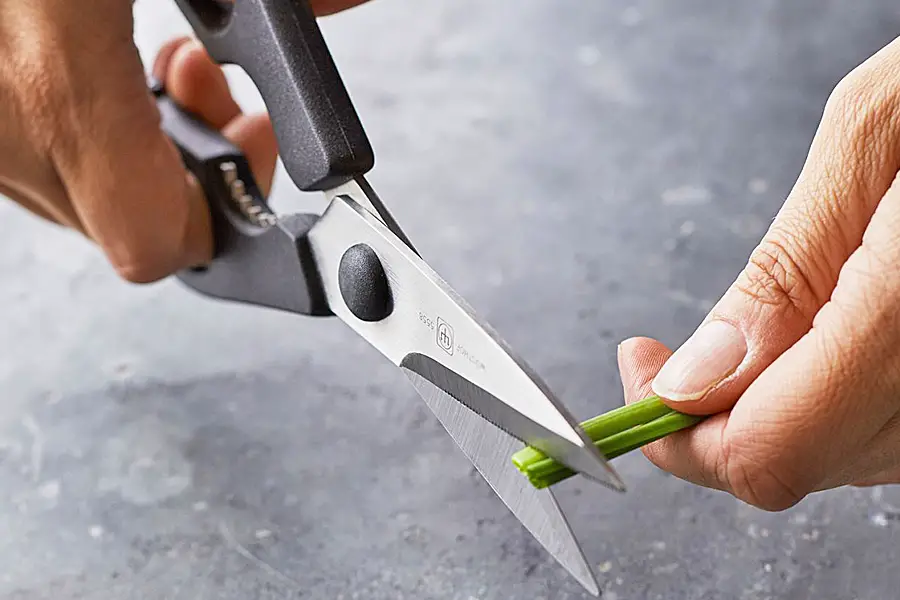 Every kitchen should have a pair of kitchen shears for convenience. This kitchen tool can help you carry out various tasks quickly and conveniently. You may not know it, but shears make food preparation quicker. If you do not have a pair, plan to buy some soon. However, there is a lot to consider before you settle on one particular pair. Some of the things to consider include knowing the type you need, maintenance, and how to store them safely.
Types of Kitchen Shears
The first thing to think when planning to but kitchen shear is the purpose of the tool. There are different types, and each is designed for a specific purpose. Though you can find still some that are all-purpose; for more efficiency, it would be great to buy a pair made for particular usage as it comes with unique features that make it perfect for its purpose. Here are several types, and they include:
1. All-Purpose Shears
This type of kitchen shears is most basic and is more of a multi-purpose pair of scissors. You can use it to cut different things in the kitchen. Its most significant shortcomings include lack of enough capacity and durability to handle most tasks. This is why you should consider investing a little more to buy a high-quality pair of shears. You will not enjoy efficiency, but also save money in the long run.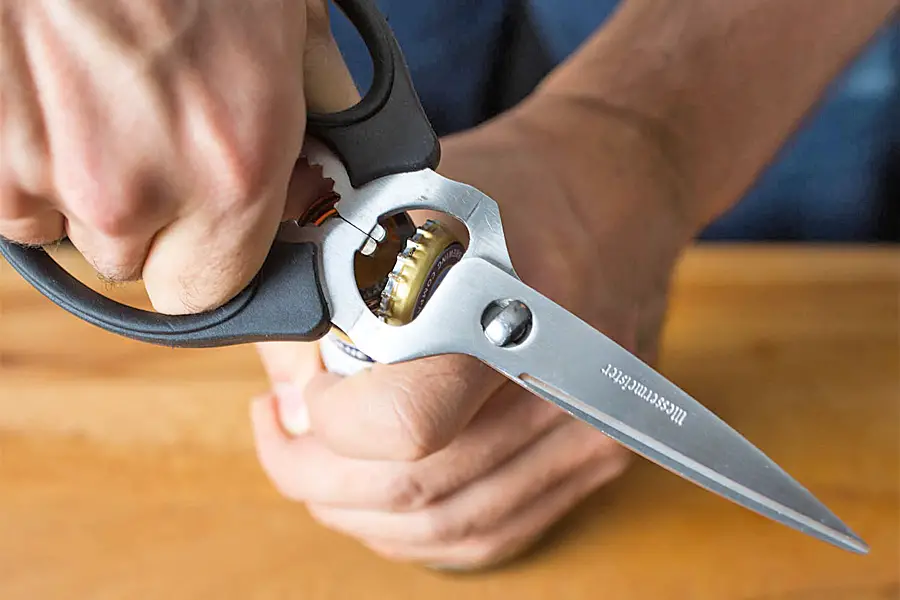 2. Kitchen Shear with Bottle Opener
If you love a bottle of beer once in a while, a pair of kitchen shears that also work as a bottle opener will come in handy. They are sturdier than an ordinary bottle opener. It helps you shred through food preparations and open even the tightest bottles because the grip is firm and is made of quality material that will not break.
3. Pizza Shears
This type of shears is designed for cutting pizza. It cuts through the crust effortlessly and fast. It may not be perfect for other tasks in the kitchen, but you will enjoy serving pizza at home when you can cut it easily. The blades are made of non-stick material that cuts through cheese and sauce without it becoming messy.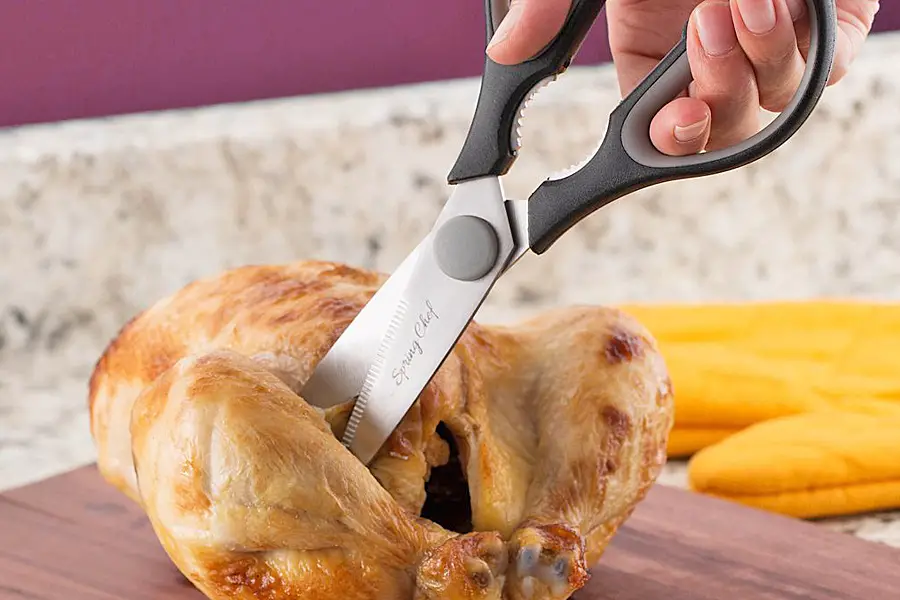 4. Poultry Shears
This pair of shears are designed to cut poultry meat. They have razor-sharp stainless blades for quick deboning, slicing meat and shredding. Most of these shears come with a safety latch to protect the user.
5. Seafood Shears
Preparing seafood such as crabs is quite a hard task without the right kitchen tools. A pair of seafood shears will ease your work and also make serving more organized. These shears come with a slightly curved blade that allows you to poke and remove the meat in the hard to reach areas or a crab or lobster.
6. Triple Blade Shears
This pair of shears are designed for leafy vegetables and herbs. The multiple blades allow you to cut many leaves and stems all at once. If you love fresh vegetables, it is the best option as you cut them without risking getting bruised.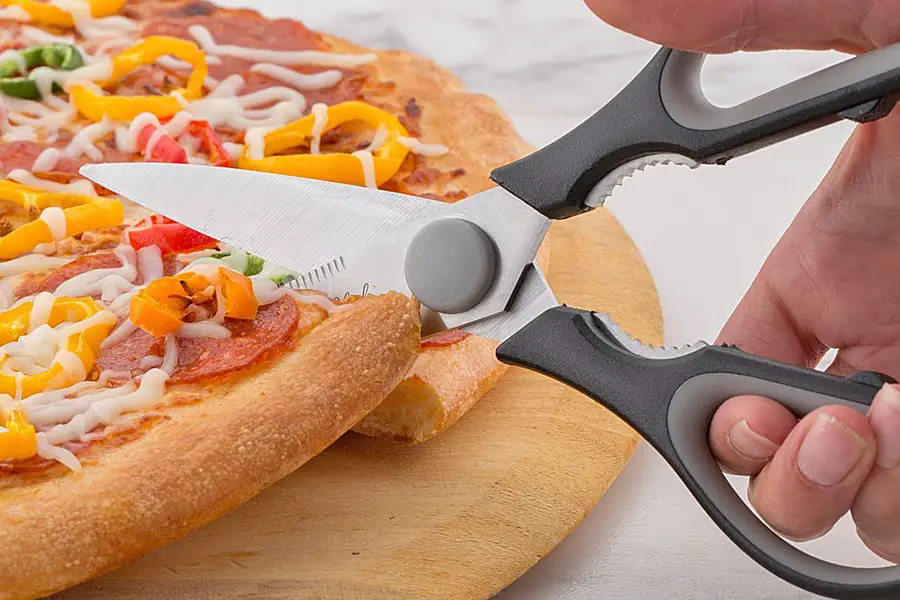 How to Buy a Pair of Kitchen Shears
Check the Construction
The shears should balance on both hands, whether you are left-handed or right-handed. Check for a handle that is easy to grasp and fit in your hand comfortably. Just like a pair of scissors, the handle has to be big enough for an adult hand.
Ease of Use
The blades should be sharp enough to make cuts effortlessly. Blunt shears give uneven cuts and can hurt your hands as you force them to cut. Besides, they should be shaped in a way that allows you to sharpen them.
Safe To Use
Non-slippery and non-heat conducting handles are the most reliable. They should not get hot or too slippery when preparing oily foods. The shears with a jagged edge are exceptionally safe because they cut into thick foods or surfaces smoothly and concisely.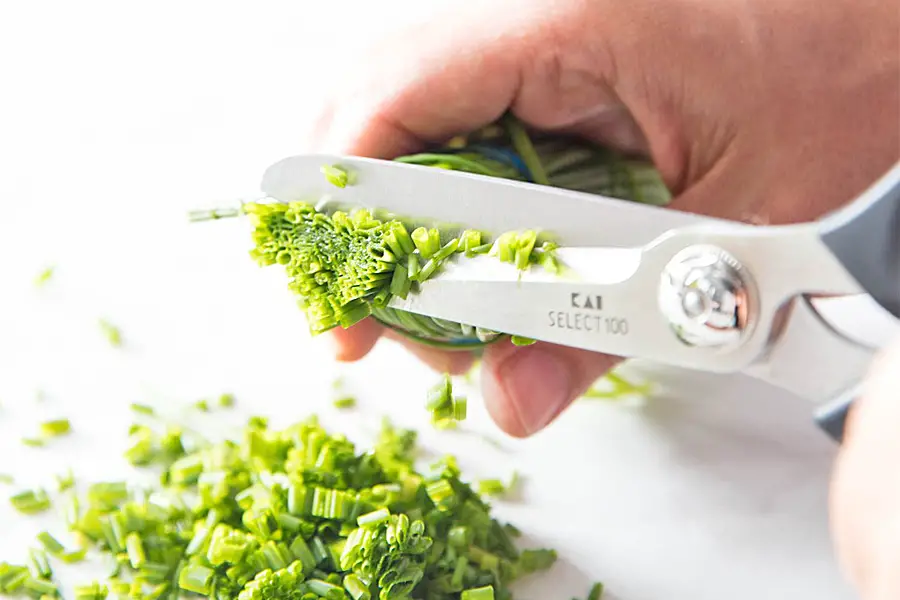 Durability
Go for sheers that can be fixed by tightening the screws or those with a lock to keep the blades. Look for stainless steel because this will not rust even if you forget the shears in water for a long time.
Easy To Clean
Since the shears are multi-purpose, they have to be cleaned thoroughly after use for proper hygiene. You can opt for the shears that are dishwasher friendly. Avoid the ones with a lot of hidden joints and crevices as they will hide dirt. Some models allow you to remove the handles, clean them, and put them back.
Versatility
Choose shears that can be used in several tasks. Look for one that can serve as a jar and bottle opener, vegetable stripper and even nut cracking. In addition to culinary work, versatile shears should be useful in crafts or even gardening activities.
Conclusion
Now you know the different types of kitchen shears available in the market. Choose one that suits your style, preference, and kitchen activities.