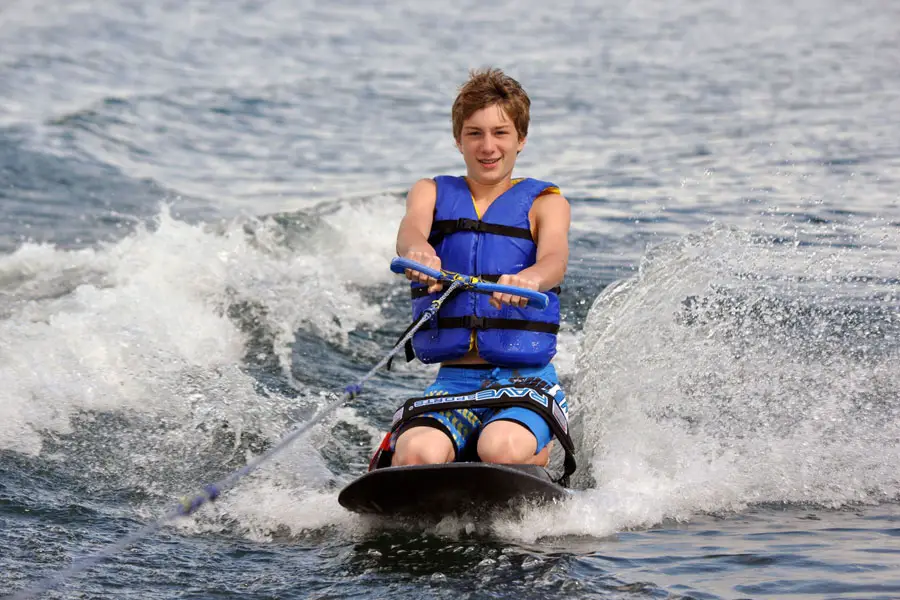 Kneeboard Reviews
Knee boards can be fun for the entire family and will produce hours of fun on the water. Kneeboards are popular because they are fast to learn and easy to use. The following kneeboards are made with the highest quality, yet provide affordable fun for the whole family. They allow your family to enjoy adventures on the water without having to worry about the kneeboard not performing.
Most Popular Kneeboard
SereneLife
The SereneLife Kneeboard is made with a new design and has great features that older kneeboards will not offer. The flex pad on this kneeboard will mold to your body making it more comfortable for the rider and allowing you to ride the kneeboard for longer periods of time. The strap is adjustable making it so you can continually alter the strap to snuggly secure the rider. With the twin tip design along with a smooth V-Hull the rider will be able to perform at their highest potential. The integrated hook on this kneeboard will help you to start your kneeboard journey easier without having to expend so much energy getting up making your adventure longer. The SereneLife Kneeboard is meant for advanced riders. Therefore, if you have experience kneeboardingthis product will provide continued advancement of your skills.
Flex pad
Adjustable strap
Twin tip design
Integrated hook
Meant for advanced riders
– Anthony Dawson
Best Overall Kneeboard
Hydro Slide
The Hydroslide Revolution Kneeboard (Black, 52-Inch) is a great board for many kneeboard riders. This kneeboard is filled with rotational foam that will mold to your body allowing you to be more comfortable while you are on the water. There is a three inch strap that is padded making it so you are securely on the kneeboard while being comfortable. The Hydroslide Revolution Kneeboard is built for riders that have spent some time on a kneeboard and would like to work on improving their skills. The kneeboard has perforated eva foam with deep knee wells making your adventure as comfortable as possible but will also allow you to glide over wakes easily. The deep knee wells also allow the rider to maintain control, to turn and complete tricks while riding. The patented hydro hook makes it easier for riders to get up without having to use all of your strength at the beginning.
Rotational foam
Three inch padded strap
Meant for advanced riders
Perforated eva foam
Deep knee wells
– Anthony Dawson
Best Budget Kneeboard
O'Brien
The O'Brien Radica Kneeboard 2014 is a new design that is stylish for any rider. The integrated hook feature will make it easier for beginners to take off rather than wasting most of their energy trying to get up. With the integrated hook you will not only be able to start easier, but if you fall you will be able to get back on much easier. The EVA knee pad will help the rider be comfortable while being able to control the kneeboard making it easier for young and older riders to complete tricks. The bevel edge will keep the kneeboard low in the water creating more stability and be able to quickly turn the kneeboard when carving the wake. The Quad fins will mold to your body making carving and edging easier when you performing spin tricks. This kneeboard can be used by beginners and advanced riders alike. This board will allow you to ride the wakes and practice your skills hour after hour without being uncomfortable.
Integrated hook
EVA knee pad
Bevel edge
Quad fins
Meant for any rider; beginner to advanced
– Anthony Dawson
Kneeboard Buying Guide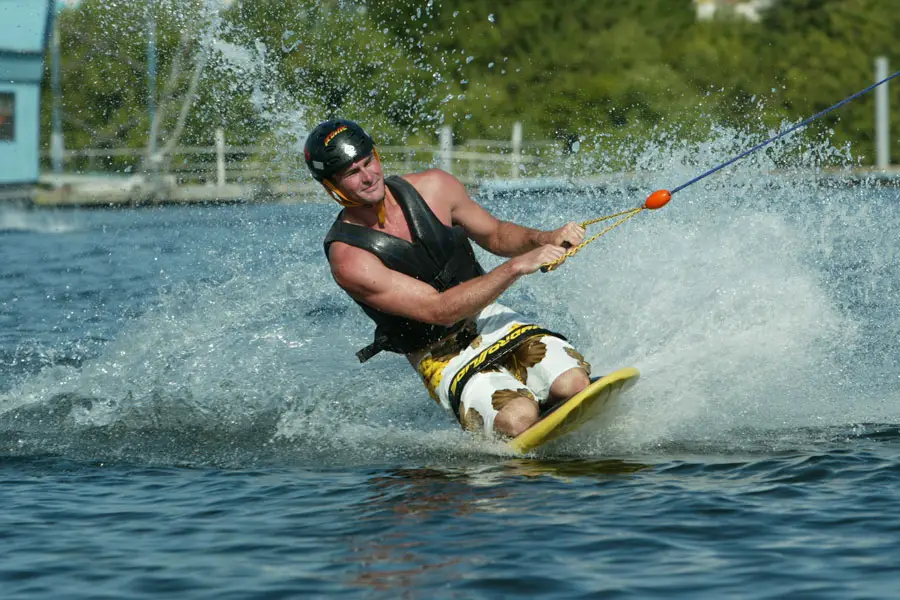 What you need to look for in a kneeboard
Knee-boarding is one fun, extreme sport that you have to try even once in your life as it is a good test of balance, flexibility and concentration. There are a couple of things that you have to consider if you're planning to buy a kneeboard.
First and foremost, you have to think about the type of board that you are going to use. There are two main types of kneeboards, and these are:
As the name suggests, this is usually used by professional knee-boarders because they are thinner than regular or recreational boards and they can help the rider turn and twist on the waters better. Competitive boards are also best for riders who are fond of starting their boards deep in the water.
Recreational boards make use of rotational molding mechanisms and have wide and soft edges that are great for beginners. These boards also help the riders gain a better sense of control. These boards are also often molded so riders would be able to turn without having a hard time.
There are also two main styles of kneeboards that are meant for the type of activity that you'll be doing on the waters. These styles are:
Trick Boards. These are boards with edges that are rounded that make it easy for the rider to make tricks.
Slalom Boards. As the name suggests, these boards are meant for slalom boarding, or downhill boarding. They also have sharp edges that make it easy for the rider to hold on to the edges while turning.
Materials used to build kneeboard
It's also important that you learn how a kneeboard is made or what it is made from before deciding to buy one. This is because certain materials affect how the board will work so it's just right that you buy the best one. The best kind of kneeboard is one that:
Is made with foam or polyurethane core with composite exteriors that are made from graphite or fiberglass, and;
Is one that has fiberglass wrapped around the core.
More often than not, the best kneeboards are those that are made with materials that are used for water skis, such as granite, fiberglass and carbon fiber.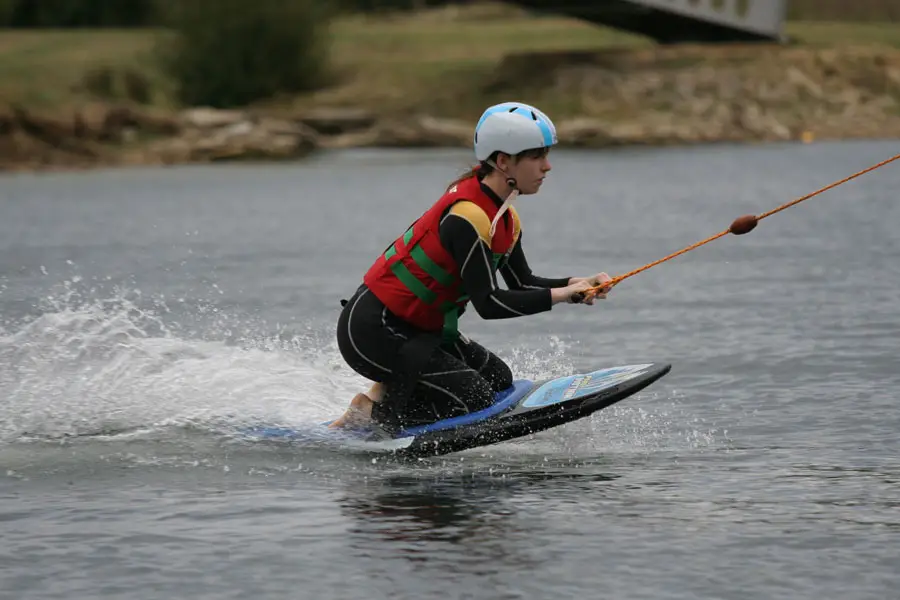 Fiberglass and graphite are durable, especially when used together. They enhance flexibility and help the rider gain speed, especially when jumping over the water or while riding the waves. Meanwhile, carbon fiber is flexible and light, which improves agility and speed.
Rockers and Fins
Rockers and fins are also very important parts of kneeboards. These are the things that you have to keep in mind about them:
The rockers determine the curve measurement on the bottom of the board which will help you determine how fast the board can be. Common measurement is usually 5 to 6 centimeters.
When the rocker number is low, it means that the board is fast, so if you want a really speedy boat, choose one with the lowest numbers, but if you want a board that turns easily, choose one with a higher number.
Fins are not always present on a kneeboard, unlike on wakeboards where they're really supposed to be there. If you want to check if a kneeboard has pins, just look at the bottom of the board.
Fins make it easy for the rider to steer the board to where he wants it to go. Choose ones that are made from fiberglass or plastic materials to make sure that they are durable.
Choose your ropes
Ropes are also important parts of kneeboards because they help the rider gain balance and perform more tricks, especially when it comes to spinning and flipping. Plus, they also help the rider gain more air to breathe while on the waters which is very beneficial for the rider. Ropes are usually 60 to 70 feet long but the length is always adjustable.
The types of ropes that you can choose from include:
Multi-Purpose. This is perfect for those who are fond of recreational knee-boarding because it is very elastic, and even if it is elastic, it can still be stiff to help the rider gain stability while on the waters. This is also perfect for those who are fond of doing tricks while riding the waves.
Low-Stretch ropes.These are made from polyethylene or fabric blended with polyethylene. They are very elastic and are also recommended for recreational riders.
No-Stretch ropes. These are not elastic as they are made from a material called Spectra, but they are very durable, which is just right for knee-boarding. It's also great to use on the waters because it has low-moisture absorption and won't make the rider tired while he is trying to ride the waves because of the feeling that the rope is lighter.
Choose the right handles
And of course, you also have to choose handles that are suited for the ropes so you can be sure that you'd have a fuss-free experience. Remember the following when choosing handles:
Knee-boarding handles should be around 13 to 15 inches wide and unlike ski handles, they are better because they will help you perform aerial tricks better and will also help you land safely.
If you want to do a lot of tricks, make sure to choose handles that have wider grips because these will make it easy for you to reach for the rope behind your back. You should also go for handles that have smaller, second grips and built-in rope braids so you could perform more tricks.
It would also be good to buy handles that have neoprene foams because these will help you float on the water. If you're not a very good swimmer, it would really be helpful to buy handles with foam floats so that you would not be scared that the water will rip the rope or the handles apart.
Only the Best
Knee-boarding is fun—and it will be so much better if you have the best board at hand. Keep these tips in mind, choose the board that suits you the most, and you'll certainly have a grand and unforgettable experience. Enjoy!