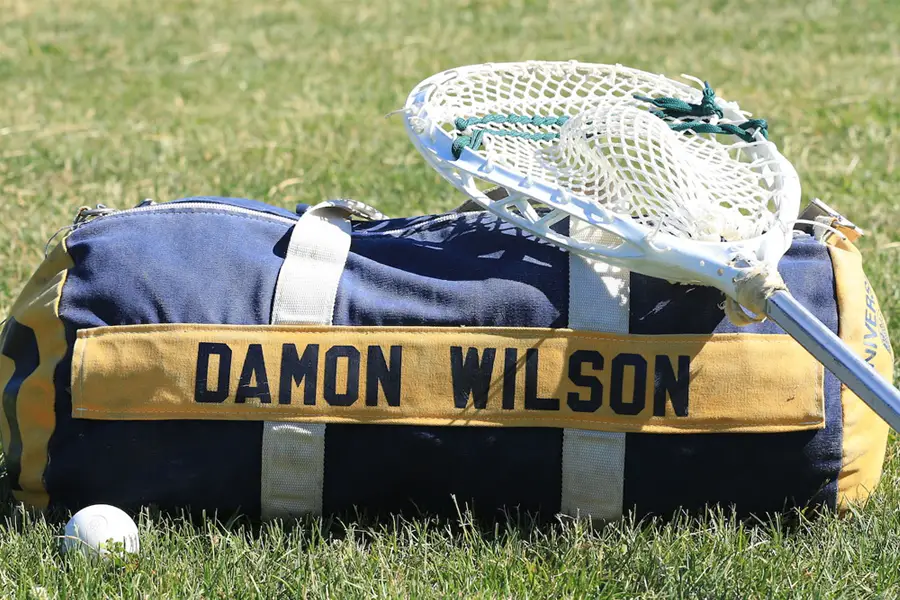 Lacrosse Bag Reviews
Lacrosse bags are a great way to store all of your gear and to keep you organized. A Lacrosse bag is a convenient way to carry your equipment to practice and games and to ensure your equipment does not get lost or misplaced. We have selected to best lacrosse bags that will keep you organized and playing the game instead of looking for equipment that is not kept together.
Most Popular Lacrosse Bag
STX Lacrosse Challenger Lacrosse Equipment Bag
The STX Lacrosse Challenger Lacrosse Equipment Bag is black and can be purchased in different sizes. For your convenience, this lacrosse bag has a sleeve on the outside that will hold several sticks. The primary compartment was created to fit all of the rest of your equipment. Whether you need to carry a change of clothes, cleats, or a uniform, everything you need to perform at your best will be able to fit in this lacrosse bag with room to spare. There are also small side compartments to put the things you need quick access to. This is a convenient place to put your keys, cell phone, I-pod, and other small devices in the small compartments. The STX Lacrosse Challenger Lacrosse Equipment Bag straps are designed to be easily carried to practices and games without causing extra stress to your neck and back.
Black in color
Different sizes available
Sleeve on the outside of the bag for sticks
Small side compartments for keys and cell phones
Comfortable straps for easy carrying
– Anthony Dawson
Best Overall Lacrosse Bag
Warrior Black Hole Lacrosse Bag
The Warrior Regular Hole S1 Equipment Bag (One Size, Black) will be the perfect lacrosse bag due to the many features it has to offer. This lacrosse bag is a best-selling bag among all of the lacrosse bags on the market. The bag is 42 x 13 x 12 inches in size making it large enough to carry all of your equipment without being too heavy. The Warrior Regular Hole S1 Equipment Bag has a separate compartment that can carry your smelly or wet gear away from your other belongings. This compartment is vented and will help reduce odors. Keeping them separate keeps the rest of your equipment fresh. The main compartment will hold the many different things you need to have for practice and games. The lacrosse bag also has a side compartment to hold your sticks along with additional shafts that you may need to improve your skills at games and practices.
One size
Black in color
42 x 13 x 12 inches in size
Separate compartment to carry smelly gear
Vented compartments
– Anthony Dawson
Best Budget Lacrosse Bag
Martin Sports Deluxe Lacrosse Player's Bag
The Martin Sports Deluxe Lacrosse Player's Bag is a great lacrosse bag that will help you carry your equipment to and from practices and games. This lacrosse bag is 42 in length x 13 inch width  x 12 inches heigth and is certain to be able to carry all of your equipment. This lacrosse bag is offered in six different colors allowing you to select the color you like the most or to match it with your team colors or equipment. The Martin Sports Deluxe Lacrosse Player's Bag has Large main compartment to carry all your gear and separate wet gear  compartment. It is more durable and resistant to weather conditions without damaging your equipment. For your convenience, this lacrosse bag also has a pocket on the outside allowing you to personalize your bag. The adjustable padded carry strap is also removable.
42″ L X 13″ W X 12″ H in size
Offered in six different colors
Oversized double zippers on all pockets
Deluxe players bag in heavyweight nylon
Pocket on outside allowing you to personalize your bag
– Anthony Dawson
Lacrosse Bag Buying Guide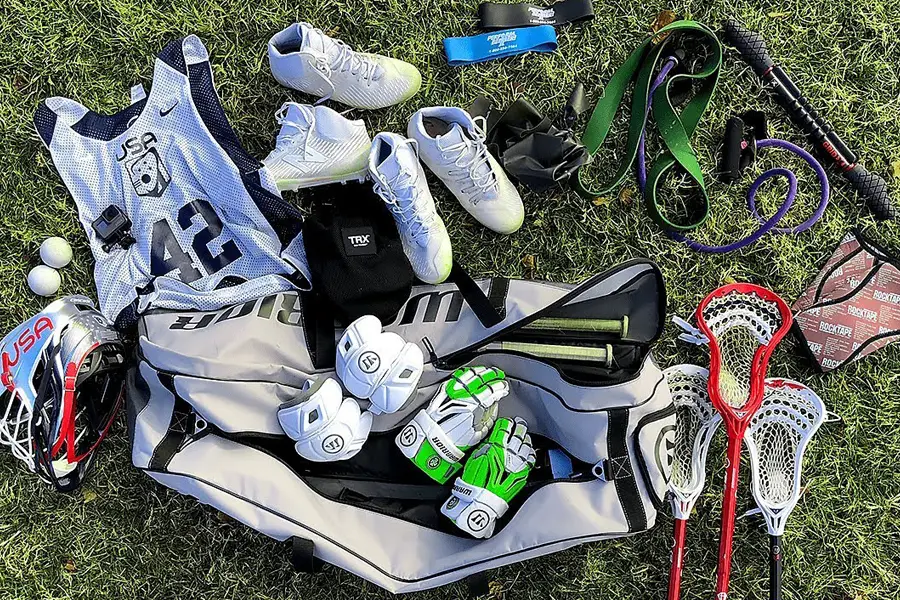 Lacrosse players understand the need to have right bag in order to efficiently and safely store and transport the equipment and gear that is required for the sport. There is little more frustrating than having a bag that will not accommodate all of the items needed, particularly when taking a road trip. Storing items in multiple storage sources can easily lead to items becoming lost or damaged. It is much better, whenever possible to have everything neatly contained in one area. There are several different sizes, types and styles of Lacrosse bags available, so for those who don't know what to look for in a bag, this can add to the confusion when it comes to making the best selection. This guide is prepared to help you to know what to look for in a Lacrosse bag, so you will have the information and knowledge to select the bag that will best meet your needs.
Determining What You Need In a Lacrosse Bag
The first step is to figure out what you will need to carry in the bag. This depends on a few different factors such as the position you play and the type of gear that you will be carrying. Add on top of this the number of days that you will be travelling, if applicable and you should begin to get a clearer picture of the type of space that you will need in your Lacrosse bag. Another consideration to be made is whether or not you will be storing personal items separately from your gear. Whenever possible, this is recommended.
Types of Lacrosse Bags
There is a range of styles and sizes when it comes to Lacrosse bags. There are equipment bags in different sizes to accommodate some of the larger or bulkier gear that may be required, backpacks for some of the smaller sized equipment and gear and a range of duffel style bags that range from small to larger in size.
Small duffel type lacrosse bags
This type of bag is ideal for storing smaller accessories such as shoes and other smaller pieces of gear and a few personal items if desired. The smaller duffel bags can be easily placed into larger equipment bags when you want to keep all of the gear together, but have fewer items to carry or keep track of. Most styles feature top handles for carrying and a shoulder strap when both hands are needed for other activities. Some come with additional pouches and zippered compartments for storing smaller items safely.
Medium Sized Duffel Type Lacrosse Bags.
The medium sized duffel bags generally feature larger zippered compartment with the option of smaller side compartments for organizing and separating smaller amounts of Lacrosse gear and may include personal items as well.
Lacrosse Shoe Bags
Shoe bags are designed specifically for accommodating the shoes that are required for Lacrosse play. Since not all fields allow the use of cleats, you may need to carry an additional pair of Lacrosse shoes and these bags are designed to be used for the storage of shoes with cleats, or those without so you always have an extra pair on hand when needed.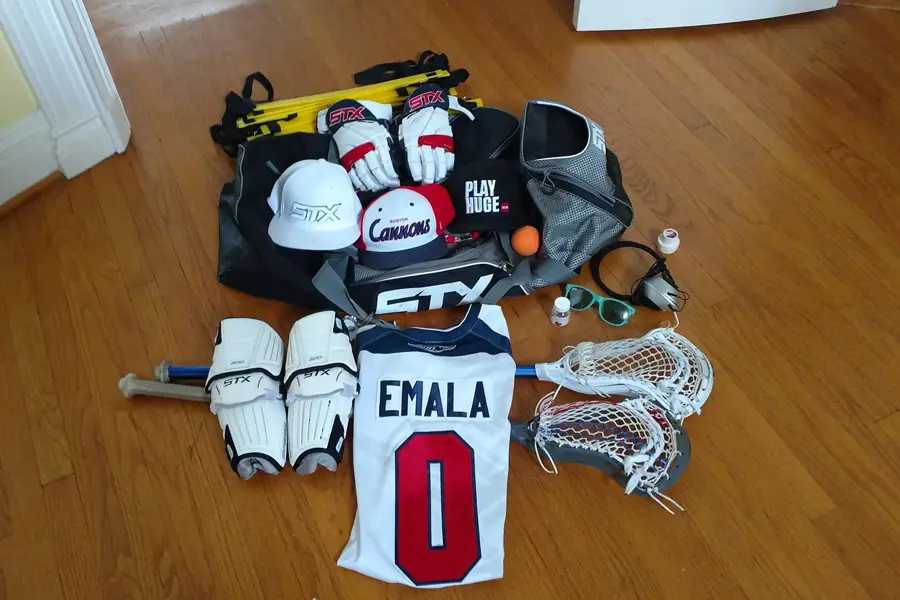 Lacrosse Equipment Bags
Lacrosse equipment bags are available in a range of different sizes and types.
of sizes and styles from junior and youth sizes to senior full sized bags. They also come in duffel or backpack styles. Backpack styles feature two shoulder straps for carrying and the duffel type feature top handles and a shoulder strap. Most models of the larger duffel style equipment bags come with wheels for ease in transport. Many of the backpack style bags also have the option of wheels for ease in pulling. There are many options when it comes to storage compartment style. Different bags are designed with a variety of layouts so accommodate gear and accessories of different sizes for keeping them separate, safer and more accessible.
Lacrosse Stick Bags
Stick bags are designed to provide protection and adequate room for the storage of Lacrosse sticks. This type of bag is designed with a longer main storage compartment to fit the sticks comfortably inside. They also come with an assortment of configurations for different sized compartments with zippered or Velcro enclosures. Most of them feature handles on the top of the bag for carrying and a shoulder strap for slinging across the shoulder when you need to use your hands for other things. The size of the bag that you select will depend upon any other gear that you may want to include. Some players prefer to have dedicated bags solely for carrying their sticks, while others prefer to carry all of their gear in one bag. Whatever your preference, there are bags that will accommodate small or larger amounts of gear.
What You Should Look For In a Lacrosse Bag
The prime consideration will be your intended use of the bag. Look for a bag that is constructed of high quality materials and has a good solid construction with tight seams and strong high quality zipper and strap materials. Consider all of the stress points when you are analyzing the candidates. Next, the bag must be the size that will accommodate everything that you intend to carry inside of it, while keeping it protected from damage and somewhat organized. This is the point in time when you will want to consider the size and number of assorted compartments, or additional space needed in the main area of the bag. If you're planning to include shoe bags, for example, make sure that there will be adequate room for the bag to fit inside of the main compartment.
Conclusion
Finding the right Lacrosse bag becomes a much easier task when you have a solid idea of what you are intending to use it for. The amount of gear and other items you will be carrying will determine the best style and size of bag for you. By taking these things into consideration and by following the tips and recommendations found in this guide, you are now prepared to find the Lacrosse bag that will be best suited for your needs.