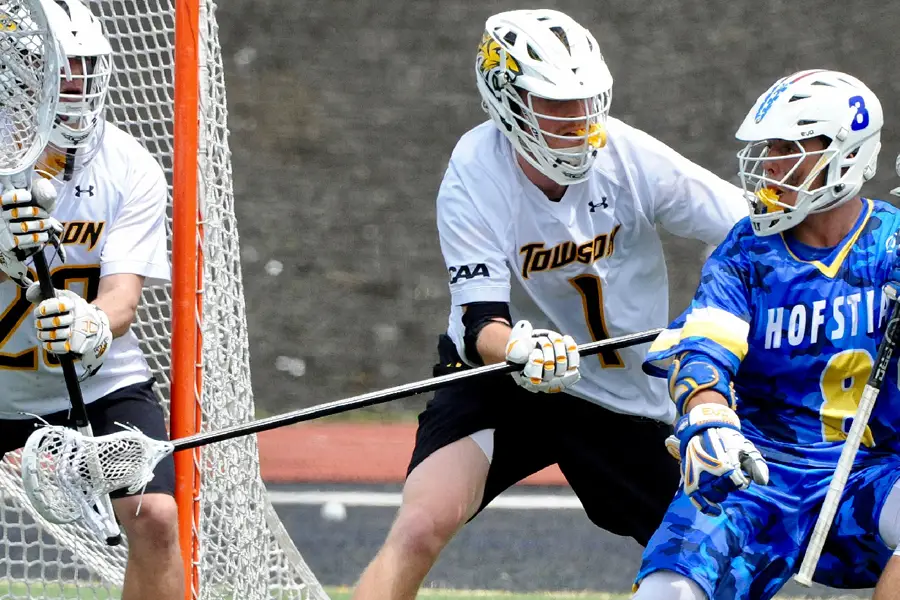 Lacrosse Helmet Reviews
Most people who don't know about lacrosse wouldn't think it was such a physical sport. It is indeed a physical sport, very similar to ice hockey and soccer. The physical play means players come in contact and collide on the field, so great gear is required to protect them from injury. Player safety is the most important part of any sport, and lacrosse isn't an exception. Everyone is on the same page when it comes to player safety in sports. When it comes to helmets to protect your head companies have been developing new technology to provide coverage and protection. Protecting your head with a superior helmet will protect you from concussions, cuts and bruises. Recent discoveries about concussions show that proper headwear which fits properly could prevent some injuries from happening.
Most Popular Lacrosse Helmet
Cascade CPVR Lacrosse Helmet
Cascade CPVR Lacrosse put the health and safety of lacrosse players in front when they created the helmet. The uses a single piece outside shell and visor which allows it to be one of the lightest helmets on the market. The universal comfort fit uses adjustable and removable ear pads for the perfect fit. Large ports allow a constant stream of air to flow through to keep you cool even while intense conditions exist.
A chrome facemask provides a clear line of sight while adding a stylish and classy look. The CPVR Full Pivot System incorporates pull tabs and a pivoting liner to allow quick, easy adjustments and a secure fit every time.. One of the lightest lacrosse helmets available anywhere with a total weight of just under 2 pounds. Certified for use on all levels of play including professional and college. Proudly designed and manufactured in the United States using the highest quality components.
Lightweight design is comfortable and fully adjustable to add to the comfort
Chrome facemask looks great while offering protection and keeping a clear field of vision
Durable construction designed to last
EVA moisture resistant padding and air ports produce a cool feel and fit
Meets NOCSAE Standard
– Anthony Dawson
Best Overall Lacrosse Helmet
Cascade CPX-R Lacrosse Helmet
Cascade's research and development department have one thing in mind, and that is protecting you. The cascade helmet uses a supermono one piece design for ultimate protection. The rigid design system is developed to manage frontal impact while moving the balance point to the center of your head offering a well-balanced feel. Seven Technology premium helmet liners are designed to transfer energy from direct impact. Compression of the liner helps absorb shock and displace the energy and resets almost instantly ready for the next impact. Superior ventilation system offers comfort even in the summer heat your head will remain cool.
The Cascade CPX-R lacrosse helmet is focused on safety and protection, but it also has a lot more to offer. The adjustable jaw pads and unique design offer the wearer maximum comfort and protection. Trendy and sporty looks are fully customizable from the color of the chin strap to the accents on the helmet.
Extreme head protection with patented shock absorbing technologies
Comfortable fit with instantly adjustable jaw pads for a 360 degree contoured fit
Durable construction material withstands and absorbs high impact
Balanced and lightweight designed to center back after impact
Cheaper
– Anthony Dawson
Best Budget Lacrosse Helmet
CASCADE Lacrosse CSR Youth Helmet
Cascade Lacrosse CSR Youth Helmet is designed to protect youth players from a head injury. The CS features a single piece shell designed to be lightweight for quick movement. Superior strength from the single piece shell is another feature the CS offers youth players. The fit to form design allows for a closer, more comfortable fit to offer better protection.
The facemask offers superior protection while keeping the line of sight clear for full field vision. Patented FitSwitch technology allows adjustments in seconds and easy enough for youth players to do themselves on the fly. Pull tab adjustment system for the rear third of the helmet allows the liner to pivot and grasp the head for maximum comfort and protection. The CSR Youth lacrosse helmet meets standards for junior high, high school and college levels of play. Available in five different colors with a glossy black facemask.
Designed for maximum head protection for youths
Meets and exceeds safety standards for youth-college levels
Full range comfort system allows adjustments in just seconds
Clear line of sight with great protection
Warranty included by Cascade
– Anthony Dawson
Lacrosse Helmet Buying Guide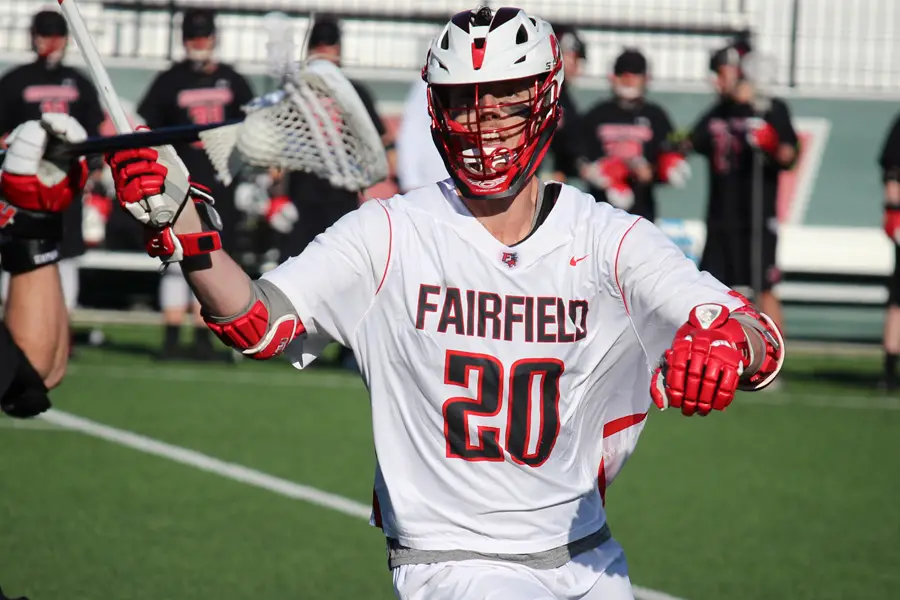 Lacrosse is an exhilarating and fast paced game that keeps the players on their toes and constantly in motion. Speed is a part of the game that is a requirement for success; however, it carries with it the threat of potentially serious injuries due to the risk of collisions with other players, the balls used in play and even the sticks which each player uses. The need for protection goes without saying and the use of a proper fitting, tested and approved safety helmet is one of the more important aspects of playing the game. Without head protection, most players would frequently be out on the injured list. Anyone who has played Lacrosse understands this fact.
There are several different types of Lacrosse helmets available so choosing the best helmet for you may seem a bit overwhelming. It can be unless you know precisely what it is that you are looking for. This guide is prepared to help you know precisely what you should look for in a Lacrosse helmet so you can more easily and confidently choose the helmet that will provide you with the protection you need along with the features that will provide you with a comfortable fit while in play.
What to Look For In Lacrosse Helmets
The compliance for safety standards must be met in order for the helmet to be considered as a suitable choice. Not all Lacrosse helmets are of equal quality. Only those which have been tested and NOCSAE approved should be considered when making your purchase. Others may appear to be of good quality, but there is no way to be certain that they will provide you with the protection that you need unless they have been thoroughly tested and approved.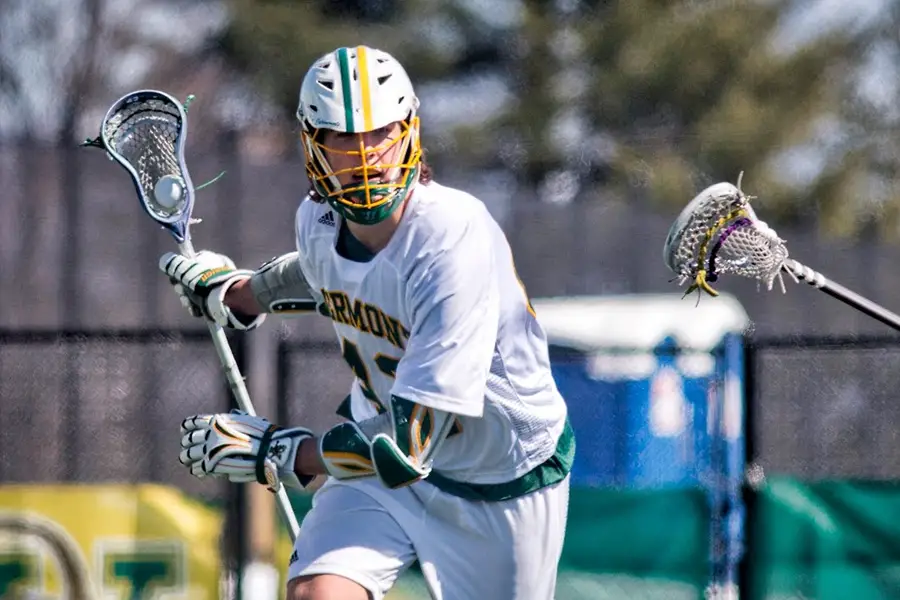 Different Types of Lacrosse Helmets
There are more than a few different types of Lacrosse helmets which are available. Many of them are customizable offering the best in protection while maximizing the comfort levels. Some of the newest technology employs the use of carbon fiber materials in the construction and allows for ample venting for good air flow which helps to cut down on the discomfort of perspiration during play. In addition, most of the newer helmets are designed to be more lightweight, most are less than two pounds for increased speed and ease of maneuverability.
Choose a Well-Fitting Lacrosse Helmet
In order to get the best protection from your Lacrosse helmet it must be a proper fit for your head. First make sure that the helmet is NOCSAE approved, and that it contains a minimum of 5/8 thickness of padding that is consistent throughout the helmet, and that it provides a secure and snug fit without being too tight, or too loose. The padding should provide for a uniform pressure around the player's head and if the skin on the forehead moves then the helmet is the right snugness. Lacrosse helmets that are too loose may actually pose a health hazard by allowing for too much movement of the head inside of the helmet during a collision or impact that may result in a traumatic injury to the head.
Chinstrap
Lacrosse helmets must feature a four-point chinstrap that is attached to the helmet. They must have a mechanism for tightening to the appropriate level so that there is no slack in the strap. Check the strap to ensure that it is crafted with high quality materials and that it is constructed in a manner that will hold up under strenuous use.
A Few Tips On What to Look For When Choosing a Lacrosse Helmet
Buying the best Lacrosse helmet means you are getting a product that will provide adequate safety, comfort and performance with a good value for the cost. Look for a safety approved helmet that fits your head snugly but not too tight. The chin straps should be a 4 point design and tighten to a snug fit with no slack in the strap. Make sure that the helmet is lightweight so it does not impede your performance in play, but that it is constructed with high quality and durable materials.
Conclusion
When shopping for a Lacrosse helmet, there are several different options that may make excellent choices for you, depending upon what your personal preferences are. One of the main things to keep in mind is that the helmet is NOCSAE approved and meets the recommended safety standards and minimum requirements, fit well and provide comfort in addition to the protection from injury that is a requirement when playing Lacrosse.
When you take a few moments to consider what you are really looking for in a Lacrosse helmet, you'll be pleasantly surprised to discover that making your choices isn't really so difficult after all. When you use the information that has been provided in our tips and recommendations, you'll gain a greater sense of what features will provide you with the best level of protection. In addition to that you'll know what to look for to achieve a more comfortable fit to further enhance your performance when on the field.