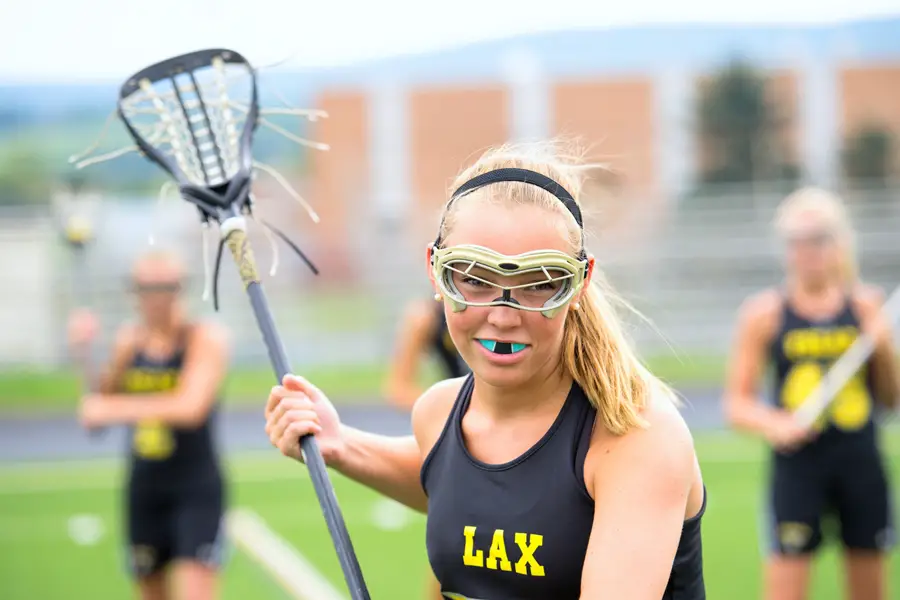 Lacrosse Mouthguard Reviews
Your teeth are a precious part of your body that need routine care to remain health. Damage to teeth such as chipping or loosened from the root is fixable, but it will reduce the overall tooth strength and lifespan. Sports that involve contact require mouth guards and chin straps to secure the mouth and jaw as much as possible to prevent damage to your teeth. Lacrosse is an aggressive and physical sport that requires plenty of checking and contact with other players. This heavy contact could result in damage to your teeth if you're not wearing the appropriate mouth guard to protect your teeth and mouth. The modern mouth guards resemble the same guards from decades ago with some slight changes in technology to improve durability and impact resistance. Protect your mouth, teeth, jaw, and even your brain by the use of a quality mouthguard.
Most Popular Lacrosse Mouthguard
Shock Doctor Double Braces Mouth Guard
Shock Doctor brings modern technology to protect you from injury in your most sensitive body parts. This mouthguard is constructed of medical grade silicone for unmatched durability. Double width channel makes this mouthguard wide enough to accommodate players with braces on the top and bottom, one of the only mouthguards on the market to do so. Breathing channels allow you to breathe easily with this mouthguard in place.
Specifically designed for the athlete with braces, however, it performs spectacular for those without braces as well. The silicone design allows this guard to be used as soon as you take it out of the package. Adapts as your mouth changes over time, especially those with braces as the teeth straighten. A great all-purpose mouthguard that meets required standards for wrestling, lacrosse, basketball, and any other light/heavy contact sport that uses a mouthguard. Available in pink or blue for unisex use.
Medical grade silicone construction assures comfort and protection
Wide channel for athletes with braces
Contours with your mouth as it changes over time
Ready to use out of the package, no boiling or fitting required
Air tunnel allows breathing with braces easier
– Anthony Dawson
Best Overall Lacrosse Mouthguard
Warrior Mouthguards – Urban Vampire Fang Teeth Mouth Guard
Warrior Mouthguards® is known for their involvement of mixed martial arts so looking tough, and being tough is what Warrior Mouthguards® represents. These fang mouthguards are designed to make you look tough, while giving you the proper mouth protection. These mouthguards work for athletes with or without braces. They are molded to fit your mouth exactly by boiling them and placing them in your mouth for the exact fit. Each pair can be boiled and remolded up to 11 times for the precise fit.
Warrior Mouthguards® is so confident that these mouthguards will protect your teeth they offer a $30,000 dental warranty on this product if it fails to protect your teeth while used properly. Breathing channel allows you to breathe easily during intense physical activity. 29 different color choices give you enough options that will certainly get the color that you want. 
Tough looking design is favorable for athletes
Full dental warranty if the product fails and you sustain dental damage
Boil and mold for the perfect fit
Includes Free Storage Case
– Anthony Dawson
Best Budget Lacrosse Mouthguard
Brain-Pad LoPro+ Double Laminated Strap/Strapless Mouthguard
Brain pad designed this mouthguard with your well-being in mind for sure! This mouthguard cushions and secures the jaw creating a TMJ safety space at the base of the brain and the skull, all while protecting your upper and lower teeth. Air flow technology and breathing technology improves breathing and opens the airway 100% helping to improve endurance.
This Brain Pad mouthguard is designed to reduce the impact at the base of the brain up to 40% over other mouthguards. An easy boiling process allows you to contour the mouthguard to fit your mouth exactly. This mouthpiece is used without a string or with a string to align the jaw for full muscle function which helps increase jaw strength and reduces an impact. Brain Pad includes $8,000 worth of dental insurance in the case that you sustain an injury due to product failure.
Easy to use with simple instructions for boiling to exact fit
Breathing technology helps increase endurance and opens airway
Works with or without braces
Insured up to $8,000 of dental insurance if an injury happens due to product failure
Anti-microbial protective carrier case included
– Anthony Dawson