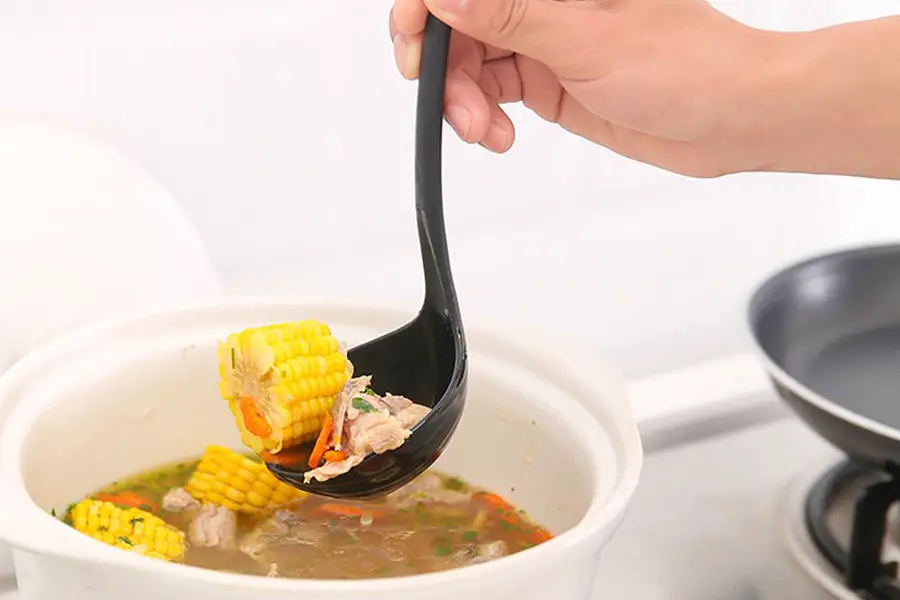 Ladle Reviews
Ladles are used in every day cooking for soups, sauces and other jobs where you need to scoop things out of a pot, like chili or stew. When it comes to kitchen tools, they are easily one of the staples that every cook or chef should have. Ladles can be made from many different types of materials, from silicone to stainless steel to even hard plastic.
They can also have shallow bowls or deeper less angled bowls for scooping and long or shorter handles. Below are three ladles that would be perfect additions to your kitchen tools. All of them are great quality and make any job that requires a ladle easy and efficient. When you choose a ladle, look for one or ones that work well for the jobs you will be doing most often.
Most Popular Ladle
Vollrath
Vollrath knows kitchen tools, and this 13″ Stainless Steel Ladle in bright orange is a great example of this fact. The unique flat head design of this ladle means you don't have to tip the pot to get everything out of it. Made of durable Stainless Steel, this ladle will last a long time with proper care. The handle is easy to hold and fits comfortably in the hand. The nice sized ladle bowl is great for spaghetti sauce, chili and soups among other scoopable things. You can use this ladle around heat up to 400 degrees safely without issues. The bright orange coloring makes it stand out, so getting lost in the drawer of other kitchen tools is very unlikely. Vollrath's Stainless Steel Ladle is dishwasher safe for easy cleanup.
Created by Vollrath
Durable Stainless Steel construction
13″ long
Nice sized bowl
Unique flat head design reduces waste and pot tipping
– Anthony Dawson
Best Overall Ladle
All-Clad
All-Clad is known all over the world for its outstanding cookware collections and now they've added kitchen accessories to the mix, so you know they're good quality. Professionals and serious cooks alike are happy to hear about this addition to their family. This professional grade quality ladle is a great example of the craftsmanship and excellence that cooks and professionals have come to expect from the All-Clad brand. The handle is 14.5″ long with a bowl that is almost 4″ in diameter. Made from heavy duty stainless steel and polished to a beautiful mirror finish, this ladle is perfect for all those jobs you need a ladle for. The bowl capacity for this ladle is 6 ounces and can serve stews, soups, chili and beans easily. Includes a lifetime warranty against any defects and is dishwasher safe.
Professional grade kitchen tool
Heavy duty, durable, stainless steel construction
Lifetime warranty against defects
14.5″ long
6 ounce bowl capacity
– Anthony Dawson
Best Budget Ladle
OXO Good Grips
OXO does it again with this Good rips brushed steel ladle. One piece design is virtually indestructible. This excellent ladle measures 12″ end to end and has a hole for hanging it up out of the way. The last 5 inches of the handle has a soft, non slip grip that makes holding it and using it easy and comfortable. The deep bowl is perfect for stews, chili, spaghetti sauce and soups too. It's constructed of durable and long lasting brushed stainless steel, so no worries of melting it or ruining it, even if it gets set down on the burner. Due to the weight of this kitchen tool, it is better suited for medium to large hands. 100 % satisfaction guaranteed that you'll love it or OXO will give you a refund, no questions asked. Clean up is a breeze with this dishwasher safe ladle that will take care of all of your scooping needs.
one piece stainless steel construction
durable and virtually indestructible
soft, comfortable, non-slip grip
dishwasher safe
warranty and 100% satisfaction guaranteed
– Anthony Dawson