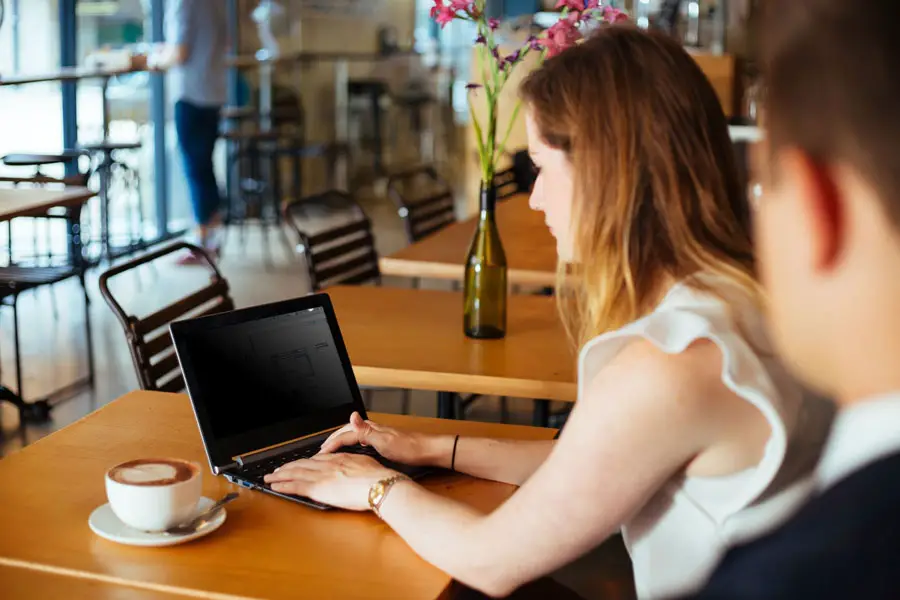 Laptop Privacy Screen Reviews
There are times when privacy is required when it comes to working on the computer. Sometimes it is because you are in public, but even in tight office quarters, protecting your information or the information of a client is essential. With Wi-Fi hotspots in many public locations it is becoming more and more necessary to have privacy screens to protect the information that you are working on. Are you attempting to pay a bill and need to type in your account information without anyone seeing? Are you trying to watch a movie without wanting to wake your partner? In either of these situations a laptop privacy screen would be very handy. The following reviews are top of the line laptop privacy screens that will keep your information private, while allowing you to work comfortably.
Most Popular Laptop Privacy Screen
Targus
The Targus Privacy Filter for a 14.1-Inch Widescreen Notebook (ASF141WUSZ) is a great device that will protect your identity and your important information while working on your computer. There are six different sizes that will fit your laptop. This laptop protection screen will protect valuable information by narrowing the viewing angle. The Targus Privacy Filter for a 14.1-Inch Widescreen Notebook makes it so onlookers will only see a dark screen instead of sensitive information. You can use the included adhesive strips to stick the laptop protection screen to your LCD or use the included tabs that stick to the outsize frame of the LCD screen. The user can position these tabs so the filter easily slides on and off with ease. The privacy filter was created with the user in mind and will block the glare to reduce eye strain. You can use this laptop privacy screen at home, at work or in a public setting allowing you to be secure wherever you are.
6 different size options
Adhesive strips to put privacy filter on your computer
Strips slide on and off easily
Reduces eye strain
Use for home or work
– Anthony Dawson
Best Overall Laptop Privacy Screen
3M Privacy Filter for 15.6″
The 3M Privacy Filter for 15.6 Inch Widescreen Laptop (PF15.6W) will protect your privacy while doing work or browsing on your laptop. This laptop privacy screen comes in 17 different sizes allowing this screen to fit nearly every laptop screen. This product comes in black or gold; even with the gold color, your information will still be protected in a more colorful way. The 3M Privacy Filter for 15.6 Inch Widescreen Laptop (PF15.6W) screen data is only visible to persons directly in front of the monitor. With 3M privacy technology, the screen will darken data when viewed from the side. This laptop privacy screen will keep your electronic information confidential making it excellent to use in high traffic areas. This laptop privacy screen provides 1.5 times more effective privacy than competitive models. This product will also help protect your fragile LCD from damage. The filter is reversible; if you choose the matte side, you will have an anti-glare feature which is very useful when working on the computer outdoors. If you choose the glossy side, you will increase your clarity. This laptop privacy screen is made in the USA.
17 different sizes available
Comes in black or gold
Only visible to persons sitting directly in front of screen
1.5 times more effective than competitive models
Made in USA
– Anthony Dawson
Best Budget Laptop Privacy Screen
3M Privacy Filter for 14″
The 3M Privacy Filter for 14.0 Inch Widescreen Laptop (PF14.0W) will protect your important information from gazing eyes at an affordable price. This laptop privacy screen can fit a variety of screen sizes; up to 17 different sizes are available with two different color options. The filter of this laptop privacy screen is reversible. If you choose the matte side, you will allow your screen to have anti-glare. If you choose the glossy side of the privacy screen you will have increased clarity. The3M Privacy Filter for 14.0 Inch Widescreen Laptop (PF14.0W) will help you protect your fragile LCD screen from damage and will help you keep your electronic information confidential. Due to the protective nature of this device you can use your laptop in high traffic areas without worrying about someone getting your information. This laptop privacy screen provides 1.5 times more effective privacy than competitive models. The screen data will only be available to persons sitting directly in front of the monitor. 3M privacy technology darkens on screen data when viewed from the side.
17 different sizes available
Two color options
Privacy screen is reversible
Helps protect your LCD screen
Screen can only be seen by persons sitting directly in front of screen
– Anthony Dawson
Laptop Privacy Screen Buying Guide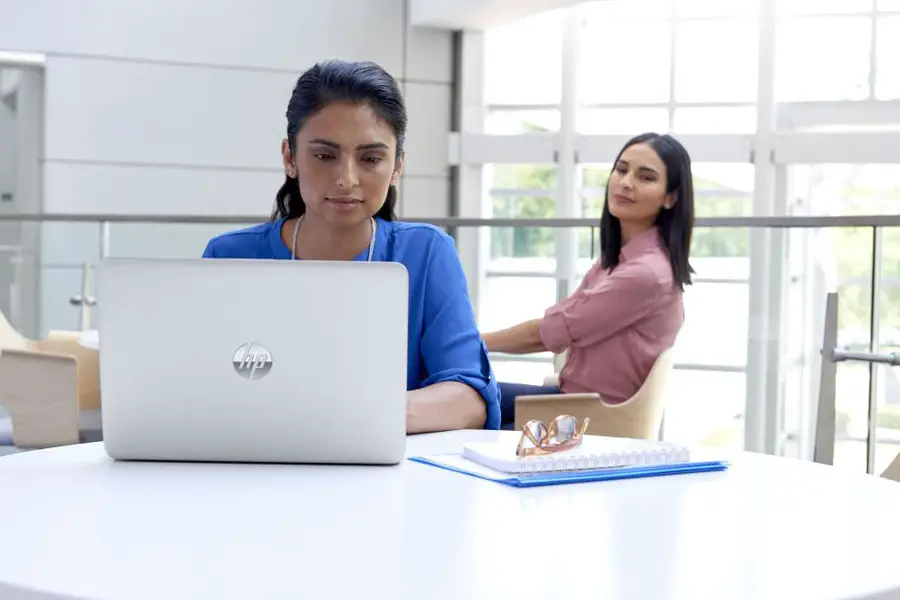 A laptop privacy screen helps remove the risk of accidentally sharing your files to the person next to you. This is very useful especially in public places such as shopping malls, airports and the like. This technology is akin to the reflective mirror tints used on cars and other vehicles. The only one able to see the information on the screen would be the person directly in front of it. It is a good piece of technology to have for those who are working with corporate files and anybody who gives importance to the security of their information. There are certain factors to consider in choosing the right type of privacy screen protector for your laptop.
One would be of course the size of your laptop screen. Also besides privacy protection another factor to consider is glare protection. This is most useful in terms of very bright lighting conditions. Another would be durability and the degree of physical protection. A filter that not only helps keep your information secure and prevent screen glare, but also provides protection for your screen from dirt and dust. Some of the available laptop privacy screen filters and even lets you choose from which side you'll be using. You can either choose the anti glare matte side or the glossy surface on the other. Also knowing the price and the brand of the screen filter is important. Once you've chosen the right one, putting it on your device is fairly simple.
The privacy screen filter is designed to fit into the recessed portion of the screen on your laptop. However some screen filters come with transparent adhesive tabs to help keep your filter stick to your laptop's screen. So air pockets are not a problem. You must make sure the screen has been wiped thoroughly and is free from dust and dirt that would create air pockets when you install the filter.
There are a lot of brand names to choose from. 3M, Fellowes and Targus to name a few. The 3M Company for example also has a wide variety of products such as car tints, Scotch™ products and more. They are also the largest manufacturers of the privacy screen filters. The 3M filters are different because they attach to your screen using clips via adhesives. Air pockets or bubbles are not a concern. One of their best sellers is the 14 inch widescreen laptop privacy screen filter. Features of this filter include being reversible. You can choose either the side with matte texture for anti-glare or the shiny glossy side for increased clarity. It helps in protecting your screen from being damaged, and claims to provide 1.5 more privacy compared to other competitive brands.
Fellowes manufactures business machines, records storage and office accessories. Examples of their products include storage boxes, laminating supplies and screen filters. One of their products is the Fellowes Flat Panel Privacy Filter for 19.0-Inch Laptop (4800501). A good feature is the reduction of screen glare which helps prevent eye strain. It becomes darker when looking from the side to prevent others from seeing your data. It also helps in protecting your laptop or monitor from dust, fingerprints and scratches.
Targus
It is also another popular brand. The company is one of the leading global suppliers of carrying cases and accessories for the mobile lifestyle. Besides privacy screens, they also sell accessories such as chargers, docking stations, keyboards, locks, power protectors, screen protectors, back packs and briefcases are some examples. The privacy screens they have available can be used for laptops, monitors or desktop computers. They cater to many different brands such as Acer, ASUS, DELL, Lenovo, Sony and others.
A popular product from the Targus brand is the Targus 22-Inch Widescreen LCD Monitor Privacy Filter (ASF22WUSZ). It has been given very good reviews so far. It is designed to fit 22-inch widescreen LCD monitors. Anyone attempting to view your screen can only see a blank black screen. It can either stick to your screen using the adhesive strips that come with it, or stick it on the outside frame of your LCD screen with the included tabs.
Kensington
Another brand is Kensington. The company also produces laptop privacy screen protectors, as well as a bevy of other goods. They also sell desktop PC and monitor locks, laptop locks and tablet security devices. They have the Laptop Privacy Screen – 15.4″/39.1cm. Features include limiting the viewing angle +/- 30° while also protecting the screen from scratches and damage, a screen cleaning cloth and it's thin enough so that you can still close your laptop.
There are also laptop privacy screens that are brand specific. LG produces mobile phones, computer products, home appliances, television sets, home theater systems and other products. One would be the LG privacy filter for notebooks and LCD monitors. This has been manufactured in South Korea. Like all other brands it provides data protection and helps in preventing leakage of information. It has an enhanced display quality with an anti-glare film coating. You can also use either side of the film. Ultraviolet radiation prevention helps to minimize eye strain.
Lenovo brand
Another is the Lenovo brand. The Lenovo Company manufactures tablets, smart phones, laptops, desktops and other computer related items. One of their products is the Lenovo 14.0 inch Privacy Filter (0A61769), designed for use on widescreen laptops. It uses the patented micro louver 3M technology. This technology creates a 30 degree dome around the laptop. As always only those directly in front of the screen will be able to see or ready any data. Anyone looking from side to side will only notice a darkened or black screen. The matte finish creates an anti-glare screen which helps reduce eye strain.
Privacy screen filters have come a long way. They have been manufactured to be used on other devices as well. They can be seen on some desktops CRT monitors, LCD screens, smart phones and tablet computers. In the information age, this is becoming a necessity to help keep people at ease, realizing that their sensitive data is safe from prying eyes.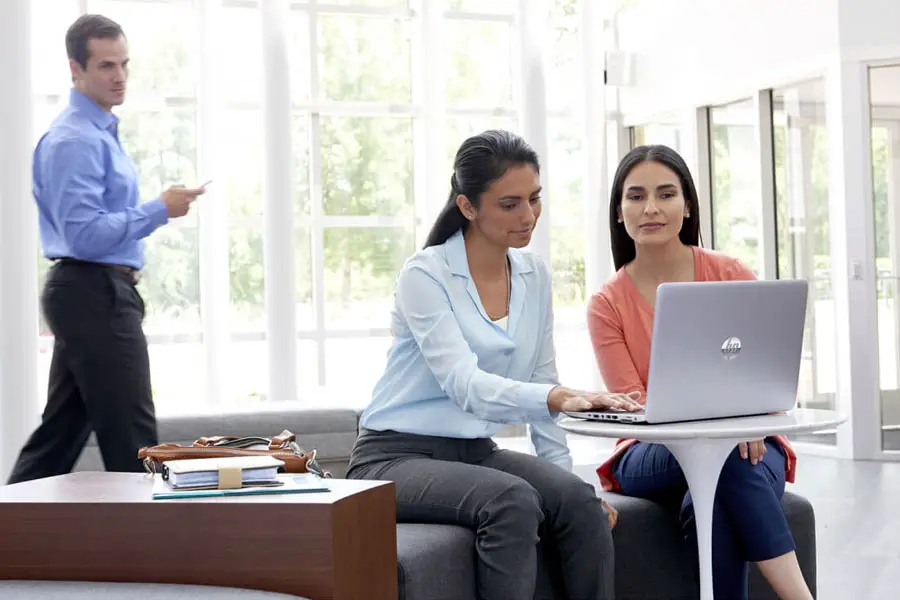 Tips for Buying Laptop Privacy Screen
Are you one of those people who get annoyed whenever they feel or see someone glancing towards their laptop screen? Some people are just too nosy and are all too interested to find out what you reading or watching, even when it's none of their business. It happens all the time to everyone who uses their laptop in public places, offices and even public transportation.
Laptop privacy screen is what you need. But what is a laptop privacy screen? It is a filter attached to your laptop screen in order to protect your privacy from the public eye. Whenever you watch videos, browse files or photos, you do not have to move in an awkward and uncomfortable position just to hide your screen from onlookers.
Why You Need A Laptop Privacy Screen
It is essential to those who may need to work in public places. This privacy screen protects classified information like private businesses and financial statements from unwanted eyes around you. Aside from providing privacy, privacy screen helps in keeping your monitor scratch-free and protecting it from dirt, fingerprints and dust accumulation. Another function is by darkening the screen, it cuts glare to provide additional protection for your eye. The filter lessens eye fatigue and prevents eye strain.
Laptop privacy screen is a good investment if you want to protect your privacy. It is a convenient and cheap way to keep your classified information, intellectual property or any other important data you wish to keep protected. Whatever you do, either travelling, working in the office or sitting in a busy coffee shop, you can have a peace of mind because you know your screen is protected.
But there are some things to be considered when buying a laptop privacy screen. Here are some tips to help you in choosing the ideal choice for you.
How Does a Laptop Privacy Screen Work?- The Technology used for Laptop Privacy Screens
Laptop privacy screen works by blocking vision from people around you. Onlookers will only see a blank screen; it would be as if your laptop is switched off, allowing viewing of the screen possible for just the user.
A laptop privacy screen is made of a modified film that enables those only at a certain angle to view a laptop screen. Different manufacturers use various technologies in producing their privacy screens to provide security. In varying technologies, varying angles for optimal vision ranges from 30 degrees to 45 degrees. These angles are measured from the front of the screen to the side, up and bottom creating a viewing cone. Therefore, vision from 30 degrees to 45 degrees and beyond is blocked, which is very important when in public places where vision from unwanted eyes comes mostly from the side. The first thing to look at is what range you want your filter to allow vision.
Degree of Protection
One thing to take in mind also is when searching for a laptop privacy screen is that a privacy screen that provides more privacy is also darker; therefore, buyers must check how dark they want their monitor will be to suit their needs.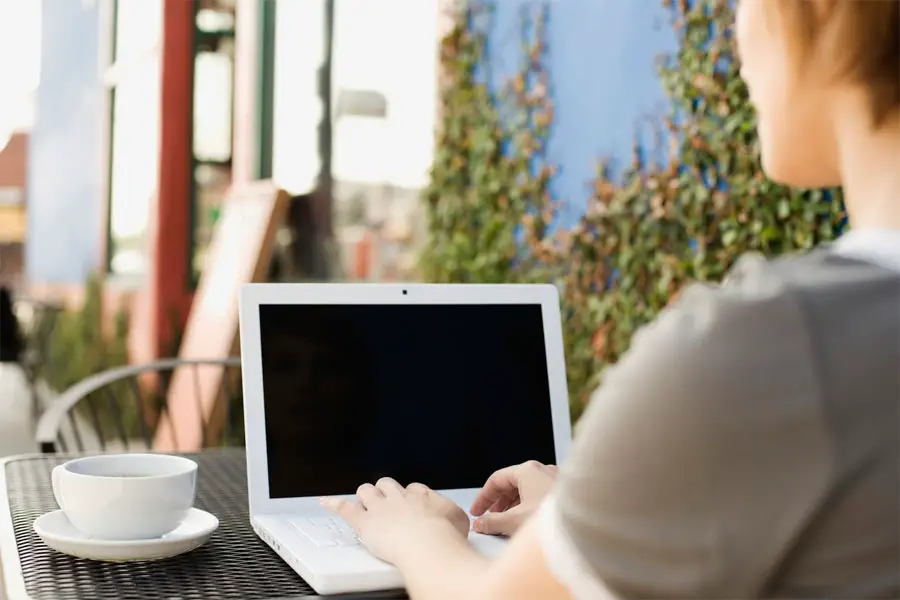 Adhesives for Attaching Laptop Privacy Screens
Adhesive tabs and adhesive tape are two of the most popular ways of attaching privacy screens. The adhesive tab uses a tab that works like a clip and is attached to the side of the monitor that places the filter in your screen. It is easy to attach and detach so it makes it easier to clean, but looks unfashionable for some. By using adhesive tape on the other hand, it looks better as it is attached directly to the screen, but is hard to attach that you must be careful for air bubbles.
Size and Price of Laptop Privacy Screens
The price of privacy screens depends on its size and the angle of vision it allows. The larger the screen and the lower the optimal viewing angle are, the higher the price.
So if you are buying filters online. Make sure to double check the details of the product and the dimension of your laptop or notebook screen to avoid hassles and save time and money. The best way is to identify the laptop's brand and to search for a privacy screen that will match with it and measure your monitor or laptop screen with a ruler so you will know what size you will need to purchase.
Some of the best laptop privacy screens
Different brands are available in the market today that offers unique advantages you can choose. Just make sure to check the product details to ensure the proper fit of these privacy screens for your laptop.
Here are three of the best-selling privacy screens in online shops and sites.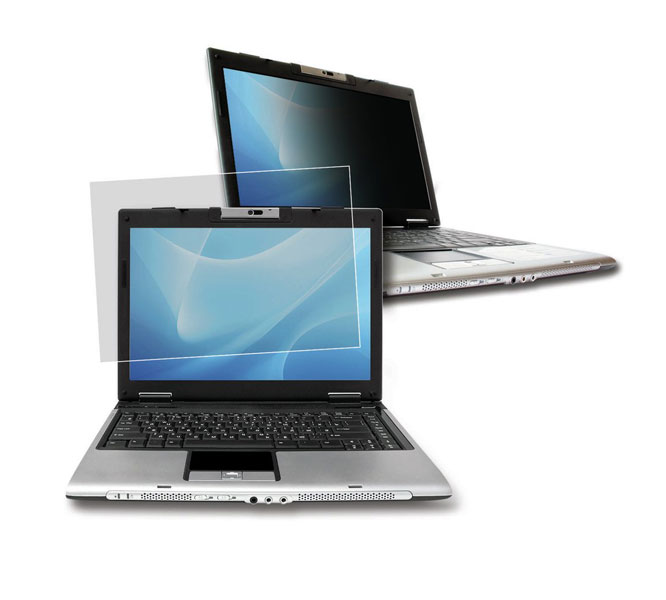 3M Privacy Filter For Widescreen Laptop
3M is one of the biggest producers of privacy screens for different uses. They boast high quality products that are very effective in use. Their privacy screen uses the patented technology called microlouver that blocks vision from wary eyes. 3M's technology on a private screen creates a 30-degree cone of viewing that guarantees vision directly in front of the monitor. 3M claims that their products are 1.5 times more effective in providing protection of privacy against other brands.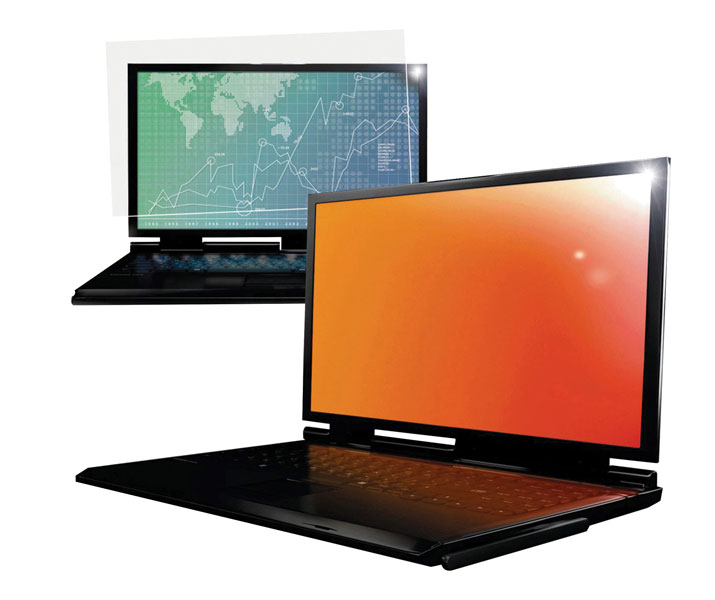 3M Gold Privacy Filter For Laptops
3M Gold Privacy Filter for Laptops is a new and fashionable privacy screen offering from 3M. Other people will only see a golden-colored screen from the side without noticing clearly the data or files you are dealing with and the screen is only visible for the laptop user. This comes with an exclusive adhesive for attaching the filter to the screen and offers reversible sides, one side is black and the other is gold.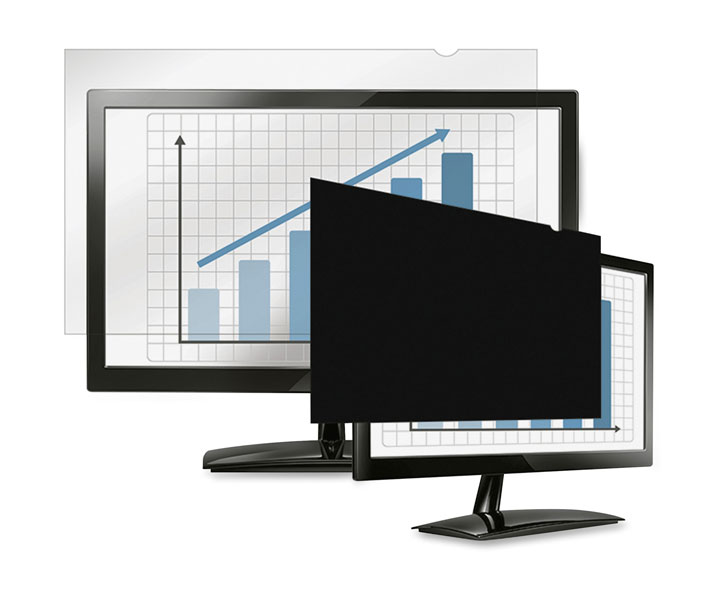 Fellowes Laptop Privacy Filter
A privacy screen that is designed for both flat panel screens and widescreen laptop, this filter uses blackout technology to darken the screen and provide exclusive vision for the laptop user by blocking the vision from the side and anywhere around the user. Fellowes Laptop Privacy Filter is 100 per cent recyclable to promote an eco-friendly philosophy for everybody.
This is mostly the popular choices in online websites and shopping sites, but there are also other brands available that you might want to check.