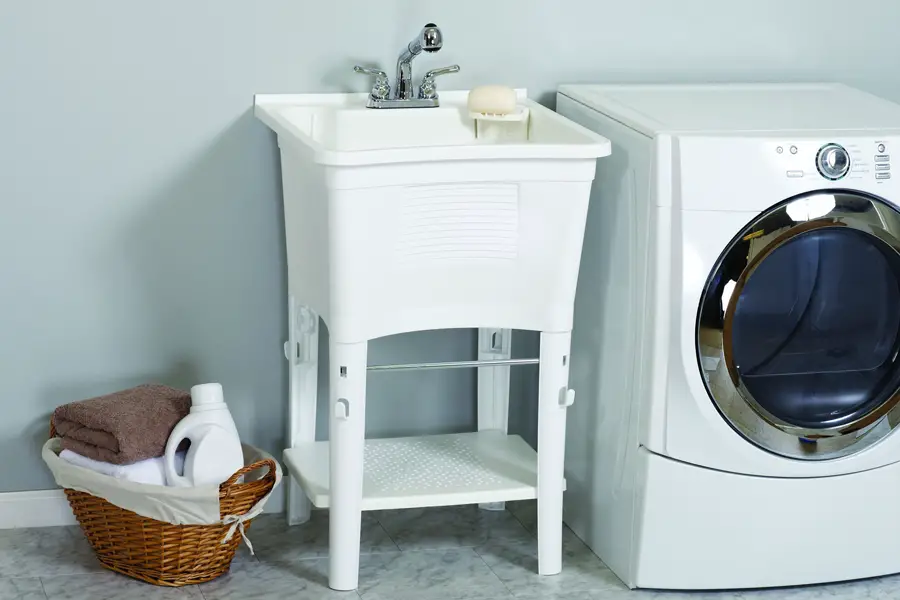 Laundry Tub Reviews
Sanitation is very important for any location. Laundry tubs provide easy access to water and a large tub to clean larger items. Laundry tubs are used for both commercial and individual use. By having a laundry tub you can clean and fill cleaning containers easily, clean sports gear and outdoor items in the deep tub. We have selected the best laundry tubs on the market that will allow you to get the job done with ease.
Most Popular Laundry Tub
Vetta
The Vetta Composite Wall Mount Laundry Tub, black is a perfect way to create a sanitary environment to clean and fill you chemical solutions. This laundry tub can hold 22 gallons allowing you to complete small or large tasks quickly and efficiently. The entire laundry tub is 23-3/8-Inch x 21-5/8-inches in size. Self rimming edge helps keep water in the tub. The bowl gives you the ideal depth allowing you to fill the laundry tub in the perfect water to chemical ratio to complete any task you may have. It is also deep enough to clean larger items. Within the laundry tub you have a washboard that will allow you to hold, store, and maintain your cleaning products in an orderly fashion. The tub has centers already drilled that are 4 inches in diameter for better organization. When you purchase this laundry tub you will receive all of the necessary equipment needed to assemble the device to the wall.
Can hold 22 gallons
Self rimming edge helps keep water in the tub
Laundry tub is 23-3/8-Inch x 21-5/8- inches in size
Within the laundry tub you have a washboard
Pre drilled centers that are 4 inches
– Anthony Dawson
Best Overall Laundry Tub
Maya
The 19-Gallon Laundry Utility Tub by MAYA, 22-1/2-Inch by 23-Inch Floor-Standing Laundry Tub, Black Finish will bring an elegant look into your cleaning station. Now you can have a product that will allow you to clean and fill your cleaning products in a separate area. This laundry tub can hold 19 gallons of chemical solution. The tub is 22 ½ x 23 inches in size. The bowl of the laundry tub is 21 5/8 x 17 ½ x 15 ½ inches in size. When you purchase this laundry tub you will also receive four legs that create a frame made out of steel. With steel construction, the legs will be able to support and stabilize your cleaning station. You will also receive installation instructions for installing the legs to the laundry tub properly. The laundry tub does not have any surface coating. Without a coating your tub is less likely to crack and chip.
Holds up to 22 gallons
Laundry tub is 22 ½ x 23 inches in size
The bowl of the tub is 21 5/8 x 17 ½ x 15 ½ inches in size
Included is a stand with four legs made out of steel
No surface coating to decrease the likelihood for cracking and chiping
– Anthony Dawson
Best Budget Laundry Tub
Mustee
The Mustee 17W Utilatub Laundry Tub Wall Mount 23.5-Inch x 23-Inch Laundry Tub will make cleaning and filling your cleaning supplies easier than ever. 19 Gallon capacity, extra deep 13″ tub with smooth surface making it great for any size cleaning project. The Mustee 17W Utilatub Laundry Tub Wall Mount Laundry Tub is a Mustee's proprietary Durastone brand that is made with distinct rimming. The opening for the drain is 3 ½ inches in size making it so water will drain easily and other substances will be held in the tub as they should. The laundry tub can hold 19 gallons of chemical solution and will allow you to clean more efficiently with the proper sanitary environment. It comes with a limited warranty for one year. It Includes wall mounting bracket, side supports and mounting hardware for securing tub to concrete or stud wall
Laundry tub is 23.5 x 23 inches in size
Extra deep 13″ tub with smooth surface
Mustee's proprietary Durastone brand that is made with distinct rimming
1 Year Warranty
Can hold 19 gallons
– Anthony Dawson
Laundry Tub Buying Guide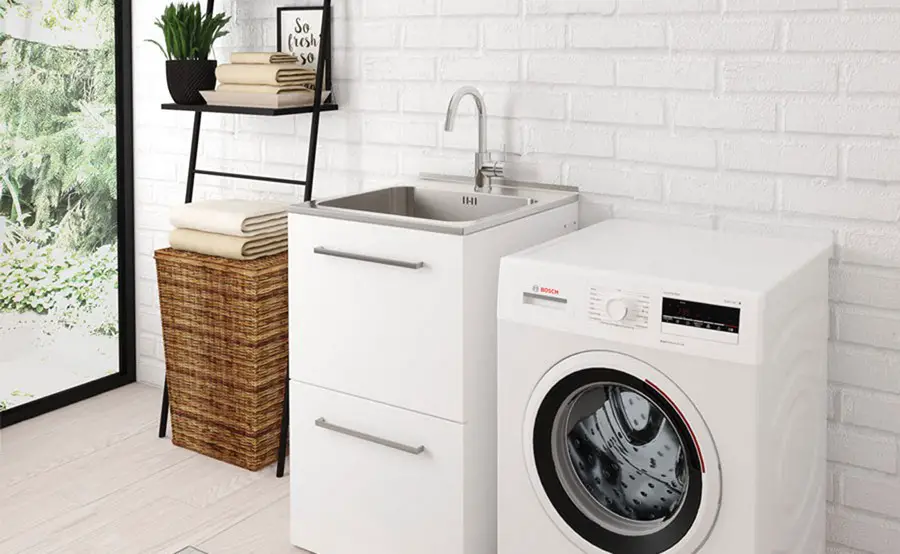 Laundry tubs, also known as utility sinks, are a wonderful asset to any laundry room if the layout of the room allows for it. Most of the time laundry can simply be thrown into the wash without any prewash. However, every once in a while, there may be an unfortunate stain or smell in the fabric. These situations can be easily remedied. The utility sink is an easy way to keep the stain removal process right near your washing machine rather than traipsing through the house to the nearest sink.
These handy tubs can also double as a hand-wash station if entering the home from the outside. Maybe gardening got out of hand or perhaps the kids got into a big bubble fight with sticky soap. A laundry tub essentially allows you to wash all of your dirty things in a place that is not shared with food or other areas of the home.
If you don't yet have a laundry tub and are considering purchasing one, there are a few things to consider. Not all laundry tubs are the same size. Below is a handy guide of things to think about before buying your laundry tub.
Design
Laundry tubs are available in the following shapes and designs:
Drop-In
Undermount
Wall-Mounted
Floor-Mounted
Drop-in sinks are convenient if you don't need a working surface. They are also known as over-mount sinks. Installation is relatively simple.
Undermount sinks sit directly beneath the surface of your countertop. First measure the basin's dimensions. Then cut a hole directly into the countertop and the basin of the sink is installed beneath the hole. This style keeps cleaning simple and the style is a bit more contemporary.
Wall-mounted and floor-mounted sinks are two styles that are installed independently, away from countertops. If you plan on doing a lot of dirty work, this can save on cleaning time since there would be no countertops to clean once you're done at the laundry tub.
Materials
When choosing a laundry tub, you want to be certain what type of material the basin is composed of before you install it. Materials can include:
Cast Iron
Ceramic
Porcelain
Acrylic
Stainless Steel
Cast iron is useful in that it keeps water warmer longer. It's also incredibly durable and not easily scratched.
Ceramic basins are non-porous making them stain-resistant and easy to clean.
Porcelain basins are a timeless classic which is very easy to clean. However, don't drop anything heavy into it or it may chip or crack the porcelain.
Acrylic is resistant to scratches and stains but is not as heat resistant as the other materials. Acrylic laundry tubs are also a great deal louder than other materials when water strikes it.
Stainless steel basins are equally as loud as acrylic but are simple to clean and maintain. They do, however, add a more industrial design to the wash area versus a country feel (such as the porcelain laundry tubs).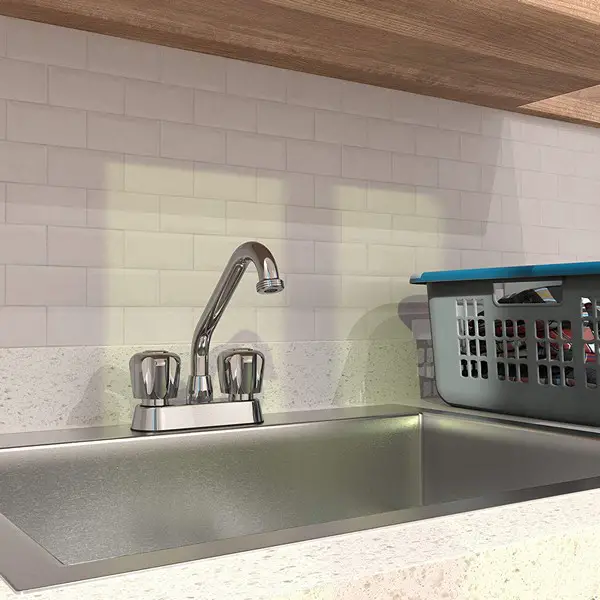 Choosing a Laundry Tub Faucet
Selecting a proper faucet is not as easy as picking one out for the kitchen or bath. Cost is obviously a factor but what about the ease of maintenance or durability? There are many options to choose from. These include but are not limited to:
Brass
Copper
Stainless
Nickel
Be sure to consider the plumbing required for each faucet. Take a close look at the valves and spouts. More specifically, spouts come with two different options: aerated and non-aerated. Aerated spouts are little parts that are placed at the base of faucets to reduce water volume while still making it feel like there is a high-pressure output. They also aid in reducing splashing in sinks.
Furthermore, faucet aerators allow for different stream patterns for different faucets. Non-aerated spouts do not restrict water flow at all. This can cause larger splashes in laundry tubs due to the great force of the water coming out of the faucet's spout.
Laundry tubs come in all shapes and sizes. Be sure to do the proper research to find out if the basin will fit in the area you want it to be installed, then consider the material it is composed of and compare it to your own lifestyle. Would your teeth clang together every time you heard the water splash into the laundry tub? If the answer is yes, you may want to avoid stainless and acrylic models.
If you're still having trouble deciding, write down a quick list of the pros and cons of each basin and faucet design. Once you are better able to see the data in front of you, it will be easier to make a concrete decision.
Also, remember not to limit your options. Check both local hardware stores as well as online retailers. You may find that your dream laundry tub isn't available locally, but instead waiting for you at a store a bit further away. Take some notes, do some research, and you'll be sure to find the right laundry tub for your home in no time.