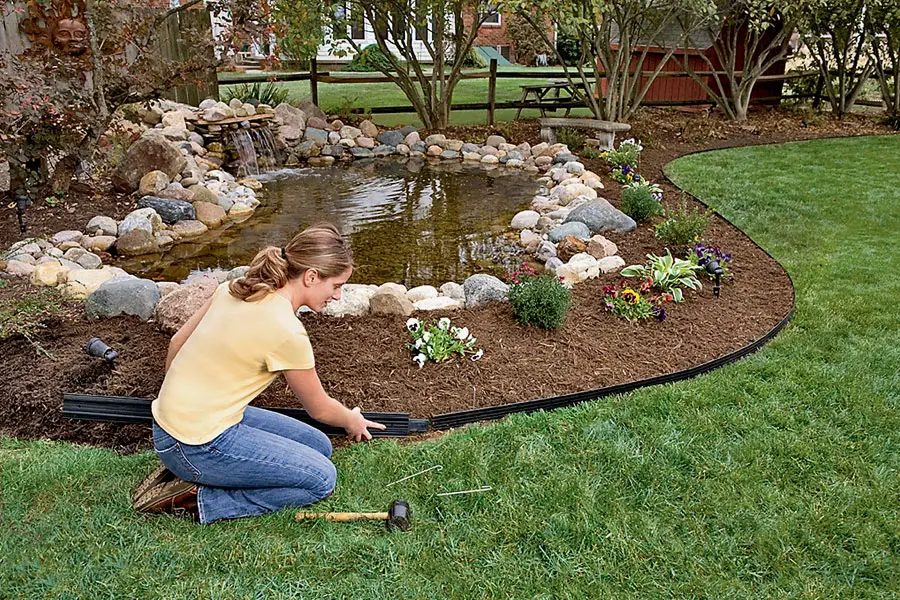 Lawn Edging Reviews
Lawn edging can really set off the look of your garden making it the finishing touch. It provides you with a neat and tidy finish and can be chosen in many different styles to suit your personal taste. If you want a contemporary feel in your garden you can use decorative stones or logs to edge your lawns. Doing so also helps to designate flower and garden areas and keeps the plants, mulch, and water in the appropriate place. However, if this is not the idea you are after there are also plastic and non-visible lawn edges, or earth coloured ones to provide a discreet yet effective way of keeping your lawn looking in its best shape. Using lawn edging makes caring for your garden much easier and much more controlled without the hassle of needing to recreate the edge of your lawn every time you tend to your garden. The edging keeps a nice clean cut between the soil and the grass.
Most Popular Lawn Edging
Master Mark Plastics
This Master Mark Plastic 95340 Terrace Board Foot Landscape Edging Coil in Brown is made of the highly durable HDPE plastic that has been recycled from milk jugs and detergent containers. Try to find a more environmentally friendly and reliable product for your garden and you probably won't. The brown colour gives a discreet finish perfect for edging your grass with and stopping it from spreading to any unwanted areas. It can be used for making flower beds, creating raised layers for rock beds or soil and as it comes in a large 40 foot length roll you can make use of it in many areas of your garden. Master Mark Plastics is a well-known manufacturer of all things garden related so you can trust that this lawn edger will serve you well. The plastic used to make the edging is grinded up and sterilized then further treated totake its form as various garden products and decking materials.
Gives a textured, grainy, wooden look to your edging
100% HDPE plastic is used
Stops grass spreading as well as creating a neat border
Makes a raised layer of mulch
– Anthony Dawson
Best Overall Lawn Edging
Emsco Group
The Emsco Group 2035 Trim Free Poly Landscape Edging in Terra Cotta is so easy to install. You simply tap the sections in with a hammer or a mallet and they are set and ready just like that. The product includes 5 extra-long spikes to sink into the ground in the places that you choose for your edging and these provide a sturdy and reliable edging for your lawn. The attractive design lets your garden have a beautiful finish with such a small yet effective design; it gives off a stylish and homely feel for your garden. The edges allow you to use your lawn mower right up close without causing any damage, with the option to turn them 180-degrees as to ensure they aren't in the way. The handy pack of six edging sections at 10-feet each gives you a total of 60-feet of material to work with, enough for most average-sized gardens.
Comes in packs of 6 with 10-feet of edging material (60-feet total)
Attractive design in terra cotta
Adjusts to 180 degrees
Allows for trim free mowing
– Anthony Dawson
Best Budget Lawn Edging
Suncast
This edging gives a beautiful finish to your garden trimmings. Whether you are using it as a border for flowerbeds, a finishing touch for the lawn, or as a centerpieceof an established outdoor living area, this Suncast Edging is a lovely design to top off your garden with. The edging can act as a weed barrier for your garden to stop the weeds form attacking your plants or grass, or it can double up as a barrier for your grass from growing in the wrong places too. The ten included 12-inch sections means that you can place them where you want to and combine them together to create a longer border as desired. The installation process of this product is a breeze; absolutely no digging is required and the sections can be installed in minutes at your ease and convenience.
Acts as a weed barrier in your garden
With its decorative top it looks quaint and natural
Comes in ten 12-inch sections
Quick and easy to install and maintain
– Anthony Dawson
Lawn Edging Buying Guide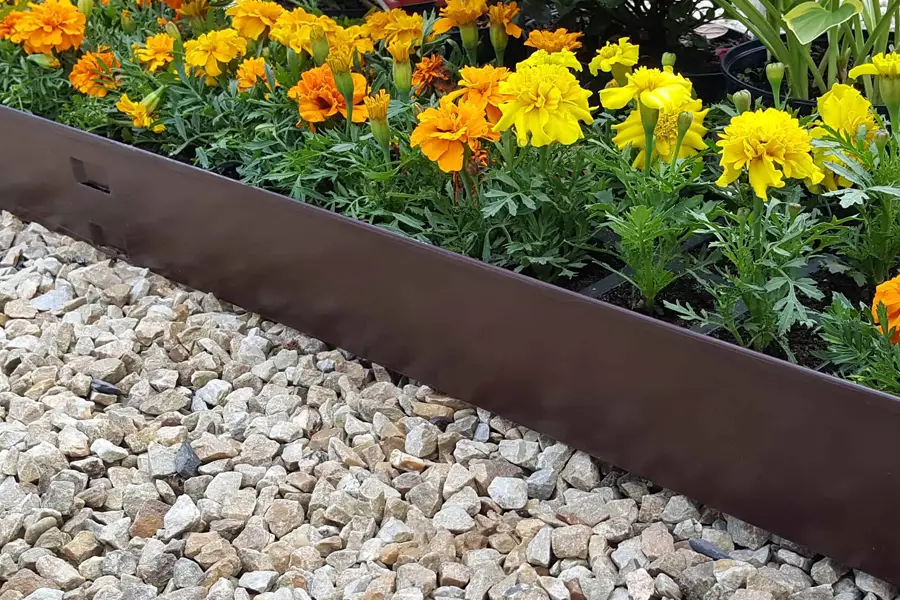 Lawn edging is simply a physical barrier created between your lawn and other areas of your yard such as your driveway, a path or flower bed. Lawn edging offers a nice-looking lawn edge and prevents the weeds and grass roots from growing over pavers or into flower beds. It also keeps plants, mulch, and soil in place.
More importantly, landscape edging will help define walkways to discourage people from walking over your grass or in your flower beds. Everyone needs attractive lawn edging, although it shouldn't steal the appearance of the plants and a colorful flower in your garden. The major problem that many people face is how to choose the best lawn edging. Below are some top tips to help you choose the best lawn edging:
Things to Consider
1. Garden Design
The very first thing to do before choosing lawn edging is to assess the design of your garden. Make sure you determine if it's rigidly geometric, rustic, formal or casually comfortable. Choose a lawn edging that'll perfectly enhance your garden design. Also, you should consider the edging designs to be installed. For instance, mortarless stone, a low lying or brick edging gives a timeless and rustic look. On the other hand, the same bricks or stones smartly stacked in mortar gives a formality look to your garden.
2. Consider your Budget
Your budget determines the kind of lawn edging you choose. For instance, if you want iron picket fence edging, paving stones and other manufactured edging products, you need to be well financially prepared because they come at high prices. On the other hand, you might just spend less on imitation materials like vinyl lookalike or even stones collected all over to give your garden a very nice look. You can also consider recycled materials such as old bricks and ceramic tiles removed from an old home.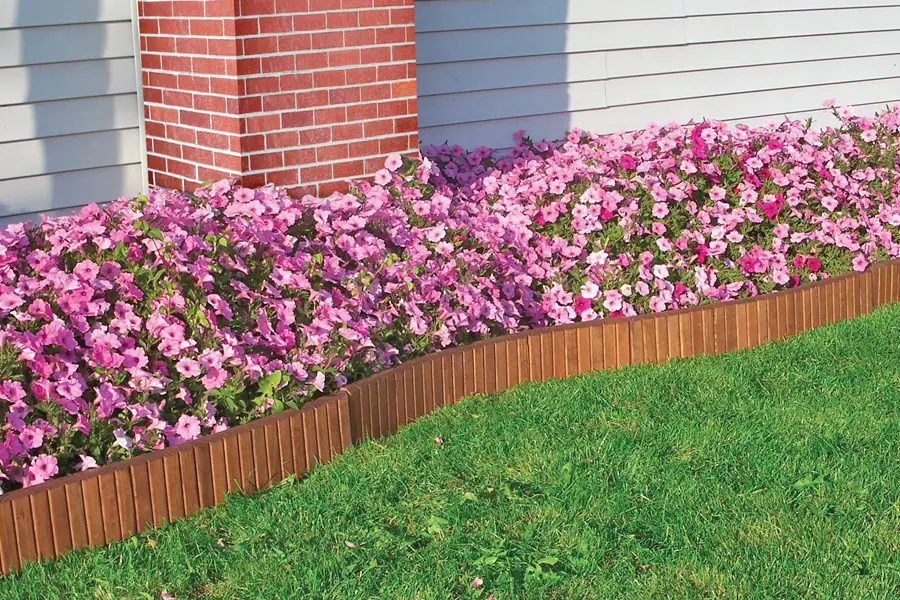 3. Local Climate
It's essential to find high-quality products that can endure the climate in your locality. For instance, if there's a lot of ocean spray in your garden, it may result in rusting and pitting of metal, limestone, and concrete edging after some time. On the other hand, wood edging can be subjected to rot in rainy, shady and boggy areas. Vinyl edging is the best option in this case. If you want a simple lawn edging, you can consider purchasing local stones since they look more attractive and can endure almost all climates. Their only limitation is that they're very expensive to purchase, transport and arrange them. You should also be extra careful to avoid purchasing chemically treated wood edging for lawns that have edible fruits. This is because the toxins may seep into the soil resulting in contamination of your herb or vegetable gardens.
4. Pros and Cons of Each Option
You need to take your time and analyze both the advantages and disadvantages of each lawn edging option. For instance, if you choose to install black plastic lawn edging, be sure you'll not spend a lot of time when installing and but the material can easily bend around the bed edges and prevent grass and weeds roots from growing towards the bed. The downside is that the material is unsightly, meaning that it can easily split or crack as a result of foot traffic or hot sun.
5. Maintenance Requirements
It's necessary to consider the maintenance requirements of lawn edging you'll choose. For instance, narrow edging requires intensive maintenance, especially in a top notch condition. You'll be required to trim the bed's border regularly. If you need lawn edging to prevent weeds and grass roots from interfering with your bed, look for the type that provides a 6-inch depth and width barrier that's few inches above your landscape surface. This thick edging can take a lot of your time to install although it worth the investment since it will reduce future maintenance.
Conclusion
In conclusion, these are some of the top tips to help you choose the best lawn edging. You also need to consider the longevity of each option, ease of installation as well as your family safety. Never take the decision of choosing a lawn edging lightly. Note that, regardless of the choice you make, you'll need professional help