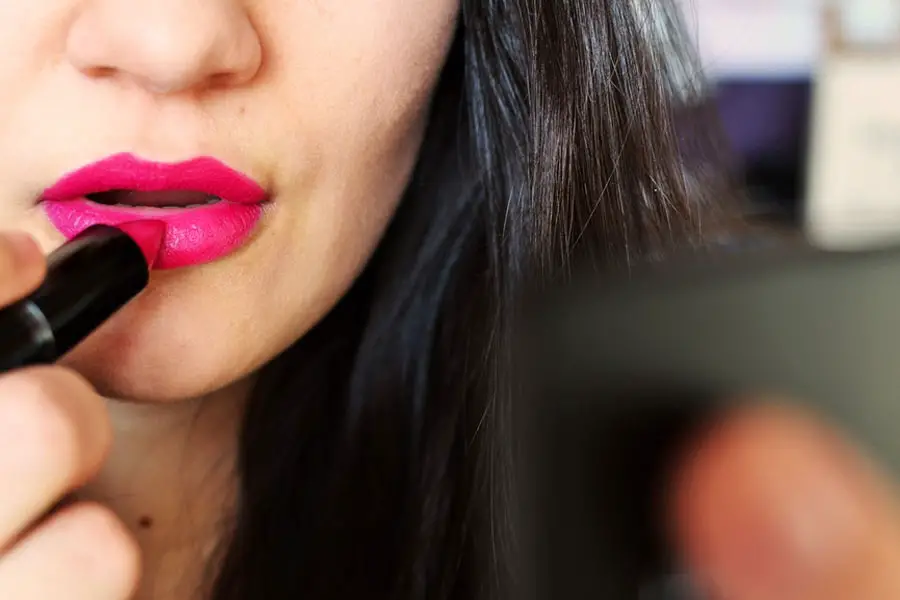 Lipstick Reviews
Nothing is more glamorous and alluring than lipstick. For centuries women have been painting their lips with pigments to enhance their pouts, and today, there are so many endless brands and colors to choose from that if you wore a different one everyday you'd probably never wear them all by the end of your life. It's delightful to have this variety, and some people swear by their one brand or color, and will not branch out. Such is their devotion that they claim they have found their signature color. For those who haven't found their signature, it's fun to explore and try different colors that compliment your skin tone. Some lipstick shades last much longer than others, some can dry out the lips, and some are richly hydrating. Drug store lipsticks are quite cheap, whereas department store cosmetic counters carry the most expensive ones. Some colors have cult followings, they all have different fragrances, and there are even versions that change color in the sunlight!
Most Popular Lipstick
COVERGIRL
CoverGirl is one of the foremost drug store brands of beauty products, and this lipstick is formulated to last an extended amount of time on your lips without drying them. The moisture rich formula comes in a wide palette of colors to keep your lips colorfully protected all day long. With nourishing ingredients like Vitamin A and E, and castor seed oil, you're definitely giving your lips a treat. This particular tube is Rose Quartz, and it truly glows with a rosy, crystal-like luster. For over 50 years CoverGirl has been committed to bringing out women's nature beauty with safe, effective, and affordable products that can be conveniently purchased. CoverGirl allows you to choose whether you want to be neutral and natural, or bright and flashy. The continuous color lipstick won't wipe off within the hour, like some other lipsticks do. It stays true to its name, and really provides continuous nourishment and beauty to your mouth.
Extra moisture formula
With Vitamins E and A
Long lasting color that won't quit
So many different colors to choose from
– Anthony Dawson
Best Overall Lipstick
M.A.C
MAC creates the most iconic lipsticks in the world. Nowhere will you find a variety of such intense pigments in pretty much any shade you could possibly imagine. Most of MACs lip products are really long lasting, and have a nice trademark fragrance to them. This Retro Matte Lipstick is incredibly rare, and perfect for those who love a luscious pout without the sticky, shiny look. Matt lipsticks are completely free of glossiness, and this is considered a retro beauty look. This particular color was really popular on the runways not so long ago (as matte lipsticks are very much in right now). This will stay on your lips forever and just never dry out. The color is classic, and is a great compliment to most skin tones. Also, because the formula is so rich with color, the whole piece lasts for quite a long time, and will not break on you midway through the tube. It comes in MACs iconic packaging.
Incredibly hard to find
Adds rich color and texture to the lips
The lipstick that started it all
Retro color is vibrant and classic
Completely matte look
– Anthony Dawson
Best Budget Lipstick
Maybelline New York
With the help of wonderfully nourishing honey nectar, this Color sensation Lipcolor from Maybelline New York is moisturizing lips and really turning heads. Maybelline always makes lipsticks in the freshest, most modern and popular colors, and this line is no exception. With this color, Red Revival, the shade is quite intriguing and alluring, and gives lips that extra warmth and beauty that women want. It also keeps lips soft and smooth throughout the day with its fabulous moisturizing formula. Not only that, but the color really does last, without any unnecessary irritation. Because of the nice cream formula, you don't get that same frosting effect that you find in other lipsticks. All you have here is rich, even color that bathes your lips in moisture and beauty. Maybelline uses only the purest pigments to create the crisp color that you desire. This product works really well in conjunction with color sensational lip liner, as well as the gloss, for that ripe pouty look.
Pure pigments for ultra rich, crisp color
Honey nectar adds creamy texture and moisture
A number of different shades from neutral to fiery
Will not dry out lips
Works well with Color Sensational liner and gloss
– Anthony Dawson
Lipstick Buying Guide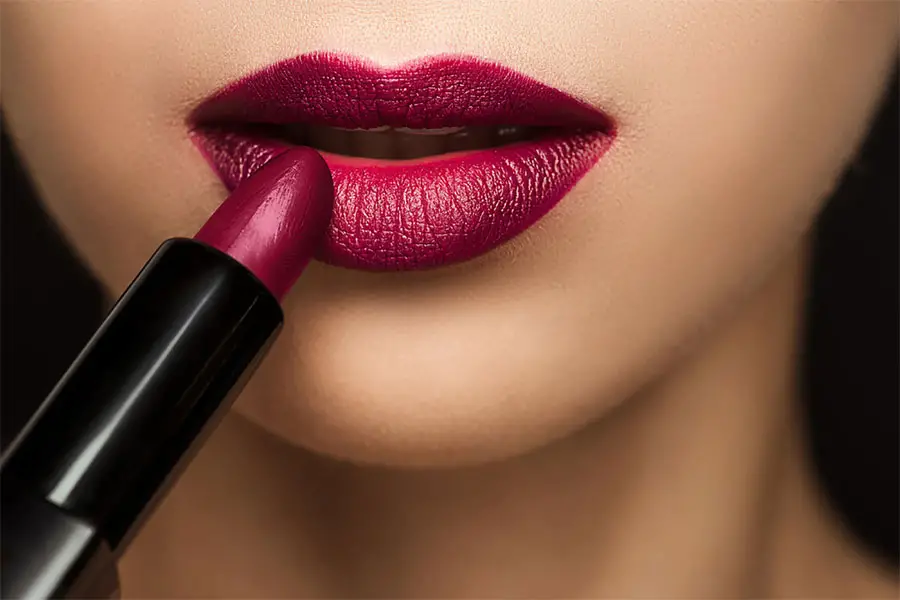 A lipstick is a mixture of wax, oils, and pigments, among others that basically functions as a lip dye. It is a make-up tool that women apply topically on their lips to give it color and life.
For women, a swipe of a lipstick can go a long way. It can either make or break their look. Depending on its color, a lipstick also accentuates certain parts of a woman's face, and it can even indicate their mood for the day.
But just like the use of any other make-up tools, the purchase of a lipstick must be based on informed choices. There are a lot of factors to consider on buying lipstick; top on the list is the buyer's skin tone. Beauty experts advise women to be wary of their skin tone first and foremost before choosing from among the wide range of lipstick hues that are available in the market today.
Factors to Consider
Composition
Lipstick is composed of wax, oil, silicone material, petrolatum, emollients, and pigments, among others. Beeswax is the popular choice of wax whereas castor oil is the most commonly used oil. The use of sunflower oil in creating lip cosmetic products is also becoming popular these days. Some brands use silicone to ensure stiffness of the lipstick mixture in the tube, while petrolatum ensures smooth and easy application of the product. Emollients are added to lipstick formulas to help smoothen and soften the lips. Pigments are needed in lipstick formulas as it defines the color or the hue of the product. Depending on the brand, some lipsticks even contain essential vitamins such as vitamin E for added benefit.
Kinds
Generally, there are three kinds of lipstick: sheer, matte, and glossy. Relatively, sheer lipstick has a lighter tint and has a moisturizing aspect that consequently leaves the lips shiny. Matte lipstick, on the other hand, has less, if not none at all, moisturizers in it but leaves a more natural-looking tint to the lips. A glossy lipstick is also shiny like the sheer lipstick, but the glossy lipstick is better at giving an illusion of fuller lips.
Hues
Thanks to the advent of cosmetic technology, lipstick now comes in wide range of colors and hues. Where red used to be the staple, lighter shades now get their share of the limelight. These varieties arise from their color base. Some beauty experts classify lipsticks into blue-based and yellow-based, while some categorize them as orange-reds, blue-reds, and pink-reds, among others.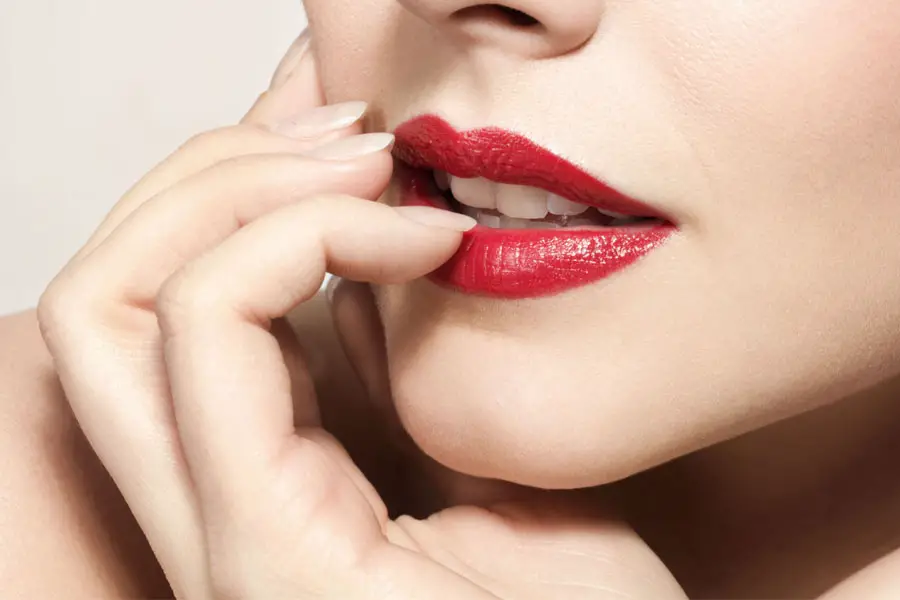 Your Skin Tone
As mentioned earlier, it is important that you know your skin tone so you could get to choose the lipstick color that best matches your complexion. Skin complexion is generally divided into three: fair tone, medium tone, medium to dark (olive), and dark tone. Some people have olive skin tone. Beauty experts advise ladies with fair complexion to wear blue-based lipsticks as it complements their pale skin. Ladies with medium-toned complexion are encouraged to wear pink-reds such as cherry reds and berry pinks. Nude lipstick also suit medium-toned women.  Yellow-based lipsticks are recommended for olive-skinned women. Orange lipsticks pop when applied on an olive-skinned woman's lips. Almost any shade can work on a dark skin tone, but beauty experts suggest lipsticks that are purplish or anything darker.
Your Lip Shape and Thickness
After acquainting yourself with your skin tone, you must now consider the shape and thickness of your lips. Human lips are categorized into round, angular, and heart-shaped, among others, whereas the easiest classification of lip thickness is they are either thin or full, while lip shapes.
Light to pinkish shades are recommended for thin lips, while too dark shades of red and those that are brownish are discouraged for thin lips.  As for thick or full lips, shades that are dark and glossy are recommended.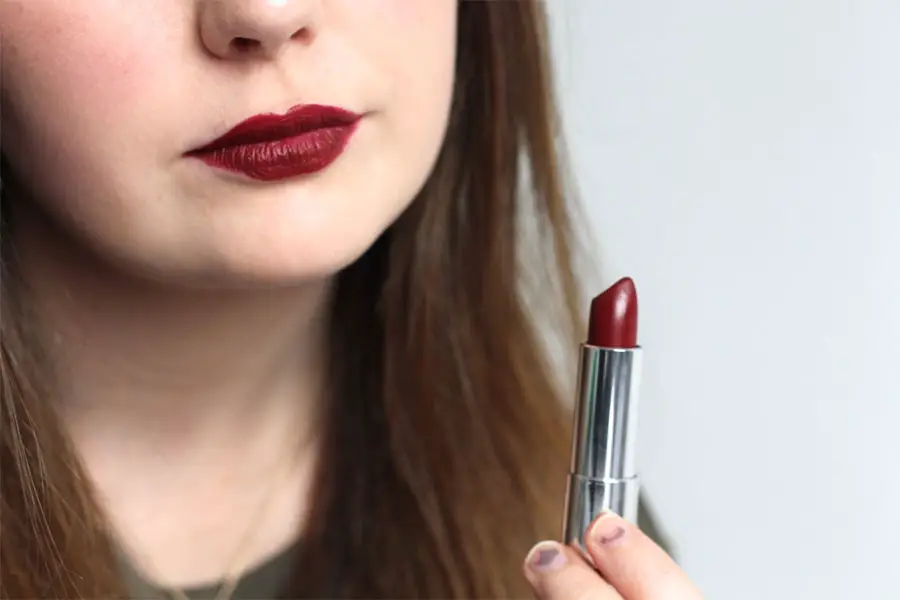 Time of day
The time of day when you will be wearing your lipstick must be taken into consideration, too. It must be noted that while pale and pink shades go best during daylight, dark and red hues go best during the night. Make sure that your lips do not appear too bold in broad daylight and not too pale in the evening.
Place or Event
Where you will be wearing your lipstick must not be neglected as well. Be sensitive enough to know what degree of lip color boldness is accepted in or respectful of the event you are going to. If it is just a casual get-together with friends, a friendly pink shade should suffice, but a bold red hue will not instantly do any harm. If you are going to a formal event on the evening, bloody red or dark purples are recommended, provided that that event is not a funeral service and the like. You would not want to draw attention to yourself in that way in occasions like that.
For job interviews, nude to pink shades can do the trick of making you appear lively. For romantic dates, bright reds and happy pinks are commendable, but be wary of the place where you will be going to and the personality of the person you are going out with. It will be wise to choose a shade close to your natural lip color so that your look will remain natural even after you have eaten. You would not want your date to get confused with the difference of your look once your lipstick gets worn off by your food or your drink.
Your Personality
Make-up application is also considered as a form of self-expression. No fashion rule must hinder anyone from wearing whatever you feel like wearing.
The recommendations mentioned above are but simple guides to help you choose your lipstick shade, but the final choice will always be yours. Of course, the rest of your make-up ensemble is always a consideration, too. Be sure of the over-all look that you want to achieve so that your choice of lipstick hue will complement and not ruin your do.
Remember to be confident in your choice because the goodness you feel on the inside will naturally come out on the outside.