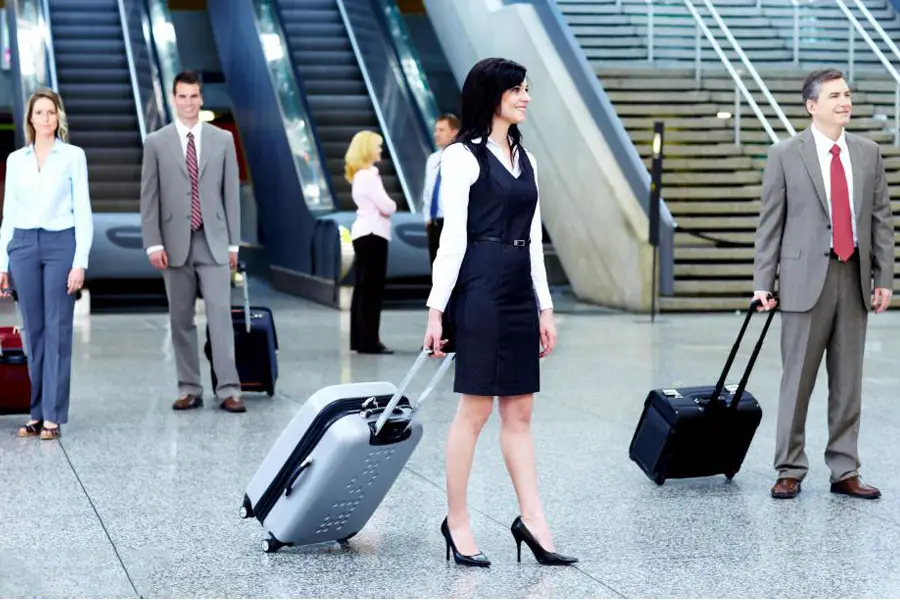 Luggage Reviews
Quality luggage is hard to find. There are hundreds of bags available on the market today, many of which break down after just a few uses. When it comes to travel high quality luggage cannot be underestimated. We have combed through the enormous selection of available luggage and selected brands and models that make travel easier, lighter, and more convenient.
Most Popular Luggage
Samsonite Solyte
The Samsonite-Solyte-Expandable-Suitcase comes in three different sizes. It comes in a 21.5 inch, a 26 inch and a 30.3 inch model. Select the model that best meets your traveling schedule and size. The luggage is made of 70% nylon and 30% polyester. This lightweight luggage has 4 dual spinner wheels for effortless mobility. It will roll through an airport with no strain on your hands or arms. The ergonomic pull handle has a comfort grip. It also includes top and side handles for easy lifting. The Samsonite-Solyte-Expandable-Suitcase has a full featured interior. Inside includes a wetpak, mesh pockets and a floor to ceiling compression straps to keep clothes in place. A removable hanging toiletry kit is also included, for additional convenience while traveling. The soft sided case is expandable to fit all your belongings.
Available in 21.5, 26 and 30.5 inch models
Ergonomic Pull handle with comfort grip and top and side handles
4 Dual spinner wheels for easy mobility
Interior includes wetpak, mesh pockets, compression straps and toiletry bag
Available in black
– Anthony Dawson
Best Overall Luggage
Samsonite Bartlett
The Samsonite-Spinner-Expandable-Wheeled suitcase is a large suitcase build for heavy use. It is large enough that it is important to be cautious of how much is packed, if you need to make the weight restrictions for an airline because it is easy to over pack. The filament polyester fabric is backed with air expanded polyethylene creating a very light suitcase making for easier portability. The lightweight suitcase allows you to pack more belongings, while still keeping the overall weight down. The Samsonite-Spinner-Expandable-Wheeled suitcase comes in red, black, charcoal, and purple and is 30″ X 20 inches. One of the best features is the luggage has four multi directional wheels. This allows for 360 degrees of upright rolling. The ultra-light weight suitcase has a beveled alloy pull handle for easy mobility. It also includes both top and side carry handles. The interior of the suitcase is fully lined. There is also a front panel pocket for additional storage.
30 X 20 Ultra-Light Suitcase
Pull handle with both top and side handles
4 multi-directional wheels
Fully lined interior
Available in Red. Black, Charcoal and Purple
– Anthony Dawson
Best Budget Luggage
U.S Traveler
The Traveler-Expandable-Carry-On-Luggage-Mustardis a 2 piece set. The first piece is 21X13.5X8.5 and expands to 10.5 inches. The second piece is a 14X10X6. The suitcase is small enough for a carry on at the airport, preventing the need for a checked bag. It is made from 100% rigid polyester construction with strong heavy duty zippers. The interior is fully lined with a mesh bag. The Traveler-Expandable-Carry-On-Luggage comes in a Mustard color. It also comes with a retractable push button, self-locking handle for easy mobility. This allows you to roll the bag easily rather than carry the suitcase. Top and side handles make it easy to lift a packed bag. The 2 back wheels are in line skate wheels making them rugged and sturdy. The front bottom corners have corner protectors to stand up to heavy use and rough travel.
2 Piece set 1st piece is 21X13.5X8.5: 2nd piece is 14X10X6
100% Rigid polyester
In line skate wheels and corner protectors
Retractable pull handle and top and side handles
Full interior lining.
– Anthony Dawson
Luggage Buying Guide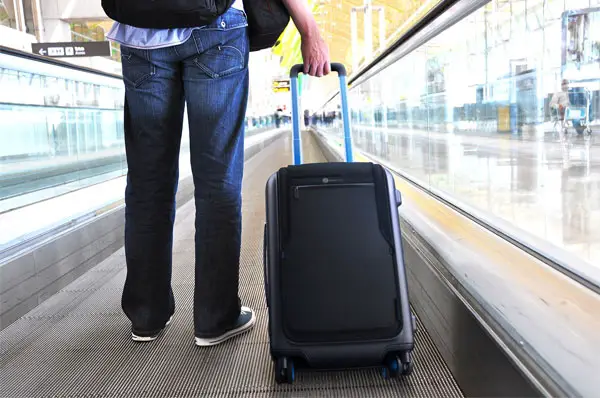 Luggage has now become a necessity for almost everyone as travelling is easier than ever. It provides buyers a convenience of keeping their belongings together whenever they are going for a business trip, camping, going on in a vacation and many more. Manufacturers create luggage as uniquely as possible against their competitor so you have to make sure on the specifics of how you want to use your luggage to satisfy your needs.
Factors to Consider
Determining the qualities of the luggage you want is very important. Here are some considerations to keep in mind in buying luggage.
Security
Some luggage provides more security than the others with its complex lock system and others provide multiple locks to secure your belongings better. There is also the hard-coated luggage that is better for security because thieves will not be able to cut through it unlike the soft-coated one.
Take note also that the Transportation Security Administration (TSA) has guidelines on a locked luggage. The Transportation Security Administration is the one responsible for screening all luggages coming in and out of the country. They have the right to open your luggage even if it has to break your lock or worse, your whole luggage. It is better to make sure to buy TSA approved locks to avoid potential hassles with airport officials.
Durability
Buyers would definitely want to buy the product that is worth their money, something that will last longer and can endure collision and pressure. Durability depends on the material used in manufacturing. Both soft and hard coated luggage has its pros and cons so make sure to check on where and on what condition you will bring it.
One thing to keep in mind when buying soft coated luggage is to check the "denier" value of its fabric. Denier refers to the firmness of how a fabric or a yarn is weaved. In general, the lower the denier the more the fabric can break easily. Preferably you want the denier of the bag you will buy to be 400 or higher. Consider also the materials used, nylon materials are usually superior to polyester so even though bags made in polyester have a higher denier value than a bag made in nylon, it does not necessarily mean to be more durable.
Luggage Size and Weight
Hard luggage is usually heavier than a soft one even with the same size so it is advisable to check whenever you will go on an air travel the allowable weight for check in luggage on the airlines you plan to buy the ticket.
Luggage also comes in different sizes. Some are expandable that makes it possible to put more items in it while some are flexible that makes it easier to fit in the compartments and in other closed quarter areas.
Ease of Access and Protection
It is important to keep in mind the items you plan to bring in your trip. When bringing fragile items, hard luggage provides protection for it, especially in air travelling where luggage is stored tightly in close quarters.
Ease of access is also important because some travellers need instant access for their belongings. Buyers need to keep in mind that some luggage does not have outside pockets and just cannot be accessed easily. This luggage must be totally open in order to get your hands on the content and this is inconvenient for some travellers.
Luggage Versatility
Luggage for multiple uses is now gaining popularity, though it cost higher. It can be reused for other purpose from business bag, computer case, sports bag and even as pouches. Luggage that is not exclusively used for travelling and has many functions is really worth the price.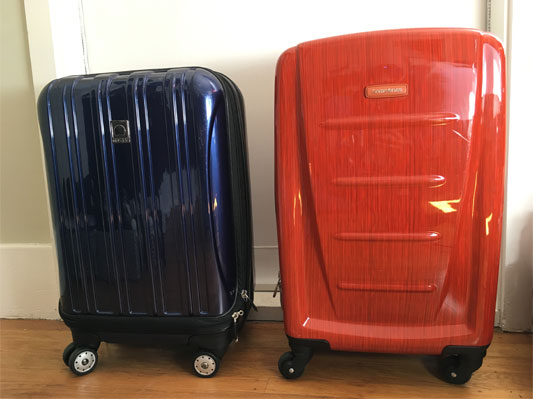 Preference
This is much more the appealing side of choosing the luggage buyers prefer. Different colors and styles from different brands are available in the market. The most popular is the black and blue. But you may want to consider bright or neon colors as it makes searching for your luggage easier when travelling and it lowers the risk of accidentally swapping your luggage with others.
Luggage Design
A large variety of luggage types is available. From suitcase, duffle bags, sports bags, laptop case, tote bags, garment carriers, business travel bag and many more to consider.  Duffle bags are a good option for short trips. It is a soft sided type of bag that provides great space for packing, very flexible and easy to carry around. Tote bags are just like duffle bags, but smaller and lighter. It is perfect to use as a hand carry bag when air travelling. Garment carriers are a handy mini closet that business travellers prefer to use. It provides protection to keep your clothes wrinkle free.
Best Selling Luggage
These are the highest rated and the bestselling luggage online:
Samsonite Luggage 22 Inch Andante Wheeled Duffle
A duffle bag made in polyester and guaranteed to be lightweight. Easy to move with its incredible mobility and has easy to access pockets that is very convenient when getting items and adding extra contents.
A prefect luggage for short trips, can be check in and hand carried when air travelling.
American Tourister Luggage Splash 22 inch Upright Suitcase
A flexible luggage that allows expanding for added capacity. It is a well-made and very durable luggage made of polyester. It comes with lots of pockets for multiple items and good wheels for better mobility. This luggage has good balance even when heavily packed and is great for short trips.
Samsonite Tote-a-ton 33 inch Duffle luggage
Another duffle bag from Samsonite that received wonderful reviews with its great function and it is one of the best-selling luggage.
This luggage also provides lots of space to fit tons of your belongings and has a small pocket that is good for organizing. It is made in nylon and is washable, good for maintenance and easy to store when not in use.
Competition for luggage is very tight, which is good for everyone. Buyers should consider the appropriate luggage to use when buying and keep in mind that cost does not always equate to better quality.