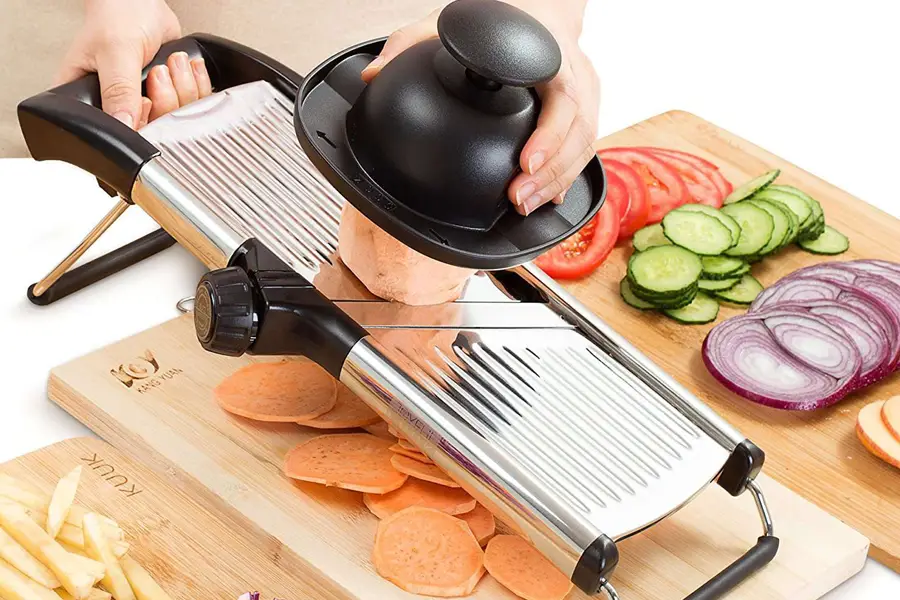 Mandoline Slicer Reviews
If you're looking around for a good mandoline slicer, you may find it quite difficult to settle on one due to the huge selection of models out there. Well, we've done all the leg work for you and whittled down our choices to what we believe is the 3 best mandolines currently available online.
Most Popular Mandoline Slicer
OXO Good Grips V-Blade Mandoline Slicer
Great for slicing a wide range of fruits and veggies, this impressive gadget ranks high on our list due to its sheer versatility. Featuring 4 blades and a height adjuster, the OXO V-blade Mandoline Slicer can be used to make julienne strips, straight slices, French fries and crinkle cuts in whatever thickness you like.
It even slices tomatoes perfectly! (As you may know, tomatoes are one of the toughest food items to cut). Additionally, the blades are easily removable, making cleaning and maintaining this unit a breeze. The textured surface area protects your fingers and prevents food from sticking to the OXO Mandoline Slicer, while the food holder keeps everything from spilling over.
The handle and turning knob are comfortable to handle and non-slip feet ensure the item stays securely on the table/countertop. Furthermore, the food holder and body of the OXO Good Grips Mandoline Slicer are dishwasher safe, although it's best that you hand wash the blades. To sum up, if you want a very serviceable slicer at a decent price, the OXO Good Grips V-Blade Mandolin Slicer is the best choice for you.
The blades are extremely sharp and slice beautifully
It is easy to clean
The V shape produces even slices, unlike straight blades which cut at an angle, resulting in uneven ends
It's fast and efficient
It has great safety features
– Anthony Dawson
Best Overall Mandoline Slicer
Swissmar Borner V-Slicer Plus Mandoline 5 Piece Set
An affordable alternative to the stainless steel mandolines used by top professionals, the SwissmarBorner V-Slicer PlusMandoline can be used to quickly, evenly and safely cut and julienne vegetables and fruits. This unit also makes it possible to shred cabbage and neatly slice onions, potatoes and tomatoes.
Safety is always an issue when handling mandolines and the SwissmarBorner V-1001 takes care of this aspect well – a holder grips food securely with stainless steel prongs so your fingers are protected from the blades and the 3 inserts included with the unit lock in position. For storage purposes, the V-frame, the food safety holder and the three blade inserts all fit into a caddy that can be hung on the wall, placed flat in a drawer or kept upright on the counter.
The Swissmar Borner V-1001 V-Slicer Plus Mandoline is a wonderful and versatile tool that's bound to save you plenty of time when it comes to slicing and dicing your favorite fruits and veggies.
It slices very well
The blades are exceptionally sharp
It is super easy to clean
It's sturdy and reliable
It has terrific safety features
– Anthony Dawson
Best Budget Mandoline Slicer
Mueller Austria V-Pro Multi Blade Mandoline Slicer
This fantastic adjustable mandoline is especially useful for making shoestring potatoes and French fries, although it is also perfect for slicing, garnishing and julienning various other food items in many different ways.
The Mueller Austria V-Pro Multi Blade 5 ultra-sharp 420-grade hardened surgical stainless steel blades gives you five cutting options including thick slice, flip for thick julienne, thin slice, flip for ultra thin julienne and medium slice, flip for super thin julienne.
Designed for use over a bowl or cutting board, this item features a comfortable grip handle, an anti-skid base for stability and a finger guard for safety. Furthermore, cleaning up is quick and easy since the Mueller Austria Adjustable Mandoline is dishwasher safe.Also, when not in use, the cutting plates can be stored beneath the device. 
For the price you pay, the Mueller Austria V-Pro Multi Blade Adjustable Mandoline Slicer  works really well and is a fantastic addition to any kitchen.
It offers a really good variety of slice thicknesses
The German engineered 5 ultra-sharp 420-grade
It's exceptionally easy to clean
Storage is convenient due to the storage container that's included
100% BPA-free food grade, durable reinforced ABS plastic
It works fast and is easy to use
– Anthony Dawson
Mandoline Slicer Buying Guide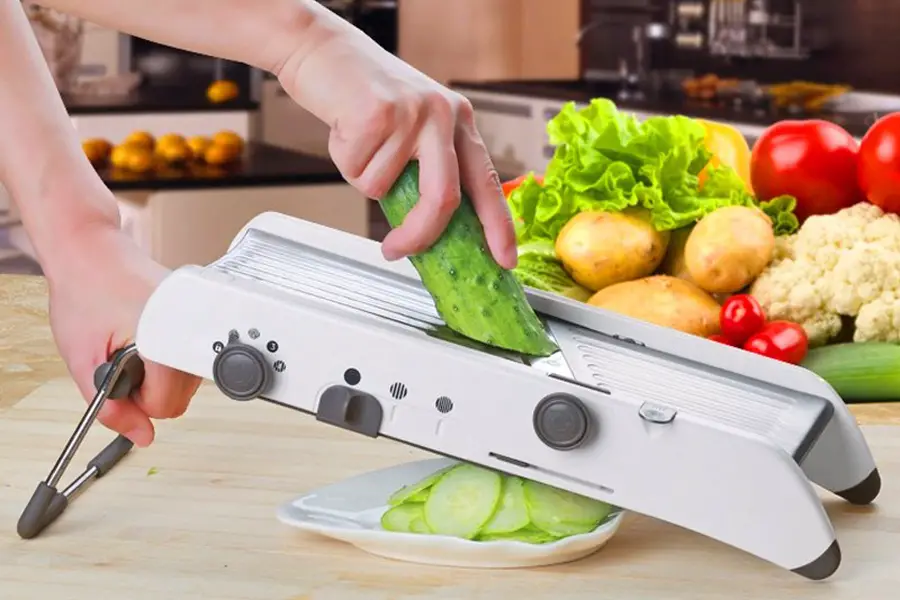 The one thing most people hate about food preparation and cooking is slicing the ingredients. It consumes not only most of allotted time for cooking but also huge amount of effort. It also doubles up the trouble for cooks if the dish requires detailed slices like julienne cuts, waffle cuts or even crinkle cuts. To address these sorts of problems, people specifically invented slicers for handling these jobs. One great example of this innovation is Mandoline Slicer. Mandoline Slicers are used similarly to a grater in which food is pushed through sets of specialized blades while waiting for the amended food to skid along on the other side.
Points to Consider
Buyers have tons of options to choose from. This gives enough time to focus and carefully consider the important aspects like quality, pricing and variety of slices created. Here are some cues and traits to look out for:
Durability
Choose mandoline slicers which can withstand pressure. It should at least be made from heavy composite material.  Look out for slicers with thick plastic frames since they last longer than metal since rust can't eat it up.  Plastic frames also compromises easy clean-up; perfect for effortless dishwashing. It requires no further cleaning and just minor rinsing on running water.
Easy-lock in Component
Top of the line Mandoline slicers should have food safety holder to prevent cuts and sudden mishaps while the user is slicing. Easy lock-in component also encompasses one simple movement in attributing and removal of the blades. It may also contain storage caddy with locking clip to make sure all blades are fixated in one place especially when not used.
Stability
To check for stability, the user must be able to hold the equipment in one hand readily while the other hand is concentrated on cutting. Some slicers may also include slip-resistant feet to improve sturdiness and stability.
High-grade Blades
Slicers of high quality have stainless steel blades. Stainless steel blades resists weathering and are preserved easily. For a blade to be deliberated stainless, it must have chromium content of more or less than 13%. It also maintains the non-magnetic crystal structure at room temperature and remains stain-proof overtime.
Textured Surface
Foods tend to stick on smooth surfaces. Textured surface guarantees friction between the food and the slicer letting the food run through the blades easily.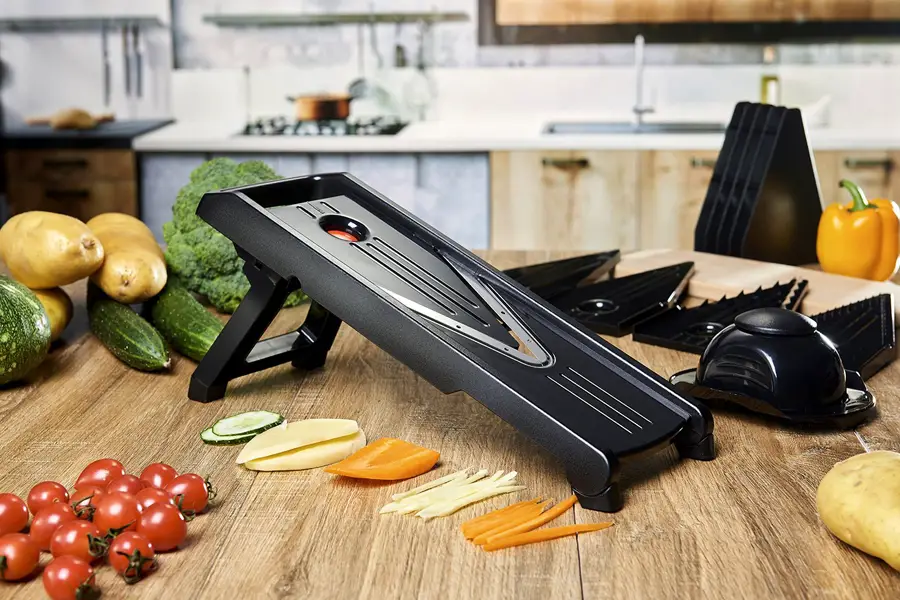 Variety of Cuts and Slices
Good mandoline slicer offers the user to swap shapes, size and cutting style that suit their cooking needs. It should be versatile enough to match creativeness of the cook. It usually goes together with push-button adjusters or sliding height adjusters; useful for constructing straight slices with different thickness options (1.5 mm, 3 mm, 4.5 mm, and 6 mm).  To create cuts and slices with design, coarse blades are interchanged with flat down ones. Coarse blades are perfect for slicing chunks. Blades with fine teeth are perfect for shredding and julienne cuts. Medium sized blades are perfect for cutting stir fry vegetables where every piece should be at same size to evenly cook the vegetables. Several specialized slice varieties may include Julienne, allumette, batonnet, dice cuts and crinkle cuts.
Prices of Mandoline Snipers
The normal price range for a mandoline slicer with minimum features is 7 to US $ 20. A normal mandoline slicer encompasses at three varieties of cuts and made from heavy duty composite material. The price range for a state-of-the-art mandoline slicer is US $90-200. It includes up to nine different slices, 3 color-coded blades and equipped with slice adjuster.
Some of the mandoline manufacturers that users should look up are Borner V, OXO, Norpro, Kuhn Rikon, Eurodib, KitchenAid Omcan, Mastrad top chips, Weston, Oneida, Cuisiniart, Calphalon Gadgets Precision, Royal Industries and Pampered Chef. These manufacturers may offer bunch of great deals which may help people especially those with low budget.
Kitchen utensils like Mandoline slicers are an investment for others. Top-rated slicers cost more and you need to attain money in order to purchase one. If top-rated is out of the price range, never be afraid to look and skim through other options. Calculate the necessary features you need then find the slicer that fits the criteria. Also, be sure to take advantage of the deals with free deliveries. It will greatly lessen your worries on expenses.
How to make the cuts and slices
Julienne, allumette and batonnet cuts are the stick-like cuts used mostly in vegetables like carrots and celeries. To make julienne and allumette, adjust the height of blades into 1.5mm configuration. The only difference between the two is that allumette are only used in potatoes. To make batonnet, adjust the height of blades into 3mm configuration. Utilize the blades with fine teeth. Make sure the blades are locked in properly. Use the safety food holder to grasps the vegetable firmly in place. Start gliding the food holder back and forth until desired amount of vegetable is attained.
Crinkle cuts utilize course wavy blades for slicing. To make crinkle cuts, adjust the height of blades into 3mm configuration. Make sure to adjust the space between blades. Utilize the blades with wavy teeth. Make sure the blades are locked in properly. Use the safety food holder to grasps the vegetable firmly in place. Start gliding the food holder back and forth until desired amount of vegetable is attained.
In making cube or dice cuts, do the julienne, allumette or batonnet cuts first. Please note that Julienne and allumette makes normal sized cubes while batonnet cut makes smaller cubes. To make cubes, align the slices of vegetables as if the sticks are standing above the slicer. Use the safety food holder to grasps the vegetable firmly in place. Start gliding the food holder back and forth until desired amount of vegetable is attained.
The machines and tools exist only to help and assist us. People shouldn't limit themselves to what tools can offer. People should still be part of the action and take part in the cooking and preparation. A little love and hard work would make dishes extra delicious.