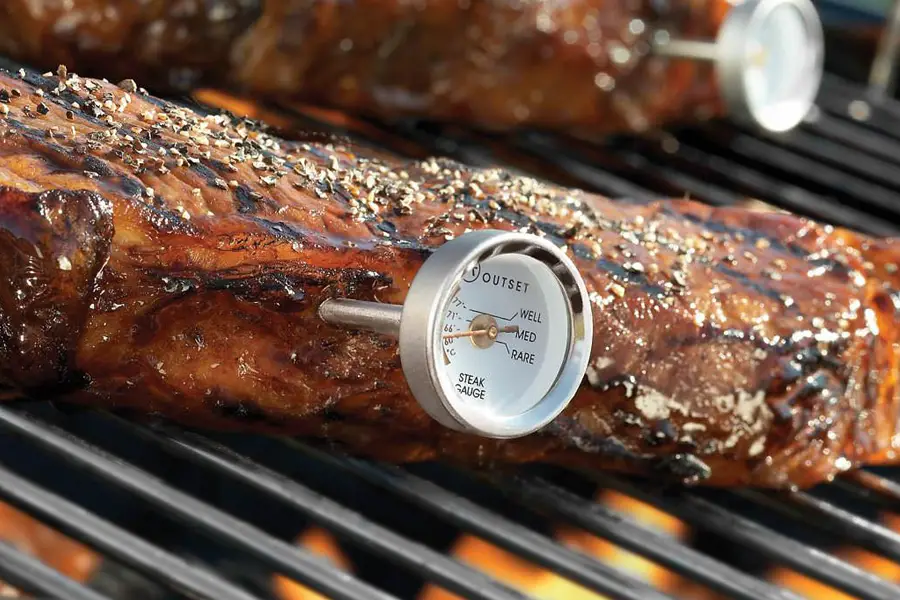 Meat Thermometer Reviews
A meat thermometer is a handy tool to have in the kitchen and can take the guesswork out of cooking poultry and meat. With that said, what is the best brand out there? Well, we decided to sit down and review all of the models currently being sold on the market to find out which ones offered the best value for money
Most Popular Meat Thermometer
Taylor Precision Digital Thermometer
If you're looking to get a reliable digital thermometer that displays an accurate temperature reading, you can't go wrong with a Taylor Precision Digital Thermometer.
Measuring just over 5 inches in length and backed by a 1-year warranty, this handy little tool can be used for all kinds of things – to check the temperature of your meat, yeast, chocolate, candy, yogurt – basically, all cooked foods.
Taylor Precision Adjustable Head Digital Thermometer is NSF-listed and comes equipped with a four-digit LCD readout panel on a 1-inch dial and a watch battery for power.
To sum up, the Taylor Precision Digital Thermometer gives out a super fast reading compared to other models in this price range and is well worth the price.
It is easy to read LCD display
Digital Thermometer, the accuracy is superb
It's compact in size and easy to carry
Cleanup is a snap
It is inexpensive
– Anthony Dawson
Best Overall Meat Thermometer
CDN DTQ450X Thin Tip Thermometer
While most traditional thermometers take up to 60 seconds to read temperatures, the CDN DTQ450X ProAccurate Thermometer delivers results in just 3-6 seconds, making it a far more superior choice.
Recommended by Cook's Illustrated (one of the most popular cooking magazines), this pocket-sized gadget is shatterproof and waterproof – and perfect for thin cuts of poultry, meat or fish.
It features an NSF Certified 1.5 mm slim tip, a sturdy, stainless steel tip and a pocket clip for mounting purposes.
Additionally, the CDN DTQ450X comes with a case to protect the stem, an LR44 button battery and an accompanying instruction guide.
All in all, the CDN DTQ450X Thermometer is a fantastic gadget and offers great value for the price. We recommend it!
It reads quickly and accurately
It's backed by a 5-year limited warranty
Cleaning it is a breeze
It's very easy to use
The auto-shut off feature preserves battery life
– Anthony Dawson
Best Budget Meat Thermometer
Taylor Digital Cooking Probe Thermometer and Timer
Repeatedly opening your oven to check on the temp of that delicious chicken you're roasting, will most likely result in a loss of moisture and oven temperature.
Worse, you're putting yourself at the risk of being burned by a full blast of piping hot steam.
Which brings us to the question…
How can you prevent this from happening?
Enter the Taylor 1470N Oven Thermometer.
This thermometer cum digital cooking timer is designed to automatically and remotely alert you when the food you're cooking has reached the appropriate internal temp.
In other words, you can monitor the exact temperature of poultry and meats without having to open your oven door.
Furthermore, the Taylor 1470N features a dual display, a strong, stainless steel food probe and a magnetic back for quick, no-hassle mounting on metal surfaces.
In conclusion, the Taylor 1470N Oven Thermometer is well worth the price and is the perfect solution for you if you want beautifully cooked meat/poultry that turns out 'just right.'
It has an easy to read dual display
The on-off switch helps prolong battery life
It is sturdily built
It's amazingly easy to use
It folds flat for easy storage
– Anthony Dawson
Meat Thermometer Buying Guide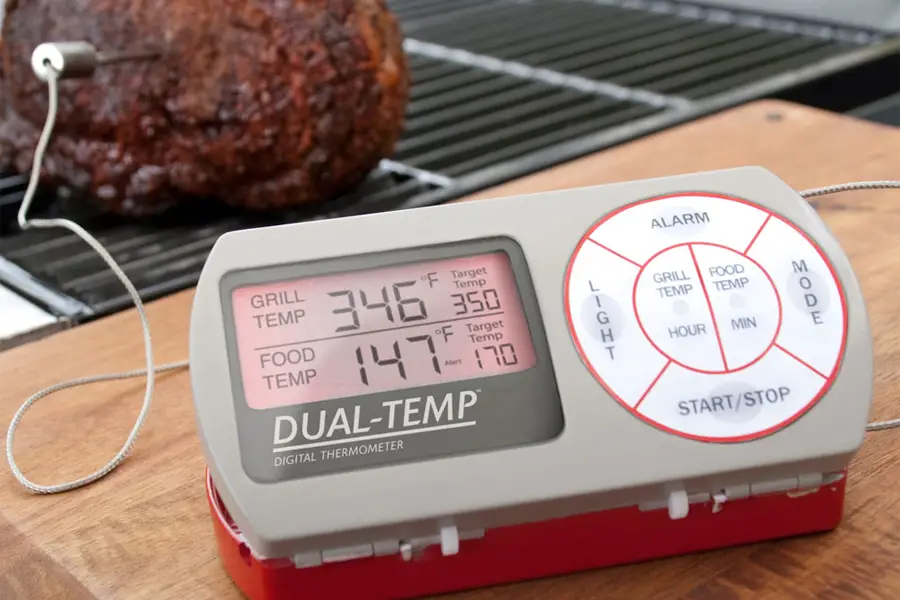 A meat thermometer is a specialized food thermometer that measures the internal temperature of meat especially if subjected to cooking. The internal cooking temperature of meat is an important factor in achieving the preferred quality of meat dishes as well as the needed safety of the people who will eat them. Different temperatures are required in cooking beef rare, medium, and well-done; as well as ground meat, poultry (grilled chops and whole roasts), lamb, pork, fish, and other livestock meat. Also, pathogenic microorganisms in meat that cause food-borne diseases are killed with the right cooking and holding temperatures; and the meat thermometer can address to these culinary and sanitary concerns.
Parts of the Meat Thermometer
The meat thermometer consists of a pointed metal probe – which is punctured onto the thickest part of the meat – and a scale where the temperature of the meat can be read. Analog meat thermometers come with dial scales and sometimes temperature markings for different meats and beef doneness; but with the advancement of technology, digital meat thermometers with LCD displays that register the temperature of meat are now available in the market. The best meat thermometers are certified by the NSF for adhering to the organization's high standards of accuracy in measuring devices.
Types of Meat Thermometers Available in the Market
There are different types of meat thermometers that can be used depending on specific purposes. The oven-roasted meat thermometer comes with a longer probe blended at a right angle and attached to the digital scale through an insulated wire. Aside from measuring the internal temperature of meat before and during the cooking process, this type of meat thermometer has an alarm system that rings if the desired temperature is achieved; thus roasted meat is ready to serve. This type of digital meat thermometer is based on its analog counterpart – commonly used in roasting turkey – that uses a spring system that pops out once the meat has reached its set temperature. Instant-read meat thermometers are punctured into the newly-cooked meat for a few seconds in order to get a quick check of its temperature; while meat thermometers for microwave oven-roasting are available in the market since most meat thermometers are made of metal.
In shopping for food thermometers, it is a must to remember that meat thermometers are specifically designed for their purpose – meaning meat thermometers are just meant for meat and not for other kinds of food; candy thermometers are just for candies and not for meat. Some kitchen tool brands offer all-purpose food thermometers that promise of convenience but not accurate temperature readings that lately happens once re-calibrated.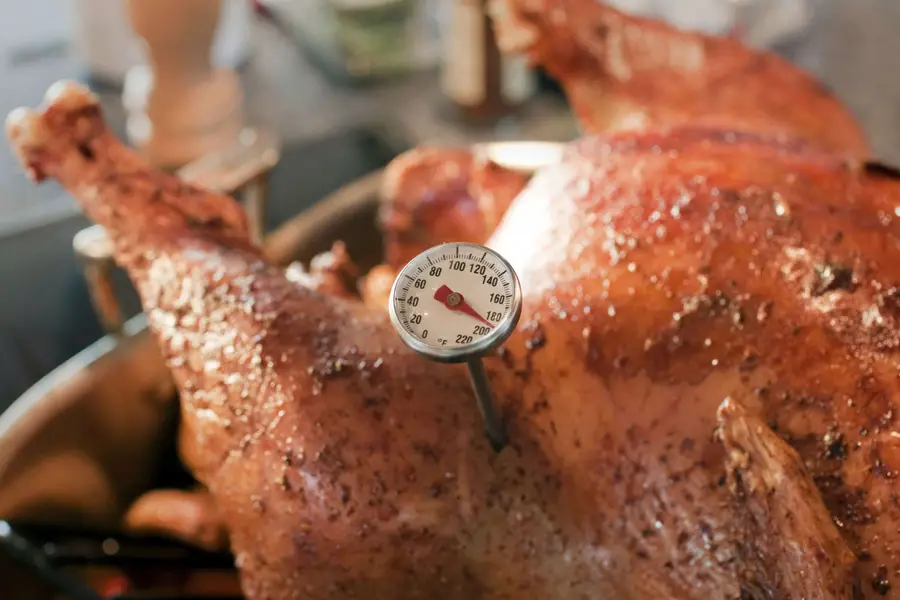 Calibration of Meat Thermometers
Aside from having the NSF certification, an accurate meat thermometer should have an error margin of only ±2°F; and to maintain this accuracy, the meat thermometer should be calibrated before using it. An analog meat thermometer has an adjustable nut under the dial scale that can be turned to set the initial scale reading to zero. For digital meat thermometers, the metal probe is soaked in a bowl of ice water (3 parts ice plus 1 part water), then the calibration button (usually labeled "CAL") is pressed for 2 seconds until the LCD scale displays a 32°F-reading (the freezing point of water) or any other measure within the 30°F-34°F range since temperature readings of meat thermometers can go wrong by ±2°F. In some digital models, boiling water is required to be used; in this case, a 212°F-reading (the boiling point of water) or any other measure within the 210°F-214°F range should be displayed. An error message will be displayed if water is not within the required range, and then the device will return to its temperature display mode.
NOTE: The above-mentioned boiling and freezing points of water are just sea-level standard temperatures that fall by 2°F per 5,000 feet altitude above sea level.
How to Use A Meat Thermometer
As a general rule, the meat thermometer is inserted into the thickest part of the meat before cooking. For bone-in dishes, the tip of the probe should be at least ½" away from the bone (bones conduct more heat than the meat itself). The probe tip should also be away from fat and cartilage as both can register temperature readings different from that of the meat. Thin cuts like patties and steaks should be taken away from the pan or grill first, then tested by inserting the probe ½" deep at the side. If the desired reading is not yet achieved, the patty or steak is brought back to the pan or grill for further cooking; then tested again until food is cooked at the preferred temperature.
For poultry or game bird roasts, the meat thermometer should be inserted on the thickest part of the thigh, close to the breast and away from the bone, with the scale toward the wing. If poultry is stuffed, the meat thermometer is only inserted at the end of cooking time.
Standard Meat Cooking Temperatures
For well-done beef, pork, lamb, and other livestock meat, a temperature reading of 170°F is required – 160°F if medium and 145°F for ham. Poultry (as well as its stuffing) and ground meat should be cooked at 165°F. Fishes are cooked at 140°F; except for game fishes like tuna and marlin that is cooked at 125°F only or it will dry out and lose its palate ability. Egg dishes and casseroles are cooked at 160°F; while leftover food should be reheated at 165°F.
Maintaining Holding Temperature of Meat Dishes
The meat thermometer is not only used in the cooking process but also in maintaining the holding temperature of meat dishes which is 140°F. Food that is cooled below this level can be a good candidate for microbial growth and contamination.
Strict supervision of the cooking and holding temperatures of meat dishes, especially in the business setup, aids in the control of harmful disease-causing food-borne microorganisms like E. coli, salmonella and Staphylococcus aureaus; thus ensuring the health and safety of those who will eat them.
Not everyone will appreciate the still-raw and bloody appearance of a blue steak and also the tough and rubbery bite of a well-done steak. So if you are craving for a professional chef-quality juicy steak that is edible enough and worth 5 stars, a meat thermometer is all you need.