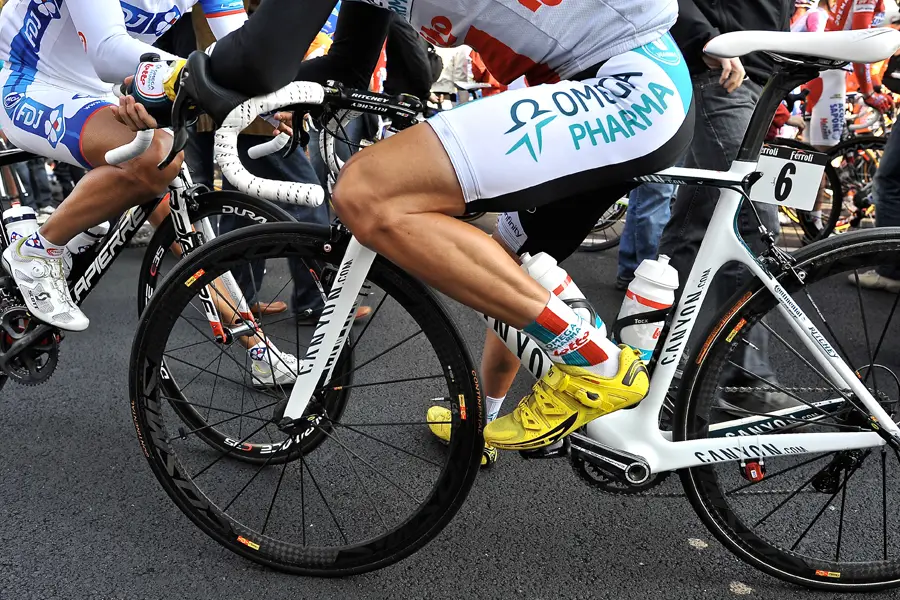 Men's Cycling Shoe Reviews
Cycling is one of those sports that requires a lot of equipment and gear. Once you have your desired bike, you still need a proper helmet, apparel, gloves, and shoes to enhance your performance and give you a smoother ride. Cycling shoes are particularly important to ensuring a safer and more efficient ride, whether for a leisurely weekend cruise or competitive race. While normal sneakers are likely to slip and slide off the pedals, cycling shoes are specifically designed to provide the best grip on the pedals, thanks in part to the stiffness of their soles. Cycling shoes also typically have the ability to fasten directly to the pedal, which gives the rider maximum control over the bike. Just as you'd buy cleats for football or high-tops for basketball, any serious cyclist should have a pair of cycling shoes to get the most out of their ride every time they hit the road.
Most Popular Men's Cycling Shoe
Tommaso
The Tommaso Strada Men's Select Road Cycling Shoe is based on the Tommaso philosophy of creating simple products that don't compromise on quality or functionality. These road cycling shoes are intended for race use, though any road cyclist will find comfort and added performance in wearing them, and are comfortable straight from the box, unlike many cycling shoes that require breaking in. The Tommaso Road Cycling Shoe has 3 anatomic Velcro fastenings to secure a tight yet breathable fit on the shoes. The construction of the shoes is 50% polyester and 50% nylon with synthetic leather upper and manmade sole. The shoe has an integrated molded power band heel cup that provides ample support and optimal power transfer to the pedals; added support comes from the transverse arch support insole. The shoes are compatible with both SPD and Look pedal systems for seamless integration into most competition racing bikes.
Power Plate with select grade nylon and composite fiber give the shoes their lightweight stiffness and lasting durability
3 anatomic Velcro fasteners provide tight yet comfortable adjustable fit
Integrated power band heel cup and traverse arch insole provide ample arch and heel support/power transfer
– Anthony Dawson
Best Overall Men's Cycling Shoe
Venzo
Featuring award-winning performance optimizing technology, the Venzo Mountain Bike Shimano SPD Shoes/Pedals/Cleats are designed to give mountain bikers the most control and stability on the trail. The shoes use a quick-drying mesh and synthetic upper that offers superior breathability compared to other bike shoes. Inside the shoes is a removable textile sockliner that enhances comfort and helps aid in ensuring a comfortable fit. Like road cycling shoes, the Venzo Mountain Bike SPD Shoes have a low-cut construction that give a lightweight and speed enhancing feel. The shoes have a highly flexible forefoot that features a beveled heel that resembles and feels like a sturdy running shoe. Included with the shoes are a pair of Wellgo Mountain Bike Clipless Pedals with a black aluminum ED construction and Chromoly spindle. The package also includes Wellgo 98A SPD-compatible cleats for seamless integration into the pedals.
Venzo package includes Shimano SPD-compatible shoes, pedals, and cleats
Quick drying mesh uppers help give the shoes their breathability for long, hot days on the trail
Low-cut construction and beveled heel give a running-shoe like fit with a lightweight feel
– Anthony Dawson
Best Budget Men's Cycling Shoe
Shimano
New for 2014, the Shimano SH-RP1s have all the features of Shimano's top of line shoes, all at a fraction of the price. Their goal with the SH-RP1s was daunting yet simple: to create race-ready shoes that the average rider can afford. The shoes have a composite carbon outsole that provides the perfect blend of rigidity to optimize control and comfort to provide a shoe that feels and performs great for miles on end. Shimano, a company that lives and breathes bikes, understands that while stiffness is an integral component of a cycling shoe, there is such a thing as too much. Overly stiff soles eventually degrade your circulation, which cannot only cause numbing and pain, but injury as well. Shimano's Dynalast technology allows the shoe to deliver the power of your foot directly to the pedal while providing the maximum level of flexibility and circulation. Additionally, the insole offers variable levels of density that helps give natural support the arch of the foot. The RP1s secure the feet via two asymmetric hook-and-loop straps that compress the volume in the shoe to fit the size of your foot. Above the straps is an additional micro-adjust ratcheting buckle that allows for incremental adjustments via a fixed ratcheting system.
Synthetic leather and mesh uppers with microfiber lining offers durability and breathability
Dynalast technology helps increase circulation and prevent numbing
Two hook-and-loop straps and one micro-adjust ratcheting buckle give a secure and comfortable fit
– Anthony Dawson
Men's Cycling Shoe Buying Guide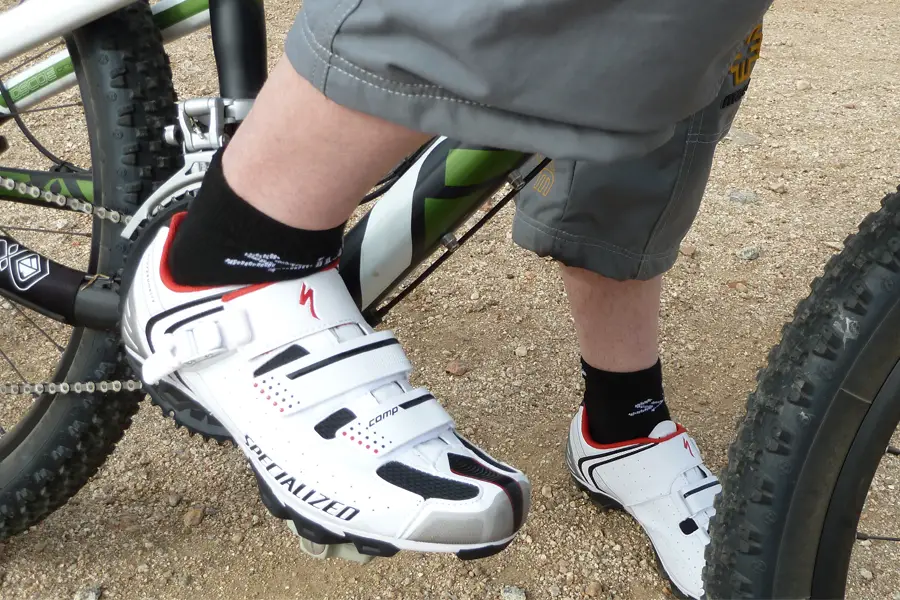 Cycling is a wonderful activity. It keeps you healthy and fit. If you want to promote your cycling activity, you need to get men's cycling shoes. You gain a lot with such performance shoes because it enhances your biking efforts and offers you a better work out as well as an efficient bike handling.
What Are The Benefits Of Using Cycling Shoes?
You will derive many advantages from using cycling shoes.
First, they are made with stiffer and stronger soles.
They offer better energy transfer as you pedal the cycle.
They protect your feet as you ride your bikes.
They also offer full length for your feet, thereby minimizing fatigue and cramping.
It offers a better bike ride control.
Because of advantages cyclists get from biking shoes they will always opt for the best. However, finding the most suitable men's biking shoes are not simple as many people think. This is because there are different types and designs of such shoes in the market. This makes it hard for bikers to make a choice. The following tips would guide you in taking the right decision about cycling shoes you want to purchase. There are different factors you have to consider before you spend your money on biking shoes.
Factors to Consider
Type of Cycling Exercise You Do
In deciding the best men's cycling shoes you want to buy, the most important determinant is the type of cycling activity you want to do with such shoes. This is because the various biking shoes available are tailored for different cycling activities. Here are some common biking shoes for various activities.
Sport or Casual Cycling Shoes
If you want to engage in a casual bicycle ride that would not take more than 5 miles, you can consider any of the casual cycling shoes. You may not bother yourself with any specific riding shoes. Simple, light cycling shoes can do for you. You can even buy an outdoor trainer shoes. These shoes are good for casual use. Many casual shoes look like ordinary shoes and sandals. If, however, you want to undertake activities beyond casual cycle rides, you have to consider specific shoes.
Mounting Cycling Shoes
This is more specialized men's cycling shoes. It is made of a stiff sole. The sole is most appropriate for efficient pedaling, which is needed for the type of biking activities to be undertaken with this type of shoes. There are different varieties of mounting biking shoes. There are some with stiffer soles, waterproof liners, lightweight, and other features. The price varies.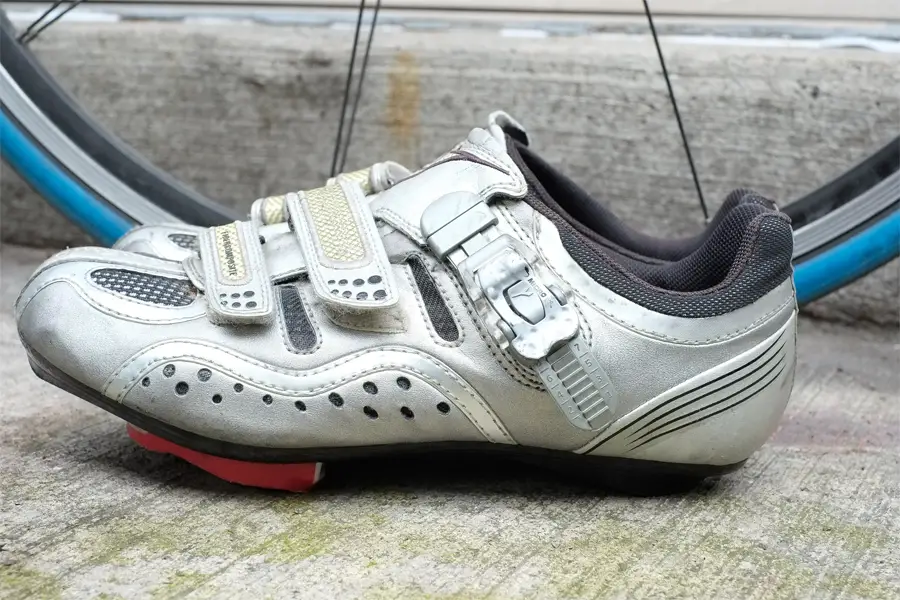 Road Cycling Shoes
If you want to specialize in road cycling, you can purchase road-cycling shoes for men. This type of biking shoes is exceptional by its distinguishing stiff soles. The shoes facilitate a quick transferring of cycling pedals. You can use the shoes for cycling, as they are not fit for an extended trek or walking. The main purpose of the shoe is to provide power transfer while pedaling your bike. Different road cycling shoes are lightweight and offer good ventilation.
Shoe Features
Another important factor that would play a dominant role in the men's cycling shoes you want to buy is the shoe features. Look for the shoe specifications to know whether it would be compatible with the functions, you want to perform with them. Consider the cleat designs of such shoes. If you want to use the shoes for road cycling, consider whether you want a 2-hole or 3-hole cleat designs. The problem with 2-hole cleat design shoes is that you cannot modify them, unlike 4-hole shoes, which you can modify to any design you want. That is why many people prefer 4-hole speed play pedal cycling shoes.
Comparing 2-Hole Shoes with 3-Hole Bike Shoes
Before you consider the best cycling shoe shoe hole to adopt, you have to consider the functionalities as well as the differences between these functionalities. For instance, a 2-hole cycling shoes are smaller and they can adapt more to the pedal. You can walk in the shoes more comfortable than the others. Many people use the 2-hole shoes as road shoes and mountain bike shoes. 3-hole shoes on the other hand, are stylistic and offer more stability for the users. It boosts the rider's energy. The downside however is that you cannot walk normally with the shoes and because of the large size could hold the pedal firmly like the 2-hole counterpart.
You have to consider these before you decide which type to buy for your cycling activity.

It appears that the most important factor you must consider is the pedaling efficiency. There are some shoes with greater cycling efficiency but do not come with cleats. These could only be used with flat pedals. Your bike pedal influences the type of shoes you want to buy.
Shoe Sizing: This is very important in deciding the best cycling shoes to buy. It must fit comfortably on your feet otherwise; you will not enjoy the riding because of the discomfort it would cause to you. For a riding comfort, you must ensure that all shoes you use should offer your toes enough space to wiggle. All parts of your legs must be in a comfortable position. It should not discomfort and snug your feet. The sole should be stiff enough to offer support to your feet and hold the pedals firmly. The shoes should not slip out of your feet. This is why you must opt for the best size. Always compare the various models around to make a good choice.
Where to Shop For Cycling Shoes
There are different outlets you can buy men's cycling shoes, but you must choose a place you will pay less. It is important that you invest in good cycling shoes. The best places you can buy them include Chain reaction cycles. This online store offers different types of cycling shoes at discounted prices. There are different brands, sizes, and designs of such shoes here. You can always make a comparison. You can also buy them at sports direct. This is a store for both male and female cycling shoes. Different brands are available there. You will not find it difficult to select a design that suits your pedal. You can also buy from Amazon and eBay. Different cycling shoes are available at these outlets. These are the best places you can get cycling shoes at cheaper prices.
Conclusion
If you want to have a comfortable cycle ride, it is important you select the best cycling shoes. There are several designs and brands. These useful tips will guide you in making a choice.