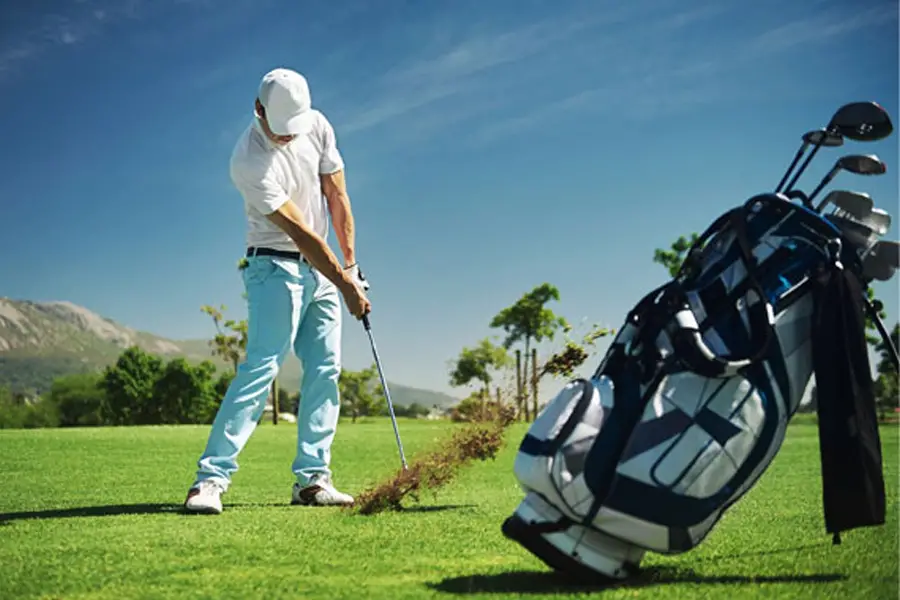 Men's Golf Iron Set Reviews
Golf is one of the most popular sports in many countries all over the world. Apart from the excitement of playing the game, golf allows its players to have pleasurable walks and satisfying physical activities in scenic locations. As players walk throughout the game, they are calculated to have walked about four kilometers in distance, which is already considered a good exercise for better heart performance. Carrying around clubs and other golf equipment contribute to a good amount of calorie-burning exercise. Learning to play golf may be acquired through formal lessons and actual rounds on the course. Eventually, players learn how to swing their clubs and estimate their moves in order to score better. As you learn better technique and play better, it is very important to purchase your own set of clubs that will fit your skills and personal predilections. To provide you with a few options, here are reviews on three golf iron sets that you may choose from.
Most Popular Men's Golf Iron Set
Callaway
Callaway Men's Apex Golf Iron Set is one of the options that a beginner and pro player can choose in purchasing a suitable golf set. It was created with an specialized hot surface that increases the speed of the ball to reach a farther distance. Its design was made to help players control their swings and at the same time bring the ball to a constant spin that leads to better performance on the course.
If you are a beginner who is determined in playing and taking your maximum potential to higher levels, exceeding conventional wisdom and the limitations that it implies, then Callaway Apex Irons are definitely a good choice. Most players who are still in the process of developing their skills use this golf iron set during actual games.
455 Carpenter Steel Face Insert that increases ball speeds from 1mph to 2 mph, thus getting more distance from your swing
Allows the player to feel the ball in a delicate yet responsive manner
Wide groove lets you deliver a consistent spin for utmost performance
High launch angles are achieved with its premium shaft feature
– Anthony Dawson
Best Overall Men's Golf Iron Set
Mizuno
Starting at $699.99 depending on the package, the Mizuno JPX EZ Forged 4-PW, GW Iron Set with Steel Shafts allows players of different levels of expertise to deliver better performance. Its hot metal surface design combined with incredible ultra-pocket cavity was engineered to let you play with better distance and a more calculated shot at the hole.
For newbies trying to play golf like the pro's, practicing and playing is made easier at a much more affordable price with the Mizuno JPX EZ 4-PW, GW Iron Set. While there is truth in the cliché that says practice makes perfect, using proper equipment to enhance your skills largely contributes to your long-term goals in swinging your clubs correctly and delivering the ball where it should be.
Maximum ball speed acquired using thin multi-thickness face for long and consistent distances all throughout the game
Deep pocket center of gravity (COG) (8-PW) allows you to reach longer distances, achieve accuracy and control over the game
Its maximum pocket cavity (4-7) lets you disperse the ball in a tight and effortless manner
– Anthony Dawson
Best Budget Men's Golf Iron Set
Titleist
Coming from the fourth generation of the range of irons released by Titleist, the New Titleist 714AP1 Iron Set 4-PW, GW Steel XP95 Stiff Flex AP1 714 was created to bring all players better ball flight, more consistent play, better feel and forgiveness from the iron, and overall, enhanced performance on the course.
Titleist was successful in their mission by simply reallocating the iron's weight to a lower position on the head to control the center of gravity. This allows players to have better control and stability during games, and thus increases their performance in general. On the whole, beginners and superiorplayers will benefit from this iron set. Add to that the improved physical build, the New Titleist 714AP1 Iron Set brings a feel of a premium brand at reasonable rates.
Lighter irons with True Temper XP95 steel shaft, making it 15 grams lighter than previous models and brands
Wider sole and dual cavity that allows higher forgiveness for players
2 extra gap wedges (W1 at 48 degrees, W2 at 52 degrees)
Shorter irons, increased sole cambers to prevent unwanted ground digging
Better look, feels, and more controlled swings
– Anthony Dawson
Men's Golf Iron Set Buying Guide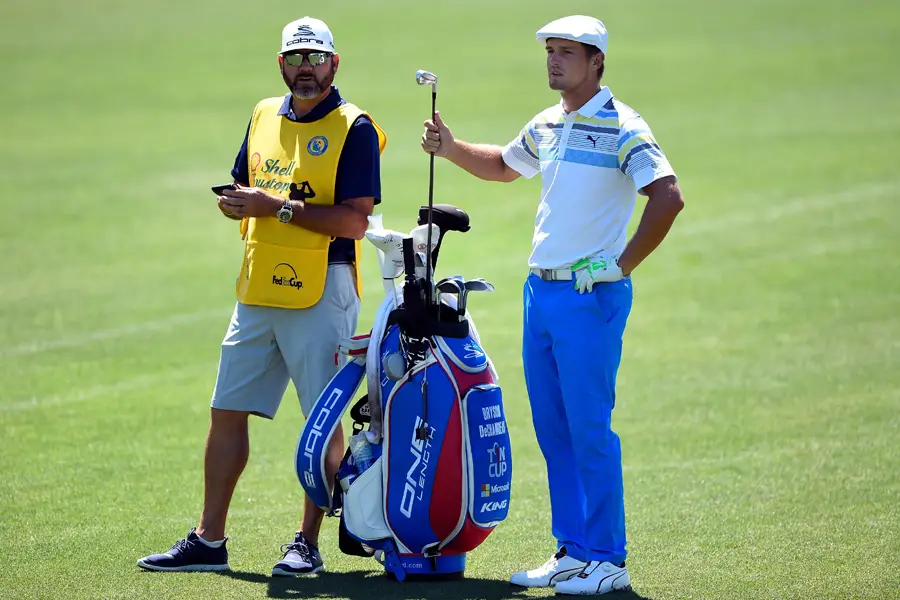 Golf is one of those sports that can easily alienate people. After all, it really does seem like the sport is only for those that can afford it, because the sport is not as cheap to try out as the other sports out there. Indeed, golf is a bit more expensive than basketball, or even baseball.  There are a lot of equipment that has to be bought before one can play the sport properly, together with the expense of having to sign up for a golf course.
Golf courses are usually exclusive for members, and membership does not come cheap. If ever one does acquire a membership into one, it feels like an old gentleman's club, with everyone knowing each other already. It would be as if it was the first day of school again. Moreover, aside from having to fit in with the group, most of the men in these clubs already know how to play golf, and are most likely already very good at it. They would have their own Men's Golf Iron Sets and their own caddies following them around each time they have to hit the ball.
It can even be more intimidating for women. Golf has always been identified as a men's sport, even with the rise of women golf players. This being said, a woman starting out in the sport of golf still will have to break some barriers to be able to build a name for themselves in the sport.
Starting Out
If you want to try out the sport of golf, if would be very convenient if you had a golf course in your area that you can go to practice. Sign up first for a membership and for lessons. Most golf courses or golf clubs provide golf lessons for those who want to start with the sport, albeit for a fee. In fact, you may even get to learn the sport with an actual pro player!
Men's Golf Iron Sets
It would also be useful if you had your own Men's Golf Iron Sets. These are set of your own golf clubs, made to fit your dimensions and specifications so that you can play the sport much more efficiency and skill. You can opt to borrow first from your club if you just want to try it out first, but if you plan on really taking up golf as a sport, it is imperative that you have your own Men's Golf Iron Sets.
Men's Golf Iron Sets usually come with either 12 or 14 different golf clubs. The normal set has 12 clubs in it, while an expanded set would have 14. The rules of the sport say that the player can only have a maximum of 14 golf clubs in his own golf set, and these clubs may not be shared between players. A normal set includes a driver, a fairway wood, your iron clubs numbered from 3 to 9, a pitching wedge, a sand wedge, and a putter. To expand this, a hybrid club may be added, together with an additional wedge.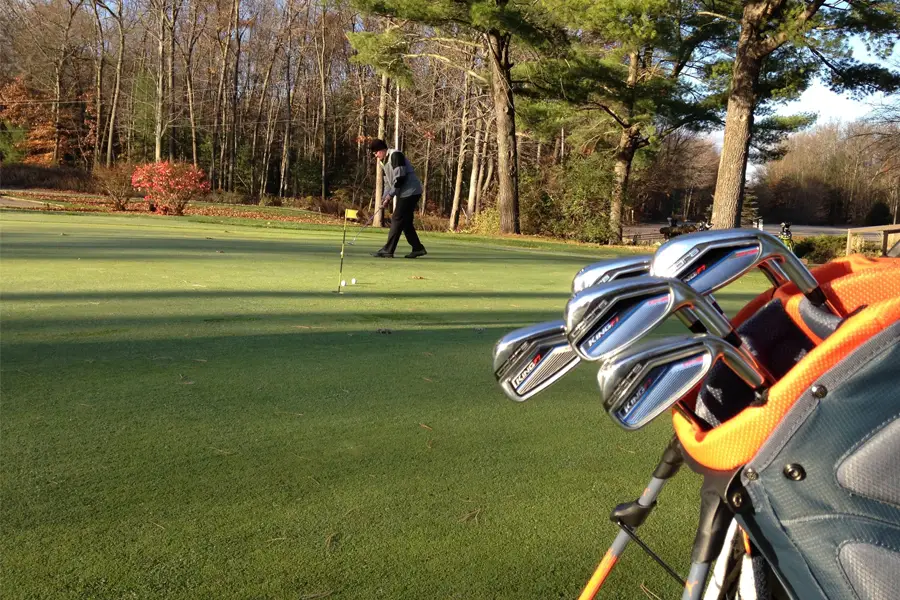 Different Golf Clubs
Wooden Clubs
Wooden clubs have a large wooden head attached to a long shaft, and are usually used for long distance shots. If you want to tee off, then a wooden club is most likely what you would want to use if you want to maximize the distance you want your ball to travel. After all, this is the goal with your first drive, to get the ball as far as possible from your tee off point.
Iron Clubs
Iron clubs on the other hand are the most versatile of the clubs in your golf set. Perhaps you are most familiar with these kinds of clubs because they are what golf clubs usually look like when portrayed in movies, television shows, or games. They are designed for a variety of shots from all over the golf course, with their iron and flat angled face. There are usually 7 or 8 of these in a set, and are numbered accordingly, with regard to how they are supposed to be used.
Hybrid Clubs
A hybrid club is a cross between a wood and an iron club. They have the same wooden head as with wooden clubs, only a bit smaller, but their shaft is of the same length as with a normal iron club. The effect this produces is that of a club that is able to provide distance, with the same swing mechanics as an ordinary iron club. Because of this, some have already replaced some of their iron clubs with hybrid clubs.
Putters
Lastly, the putter is the club that should be used when your ball gets to the putting green. When all you have to do is just to get the ball into the hole, then the putter is the right club to use. These are designed in such a way that they are able to roll the ball across the putting green slowly and with much accuracy. Because of this, putters are designed with a flat non-angled surface, unlike the normal iron clubs. The goal in the sport of golf is to get the ball into the hole with the least number of strokes possible.  With a good putter, you may just be able to do this.
A Final Note
It would be highly suggested that you first consult with a golf expert before buying your own Men's Golf Iron Sets. When you go into a golf store, perhaps the sales attendants could recommend the perfect set for you, considering your height and your body type. In the sport of golf, your clubs are an extension of your body, in the same way that baseball bats have become an extension of the baseball player's body when playing. As such, you must be in tune with you equipment as much as you can. This means that the grip, the length and the weight of your golf clubs must be appropriate for you. Finding the right clubs can definitely help you in making sure that your game is always as good as you want it to be, so it is important that you take the time to find the right clubs for you.