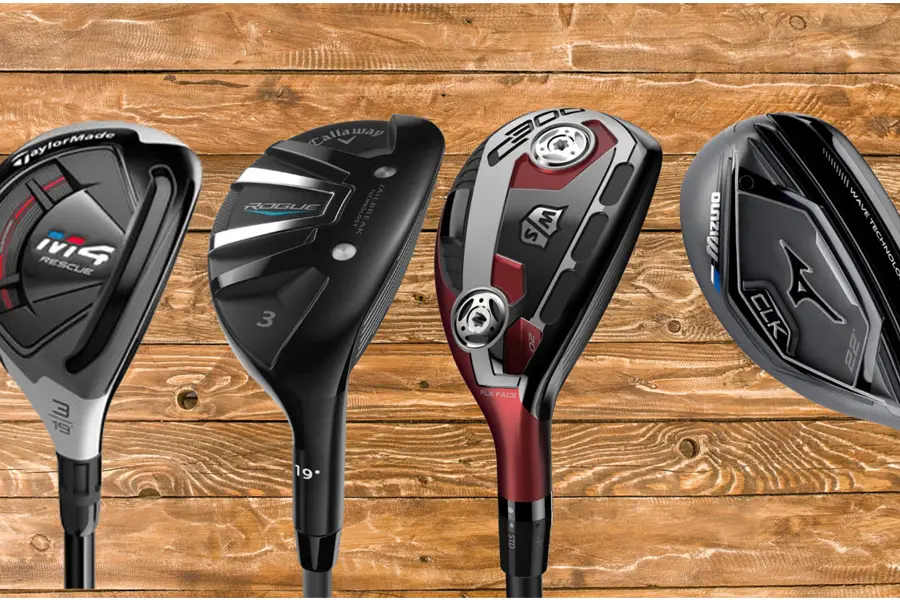 Men's Hybrid Wood Reviews
Weekend warriors and golf experts have realized the important role of hybrid golf clubs in improving one's strategy and performance. As compared to other golf clubs, hybrids have a larger crown, thus allowing a more confident and controlled swing. It generally promotes a higher launch because of its wider sole. Hybrid golf clubs generally offer higher versatility than other clubs. If you are an expert player, then you can effectively use a hybrid wood for greater accuracy and precision. It also offers more distance than iron.
If you choose the correct type of hybrid, it will help fill the void with your current golf bag. Here is a review of three hybrids available on the market today. Choose one that will be consistent with the other clubs in your set.
Most Popular Men's Hybrid Wood
Adams
The Adams Golf 2014 Hybrid Club combines traditional engineering and innovative technology to help you maximize your potential in the sport. This could be the perfect golf club for you; with a thinner and sleeker design, it promises distance and accuracy which could help you improve your game. The blueprint of Adams Golf 2014 Hybrid Club makes consistent contact easier even for beginners. No matter what your skill level is, Adams Golf can help you take your game to the next level.
Adams Golf promises nothing less than the best of golf clubs in the industry today and many golfers choose Adams Golf for its high-quality materials. If you want your game to improve, then try Adams Golf 2014 Hybrid Club. This is your chance to significantly improve your strategy and your game.
Velocity Slot Technology on the crown and Cut-Thru Slot technology on the sole
Easy to hit for mare accurate shots
Proven to make consistent shots easier
Made from high-quality and durable materials
Promises forgiveness, accuracy and distance
– Anthony Dawson
Best Overall Men's Hybrid Wood
Cobra
The Cobra Men's 2-3 W Bio Cell Hybrid Club has a driver-like construction that allows faster ball speeds, longer distances, and higher trajectory. It has eight loft settings for a more personalized approach to every shot. It has simple and adjustable options to maximize distance and optimize yard gaps. The engineering of the Cobra Men's 2-3 creates face flex to deliver exceptional distance. Without a doubt, a hybrid like this will help improve your game and strategy.
Cobra is a line of golf equipment associated with Puma. Over the past two years, the market has seen the company increase in both aesthetics and performance. It is sparking the interest of even golf experts because of its unique engineering which allow for a better performance. Try it now for an improved performance.
High steel strength inserts for more face flex
Repositioned weight for accuracy
Bio Cell technology with structural optimization and club personalization
With MyFly8 technology with SmartPad for easy adjustabilityof loft settings
Available in various colors including orange, black, blue and silver
– Anthony Dawson
Best Budget Men's Hybrid Wood
Callaway
This hybrid boasts of a thinner and lighter face. Using advanced technology, they promise performance advancement with the use of their hybrids. This design of hybrids has a highly engineered Speed Face which promises to deliver fast ball speeds to your shots. The Callaway Man's X2 Hot Pro Hybrid promises versatility, accuracy and consistency. Players might need to get used to the swing style that will fit this club, but once you get the hang of it, it is worth it!
The Callaway Man's X2 Hot Pro Hybrid promises distance and forgiveness. If you want a club that is easy to hit with, then this is the club for you. Once you try Callaway Man's X2 Hot Pro Hybrid, then you will realize that it is indeed a keeper.
Promises quality and durability
Cost-effective. Worth every cent!
Precise loft and sole designs
Easy to hit with, easy to swing
Ideal for distance shots
– Anthony Dawson
Men's Hybrid Wood Buying Guide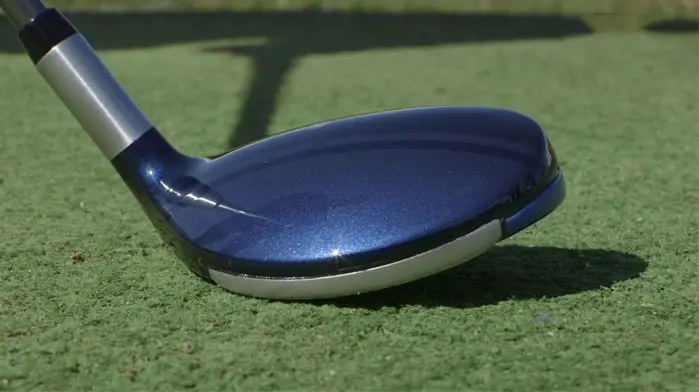 The hybrid is a club with which the design is borrowed from the features of the wood and the iron. Although the design is a combination of the two clubs, the hybrid is entirely a different club. With modern technology, manufacturers took the best features of both wood and iron and combine them to make a club that could perform better in some sticky situation.
Some golfers sometimes refer to hybrid clubs as rescue clubs. Golfers oftentimes carry at least one of these clubs. Many players use the hybrid as a replacement for 1, 2, 3, and 4 irons. Irons usually have low lofts and have small-faced club heads. Due to this reason, many golfers find it hard to hit the ball, and when they do, the low trajectory also becomes a concern. The woods on the other hand are preferred because they have a larger "sweet spot" but since they have longer shafts, golfers sometimes find it hard to master the swing of the clubs. In addition to that, the woods are good to be used in the rough because they designed to glide on the turf and not to cut into. It is also difficult to make a good swing when the woods are used in punching out from underneath a tree and other bad lies. For this, they use the hybrids
Purchase Consider
Today, the hybrids are very popular among many golfers. The player's bag, almost always include at least one hybrid in the set of clubs. Others on the other hand use them as direct replacement of some of the woods and irons in their set.
Examining the Club Head Design
The club head of the hybrids are more or less the same with the club head of the woods. It features a hollow convex face made of titanium or steel. Compared to the head of the woods, the head of the hybrids are shallower and have a flatter sole. The club head of the hybrids also features an iron-like lie angle. The club face looks like an iron but it also looks like a wood because it features a slightly bulging back.
The weight of the club head is slightly heavier than that of the iron. This slows down the speed but increases the force, making it best to cut through turf or sand without losing much momentum. There are various club head shapes but the most common are the square and teardrop shapes.
Examining the Loft
The loft of the hybrids also varies. The clubs are numbered in ascending order starting with 1 with a loft of 16 degrees and could go up to 55 degrees with the highest numbered club. It is better to know the hybrid loft that correlates to the irons and woods especially if they are going to be used as replacements.
For men's hybrid golf clubs, choose a 14-16 degrees hybrid to replace a 3 wood. Choose a 17-19 degrees hybrid to replace a 5 wood and a 2 iron. Choose a 20-22 degrees hybrid to replace a 7 wood and a 3 iron. Choose 23-25 degrees hybrid to replace a 9 wood and a 4 iron. Choose a 26–29 degrees hybrid to replace a 5 iron.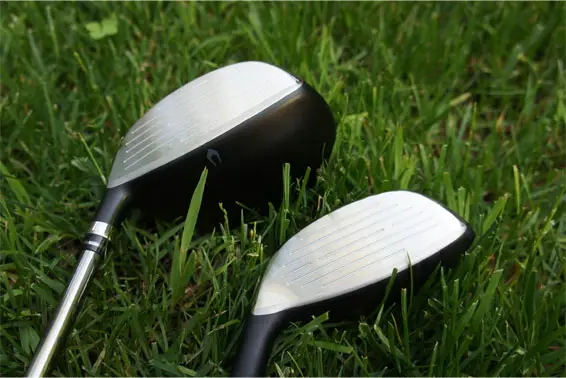 Examining the Shaft
Do not make the mistake of getting hybrids with different shaft type. Choose the one with the same type and flex to compliment the rest of the set. This will ensure consistency in the golfer's swing. The length of the shaft also varies. Graphite and steel shafts have different length standards. Choose a length that goes well with the player's wrist to floor measurement. Try to get the feel of the shaft also. Some shafts may not be that good to the touch, so choose one that is most comfortable.
The Advantages of the Men's Hybrid Golf Clubs
There are many advantages in using hybrids and they are beneficial in improving the shots to win the game. They can make a winning shot by hitting the ball higher, farther and with more forgiveness.
Hybrids provide greater distance. They have a greater mass compared to long irons giving players more confidence when hitting the ball. Players feel that they have a greater chance of getting a solid hit and even if they miss the sweet spot, the ball will still travel a good distance.
Hybrids offer more options for golfers to make different strokes for more powerful hits. They have lighter weight compared to long irons. They are also ideal to make a good sweeping swing compared to the woods.  They will make the ball get airborne quickly in a straight direction without the difficulty posed by the longer shaft of the woods.
Hybrids have a center of gravity set deep and low. This gives a better lift. They can help golfers get out of tricky situations like hitting from under trees or in tall grasses. The loft of the woods gives a higher angle of the launch of the ball making it hard to cut through the branches. With hybrids, hits can have a high launch and better trajectory and cut-through like the irons yet they still maintain the power of the woods.
Hybrids are also more forgiving. This is because they are created with only the good features of the woods and irons. They are constructed to lessen the effect of bad shots. With a larger head than the irons and with a higher mass, the golfers can have better solid shots. For handicap players, especially those who haven't acquired the skills yet, the hybrids will provide a better chance to hit the ball.
Don't make choosing and buying men's hybrid golf clubs a daunting task. Just take few moments to examine the different models available to find the one that will complement your game. Make it enjoyable by keeping in mind that you are buying something that will take you to the top of the game.