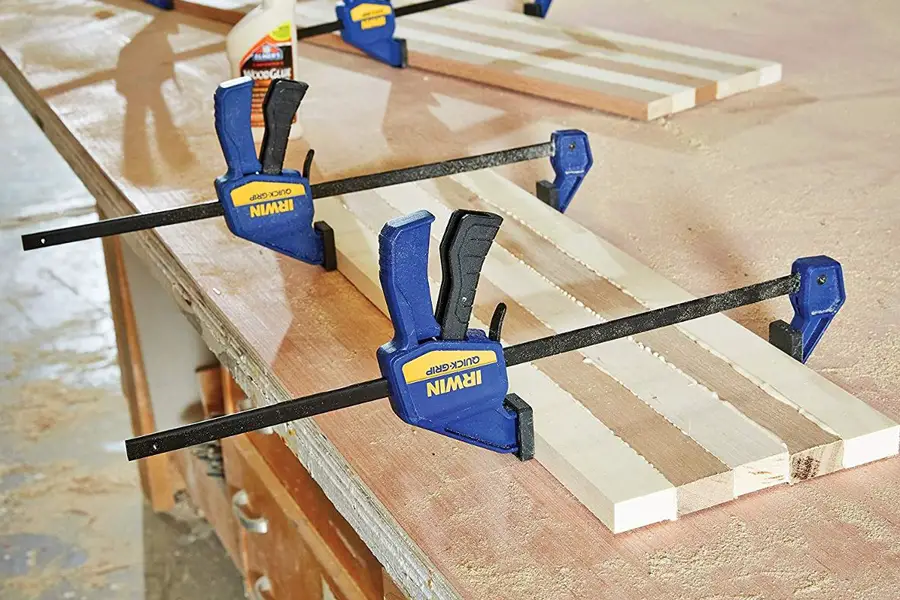 Mini Bar Clamp Reviews
Sometimes when you're working on a project, you just feel like you need an extra set of hands to glue wood, or hold things tight while cutting and shaping. Mini bar clamps are the perfect solution for holding things together tightly. Their compact size makes them easy to store, and they pack an enormous punch when it comes to securing things tightly and with ease. No workshop is complete without having a number of these on hand. When you're looking to buy the perfect mini bar clamps, you definitely want to find some that are built tough, and built to last. Those that are lightweight and durable are the best, and for the most part you're going to find that they really aren't too expensive. Your local hardware store is going to probably have a number of different models to choose from, and it's not a bad idea to find some that are in a color that you like, and are backed with a nice warranty that ensures their continued performance throughout the years.
Most Popular Mini Bar Clamp
Irwin Tools-2 Pack
Irwin's mini bar clamps are not only tough, they're also gentle when clamping materials that have a fine finish. This is thanks to the soft, pliable pads that are on the inside of the clamps. They're made of high-quality, durable carbon, and measure 6″ in length. The heat treated steel bar is the powerhouse behind these clamps, and allows you to hold any number of materials together with strength and ease. With just one hand you can easily slide, adjust, and clamp. We all know how important that is, because sometimes it seems like you just don't have enough hands to get the job done. That's where these clamps come to the rescue and offer ease and efficiency to help you get your project done the right way. Because they're miniature in size, these clamps work best on smaller jobs. Irwin is a name that everyone can trust when it comes to the fine construction of reliable tools and accessories.
Heat treated steel bar
6 inch high carbon clamps
Soft pads protect finer finishes
Great for clamping small jobs
Easy to slide, adjust, and clamp with one hand
– Anthony Dawson
Best Overall Mini Bar Clamp
Irwin Tools-4 Pack
Perfect for hobbyists, these mini clamps from Irwin have a fantastic jaw opening of 6″, and are made of high quality carbon. Whenever you need to glue wood pieces together, hold something in place to cut or shape it, or even when you need to hold pieces of wood together to transport them, these clamps help you to get the job done efficiently. Irwin makes some of the best clamps on the market, and these offer all the strength and durability that you need. The clamps are 25% smaller than Quick-Change clamps, but they still provide all the strength that you're looking for. Everything in the design is lightweight, so they're easy to store and transport to wherever you need them to go. The soft, pliable pads inside help to protect materials that have a fine finish. All in all, no tool box is complete without having some of these clamps on-hand to help you to get any job done with more ease.
Jaw opens 6 inches
Made of high quality carbon
Soft pads protect fine finishes
Made to be strong and lightweight
– Anthony Dawson
Best Budget Mini Bar Clamp
Irwin Tools
These mini bar clamps stand out from the rest thanks to the innovative pistol grip handle which allows you to clamp down fully with just one hand. This is perfect for hobbyists who always feel as though they simply don't have enough hands to get the job done. No studio or workroom should be complete without having some of these clamps nearby for helping you to glue, cut, and just hold things together. They open to an ample 6″, which is pretty great for clamps that are so small in size. Quick-Grip is a favorite among hobbyists who are looking for small clamps to assist them with their more petite projects. They're very affordable, and most consumers agree that they are going to last you for a number of successful years of hobbies and projects. They are convenient and easy to find at any local hardware store or online.
6″ mini bar clamps
Great for hobbyists
Pistol grip handle makes it easy to clamp with one hand
Small, lightweight design is simple to use and easy to store
Perfect for small jobs and projects
– Anthony Dawson
Mini Bar Clamp Buying Guide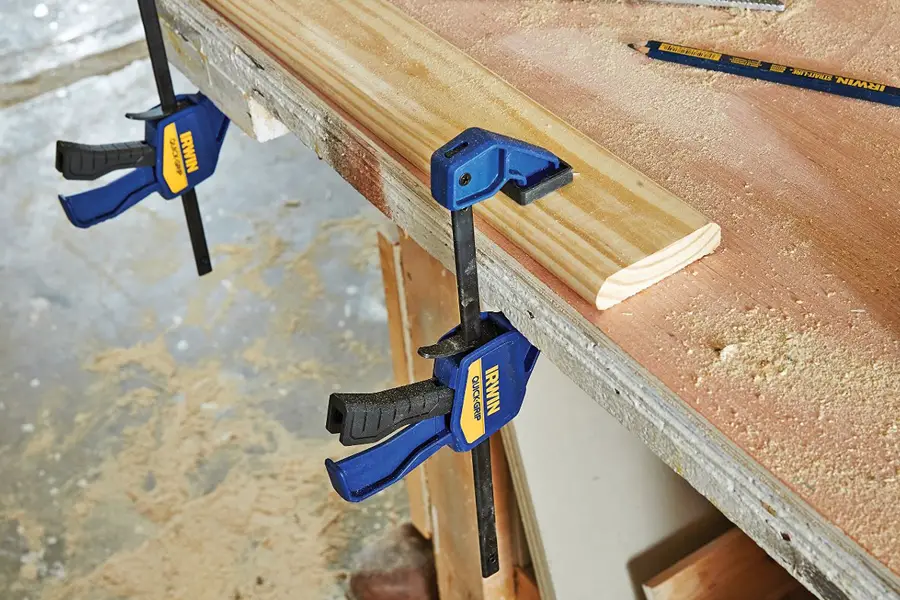 When it comes to construction, there are a handful of tools that are used to put different types of materials together, but the F-clamp is one tool in particular that is often the most sought after, as it does a great job, without any type of hassles arising in the long run.
An F-clamp, which is often referred to as a bar clamp, G-clamp, or speed clamp, takes its name from its unique 'F' shape. The C-clamp and F-clamp have similar uses, but the F-clamp has a much wider throat; therefore, has a wider opening capacity. Most of the times, this powerful tool is utilize in woodworking environments while permanent attachments are taking place with glue or screws. It is also used in metalwork to hold pieces together for bolting or welding. It definitely comes in handy in almost every construction project.
Bar Clamp Evolution
Over the years, tools have evolved, including the bar clamp. Now there are a variety of new styles of this tool, including the popular one that is often referred to as the 'mini bar clamp.' Just like the regular bar clamp, most mini creations consist of a vertical bar that joints two horizontal bars. It is just a little bit smaller in size compared to the original style that was introduced to the public many years ago. Depending on the brand you opt to purchase from, the design of it might differ, but any sized bar clamp is still meant to conduct the same types of tasks as a regular sized bar clamp. In order for the clamp to tightened, there is a large screw on the lower bar. Since the clamps are adjustable, they can be used on objects that are large in scale without the necessity of any type of large screw.
A Mater Carpenter's Recommendation
If you were a fan of the popular show 'The New Yankee Workshop', which aired on PBS in the late 1980s, then you might remember how the leading personality of the show, Norm Abram, who is often referred as the 'master carpenter', used his mini bar clamp is many of his creations. He often recommends this tool in a handful of the well-known books he has written over the years, and in his new PBS show by the name of 'This Old House.'
Industry Terminology
According to the industry terminology, a bar clamp in general contains jaws that are mounted on a flat bar, while a pipe clamp (same construction) is mounted on a pipe. But, like it has been mentioned above, this style may vary, nowadays.
The Ultimate Tool Necessity
The mini bar clamp is also considered to be the ultimate necessity for any joiner or carpenter who is frequently involved in construction projects. With one moveable joint and one fixed point, the mini bar clamp is quite a simple and practical device to handle.
The fixed point is rested counter to one surface of your project. The moveable point is at the end of the clamp, which is the area that is tightened to the opposite surface of your project in order for it to hold multiple parts in unity. Both parts are held on with a thick and flat steel bar, and not a rounded rod as it is used in other clamps.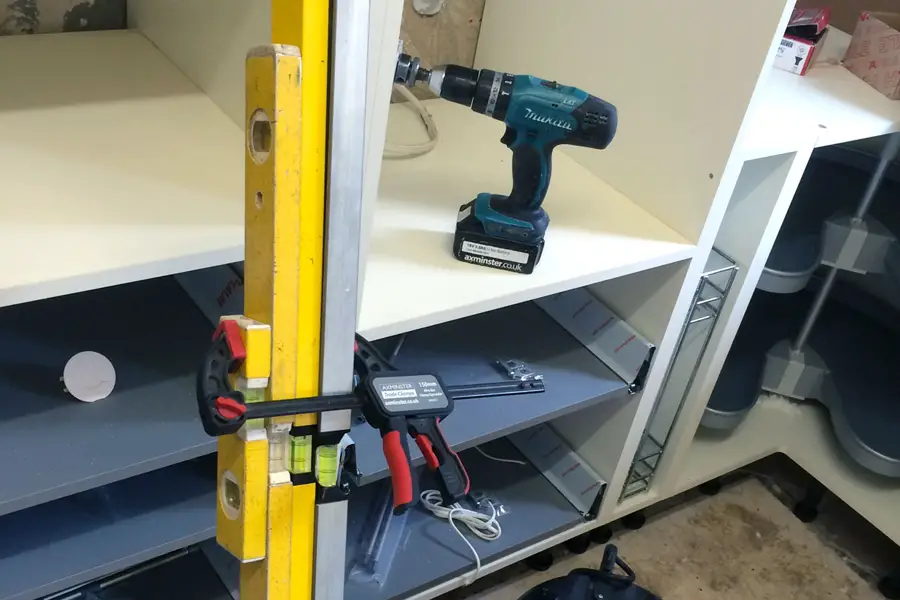 Other Ways to Use a Mini Bar Clamp
Cabinets and Joinery
Around the globe, the majority of cabinet makers rely a lot on their mini bar clamps, as they don't take as much as space but still are able to get the job done just like the normal sized bar clamps. A mini bar clamp can be a very essential and effective when it comes to some large surfaces requiring two or more wood pieces to be glued together for a finished surface creation. The moveable lower part and top half of the most mini bar clamps work together to rest and tighten against the edges of the wood that is glued. The mini bar clamp does its job by holding onto the pieces until they dry completely.
Mechanical work usage
There are some mini bar clamp styles are considered to be simple mechanical devices that are utilize for transmission parts or for lifting an engine. This type of clamp has a screw that adjusts in order to cause tightness onto the part. In addition, to attach a hoist cable, it has a lifting ring.
Metal Work Usage
When it comes to welding, mini bar clamps are often used as well. If your project is in need of a welded joint to create 2 pieces into 1, while the held is being created, the clamp can be employed to hold them in unity until everything dries and sets. One large piece will be created after the clamp is released, as the two pieces will be set together.
Mini Bar Clamps in Other Uses
Unlike other tools in a toolbox, the mini bar clamps don't only function in keeping parts together, as they can also be used to hold a piece of lumber firmly while it is being cut, clamping down edging, or work as a common clamp to hold vice grips to a bench. There are some quick-release or quick-grip mini bar clamps that can be used in projects that relate to wood or metal work.
Mini Bar Clamps Cons
As you can tell, the mini bar clamp is a very powerful tool that has a handful of pros, as it can successfully be utilized in many different areas of construction, but just like everything else in this life, the mini bar clamp also has a probable con. Since its size is 'mini', you'll just have to make sure that it fits the entire width or length of your object.
Besides its size and style, there is not much difference between a mini bar clamp and a regular sized clamp when it comes to their effectiveness. Which one to use? Well, it all depends on what you are working on. But, one thing is certain, both tools are must-haves, as they come in handy quite frequently no matter what type of construction project you are undertaken.