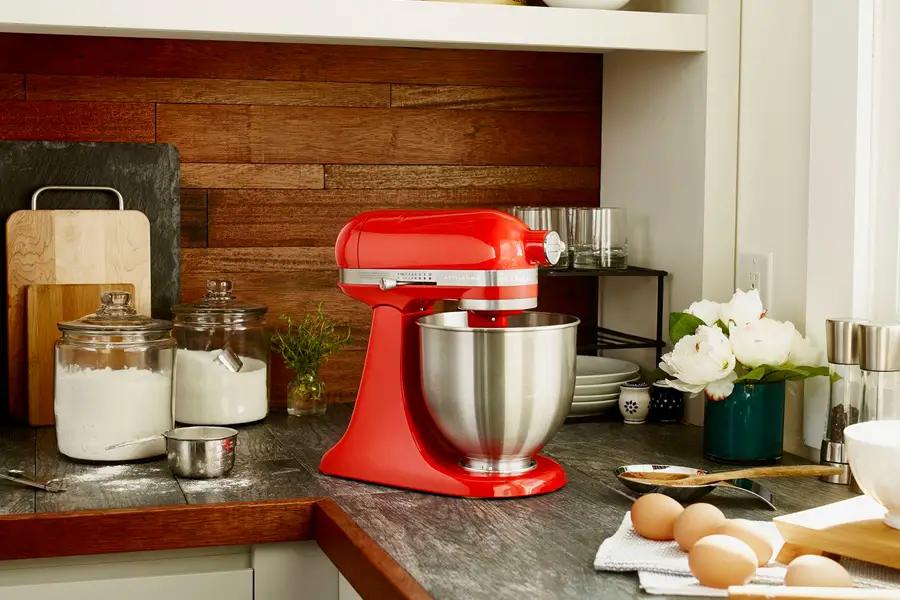 Mixer Reviews
A staple to every kitchen is the stand mixer. Any cook who has mixed dough by hand knows the value of a good stand mixer. The mixers integrate ingredients with little work and speeds up the process so that cooking is enjoyable instead of drudgery. Finding the right stand mixer can be a complicated process because there are so many mixers on the market. We have combed through the many mixers available on the market today and narrowed down the list among the best of the best so finding the right mixer for you is simplified.
Most Popular Mixer
Hamilton Beach
The Hamilton Beach is a stand mixer that has a 4 quart bowl. The bowl is tall making it easy to mix ingredients and prevents spills. This 7 speed mixer has a feature where the mixer speed gradually increases to the set speed. This is very convenient when mixing dry ingredients. The mixer comes in black, white or brushed chrome to match your kitchen décor. The mixer has a 300 watt motor that has a 5 year warranty. The other parts come with a 3 year warranty. The motor is powerful enough to easily mix dough for two loaves of bread. The Hamilton Beach also comes with the standard attachments of a whisk, mixing paddle, dough hook and splash guard. The splash guard keeps flour and other items from splattering beyond the bowl. The other feature that is most useful is the built in timer. You can set the timer and it will count down automatically from as much as 15 minutes. The machine is very quiet compared with many of its competitors.
4 Quart stainless steel bowl
7 mixing speeds
300 watt motor
15 minute count down timer
5 year motor warranty and 3 year parts warranty
– Anthony Dawson
Best Overall Mixer
KitchenAid Professional 5-Qt
KitchenAid Professional is a great stand mixer for moderate home use. It will mix dough for a single loaf of bread seamlessly. The 5 quart bowl has a wide design that makes it easy to add ingredients while the mixer is running. The 575 watt motor is plenty of power for everyday uses. The KitchenAid Professional comes with a flat beater, a dough hook and a wire whisk. One of the unique features of the KitchenAid Professional series is the available attachments. You can add a pasta attachment, food grinder, slicer/shredder, sausage stuffer, grain mill and many more options. This allows this mixer to become so much more than a stand mixer and can potentially combine several kitchen appliances into one. The mixer comes in a variety of colors from the basic silver, black or white, to more custom colors like red, blue and green. The KitchenAid Professional 600 mixer comes with a one year warranty and is backed by excellent customer service that KitchenAid is known for.
5 Quart stainless steel bowl
10 mixing speeds
325 watt motor
Variety of available attachments
1 year warranty
– Anthony Dawson
Best Budget Mixer
KitchenAid Classic Series 4.5 Quart
KitchenAid K45SS Classic is the base model for KitchenAid stand mixers. The smaller bowl and motor allows for a quiet operation and smaller space requirements than the larger models. The great thing about this mixer is that the mixing motion aerates all of the ingredients producing professional looking and tasting food. The mixer reaches the edge of the bowl eliminating the need to rotate the bowl or scrape the edges. The standard hooks include a dough hook, flat beater and wire whisk. The dough hook is good for making one loaf of bread, pizza dough, bagels, cookies and cakes. This mixer also has a variety of attachments that are available separately. These include a grinder, pasta attachments and the slicer/shredder. The KitchenAid K45SS Classic comes with a 4 ½ quart mixing bowl and a 250 watt motor. This is sufficient for most home cooking needs. The mixer has a 1 year warranty that covers all of the parts along with the motor.
4 ½ Quart bowl
250 watt motor
Flat beater, wire whisk and dough hook included
Attachments available for many uses
1 year warranty
– Anthony Dawson
Mixer Buying Guide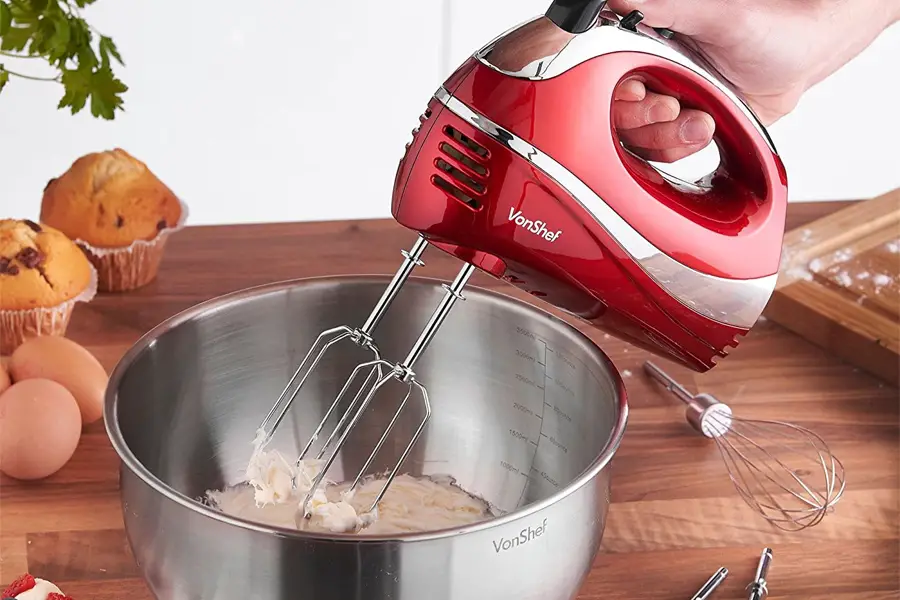 Cooking in present times is a lot easier than before when mixing, stirring, and kneading are done by hand with the help of one faithful kitchen tool at the most. The olden ways take so much physical exertion, not to mention a lot of practice to perfect the methods. Now, you don't have to undergo these painstaking kitchen labours manually to create delicious and complicated dishes. With the rise of technology, electric mixers are made to save your precious time and effort. If you are a busy cook, a baking enthusiast, or interested to be one of either, choosing to buy your own electric mixer is one of the best moves.
Types of Electric Mixers
Now that you are determined on buying, knowing some facts about mixers will further help you select the type you want. There are 2 types of electric mixers. Both have abilities to make your cooking preparations easier, but with slight differences.
Handheld Mixers
This type does not have a base is a handheld mixer. The head is where the beaters are attached to. Wire beaters are easier to clean than the typical center-post ones. The path of rotating beaters in the mixing bowl is under your hand's control. Its compact body lets you conveniently put it away in a storage cabinet and take it out when you need to use it. This type does your regular mixing tasks faster and almost effortless. However, handheld mixers do not have very powerful motors so they are only good for batters and dough that are light and soft. If you are buying a handheld model, it is best to go for the one that comes with extra accessories such as a separate whisk for more versatility. A slow start-up feature is a plus as it prevents accidental spatters while mixing. Use a bowl of your choice since the package does not come with one. Also, "try it on for size". A good handheld model has a balanced weight and fits well at the grip of your hand.
Stand Mixers
A stand mixer has a motorized base, a head where the beaters are attached to, and a bowl placed on the base. Some models have rotating bases that counter the movement of the beaters to give you more thorough mixing. The motor is more powerful than that of a handheld model that which makes it able to handle more heavy duty mixing such as lesser viscous dough or ground meat. There are 2 options for beaters that come with the package. You may choose between a single and two beaters. Other models come with a variety of attachments to provide you with more appropriate tools for the different types of cooking preparations, even pureeing or ice cream making. A typical set of attachments includes a paddle for general mixing, a whisk for egg whites or cream, and a hook for kneading dough. Stand mixers are more expensive than handheld ones since they perform heavier tasks. Although a stand model may look very nice in your kitchen, it takes up some space in the countertop. You will need to consider as well some clearance above the unit for you to be able to put it in its "up" position, if placed below a mounted cabinet.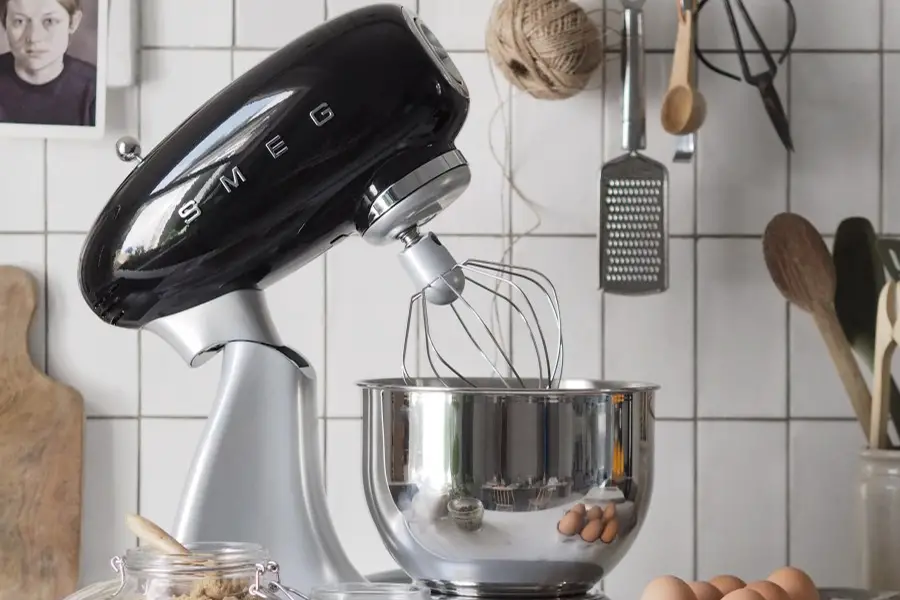 Stand mixers come in 2 design options: tilt-head and bowl-lift. Tilt-heads are those with hinged heads. The hinge allows the head to tip upward or down. This movement lifts or pushes the beaters from or into the bowl. The bowl stays stationary and locked into the base. Most users go for this design as they are able to access the bowl more when scraping its sides or putting in more ingredients. Meanwhile, bowl-lift designs have fixed heads.  A lever is pulled to make the bowl go up to meet the beaters, or down to access it. These designs are originally built for commercial use; however, they are now made available for home use as well. Even if this option comes at a higher price, buyers choose bowl-lift mixers due to its larger capacity and more sophisticated look. In addition, you will not have to worry about clearance above the device while on your counter as its height does not change, unlike the tilt-heads.
Choosing the type of mixer that is right for you and your cooking requirements will be more sensible if you consider the other qualities as well such as speed capacity, reliability of controls, stability, and safety locks. The most common speed settings include 3 levels. However, some hand mixers have up to 9 speed options, while stand mixers may have up to 16. If the unit does not come with a slow-start feature, check the lowest speed setting if it is slow enough to prevent spattering when initiated. Controls in some cheaper models are less reliable than those on higher quality ones. Check if the switch for speed settings line up perfectly on the indicated levels. This will prevent you from being confused during its operation. A stand mixer's stability is very important as its body contains more complex parts. Also, a stable device at work will lessen the possibility of accidents. In handheld mixers, an indentation on the body's underside will allow you to perch the device on the edge of the bowl. Safety locks are added features on some stand mixers, especially on tilt-head designs. The head tilted upward may be dangerous without the lock, both for the device and the user. When the beaters are still attached and heavy with some batter or dough, the head may slam downwards which strains the hinge and the impact may actually break some parts. Also, if your hand happens to be on the way, injury is likely to occur. Locking it in the "down" position before starting the machine will let the beaters remain at their level inside the bowl. Riding up of the beaters normally happens when kneading thick dough.
Conclusion
Try to think about the ways you normally prepare food and how often do your preparations require the use of mixers. Considering these thoughts, you will find one that suits your cooking methods better than the other. However, this does not necessarily mean you are limited to getting one option. Some buyers who take electric mixers more seriously settle on getting both hand and stand mixers for their homes. As long as they can afford so and have enough space, they find having both more applicable to the different cooking preparations that exist in their kitchen.