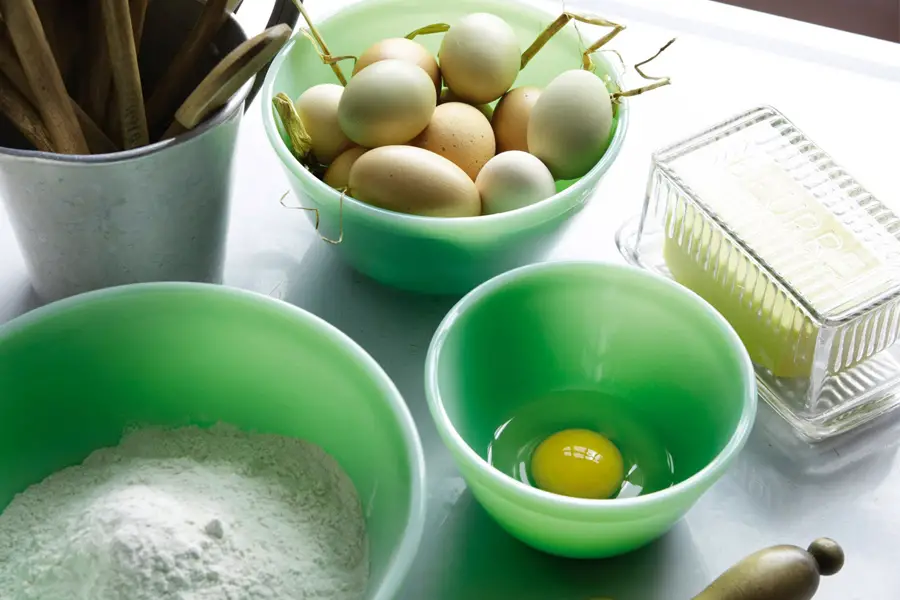 Mixing Bowl Reviews
Mixing bowls are a must in any kitchen. They may not be as attractive as a fancy set of Chef's knives, or as exotic as a marble rolling pin, but a good set of mixing bowls can't be beat. Every time you make pancake batter, cookies, cake mix, French toast batter, or steak marinade, you will reach for a mixing bowl. Mixing bowls make great serving bowls as well. Use them for parties, and movie nights. Some bowls come with airtight lids, so you can store leftovers in the refrigerator after a party or dinner. Mixing bowls can be made of wood, ceramic, plastic, glass, or steel. Each has its own pros and cons. Some are oven safe; others can't be microwaved unless you want a puddle of plastic to deal with. Steel ones can be dropped on the floor with little damage, others, like glass, will shatter and slow your cooking down to a crawl while you clean up the mess. Colors vary, including solids, stripes, translucent, and even flecked. Mixing bowls come in lots of different sizes too. You can be assured of finding a set of mixing bowls in any style and color to match your kitchen décor, with the durability you need for your cooking chores.
Most Popular Mixing Bowl
Cuisinart
These Cuisinart mixing bowls are tough and durable enough for everyday use. Stainless steel mixing bowls are virtually unbreakable, and will last for decades with little care. With the airtight lids, they keep foods fresh for a long time. The bowls have safe, rolled edges that allow drip free pouring of liquids. The bottoms are flat, so they are stable on the counter. Stainless steel is non reactive to acidic foods, and they are heat resistant. The mirror-like finish makes them perfect for serving chips, vegetables, salads, hot wings, or dips. They are dishwasher safe, and clean easily by hand if you prefer.
1-1/2 quart, 3 quart and 5 quart sized bowls
High quality stainless steel for durability and long life
Safe for dishwasher cleaning
Airtight lids keep foods fresh for longer periods
Rolled rim for easy, no drip pouring
– Anthony Dawson
Best Overall Mixing Bowl
Zak Designs
If you are looking for a set of mixing bowls that are more whimsical and fun, try the ZAK Confetti Mixing Bowls. These recycled melamine bowls are perfect for serving party foods, or mixing up snacks. The confetti flecked finish makes these bowls stand out in any kitchen. These are perfect as gifts for a housewarming, or as a wedding gift, as they will coordinate with almost any décor.
You get four bowls in the following sizes: 10.63″, 8.8″, 7.13″, and 5.63″. They are dishwasher safe, phthalate and lead free. Perfect as serving bowls, they come in blue, orange, purple, and lime green.
4 fun looking confetti-flecked mixing bowls in bright colors
Made of recycled melamine that is phthalate and lead free
Great for food prep and party food serving
Dishwasher safe
Bowls sizes are 5.63 inches, 7.13 inches, 8.8 inches, and 10.63 inches in diameter
– Anthony Dawson
Best Budget Mixing Bowl
OXO
The OXO Good Grips Mixing Bowls are perfect for mixing cake batter, whisking eggs, or handling any mixing task. The set comes with 1 ½, 3, and 5 quart bowls have a soft, non-slip handles that are easy to grip and hold. The bottoms are non-skid, so the bowl remains stable while you work. Each bowl has a wide lip and formed spout to make pouring easy and spill free. All of the bowls nest together, so storage is a breeze. The bowls are dishwasher safe, and each size has its own color to help you remember the bowl size; yellow for large, green for medium, and blue for small.
Soft integrated handles that fit comfortably in your hand and provide a good grip
Non-skid bottoms stabilize the bowls while mixing or whisking ingredients
Each bowl has wide edges and built in spouts to make pouring easy and mess free
Dishwasher safe construction
Nest together for clean and efficient storage
– Anthony Dawson