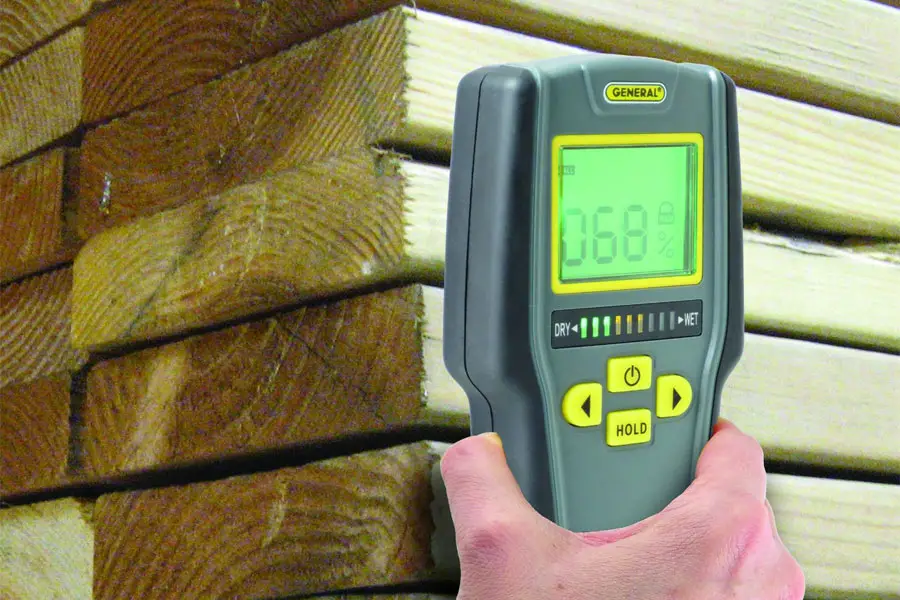 Moisture Meter Reviews
Moisture meters are unique tools that measure the amount of moisture inside a material, usually wood. Contractors, woodworkers, and DIY homeowners will all find value in having a moisture meter for a variety of projects, whether installing wood flooring, building a new deck, or simply checking on the health of houseplants and backyard trees. Knowing the moisture content of wood is integral to construction projects, as not all wood is treated the same and thus not necessarily suited for building. Wood at the home improvement store may be labeled as kiln-dried to a certain percentage, but upon testing could reveal a much different moisture content that could jeopardize your project. Most moisture meters have two pins charged with an electric current that can measure the moisture content upon surface contact with any piece of wood. Some pin moisture meters allow for the use of nail probes that can be driven into a piece of wood to monitor its temperature as it dries over time.
Most Popular Moisture Meter
Dr. Meter
Inexpensive and easy to use, the Dr. Meter Handheld Digital Wood Moisture Content Meter works exactly as a moisture meter is intended without any bells and whistles. It has a large LCD display that gives an accurate percentage readout of a piece of wood's moisture content upon placement of the unit's two-pronged stainless steel pins into a piece of wood. The unit has a simple two button operation to power the unit on and off and hold readings in place as to be able to walk away from the material and still record the measurements. The device can measure moisture content from 4 to 80% with +/- 1/2 percent of accuracy. The Dr. Meter Handheld Digital Wood Moisture Content Meter is powered off a 9V battery and costs a fraction of the price of fancy big-name units.
Compact, handheld moisture meter with large LCD display
Easy to operate with two buttons
Measures moisture from 4 to 80% with incredible speed and accuracy
– Anthony Dawson
Best Overall Moisture Meter
General Tools MMD950
The General Tools & Instruments Pin and Pinless Deep Sensing Moisture Meter gives you the option of using pins in direct contact with a surface or using a spherical pinless sensor for a more versatile means of measuring. The meter is ideal for contractors and installers, particularly of flooring, as it specializes in detecting moisture content under tiling and in subfloors underneath carpeting and wood flooring. It can also detect moisture in masonry work, which is also prone to water damage if the material is particularly porous. The spherical pinless sensor can measure average moisture levels at up to 4-inches in depth with hardly any contact made. Meanwhile, the pins are connected to a 46-inch cable to allow for measurements in hard to reach areas without having to reach or strain while getting your readings. Measurements are given on a jumbo LCD display and 40-dot LDE bar graph that gives you a sense of scale.
Dual pin and pinless spherical sensor operation capabilities suited for detecting moisture beneath flooring and tiling
Able to detect average moisture levels up to 4-inches deep
Auto-calibrating digital unit with large LCD display and tri-color bar graph
– Anthony Dawson
Best Budget Moisture Meter
General Tools MMD4E
Whether doing a home inspection, checking drywall before applying paint, or inspecting treated wood before purchasing, the General Tools MMD4E Digital Moisture Meter is the compact tool to have on hand to make the job easier. The MMD4E uses strong stainless steel pins inserted into a piece of wood (or other material) to measure the internal moisture content, delivered on an easy to read LCD display. The meter measures moisture content in wood between 5% and 50% and 1.5% to 33% in other materials. There is a hold function that allows you to lock in your current reading as to prevent the need to hold the device on. The device beeps to let you know when it has found a reading, a toggle to select between wood and other materials, a user-friendly instruction manual, and a 9V battery to power the unit.
Two-pin handheld moisture meter ideal for framing, decking, flooring, home inspection, lumber treatment tests, and more
LCD display shows moisture content, battery indicator, material being measured, and hold function
Wide range of measurement between 5 and 50 percent in wood
– Anthony Dawson
Moisture Meter Buying Guide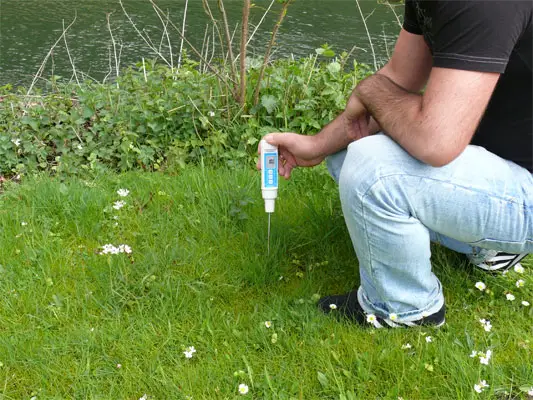 One of the most useful tools that a gardener can invest in is that of a moisture meter . The reason why a moisture meter is important is because it can be used to help an individual plan out their water feeding usage throughout the week and on a daily basis but the moisture meter can also be used to detect problems within different types of soil. As well as being extremely accurate, moisture meters are also wide in their variety and users should investigate the different types that are available before choosing one with which to go with. this is done by analyzing the way in which the Gardner carries out their gardening on a daily basis. The gardener may also have specific needs involved with their own personal gardening style and a moisture meter can be helpful in these situations as well. So how do you choose a good moisture meter and what should you look for when exploring the different types that are now available?
Benefits of Moisture Meters
If the Gardener is selecting a moisture meter that will suit them, they must carry out a few researches into the style in which they garden and the types of soil and material that they use whenever gardening in order to secure the best type of moisture meter. Many moisture meters now come as devices that have Three-In-One devices, which means that they're flexible and can be carried out on a number of different uses.
For instance, if a gardener is more interested in using a moisture meter in a hydroponic set up then they may wish to research meters that are specially designed for this scenario. A moisture meter that is designed for hydroponic gardening tends to be more accurate than the average moisture meter and also has the added benefit of being more rugged, and is designed to work on a frequent basis. These moisture meters can also carry out readings periodically to inform the gardener of the changes that take place in the moisture within the soil.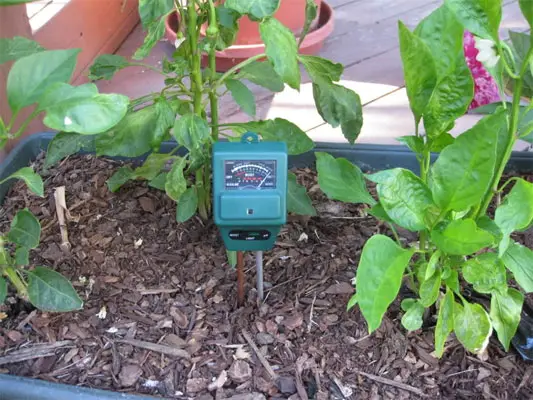 Features of Moisture Meters
Moisture meters tend to be available for use inside and outside. However, most of the meters that are now available are designed for indoor gardening. Indoor moisture meters are more likely to work effectively for a long period of time and can be invested in safe in the knowledge that they will carry out their duty. This is because they are kept inside and are not exposed to the outdoor elements, which can often damage meters that are cheap or ineffective. It is for this reason that you can be more safe in the knowledge that you will find an indoor meter that suits your indoor gardening needs.
Indoor moisture meters are most effective when they are used throughout the day and are used to take several readings throughout each day. If air conditioning units or other cooling tools are used then this may dramatically change the moisture level.
Investing in an outdoor moisture meter should take more research and investigation. A meter that is used for outdoor gardening should be contained within a strong material that is of a good quality, protecting the components from the harsh elements of the outdoors. And outdoor meter that is encased within metal or strong plastic is ideal. It is also a good idea to check that the meter is designed for the outdoors before purchasing, just to make sure that it is the correct meter for the job. The moisture meter will also come with a guideline of the temperature that it can detect and the individual will need to check that this temperature range fits within the range that they are gardening. This will depend on the location that it is based at and the method in which the Gardner is using. Moisture meters there are currently available have a wide temperature range and can be used in a variety of different environments. However, if you live in an area that is hotter or colder than usual you should investigate the meter that you choose to buy and make sure that it can detect the temperatures within these areas.
If you plan on using your meter both inside and outside, and then it is best to purchase and outdoor gardening moisture meter as you will then be able to have a meter which can handle a wide variety of elements.
Other tips
The most common meters are powered by an electronic battery and these can often can be replaced. An AA or AAA battery is the usual requirement and if used properly the meter can last for many months before the battery needs replacing. Some devices also have a built-in battery that can be recharged without the need to purchase a new battery. Many individuals choose a electronic moisture meter as it can be more accurate than the batteries that are also available. They are more accurate and they can be good for an individual who is working with plants that are more sensitive to the conditions around them.
For individuals who work in environments that require less accuracy then the battery free moisture meter is the way to go. These are also good meters to use if the individual is not caring for plants that are sensitive to the environment. Battery free moisture meters are generally less expensive than the electronic battery-powered models and are therefore good to use as a backup or as a cheap way of measuring the temperature in the soil.
If you are looking for an advanced moisture meter then you may wish to choose a model that has a three-in-one set of devices. These models can measure a variety of different elements within the garden area, including the level of light, the moisture within the soil and the pH levels within the soil. Gardeners who are working in advanced conditions and are using plants that are extremely sensitive are advised to invest in one of these models.
Conclusion
A moisture meter is an important device for any serious gardner and should be considered as one of the first things to invest in when starting out in this field. A good quality meter should last for many years if it is properly looked after. Users can do this with electronic meters by removing the battery when they are not in use.