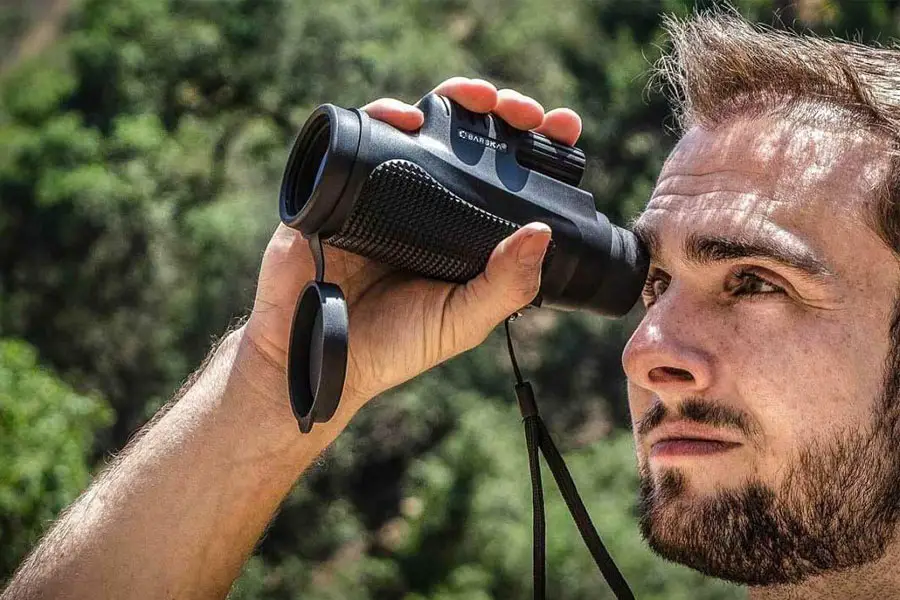 Monocular Reviews
Instead of having a telescope that may be large and difficult to carry around, why not have a small compact telescope that you can carry with you everywhere? If you need something smaller and more compact than a telescope, a monocular is the way to go. A Monocular will allow you to magnify distant images with ease. The following monoculars are of the highest quality and will allow you to do almost anything a telescope will do in a more compact design.
Most Popular Monocular
Bushnell Legend
The Bushnell Legend Ultra HD Monocular, Black, 10 x 42-mm is a great monocular to have with you when looking to magnify distant objects with a compact device. This small device will provide you with ten times magnification with the 42 millimeter objective compact roof prism monocular. With the depth of magnification this monocular provides you with the ability to see clear, crisp magnified images at your convenience. The optics are outstanding with many features including BaK-4 prisms, completely multicoated optics, ED prime glass, and a PC-3 Phase Coated Prism. The Bushnell Legend Ultra HD Monocularis made of 100% waterproof and fog proof material and will not allow the weather to interrupt your efforts to see objects in space. The eye cups twist up making your usage comfortable. For your convenience there is also a pica tinny rail and carry clip making it so you can clip the device to your pants, bag, or wherever you find it more suitable for your needs.
Compact and light
Ten times magnification
42mm objective compact roof prism
BaK-4 prisms
100% waterproof
– Anthony Dawson
Best Overall Popular Monocular
Bushnell Equinox
The Bushnell Equinox Digital Night Vision Monocular will provide you magnification of distant objects and comes in up to three different sizes. This allows you to choose a size that you can be comfortable with. The monocular features sharp water resistant housing and functions on two CR 123 batteries. You can switch between green view, which is also known as ambient light, and keep the monocular in white view mode. These different view modes will allow you to see in almost dark to completely dark situations without any problems. The monocular provides clear and precise images with defined brightness at an unbeatable range. The Bushnell Equinox Digital Night Vision Monocular offers digital night vision with six times magnification. This enables you to see distant objects clearly and sharply with the 50mm objective lens. The monocular is very light and has a strong battery life permitting you to use the device without worrying about the device's battery life running short.
Three different sizes available
Water resistant
Functions on two CR 123 batteries
Easily switch between green and white view
Night vision with six times magnification
– Anthony Dawson
Best Budget Monocular
Vortex Optics
The Vortex 8×36 R/T Tactical Monocular with MRAD Ranging Reticle is a compact monocular that you can easily fit in your pocket due to its ultra-compact and lightweight design. This monocular has a ranging reticle for holdover and wind corrections. This feature provides greater magnification to be even more precise while you are holding the device or in an area where there may be wind making it hard to be stable. The monocular is waterproof and fog-proof. This feature enables you to see the constellations even in less than ideal weather. The reticles focus on this monocular is spectacular providing you with a sharp reticle image. The flared eyecup will also help you receive a clear image because this feature will help block out stray light from entering into the monocular.
Ranging reticle for holdover and wind corrections
Waterproof and fog proof
Sharp reticle images
Flared eyecup
Blocks stray light
– Anthony Dawson
Monocular Buying Guide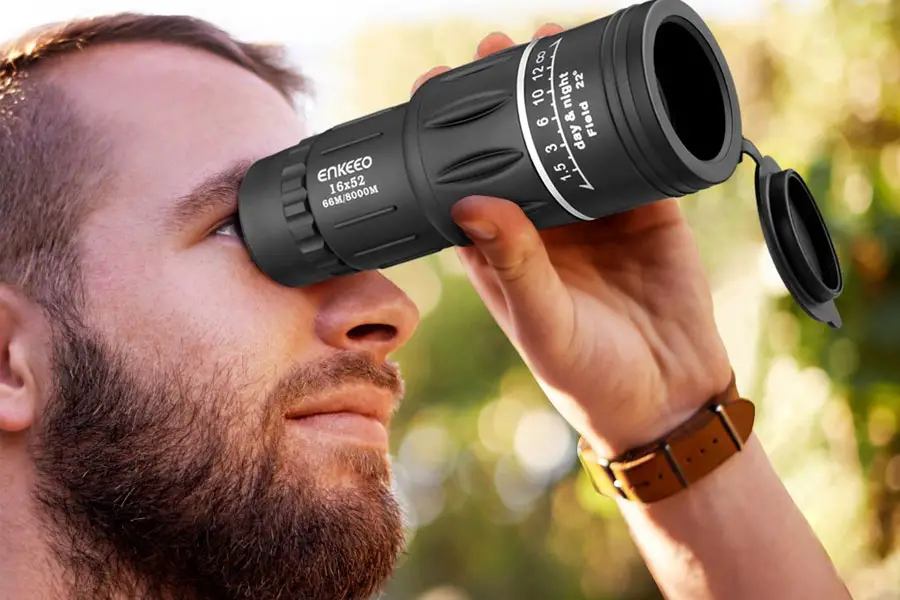 Busy lifestyles demand a simple solution. Monocular helps you to observe something far away. They can be used for many things such as outdoor activities, school events, ballgames, and so on. Choices you can make when you want to buy monocular are enormous, because there are many models on the market. There are different factors you must consider when you want to buy a monocular. Because of the various options available on the market, many factors would help you make a choice when you want to buy a monocular. These buying guides will help you make a choice.
Factors to Consider When Choosing a Monocular
You have to consider some useful factors before you buy a monocular, but these factors have to be guided by what you want to do with the monocular when you buy it. Here are some important features you have to consider: they include lens coating, magnification, as well as optical design among other factors before you make a choice.
Magnification
Magnification ability of the monocular is very significant whenever you want to make a choice. You have to consider what you want to do with it, as there are different ranges of magnification. Whether you want a larger or a lower level magnification, you stand to benefit a lot. Magnification ranges from 4 x-8 x, 8 x-9 x, 10 x-14 x, 15 x-19 x, and 20 x-25 x. If you a monocular with a lower image magnification, you should expect an image zoom that is small. Low magnification also entails large area viewing. If you have children in your home, this is the type of monocular you should buy for them. If you are a novice, you should look for a mid-ranged magnification. They are good for your purpose. If you want a clearer image or you want to view an object at far away, you should look for a monocular with a larger magnification, it will observe objects at a far distance. It is actually your purpose that determines the magnification of monocular you want to use.
Lens coating
You must consider this very important factor when you want to shop for a monocular. Your lens coating option also depends on your need for the product. You should know that its coating influences the brightness of the monocular. You are going to get a better viewing with fully multi coated monocular. This is more expensive, but you are always sure of getting a clear viewing quality. When you use a fully coated monocular, they are going to be durable apart from its brightness. Choose a monocular lens coating that is very suitable for what you will do with it.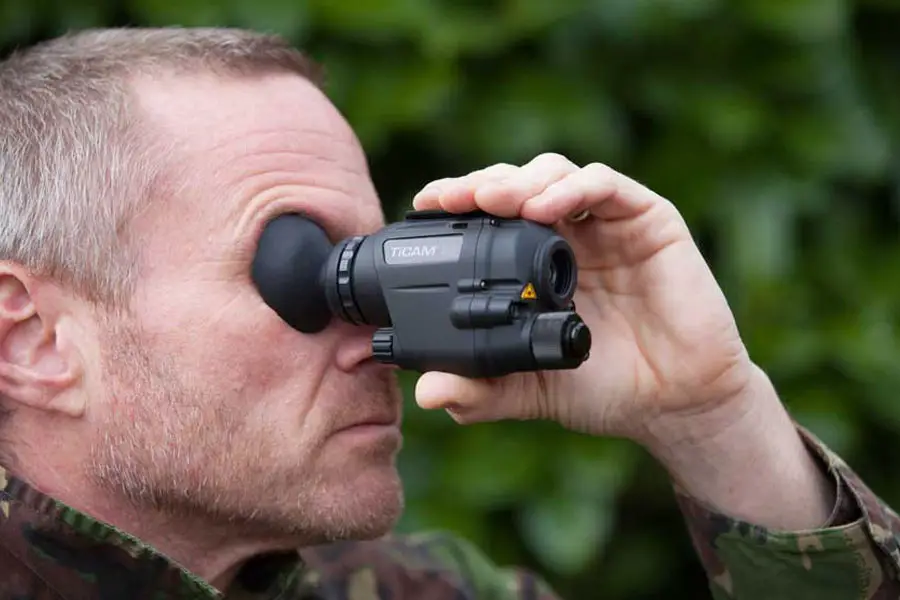 Optical design
You must pay serious attention to the optical design of the monocular you want to use. There are different types of optical designs you can select from in the market depending on the part of the world you are residing. Some designs you can easily lay your hands on are the porro prisms, roof prisms as well as the Galilean prisms. The first two types are smaller prisms and their image magnifications could not be compared to the Galilean technique prisms. You can always select a quality that would solve your purposes.
Diameter consideration
This is another important buying point, which you will not ignore whenever you want to make a purchase. The lens diameter varies and you can always make a choice based on what you actually wanted to do with the monocular. You should know that the larger the lens diameter, the more light it admits into the system. If you want to view objects in an inadequate lighting position, you should go for a monocular with a large lens diameter. If you want to use your equipment in a bright and sunny day, you can always use equipment with a smaller lens diameter.
Portability
You have to consider the ease of movement before you purchase a monocular. If you want a larger lens, you should know that it will be bulkier and could be difficult to move about. You should consider how convenient it would be for you to move the monocular about before you commit your money to any product. The issue of portability should not be placed above other things you will do with your monocular.
Ease of Use
You should not forget that you should look for equipment that you can easily use. Compare the various models available on the market and decide those you can use with ease. Study the manuals and observe how it would be easy for you to use the product.
Cost
If you want the finest monocular on the market, you must be prepared to pay for the amount it goes for. You should always make a budget before shopping for the product. However, you have to consider how you will use the product and compare all the products within the range you are looking for. You can make a list of various models on the market and carry out a review of each. Pay attention to what experts have to say about the product and make a choice based on their expert advice.
Where to Shop for Monoculars
You have different places you can shop for monocular. You have to bear the issue of cost in your mind when you shop for the product. You can save money if you buy it from the manufacturers or through the manufacturer's representatives. There are different outlets you can shop your product. When you purchase from the manufacturer you can get discounts as well as a money back guarantee. Some incentives could also be extended to you when you buy from such reliable websites like eBay and Amazon. You can buy a good product if you source them from reputable chain stores around your locality.
Conclusion
Monocular is very useful for you. There are different options available for you. You can easily make a choice based on what you want to do with the product when you buy it. This useful guide will assist you to make an important buying decision.