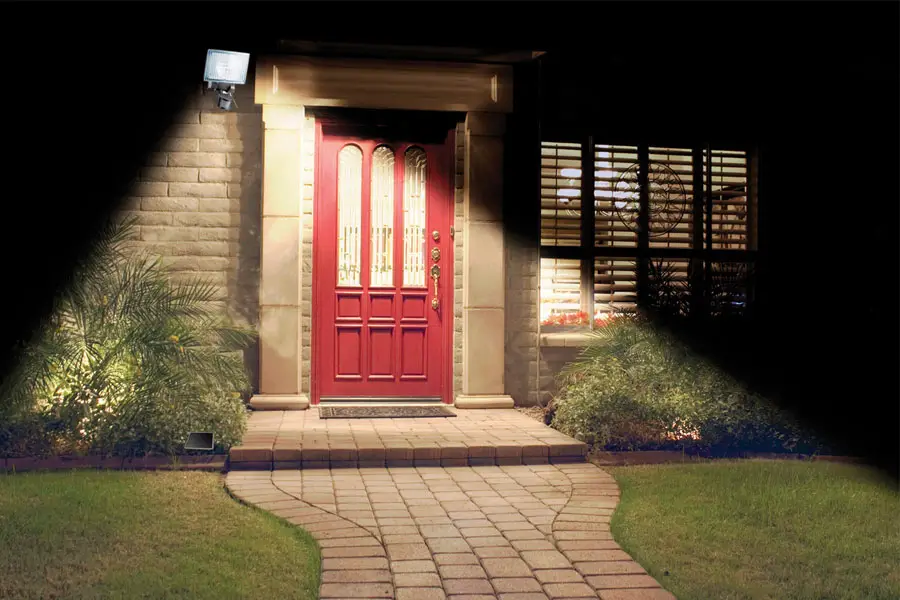 Motion Sensor Light Reviews
Motion Lights use a clever motion sensor and a timer so that area of darkness can be illuminated when movement is detected within the range of the sensor. This makes motion sensor lights ideal for a security lamp outside of the house. A bright light will deter thieves and burglars that attempt to steal. The sensitivity of the motion sensor can be adjusted to trigger at the smallest of movements such as small animals or wind blowing objects around. The sensitivity can also be high such that the sensor will not triggering with small movements. Passive Infrared Sensors (PIR) are also useful for external doors and internal hallways that will operate whenever movement is detected in the room. They avoid the need to switch lights on and off when entering dark spaces such as a garage. The motion sensor will also have a time which can be programmed for the length of time that the light will stay on for.
Most Popular Motion Sensor Light
Lithonia Lighting
This Lithonia Outdoor Flood Light Motion Sensor will adjust its settings to achieve up to 180 degrees with a wide range of up to 70 feet sensitivity. The on time adjustable knobs will give precision to the control of the sensors. The design itself is made from rugged cast aluminium, which will not corrode or rust, as the outer casing is bronze and rust resistant. Each head of the motion sensor lights have 3 individual high performance LEDS which are 4780K and can maintain 1222 lumen output with 50000 hour life span. With all this spec, these motion sensor lights will provide you with the upmost quality and performance money can buy. The installation is quick and easy and with the maximum wattage being 20 watts it does not drain your electricity supply but still does a great job. The product only weighs 3.2 pounds and being made from a bronze coloured metal you can expect a surprisingly lightweight feel.
Senses up to 180 degrees
Has a wide range up to 70 feet
1222 lumen output with 50000 hour life
3 high performance LEDs included
– Anthony Dawson
Best Overall Motion Sensor Light
Mr. Beams
Mr Beams Spot light has a tight and weather resistant casing so it can work in all weather conditions with no fuss. You can attach this spotlight to anywhere you wish, your house, garage or even a tree if you wish too. The automatic shut off system will go off after 30 seconds if no motion is detected which saves the battery life. It will turn on instantly when motion is felt and can even detect movement from 30 feet away, using 180 degrees of vision. The bright LED light makes it perfect for mounting on the walls at the 140 lumens of light provides you with such a bright illumination. Even with all this power the LEDs are energy efficient so you can get 1800 activations on just one set of batteries. There is a photo cell inside that activates the LED and is often called a dusk to dawn sensor which means when it is used outdoors it knows to start working in the early hours of both morning and night.
Extra bright LED lights with minimum power needed
Spotlight turns on and off automatically
A weather proof design giving great durability
Wireless installation
350 square feet coverage
– Anthony Dawson
Best Budget Motion Sensor Light
Heath/Zenith
This motion sensor floodlight is designed to be safe and convenient as a security measure for outside of your home. The decorative design makes it a beautiful piece for the front of your home. It gives reliability and peace of mind yet at a price that is both sensible and affordable. The lantern effect can be changed to that of a carriage light, lantern or even a coach light. As it features a 150 degree motion detector it can sense of up to 30 feet using just one 60 watt medium base incandescent bulb. The light is activated when the motion is detected so there is never any wasted energy or lights being left on all night long. You can change the settings between 1, 5 or even 10 minutes of light after the trigger is activated. If constant light is needed there is an override setting that will allow you to use the light as a switch controlled light, dusk to dawn lighting or constant on.
Activates from 30 feet away at night
Made from seeded glass with an oil rubbed bronze effect
Weather resistant
Only needs one 60 watt incandescent bulb
– Anthony Dawson