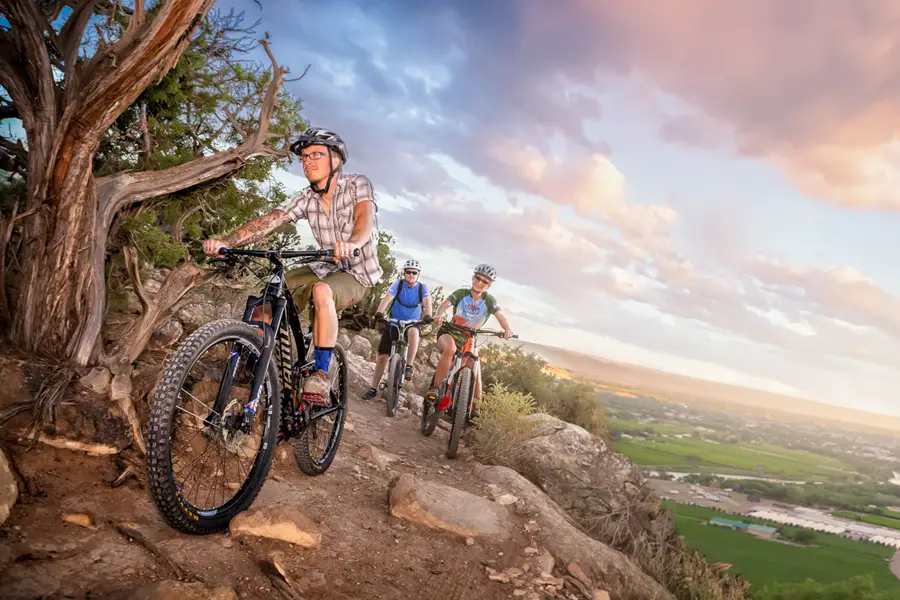 Mountain Bike Tire Reviews
There are literally hundreds of different models when you're looking to purchase new mountain bike tires, and this can make the process of purchasing a new set rather daunting. What it basically comes down to are size, width, and TPI rating, or the amount of threads per inch. Tires built for rough terrain have extra tread and need to be incredibly durable to withstand the bumps and jolts of trail riding. They're also heavier, in general, from the ultra aerodynamic road tires or racing tires. To begin, the size of a mountain bike tire will look something like: 26×2.10 or 29×2.25. The first number you seed is the diameter in inches. The second number after the x is the tire width, also in inches. 2.6 is usually the highest, and strongest. Skinnier tires roll faster, but they simply can't withstand the loose conditions of a trail. Lastly, the carcass of woven fibers on your tires is a kind of embedded skeleton within the rubber. You're looking for low TPI fibers because they don't give as much as higher TPI. 60 and below is the range that you want.
MOst Popular Mountain Bike Tire
Continental
The X-King, or "cross king", tire from Continental is a state-of-the-art model that is the brainchild of the Topeak-Ergon professional MTB team. Not only has the team scored countless race wins with the help of these tires, but they have verified that it is, indeed, a "perfect race day tire". With that kind of distinction, this model has become incredibly popular among those who love to race, as well as those who just want an amazing tire that works at a professional performance level. The tread pattern is symmetrically designed to provide the best possible traction, but with minimal rolling resistance. What you're getting here is an unbeatable rolling tire, fortified with Black Chili compound, all at an affordable price. Really, when you're getting new mountain bike tires, you're getting what you pay for, and these are not the cheapest on the market, but they're worth every penny that you spend.
Professional race quality folding tire
Low rolling resistance
Symmetrically designed tread
Finished with Black Chili compound
– Anthony Dawson
Best Overall Mountain Bike Tire
Schwalbe
Nobby NICs are built for traversing tight corners with confidence. With their softer composite, you never have to worry about your front tire sliding out on loose trails. These tires are also a great choice if you plan on hitting a lot of mud, as the gunk will shed off the tire with incredible ease. Slick, damp roads with lots of leaves, pebbles, and puddles are no match for Nobby NICs. There's nothing more frightening than riding in slippery or loose conditions and being afraid that you will lose control. These unique folding bead tires make you feel like you can safely maneuver your bike at all times, and any mountain cyclist knows what kind of peace of mind that sense of control brings. Even though they have such a great bite on the tread, they are still wonderfully light and fast during competition. Bringing all new meaning to the term "all-grounder" this fantastic model from Schwalbe is going to last you for thousands of miles and many years.
Unparalleled control under all conditions
Highest EVO level of construction and compounding
Brings new meaning to the term "all-grounder"
Built for lightweight speed and performance
– Anthony Dawson
Best Budget Mountain Bike Tire
Kenda
Kenda is a fantastic brand if you're looking for a highly affordable mountain bike tire that is durable, and helps you to feel in control on loose terrain. The discontinuous blocks are what make it so stable and secure when riding off road. It's also easy to transition from the trail to street riding with ease. This comp III blackwall is 16×2.125″, and features ultra-strong wire beading and 60 psi. An incredibly durable tire, consumers report that they can have this set on their bike for years without any need to replace them. The K50 tread pattern makes this model a beast on the trails. Loose sand, rocks, puddles, and mud don't stand a chance when they encounter these tires. They also feature the high-quality Kenda rubber that cyclists have come to praise over the years. All in all, this is an amazing set of tires that will help keep you safe on the trail, while saving you a little money in your pocket.
Features high-quality Kenda rubber
ETRTO: 57-305
Strong K50 tread pattern
– Anthony Dawson
Mountain Bike Tire Buying Guide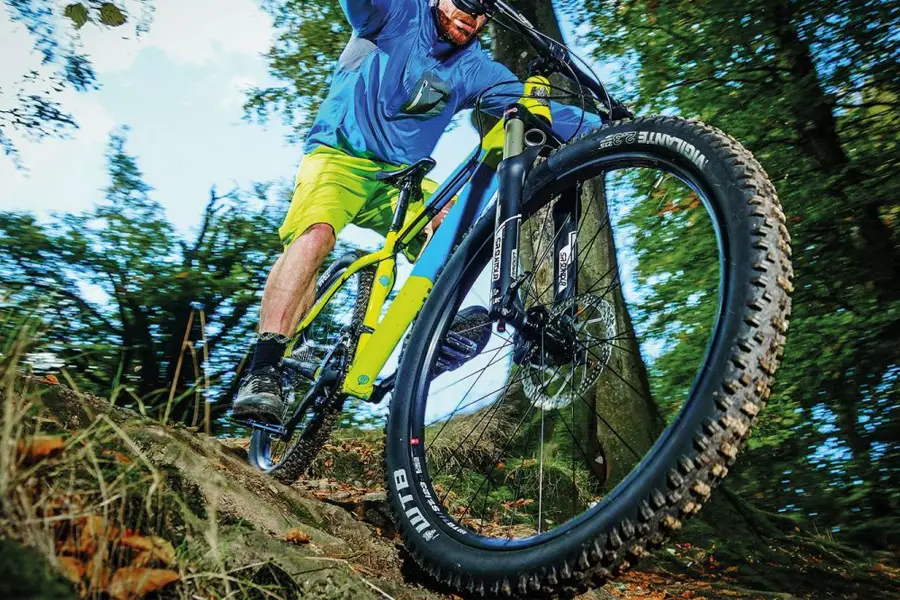 Mountain biking is an excellent way to improve fitness while enjoying the beauty and repose of the great outdoors. Making the decision to purchase a new mountain bike is an exciting adventure, but with the massive number of brands and models available, it may be tough to know where to begin. Finding the right mountain bike means identifying the one that will provide a good fit for your body size and type with the appropriate safety features that fits within your budget and is durable to last a while. This guide is prepared to provide useful information on what you need to consider before making your purchase.
Self-Evaluation
One of the first steps is to consider how much you want to spend. There is a wide variety of brands, styles and models available and price tags that accompany them. Will you want all of the bells and whistles or just a basic model? Next, figure out where you will be riding. How you will use the bike and what kind of terrain in which you will be riding affects which features you will need in your mountain bike. After this, the size of the bike you choose should fit your body size and type. You don't want to get a bike that is too large or too small as handling and this will affect maneuverability.
Types of Mountain Bikes
There are several different types of mountain bikes, each offering unique features and developed for best performance is specific settings.
Rigid bikes are the basic models with no frills. They feature a comfortable riding position with excellent braking and shifting and are designed for durability. If you're just into general riding on roads and non challenging trails, this basic type is the best and most affordable option.
Front suspension bikes are also known as hard trail bikes. This model features a suspension fork in addition to all of the features found in the rigid model. This type is designed to be even more comfortable than the basic model with increased control when on more challenging trails.
Full suspension bikes feature everything found in the front suspension bikes with the addition of sport front and rear suspension for yet greater comfort and more control on rough and rugged trails, while providing additional impact resistance for the body.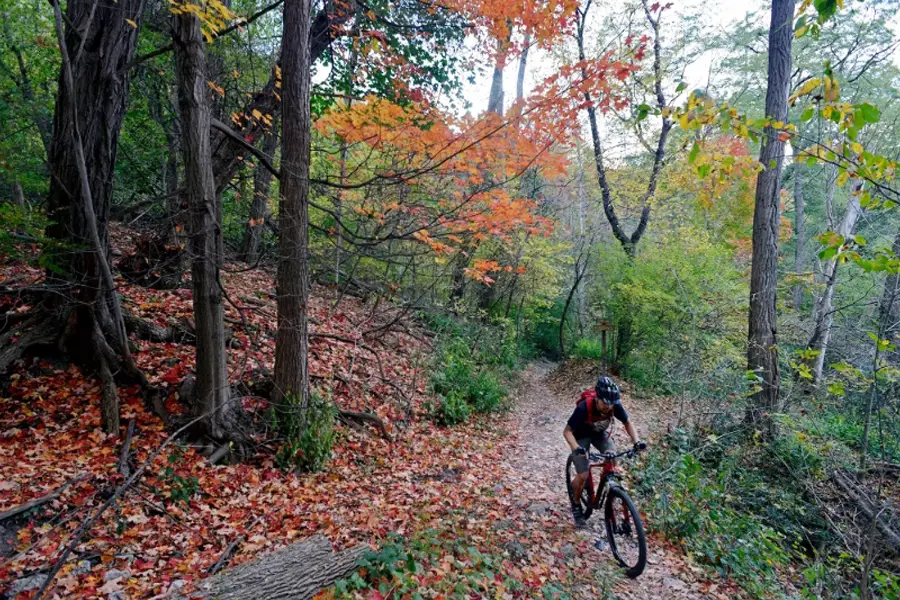 Features of Mountain Bikes
Each bike type is available with a variety of different features. Some are designed for efficiency in climbing, resistance to damage during hard landings, those which are more lightweight and those with beefier suspensions that may be heavier, but are more durable and shock resistant.
Frame Materials
There are variations in the type of materials used to construct the frames. The materials affect the durability and weight of the bike overall. The majority of bike frames feature durable aluminum construction designs of varying grades and qualities of aluminum. Some feature steel, carbon or titanium. Steel is the least expensive. Titanium is the most durable material and also the most expensive.
Brakes
There are two main types of braking systems in mountain bikes. These are rim or disc brakes. Rim brakes are the traditional design that rubs on the rim to stop or slow the bike and they are effective in performing the required tasks. They are the most lightweight, so if weight is a concern, go with rim brake options. The downside of rim brakes is that the frequent rubbing results in more wear and the need for more frequent replacements to keep the bike in safe operating condition.
Disc brakes add more weight to the bike, but tend to be more durable. They work on the same principle as automobile brakes. Their performance in muddy or wet conditions is superior and they have a better track record for reliability.
Wheels and Tires
The rims and tires are constructed of reliable designs and materials for durability in off road riding. Wide rims and tires help to lessen the impact of hard landings. The wider rims and tires provide for the best protection. Tires come in tubeless or tube options. For mountain biking, tubeless are the most reliable and result in fewer repairs and down time.
Mountain Bike Comfort Options
There are two common types of handlebars on mountain bikes including flat bars which sit lower and are lighter and riser bars which are higher than the flat bars. The best type of handlebars is a matter of personal preference. Seat design can also impact riding comfort. The only real way to know which styles of seats and handle bars will work the best for you is to try them out prior to making a purchase.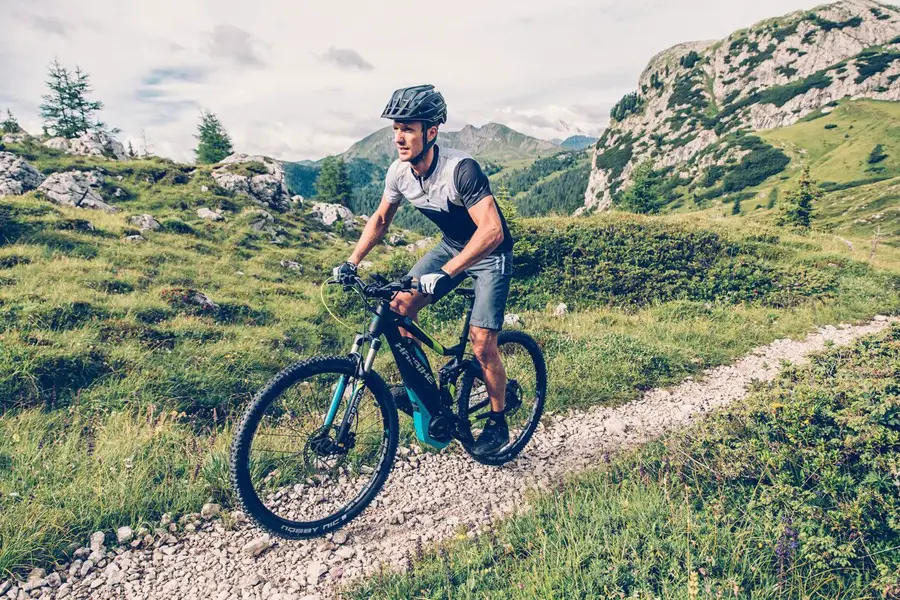 What to Look for in a Mountain Bike
Select a mountain bike that has all of the features that will meet your mountain biking needs. This includes fitting your body size. Find a model that has the seat and handlebars that will provide the most comfort when riding. The type of suspension can also factor into comfort and performance. For more challenging and rough riding, a dual suspension bike may be the best choice. If you plan to keep your riding limited to roads and less challenging trails, and are budget conscious, then you may be best served with a basic model.
Perform a quick online search to read a few customer reviews before you settle on a specific bike, to find out what others have to say about the comfort, performance and durability.
Conclusion
Knowing what you are looking for will help you to more quickly and easily find a mountain bike that will satisfy your requirements and provide you with the performance that you expect. Now that you know what to look for in a mountain bike, you can use the tips and recommendations found in this guide to narrow your choices to a few brands and models that will be the best suited for the type of riding that you are planning to do. A quick online survey of user reviews will further help you to find the best value for your dollar, and with this you can now shop with confidence.