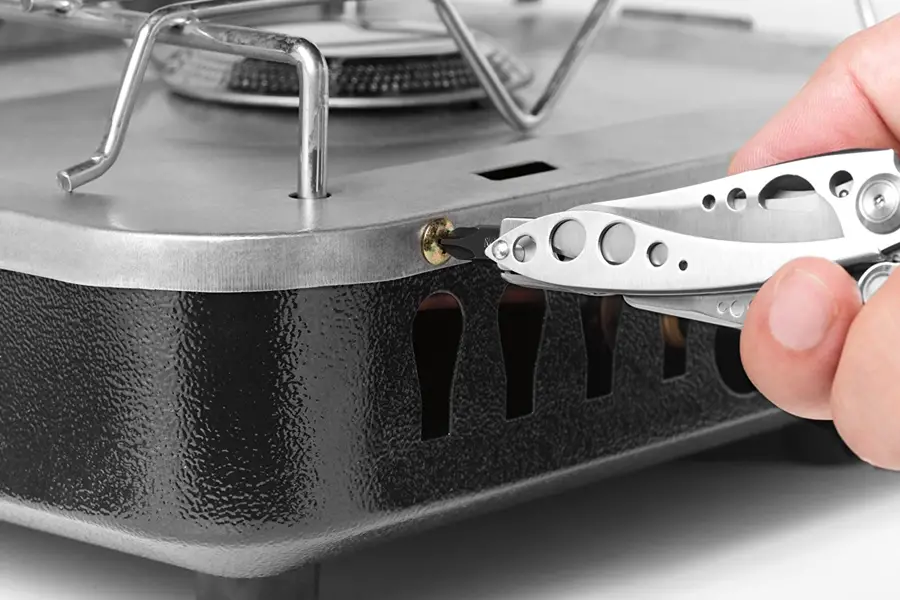 Multi Tool Reviews
When it comes to tools, there is truly a tool for everything. So many that it is easy to get lost searching in the tool box for the single tool you need for any given application. Introducing the multi tool. These are great devices have many of the tools that are used in everyday handyman jobs, in one convenient tool. Adding one multi tool to your tool box will provide you with access to the needed tools for many household jobs without having to find several different individual tools. This not only saves time and frustration, but adds a level of convenience that will help you get the job done quickly with less procrastination. Instead of hauling around your tool bag a pocket sized multi-tool will do the job. The following multi-tools include up to 12 different tools in one product. This will allow you to be prepared whenever you need to complete simple household tasks. Each of the following multi-tools can be opened with one hand and can be easily handled to help you with any small project. They are built by top quality companies and will provide you with a multi tool you will wonder how you ever lived without.
Most Popular Multi Tool
Leatherman – Skeletool Multitool
The Leatherman 830846 Skeletool Multitool allows you to customize the tools for any job due to the Bit driver technology. The multi-tool is only five ounces and is the lightest full-size multi-tool on the market. The multi-tool is compact at only 1.6 x 0.4 x 0.4 inches in size. The Leatherman 830846 Skeletool Multitool has a stainless steel body with a 6061-T6 aluminum handle scales. The stainless steel body creates a very durable tool and will allow you to complete small tasks quickly and efficiently. The multi-tool has outside-accessible blades meaning it is similar to a pocket knife. You can open the Leatherman 830846 Skeletool Multitool easily using one hand. With the Leatherman multi tool you now have a pocket knife, bottle openers, pliers, and a screwdriver by investing in this one multi-tool. It also comes with a 25 year warranty.
Bit Driver Technology
5 ounces in weight, the lightest multi tool on the market
1.6 x 0.4 x 0.4 inches in size
Can open with one hand
25 year warranty
– Anthony Dawson
Best Overall Multi Tool
Gerber
The Gerber 22-41454 Black Diesel Multi-Plier with Sheath is 6.61 inches long when opened and 4.92 inches long when closed. This handy multi-tool is very light weighing only 8.6 ounces. The multi-tool can fold easily and can be opened with one hand. The Gerber 22-41454 Black Diesel Multi-Plier with Sheath has fully locked blades, which allows you to have the benefits of a sturdy fixed knife blade. The multi-tool has several different tools attached to the device including: needle nose pliers, wire cutters, partially serrated knife blade, cross point screwdriver, a small, medium, and large flat blade screwdrivers, a can opener, bottle opener, file, saw, and scissors. With all of these tools provided in one compact multi tool that can fit in your pocket, you will have the necessary tools to on the spot needs. This pocket handy tool is a compact tool bag that you can carry anywhere. With a lifetime warranty you will never have to worry about small mishaps again.
6.61 x 4.92 inches in size
8.6 ounces
Can be opened with one hand
Fully locked blades
12 tools included
– Anthony Dawson
Best Budget Multi Tool
LEATHERMAN – Wingman Multitool
The Leatherman 831426 Wingman Multi-Tool is only 6.9 ounces in weight and 3.8 x 1 x 2 inches in size. This multi-tool will become your go to tool. It is pocket sized and is made of durable stainless steel material.The multi-tool can be opened with only one hand and will keep you prepared for anything. The Leatherman 831426 Wingman Multi-Tool includes the following tools: 420HC Combo knife, spring action regular pliers, spring action needle nose pliers, spring action wire cutters, wire stripper, small screwdriver, medium screwdriver, Philips screwdriver, spring action scissors, wood/metal file, bottle opener, and a can opener. This multi-tool will allow you to feel like you have a mini tool bag in your pocket. Instead of having to haul your tool bag around feel confident that you can take care of small problems with the Leatherman 831426 Wingman Multi-Tool.It comes with a 25 year warranty.
6.9 ounces in weight
3.8 x 1 x 1 inches in size
25 year warranty
Opened with one hand
12 tools included
– Anthony Dawson
Multi Tool Buying Guide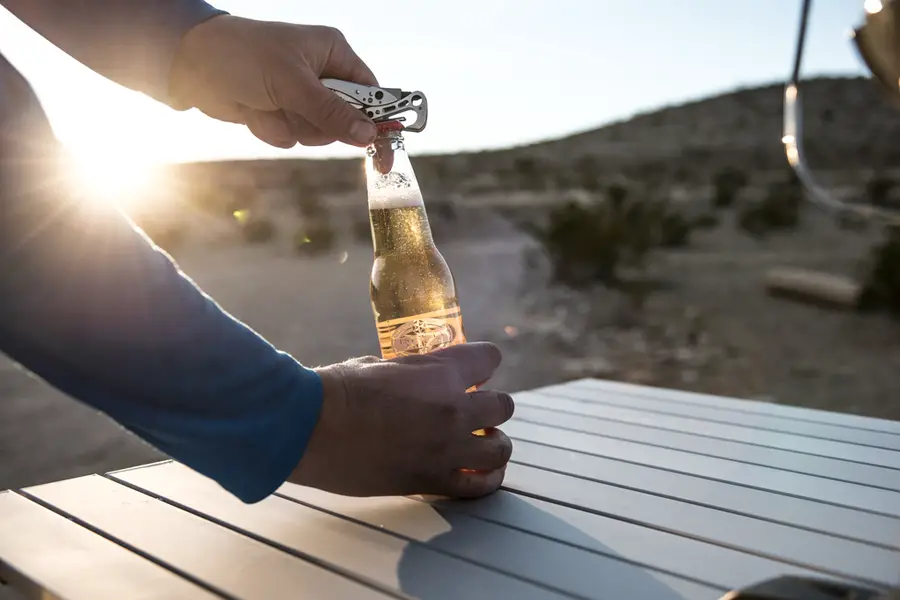 A multi-tool is an instrument compacted with the necessary tools to be used in any possible repair job. The tools are folded into a small group having the same handle. Some models can be placed inside the pocket. This instrument will be conducive for hunters, campers, and hikers. Different units contain different tools. You need to determine what tools you will be needing in the future. Choosing the right model can save you money as you will no longer buy single tools.
Usually, it is composed of a knife blade, scissors, screwdrivers and other types of blades.Some models include can openers, tweezers, LED flashlight, files, and rulers.
Multi-Tool versus Single Tool
Since the multi-tools can be folded, it has been the weakness of the tools since the folding joint is not that strong. However, it is not necessary that the multi-tools are not durable and sturdy, but the tendency of breakage is higher than the single tools. Another shortcoming of the multi-tool is that when it is filled with many tools, it would be difficult to get one as the tools are crowded. However, carrying all the single tools in your bag will be heavier than packing up the multi-tool.
The multi-tools must be comparatively small, approximately 3 inches, to squeeze in the handle.This size would be enough for doing simple tasks, but the larger tools may perform better than this. Although it has limitations, it is advisable to bring this anywhere you go as it can serve as your backup tool. You must always be ready for unexpected circumstances. When you go for hiking, you cannot easily go back to the city when you need to fix some things. With the use of this all-around tool, you can easily do the job without fetching tools.
How to Choose a Multi-Tool
Choosing the right type of multi-tool depends on how you are going to use it. Before choosing from the wide range of choices, you need to decide what tools you will be needing. You can browse the internet to look for some units. You  must ensure that it has a high quality and is safe to use. A poor-quality multi-tool may cause accidents, so you really need to ensure your safety.
Choosing Tool Constituents
As for this, you have the full control on what unit you are going to buy. Here are some of the examples that people prefer. A gourmand would like a unit with a corkscrew for him to open his favorite wine. A hunter will probably need at least 3 types of blades, a flat-headed screwdriver, a needle-nosed pliers, and a can opener. A boyscout will need a fish scaler, a ruler and a flashlight. A multi-tool with less tools is the most durable, although it still depends on the brand.
Quality
Overall, the tool you will purchase must be lightweight and sturdy. Individually, each tool should also be examined. Check if each tool is strongly attached to the handle. First, check the blades as it is the main cause of problems among the tools. Also, ensure that the quality of steel used is hard. Even though high-quality steel will cost you more, the blades will less likely get dull.
Overall Design
The design of the tool should be convenient to use. It must also promote safety. Tools may be in different combinations of colors, sizes and designs. Inspect the locking mechanism. If the lock is stable, then it is a high-quality multi-tool. The most important is to pick a tool that is easy to lock and unlock. The locking mechanism is important as it will save you from common accidents. Some units do not have locks. There are multi-tools that only allow the user to use one tool at a time. The other tools will be locked once you use a certain tool. There would be a time that at least one tool will be broken. Some units allow you to detach the broken tool. You can bring the multi-tool back to the shop so that they can fix it.
Buying a Multi-Tool Confidently
Different manufacturers offer different units of multi-tools. Each unit has a different composition. The Wenger and the Leatherman have been the most popular brands of multi-tools. Wenger sells the original Swiss army knives and Leatherman sells a set of pliers. Gerber, Bucktool, and SOG Specialty Knives and Tools are some of the known brands.
Thing to Consider
Before you go to the shop, you need to know enough information about the tool, the companies and the programs promoting your rights as a buyer.
Study about the Tool
Read the information about the tool in the packaging. There is a list of items found at the back of the box. Decide whether you like the tool or not. Check if the delivery costs and the product's price are reasonable. If it is too expensive, you need to know the warranty agreement, so you can return and get a refund once the tool easily breaks.
Study about the Brand
You also need to research about the credibility of the brand, especially if you are buying online. Be sure that the company is legitimate. Read some of the customers' feedback and reviews. Be able to know the number of transactions made by the company. You must know if the brand is receiving a praise or a criticism.  It is better to avail products from a company that has a money-back guarantee.
Study about the Buyer's Rights
The rights vary depending on the company's policies. An example is a refund of the purchase price and the shipping costs if there is something wrong with the product. For instance, you received the wrong model.
The multi-tool is helpful in some cases you did not expect to happen. You will only grab one tool, but you can already do many things using it. Although it is not as excellent as the tools in your tool box, it may clear out all the simple tasks that you may encounter within a day. Bear in mind that when buying tools, you only need to get only the high-quality ones to ensure your safety.