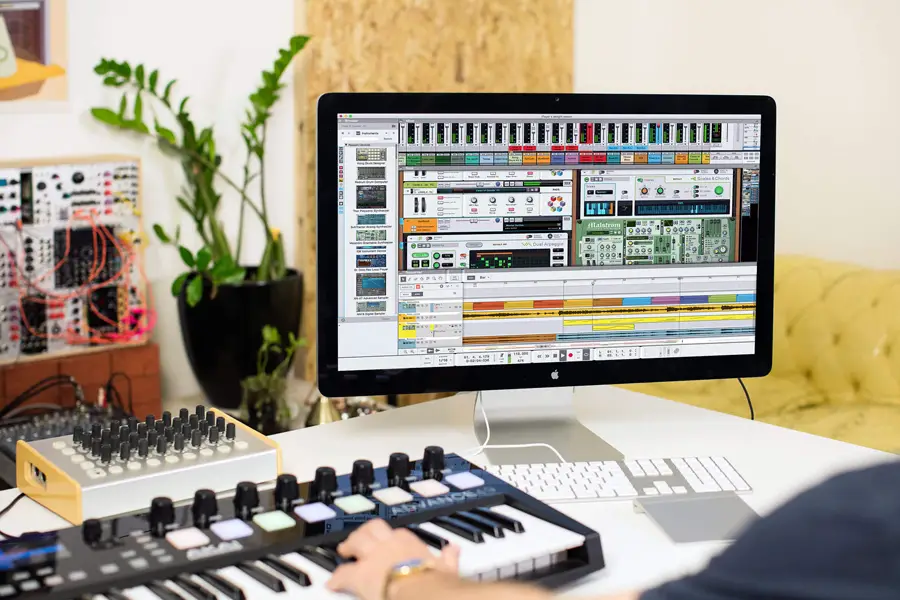 Music Software Reviews
Any serious musician knows that there's more to making great music than knowing how to play an instrument or singing well. The reason a new CD or mp3 download sounds so clear coming out of your speakers or through your headphones is because the music is recorded and edited on professional quality music software. Music software includes a variety of programs and tools that enable musicians and singers to enhance their sound in ways their instruments and voices alone cannot with the ability to add whole new layers and levels of sound. There are versions of music recording and editing software available for beginners, songwriters, solo musicians, DJs, and all other styles of music and skill levels. The type of software a musician needs depends on how they intend to use it, but the main purpose of them all is help the musician make the best possible music.
Most Popular Music Software
Mixcraft 8 Recording Studio [Box]
Acoustica Mixcraft 8 is a versatile music recording software with a multi-track recording workstation that enables you to record music, create loops, remix tracks, add effects, score and edit video, and much more, all in one fully-stocked professional music recording suite. From techno to folk rock and everything in between, Mixcraft 8 contains over 6,000 professionally produced sound effects and music loops, along with 11 virtual instruments and a collection of studio-quality acoustic and electric drums. Mixcraft also enables the use of 22 high quality effects including reverb, chorus, delay, vintage tube EQ, guitar amp simulators, and multi-band compression. The software is compatible with ReWire hosting, Acid and Garage Band loops, and supports multi-channel VST instruments and unlimited hardware input and output. In addition to offering an impressive array of music production programs, Mixcraft 8 allows you to load, edit, and add transitions and effects to videos to create your own DVDs or YouTube movie uploads, completely scored with remixed audio and customized soundtracks.
Over 6,00 royalty-free loops and sound effects in a variety of styles
Support for MIDI input/output with control surface support for effect, transport, and instrument controls
Over 25 high quality effects including Pultronic Tube EQ and Shred Amp Simulator
Mix MP3, WAV, and other audio types and option to record directly to compressed OGG files
– Anthony Dawson
Best Overall Music Software
Makemusic Finale 26 Academic Edition
From aspiring songwriters and composers to teachers and students of music, Makemusic Finale 26 Academic Edition Music Notation Software by Makemusic is a fast, smart, and easy way to get started writing and sharing the music you create. For musicians that prefer the wires and keys of their instruments to those of a computer, Makemusic offers an intuitive task-guided interface that will guide you through the songwriting process. You choose the note input method that suits your project need, whether it's scanning sheet music, playing a MIDI instrument, or transcribing audio. Innovative tools like Magnetic Layout take care of all the details for you on-screen, allowing you to write music and compose scores with ease. Makemusic allows you to use VST/AU virtual instruments and effects or pull from the included selection of sampled instrument sounds to enrich the detail of your scores and play them back in crystal clear quality. Makemusic notation software allows you to export your scores to video and share them directly on YouTube, SoundCloud, as well as export them to other compatible devices.
Task-oriented interface guides you through composing process, making it easy for beginners and pros alike to produce the best results
Score Starter, Ideas Library, and Makemusic notation software help alleviate writers block and boost creative flow
Supports all M-Audio controllers; uses ReWire to sync with other audio programs
Keyboard window allows use of computer keyboard QWERTY keys to be played like a piano
– Anthony Dawson
Best Budget Music Software
Acid Pro Version 8 – Professional Music Production
Sony's ACID Pro program started the loop-based music creation process and now provides full MIDI sequencing and multi-track recording and mixing capabilities in a seamless studio-level production platform. ACID Pro Version 8 retains its loop-based creation capabilities with features including pitch and tempo transposition, unlimited mixing of tracks, and the ACID Pro signature Transparent Technology interface. With the backing of Sony's vast music library, ACID Pro 8 includes over 3,000 Sony Sound Series loops and 90 realistic virtual instruments to help solo musicians and bands alike enhance their musical creations. The software includes native support for VST instruments and plug-ins, allowing you to add effects with parameter automation, create resonate sweeps, and control EQ changes. ACID Pro also includes an integrated mixing console that allows you to assign audio effects, specify routing, and use external effects processors. The software supports automation and channel tracking for the Mackie Control, Frontier Design TranzPort, and other devices.
Beatmapper tool makes for easy remixing and Chopper tool helps create DJ effects, drum fills, and stutters
Full suite of professional production and editing software including iZotope Effects
Rack, Sonoma Wire Works KitCore, and Native Instruments Guitar Combos
Media Manager helps tag, organize, and search for sound bits to add to a composition
3,000 Sony Sound Series loops and access to exclusive free content through Get Media
– Anthony Dawson