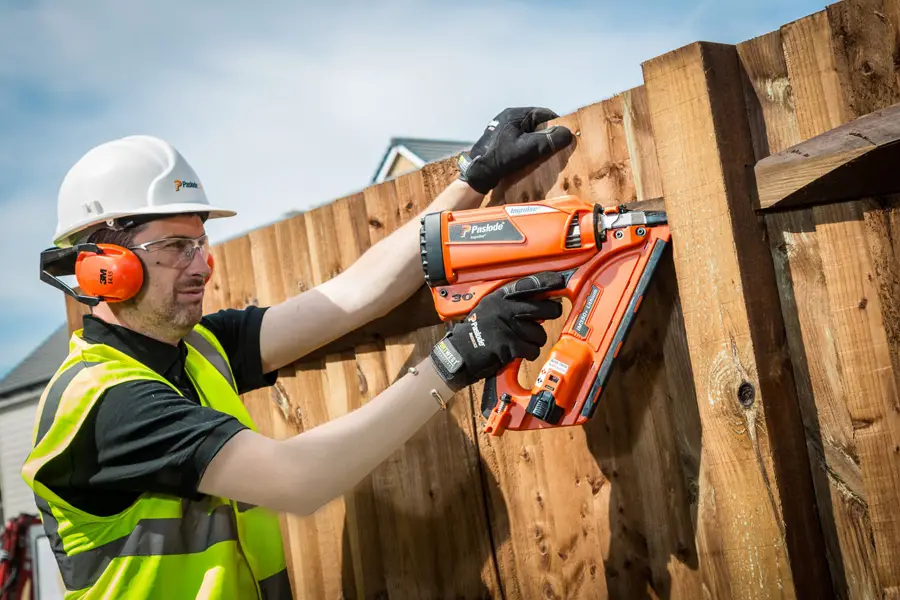 Nail Gun Reviews
Before nail guns had grown to popularity, a hammer and nails were a builder's only option. Now, nail guns are the most efficient way to complete any building project–they dramatically increase the work speed by placing nails in a fraction of the time it takes to hammer one in manually. Nail guns also improve the accuracy of nail placement. While a loose nail has the potential to slip out of place, bend, or shift to an unwanted angle as it is being hammered, a nail gun will shoot exactly where the gun is pointed, with a much smaller margin for error. Nail guns are not just for professional builders. With the growing popularity of do-it-yourself or 'DIY' projects, home building endeavors are no longer just for experts – anyone can do it, but it's only possible if you have the right tools. Nail guns are available in a variety of sizes and styles to suit whatever job needs to be done, and can be used with a range of nail sizes, useful for different situations and fastening many different types of wood.
Most Popular Nail Gun
Hitachi
At a minuscule 4.2 pounds, the Hitachi NT65MA4 is one of the lightest nail guns available, making it ideal for long periods of use or nailing overhead projects such as crown molding. This model features an innovative built-in air duster, which clears debris and sawdust from work surfaces in seconds, and it also boasts a 360 degree exhaust, ensuring that debris is propelled away from the work surface and away from the user. Choose between firing modes at the flip of a switch, with both contact firing and sequential bump firing options. In the event of an occasional jam, the easy-clear nose allows nails to be removed swiftly to minimize productivity interruptions. The tool-free depth adjustment makes fastening a wide range of materials simple and straightforward. A 5-year limited warranty allows handymen to purchase with confidence, and includes a convenient carry case.
Built-in air duster clears debris and sawdust from work surface
Two firing modes: contact firing and sequential firing
Tool-free depth adjustment simplifies fastening a wide range of material
Lightweight aluminum design
– Anthony Dawson
Best Overall Nail Gun
BOSTITCH
The Bostitch F21PL Round-Head Framing Nailer is a reliable, lightweight and easy-to-use nail gun that is a must-have in the toolbox of both seasoned builders and the enthusiastic home handyman. The lightweight magnesium design makes it ideal to use for long periods, without compromising on power. This nailer features two nosepieces – one is for plastic-collated framing nails and the other is for metal connector nails. The quick-change design of the nosepieces makes it effortless to switch between tasks. Another convenient feature is the adjustable rafter hook, perfect for hanging the nail gun within reach. Nail depth can be easily adjusted with the simple push-button depth selector, and the 16-inch layout indicator (located on the high-capacity magazine) will show you the ideal space between studs.
Durable yet lightweight magnesium body allows for use over long periods
Quick-change nosepiece to go from framing nails to metal connector nails in seconds
16-inch layout indicator shows ideal stud placement
High-capacity magazine
Innovative push-button nail depth adjustment
– Anthony Dawson
Best Budget Nail Gun
DEWALT
This user-friendly Dewalt cordless nail gun eliminates the need for air compressor connection while delivering a powerful and precise drive. The rechargeable, long-life 18-volt battery is included – with a rapid charge time of only one hour. Versatility is key: the DC608K is suitable for a wide variety of wood types, and features two nailing speeds – individual firing and high-speed bump firing for accelerated productivity. The tapered nose is ideal for small or hard-to-reach places where other nail guns will not fit, and the notable absence of power cords or air hoses to dragging along behind the gun make this one of the most accessible nail guns on the market. Contact Trip Lock-Off is a crucial safety component, which will render the trigger disabled when the gun is not in use. Additional features include a precise depth-control mechanism, a generous 110-nail magazine capacity, a carry case and safety glasses.
Easy removal of jammed nails from nosepiece
Rechargeable 18-volt long-life battery with charger
Portable cordless design with tapered nose, perfect for corners and small spaces
Two nailing speeds and 110-nail magazine capacity
– Anthony Dawson
Nail Gun Buying Guide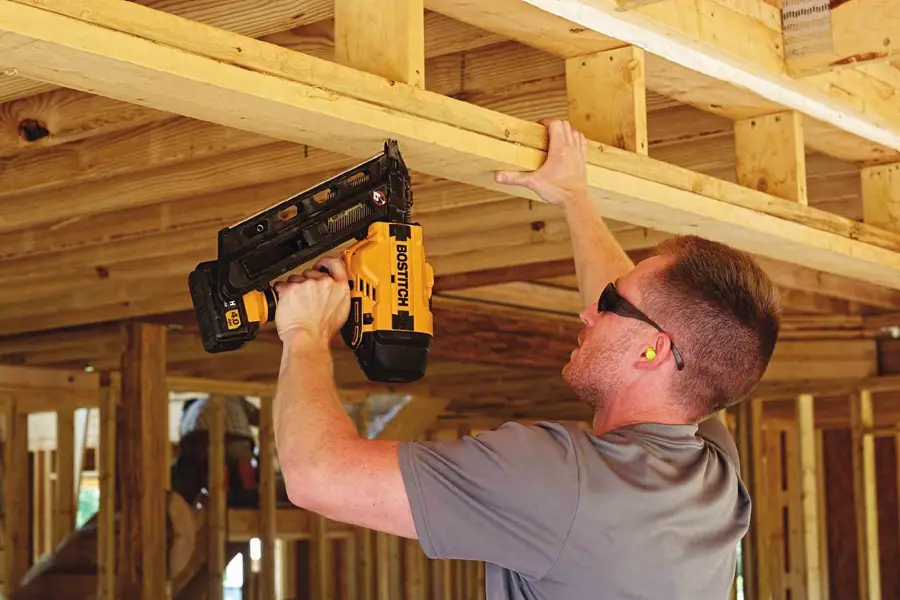 A nail gun is an essential tool for people who do framing and roofing work. Nail guns eliminate the additional work that's needed when you do general hammering jobs. No matter how effective you might be at hammering, a nail gun is more precise, faster, and easier to use. There are many types of nail guns in the market today. This guide will help you make an informed decision when purchasing a nail gun.
Each nail gun style is designed for a specific purpose. Therefore, you should choose a nail gun that suits your project.
6 Types of Nail Guns
Nail guns vary depending on the style of nails that they use. There are six popular types of nail guns in the market today. They include flooring, roofing, framing, finishing, concrete, and brad nail guns.
1. Roofing Nail Guns
This type of nail gun is used to fire roofing nails. They are easy to use and lightweight. They have coiled magazines, enabling them to hold a large number of nails at once.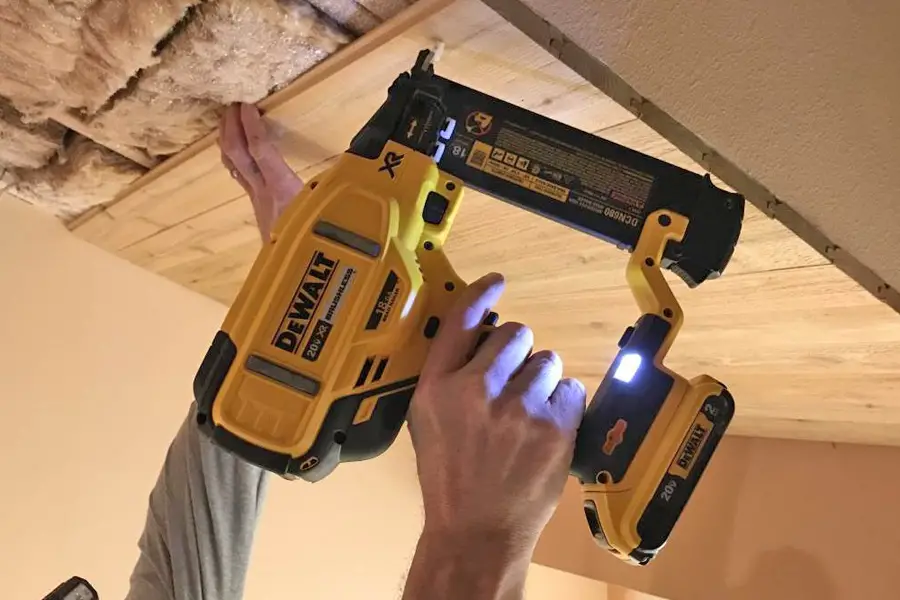 2. Framing Nail Guns
This nail gun is ideal for heavy-duty jobs since they can drive large nails into any wood. They are used to construct massive wooden structures and beams.
3. Flooring Nail Guns
These nail guns can drive in nails at a right angle while standing on the floor. There are two types of nail guns of flooring nail guns; cleat and staple guns. Cleat guns are suitable for firing nails into hardwoods.
4. Finish Nail Guns
These nail guns use high-gauge nails, which are commonly used in carpentry. Finish nail guns differ depending on the shape of the nails.
5. Brad Nail Guns
These nail guns are useful when performing fine woodworking jobs. They are ideal for trim works since they use high-gauge nails. You can use stable guns if brad nails can't finish the job. They are suitable for beading and constructing dollhouses.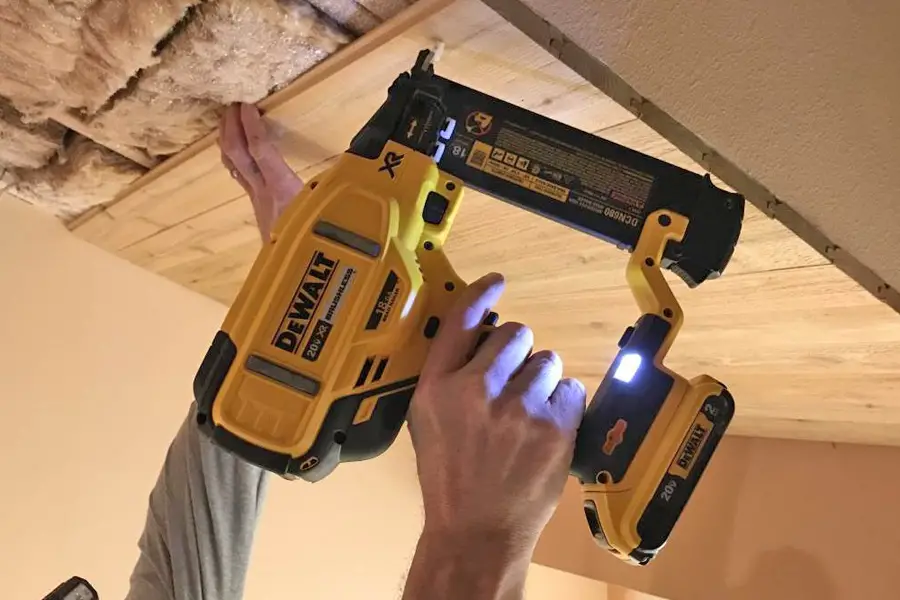 6. Concrete Nail Guns
These nail guns are more powerful than any other nail gun. They can fire nails straight into the concrete. They are ideal for industrial use.
4 Things To Consider When Purchasing A Nail Gun
Nail guns come with different features depending on the brand. The following are some of the features to consider when buying a nail gun.
1. Source of Power
Nail guns can be either electric, cordless, or pneumatic when it comes to power. Electric nail guns require you to plug them into a wall socket to operate. They are ideal for light duties and can increase portability. You don't need batteries or a compressor to operate.
Cordless nail guns use batteries to run. They are portable and mobile, enabling you to use them anywhere. Note that you have to recharge the batteries frequently. Cordless nail guns also use fuel to run.
Pneumatic nail guns use power from air compressors to shoot nails. They are powerful and effective when compared to cordless and electric ones. However, pneumatic nail guns limit movement since you have to connect them to an air compressor.
2. Type of Trigger
Nail guns have two trigger areas; one on the tip and another that you press with the index finger to release the nail. There are two types of triggers: contact and sequential triggers. Contact triggers release the nail when the tip of the gun comes into contact with the target surface. You should be cautious when using nail guns that have contact triggers because they can fire nails into a direction that you don't want to, causing accidents.
Sequential nail guns only release the nail when you press the trigger. They are much safer than contact triggers. However, you must be skilled when using this type of trigger since they can release several nails at a time.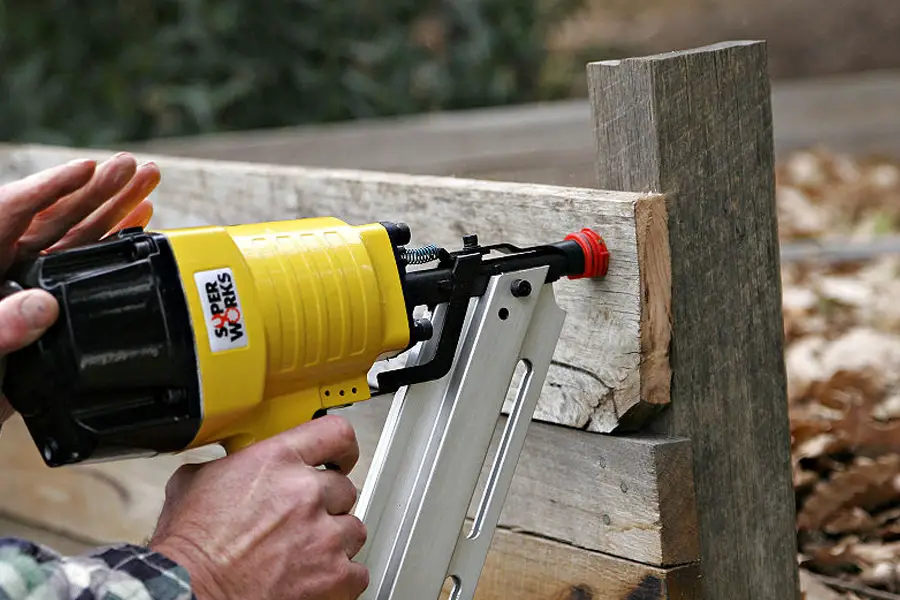 3. Depth Control
The force of the nail varies, depending on the surface. Some nail guns allow you to regulate the force of the nail. Others require you to have a separate tool to control the depth. Nail guns that have internal depth control are more flexible.
4. Jam Clearing
Nail guns are prone to jamming, no matter the brand and type. Therefore, you should look for guns that have jam clearing mechanisms.
Conclusion
There are other factors to consider when buying nail guns. You should check the capacity, type of magazine, weight, nail angle, and the size of the nail. This guide will help you narrow down your options.