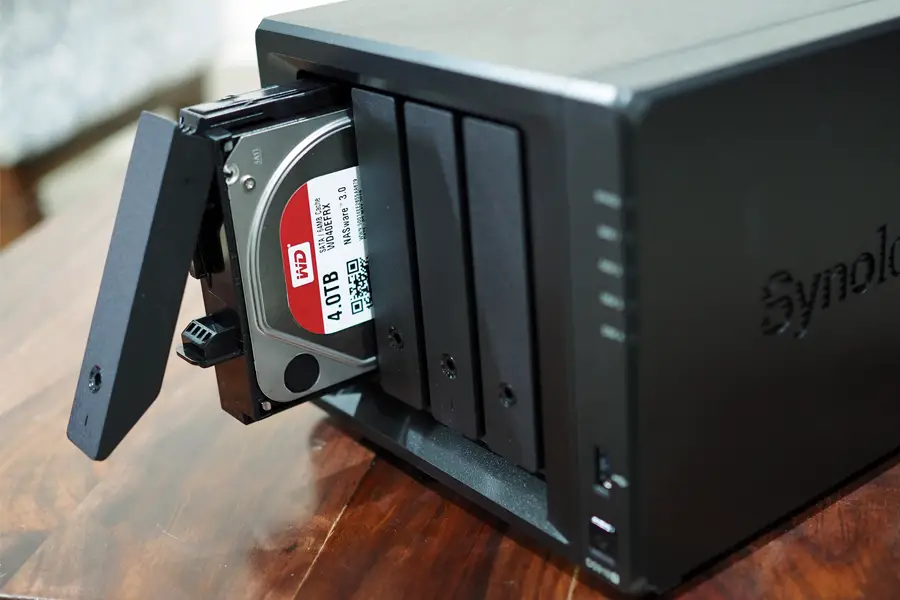 Network Hard Drive Reviews
As more and more files become available in digital form it creates the need for more storage space. In recent times you'll see advertised free cloud storage from certain websites. A network hard drive will act as your entire networks storage space so you can keep your computer hard drives free from clutter that will slow them down. A dedicated network hard drive is your personal cloud storage that you have physical ownership of, not some websites free cloud where your data is floating around somewhere. Modern external hard drives offer several terabytes of storage for a minimal cost making a network hard drive a great investment for those with data storage needs. A shared network hard drive allows access to the stored files on the hard drive from any device on your entire network instantly.
Most Popular Network Hard Drive
Western Digital 14TB Elements
Western Digital is the bestselling hard drive manufacturer in the world. This 14TB Western Digital external hard drive offers the high quality craftsmanship without the massive price tag. 14 terabytes of storage space make this hard drive a great choice to expand your network storage space. The plug and play feature allows you to connect this hard drive via USB port to your existing desktop computer for instant storage. Instantly works with popular operating system Windows via USB connection and Mac operating system with reformatting. Instantly transfer data between your computer and this hard drive saving files in specific folders for easy browsing.
The small design of this Western Digital Elements hard drive is a true space saver with measurements of 7 × 4.9 × 1.4 inches it is small enough to fit anywhere. The energy star efficiency certification is proof of the reduced power consumption that this hard drive uses compared to other models.
Quality name brand is trusted for reliability and performance
Large 14TB capacity at a great price
Instantly add storage space to your USB computer or device
Energy saving design
Small footprint makes it very easy to store
– Anthony Dawson
Best Overall Network Hard Drive
Western Digital 4TB My Cloud
Western Digital is an innovative class leader when it comes to hard drive technology. Dependable high quality hard drives that operate at high speeds and have low failure rates are what they strive to produce. This 4TB cloud storage is blazing fast with a dual core processor and 1 gigabit ethernet you can complete file transfers and backups. Easily upload, save, and access your photos and videos from any device in your network. 3.0 USB port makes future expansion quick and easy. Simple streaming of music and video to any device on your network.
Free apps allow you to access cloud storage anywhere from your mobile devices. Quick and easy setup with auto network discovery will have you storing data within moments. Compatible with all operating systems. Western Digital includes a 2 year warranty and customer support.
Massive 4TB storage has room for thousands of files
Dependable operation from a trusted hard drive manufacturer
Fast data transfer with dual core processor
Simple addition to existing network
Apps allow you access to your hard drive from mobile devices
– Anthony Dawson
Best Budget Network Hard Drive
Seagate
Seagate is a highly regarded hard drive manufacturer known for fast and dependable operation. This Seagate hard drive allows you to combine existing data and move it to this hard drive saving space on your devices. Shared storage is compatible with PC's and Macs on your existing network. Seagate media app helps you separate your files the way you want, by size, type, and compatibility. Automatically back up files on your existing network computers and workstations. It works well with Apple's Airplay allowing you to stream music on compatible airplay speakers.
This small hard drive weighs a little over 2 pounds, but stores a massive 5TB and the overall footprint is 5.7×8.5×1.7 inches allowing for easy storage. Supports USB 2.0 for further network expansion. Simply connect to your WiFi router, and you have 5TB of storage at your fingertips.
Extra large 5TB cloud storage has plenty of room to back up network computers and store files
Media storage app makes it easy to categorize your files
Small size is easy to conceal without taking up much space
Connects to your existing network easily
Dependable hard drive manufacturer known for quality and reliability
– Anthony Dawson