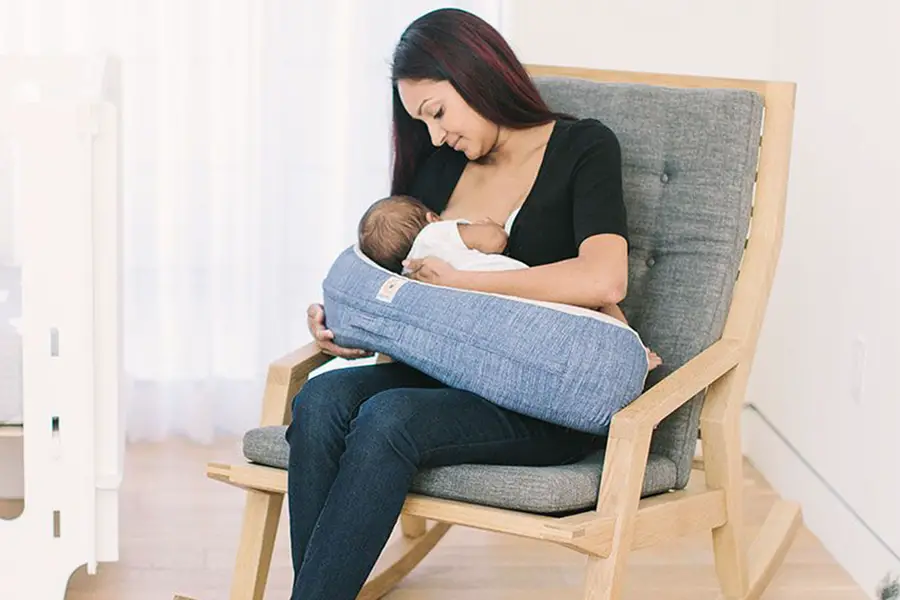 Nursing Pillow Reviews
Nursing time isn't as easy as it seems, and often you need tools to make feeding easier on both mommy and baby. When looking for a nursing pillow, you want to find something that is ergonomically designed to put mom and baby in the right position during this special time. You also need to find a pillow that has a removable cover that is easy to wash in the washing machine. Most nursing pillows are quite affordable, and it's suggested that you spend more money on a quality cover, and save your money when buying the actual pillow itself. Putting you in the right proximity with your child is key to making feeding easier. You want a pillow that supports your child's head and neck, while sitting comfortably on your lap. There are tons of nursing pillows out there to choose from, so find one in a color that you enjoy, and perhaps matches your baby's room decor. There are also special pillows to help pregnant women sleep in a comfortable position at night.
Most Popular Nursing Pillow
Boppy
The innovative Boppy pillow is designed to follow the natural contours and shape of your body and head, and is great when mommy wants to sleep or relax without any stress on the body. The removable and washable cover is easy to clean, and ultra soft against the skin. The special horseshoe shape of this pillow allows you to attain the position and height that is just right for you. Gone are the days when you need multiple pillows to support different parts of your body, because this pillow can do it all with ease. The extra long midsection features the ideal width for the ultimate in back and tummy support. The slightly curved end is meant to tuck snugly between your knees and keeps you comfortable and cool anytime of day or night. Ultimately, this is the only pillow that you need when you're pregnant or nursing and need to support your changing body in the best way.
Like many different pillows rolled into one
Uniquely designed to support mom's body
Great for resting, napping, or sleeping at night
Plush, removable cover
Supports the entire body for the ultimate in comfort
– Anthony Dawson
Best Overall Nursing Pillow
My Brest Friend Original Nursing Posture Pillow
This is the number 1 breastfeeding support pillow with lactation consultants, and it's a wonderful way to keep you and your baby as comfortable as possible while feeding. This is the only pillow that stays securely in place and will not shift or slide like many other crescent pillows will. Get the support, comfort, and security you need, and experience more enjoyment during breastfeeding, as well as a higher level of success. The soft, deluxe fabric is easy to clean and features an ultra-plush back rest. Achieve the best posture during feeding, and prevent sore back and neck thanks to the wrap-around design. The pillow gently secures to the body, and helps mom and baby maintain the perfect proximity with latch-on arm and elbow rests. The convenient pocket helps to eliminate shoulder stress. The slipcover is sold separately, but is definitely worth the extra expense.
The #1 breastfeeding support pillow by lactation consultants
Eliminates stress on both baby and mom
Easy to clean and maintain
Plush fabric is ultra soft and comfortable
Slipcover sold separately
– Anthony Dawson
Best Budget Nursing Pillow
Leachco Cuddle-U Basic Nursing Pillow
This fun Cuddle-U Nursing Pillow from Leachco comes in a fun sage pin dot design, and functions as a multipurpose pillow with multiple uses and applications. The wonderful support system has the benefits of a bouncer with the comfort of mommy's caress. The adjustable seat wrap with U-shaped design creates a shape that ensures baby's support and safety at all times. Effectively ease muscle strain and make feeding time easier than ever. This pillow easily converts from a nursing pillow to a support cushion within an instant, or turns into a play seat as your child grows. This comfy pillow allows your child to find the proper reclining position, and the safety strap holds tight to even the most aggressive wigglers. In this proper position, your child will improve digestion and help to reduce reflux. This is a comfy tummy time cushion or sit-up support rolled into one.
The perfect reclining or tummy time cushion for your child
Fun sage pin dot design
Easy to clean and maintain
Eases muscle strain during feeding time
Encourages baby's effective digestion
– Anthony Dawson