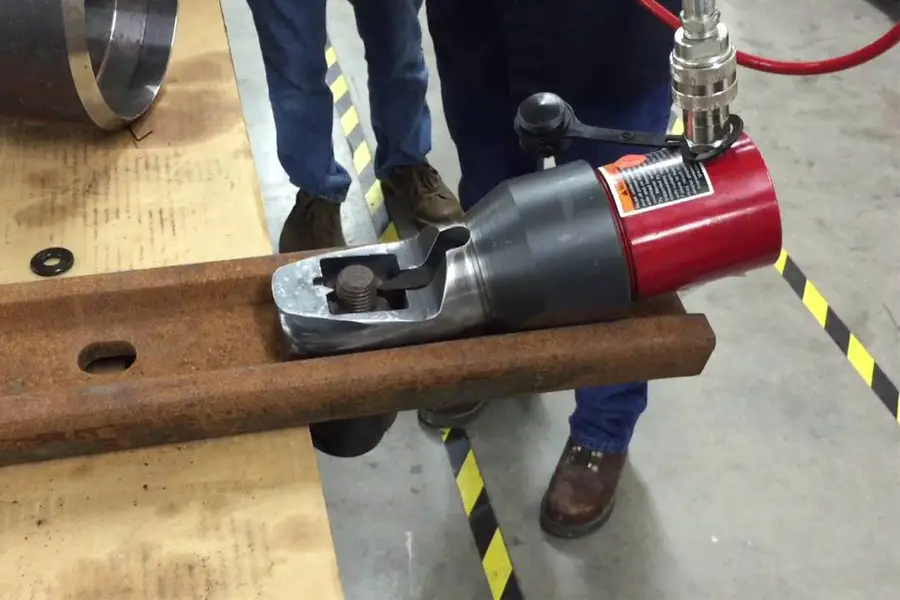 Nut Splitter Reviews
Running into a nut that won't budge from its bolt can make tough work of deconstruction and maintenance jobs. There's nothing more frustrating that a seemingly intact nut that won't respond to the grooves or tension from any socket or wrench head you try on it. In such cases, the only way out is usually to break the nut, preferably without also breaking whatever its screwed to or otherwise damaging the threads. As the name implies, nut splitters are designed to split the nut, as in to crack it entirely, in order to pull it from its bolt without damaging the threads. They employ the use of a sharpened steel head and tension applied from a wrench to indent and crack a nut stuck to a bolt. Nut bolts are the type of tool you hope you never have to use, but since they can be picked up for relatively cheap and take up minimal space in the toolbox they're a good thing to have on hand when all else fails and your project is halted from a stuck nut.
Most Popular Nut Splitter
Craftsman
Craftsman makes tools from quality materials that are built to last, and the Universal Nut Cracker is one of them. The tool is made of a forged steel frame and features a hardened steel cutter on the eyelet end of the head. The head fits nuts 5/16-inch to 7/8-inch, which can be split without damaging the attached bolt threads by manually turning the bolt head end with a wrench, which pushes a cone-shaped steel prod into the nut until it is cracked by the sharpened point on the opposite inside edge of the head. The entire tool is extremely compact at about 4-inches long and a little over 1-inch wide and weighs 0.8-pounds. For about the same cost as a quality claw hammer, the Craftsman Universal Nut Cracker does exactly what its supposed to do and is one of those tools you'd rather have on hand than not.
Made of forged steel with a hardened steel cutter piece
Cuts nuts 5/16-inch to 7/8-inch without causing thread damage
Compact, lightweight, easy to use, performs as intended
– Anthony Dawson
Best Overall Nut Splitter
Cal-Hawk
This Cal-Hawk Nut Splitter Set includes two high quality hardened steel nut splitters, one small and one large. The smaller tool is capable of splitting nuts between 1/2-inch and 5/8-inch, while the larger can manage those between 5/8-inch and 7/8-inch. The splitters work in traditional nut splitter fashion by driving a hardened steel chisel directly into the nut by way of turning the bolt end with an appropriate wrench and degree of torque. Both the small and the large tool are designed to cut their respective-sized nuts without causing damage to the bolt threads to allow for quick removal of bolts that once seemed impossible to budge.
Two piece set includes large and small nut splitter tools
Hardened steel chisel splits nuts up to 7/8-inch without causing bolt thread damage
Quality two piece construction backed by Steelgrip name
– Anthony Dawson
Best Budget Nut Splitter
OEMTOOLS
Made of high carbon and chrome vanadium steel, the Great Neck OEM 1/2-Inch Nut Splitting Tool is strong, durable, and corrosion-resistant: qualities that every tool should possess. This nut splitter is on the smaller side, with the ability to split nuts up to 1/2-inch using the two piece construction that pushes the chamfered drive end directly into the nut to split without causing damage to the bolt threads. The tool weighs under 6-ounces and is backed by Great Neck OEM's Limited Lifetime Warranty against manufacturing defects. For small jobs, small toolboxes, and a small expense, the Great Neck OEM 1/2-Inch Nut Splitting Tool is worth keeping around.
Two-piece construction splits nuts up to 1/2-inch
Carbon and chrome vanadium steel construction offers strength, durability, and resistance to corrosion/abrasion
Backed by Great Neck OEM Limited Lifetime Warranty
– Anthony Dawson
Nut Splitter Buying Guide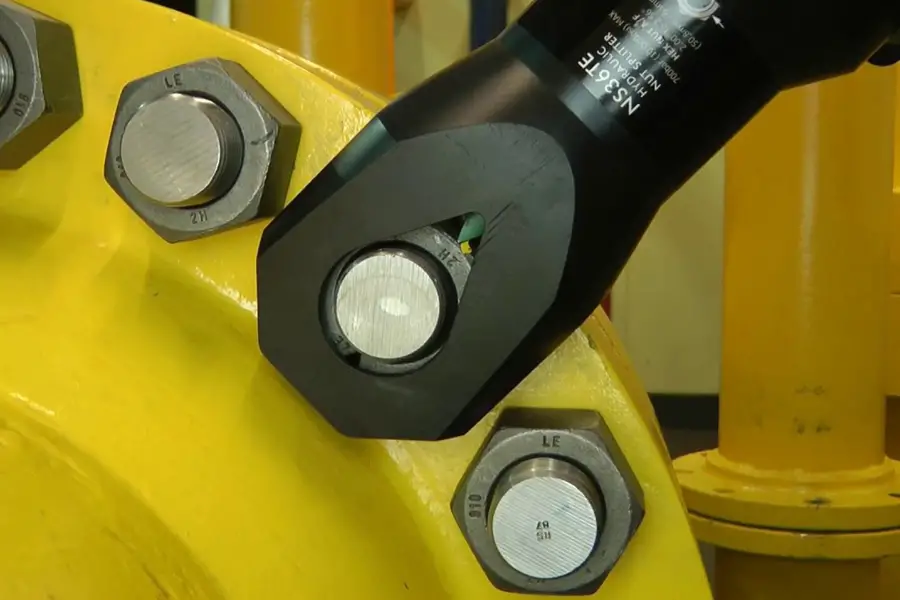 Nut splitters aren't your everyday item, but if you work in an industry that uses a lot of nuts, then they are a fairly essential tool so that you can do your job to a correct level, and also make your life that little bit easier. If you make the right choice, and buy a great nut splitter, then you are going to be in a position to easily tackle any nut situation that arises for years to come, with a solid, dependable item. But if you make the wrong choice, then you are looking at a lot of frustration, with a nut splitter that may not work properly, or even one that breaks within just a few short uses.
That is why we have put together this buyers guide. With it, you can see exactly what you need to look for when you are buying a nut splitter. We've also put together some information on what a nut splitter is, and what its uses are, as well as the other information that you need to know. If you don't have time to read through the full guide, then head straight to the last section, where we've summarized the key points that you need to know, if you have the time – then read on.
What Is a Nut Splitter?
If you're a mechanic, or anyone else who works with nuts, then you are likely to have come across a situation where you have a nut that just won't come undone – no matter what you do. It could be caused by extreme vibration, heat or rust. It can feel like the nut is part of the frame, and that you will never be able to move it.
In this scenario, many people will reach straight for a torch or saw, to try and cut it off. But this can cause serious damage to the frame. But there is another way, it is called a nut splitter. It is a simple tool, that can come in a variety of sizes. It will easily, and simply remove the nut, and even better, in many cases you will be able to reuse the bolt once you have the nut free.
They are relatively cheap, and are an essential part of any good mechanics (or anyone who works with nuts) inventory. But you need to know exactly which one to get, so read on for our full guide.
What Different Types Of Nut Splitters Are Available?
Generally speaking, most nut splitters look fairly similar, and work in a very similar way. You will tend to find that even the ones that have a slightly different shape, are still very much the same in terms of the actual function of the device. This therefore means that most nut splitters are pretty much the same, and the only really different is built quality, and price.
But of course, the real difference lies in the size. As you are aware, there are many different types of nuts, and so it follows that there will be many different sizes of nut splitters. Some will be fixed in one specific size, others will be adjustable so that you can use them with many different nut sizes.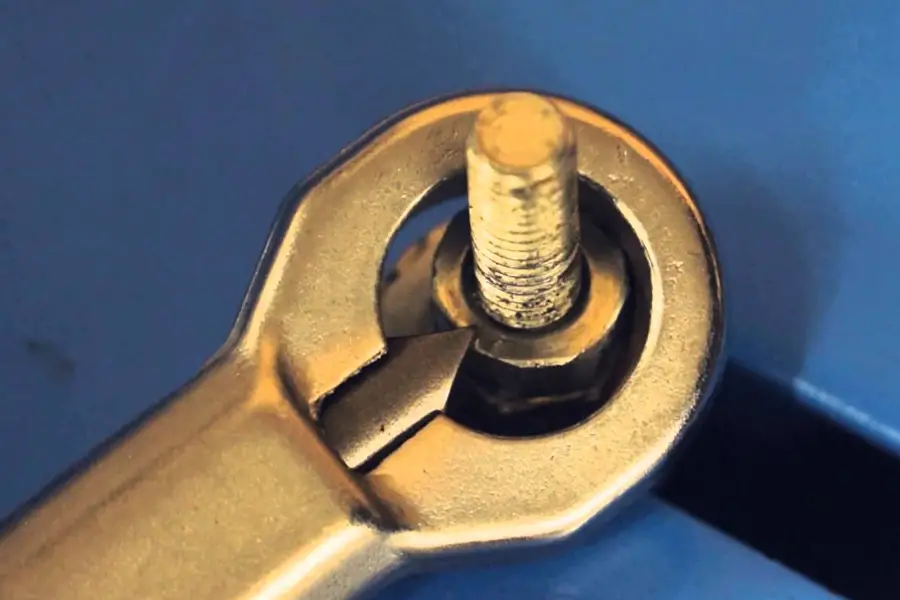 What Features Should You Look Out For In A Nut Splitter?
There are a few things that you should look for when you are purchasing your nut splitter. There isn't a huge amount to bare in mind, as they are (as we said above) the same basic, standard design. But if you ignore these few things, then you are leaving yourself open for a disaster, and could potentially cause yourself a lot of headaches.
Get The Correct Size
Probably the most vital factor. There are nuts and bolts of a variety of different sizes, if you buy a nut splitter with the intention of removing a nut, and find that you have bought the wrong size – then you are going to be very annoyed. Make sure you either get the correct size, or better yet, get a nut splitter that is adjustable. That way there is no chance of any annoying incidents.
Buy A Nut Splitter Made By A Trusted And Quality Brand
While with some products that you encounter in life you can choose to go for the cheaper, no brand option. But this should never be the case with tools like nut splitters, and other work tools that you might use as a mechanic, or other work person. You should always choose to buy from a quality, well known, and trusted brand. That way you know what you are getting, and you will be getting a product that will probably last for years to come. If you choose to go for a less high quality brand, then you are risking it breaking within the first few times you use it, and you having to buy a new one.
Read Real User Reviews From Actual Users
Manufacturers can say pretty much whatever they want in their product descriptions. This doesn't necessarily make them the most trustworthy sources of information for when you are trying to find out if a nut splitter is right for you. That is why you should always look at independent sources, and reviews before you make a firm decision. One of the best places to do this is on Amazon, where you can read real reviews from verified buyers for almost any product. Other retail sites will usually also have real reviews to read.
What Do You Need To Know Before You Purchase Your First Nut Splitter (The Quick Guide)
If you haven't had time to read this whole guide, but still need a nut splitter, and need to know a few vital factors before you make your decision then this short guide is for you. There are three main things that you need to know:
A nut splitter can remove a tough nut from a bolt without damaging the bolt screws.
Always buy from a trusted brand, to ensure that they work well, and read user reviews.
Get an adjustable nut splitter if you can, so you can remove different size nuts.