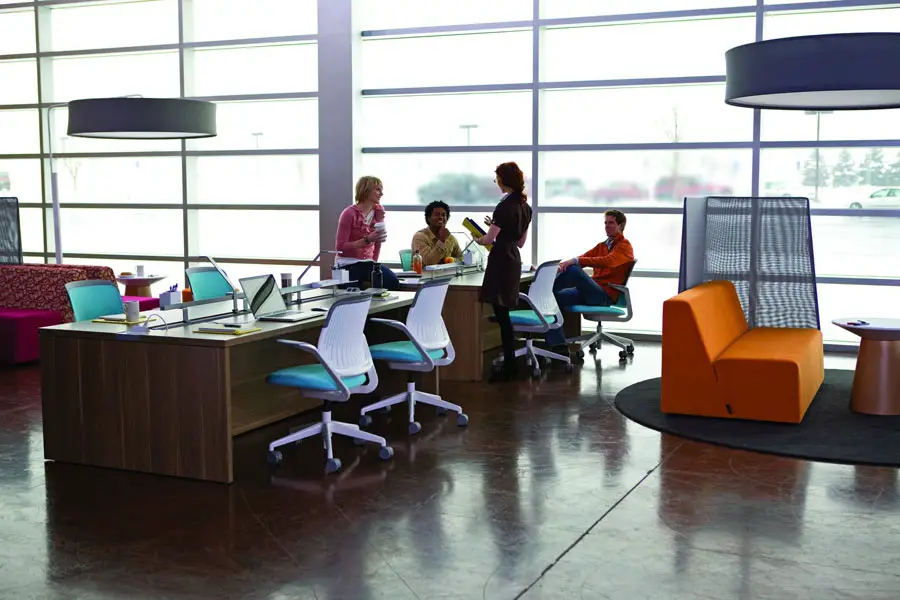 Office Chair Reviews
With more and more consumers spending their time in front of a computer, a good quality office chair has become a necessity rather than a luxury. Chairs that provide better support and comfort result in higher levels of productivity. If you are looking to increase the productivity for yourself or your office staff, finding the right office chair is a top priority. We have selected the best chairs available that provide support, ergonomic designs and a price that will help increase productivity economically.
Most Popular Office Chair
Space Seating
The Office-Star-Professional-Managers-Leather office chair is built to promote good posture. It is comfortable even when sitting for several hours at a time. The Office-Star-Professional-Managers-Leather chair is black and has a thick padded contoured seat which is firm but comfortable. The back is made of a mesh material which makes the chair more breathable and provides for firm back lumbar support. The angled armrest includes soft pads on the armrests to provide a comfortable rest. This chair includes a pneumatic seat which adjusts to several different heightsto accommodate the different heights of users. There is also a 2 in 1 synchro tilt control with adjustable tilt tension. The heavy base includes dual wheel casters which allow for easy movement around the office or room. The Office-Star-Professional-Managers-Leather is built with the quality of a much more expensive chair at a very reasonable price. The Office-Star-Professional-Managers-Leather is built for users up to 250 pounds.
Padded contoured seat
Mesh back with lumbar support
Pneumatic seat height adjustment
Synchro tilt control
Promotes good posture
– Anthony Dawson
Best Overall Office Chair
Herman Miller
The Aeron-Desk-Chair-Basic-Colored Carbon is one of the most ergonomic chairs available in the world today. It is a top choice for individuals with back injuries, pregnancy, or other back strains, pressure or complications. The Aeron-Desk-Chair-Basic comes in your choice of colored carbon colors which includes numerous tones of black and grey. It is made with pellicle fabric which is created to breathe with the body. This mesh fabric is designed in a way that allows the chair to stay cooler and allows the air to circulate even while seated. This increases the comfort while using the Aeron Chair. The suspension design provides for even weight distribution over the back and seat which increases comfort and support. The chair conforms to the user which minimizes back pressure. The upgraded Aeron chairs offer options that include lumbar support, adjustable arms, andPosturefit. The Aeron-Desk-Chair-Basic comes with a 12 year warranty.
Ergonomic chair designed for comfort
Pellicle fabric for better circulation
Even weight distribution over back and seat
Carbon color options to match office furniture
12 Year warranty
– Anthony Dawson
Best Budget Office Chair
Boss Office Products
The Boss-Black-LeatherPlus-Executive-Chairis an excellent high back office chair that is loved by those looking for a quality office chair. It is built for comfort and support especially for those who need to sit for long periods of time. The design features 5 caster wheels which create stability and easy movement. The chair will glide across the floor from one location to the next .The Boss-Black-LeatherPlus-Executive-Chair is ergonomically designed for comfort. It produces excellent lumbar support which reduces back pain caused from long periods of sitting. It has a waterfall seat design whicheliminates leg fatigue. The arm rests are covered with the LeatherPlus material making it soft and comfortable. The Boss-Black-LeatherPlus-Executive-Chairhas a comfortable leather feel that maximizes comfort during use. The chair includes a pneumatic height adjustment which allows the chair to adjust up and down as well as recline. The chair is built to hold up to 250 pounds.
LeatherPlus Fabric Office Chair
Lumbar support
Pneumatic height adjustments with tilt option
Waterfall design to reduce leg fatigue
Built to hold up to 250 pounds
– Anthony Dawson
Office Chair Buying Guide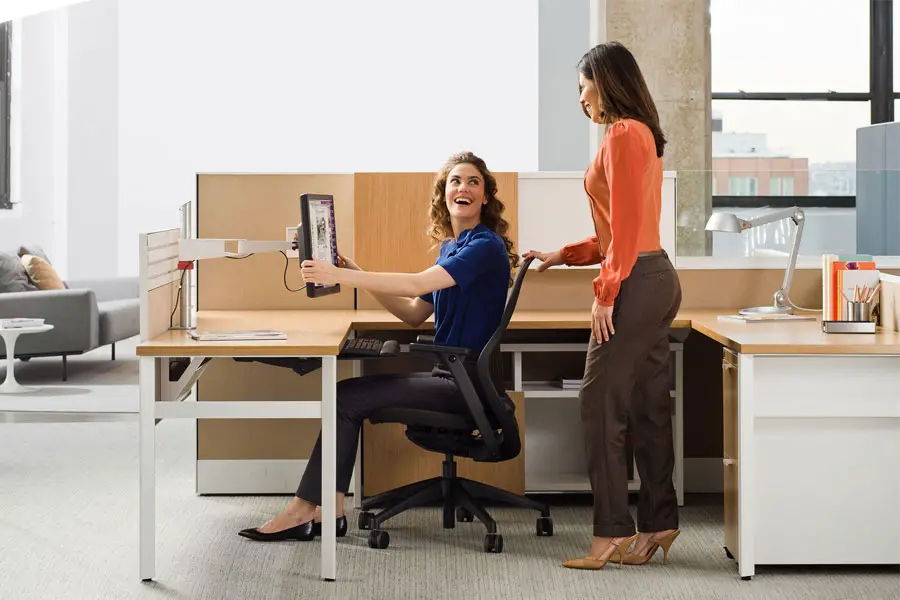 The Office Chair That Can be Just Right
The office can become almost the second place for you to go to; you spend nine hours a day, five days a week in one. Staying in an office, you would also be sitting in a chair ninety percent of the time.
Office chairs had been around for quite some time. An office chair would typically have wheels and its height can be adjusted to suit the user. Though this is common with all office chairs, not all office chairs can suit the person sitting on it, or will suit the environment where it will be used. A lot must be considered before you decide on the office chair that you want to get.
The immediate item that one would think of when looking for an office chair will be the style of it. The office chair has to work well with who will use it, but at the same time, it has to be classy. No one wants to be seen sitting in an office chair that would look ridiculous. Another thing to consider is the way that the office chair will be used. Would the one using it be required to sit the whole day? Would the person using it be sitting in front of a computer or someplace else? The size of the chair is also going to be necessary; not everyone is created equal, and not all may be able to fit into a certain office chair.
But the most important item to be considered is ergonomics. Ergonomics can be easily defined as something that will not put too much stress on the person using it. Office chair need to have an ergonomic design, which should promote good posture among the people that will be using it, and relieve any possible stress that may occur to someone that will be sitting on it.
Purchase Consideration
With that, let's look at the parts of each office chair, and that will help in allowing you to decide which one to get. The parts that will be seen first will be the backrest and the seat itself.
Backrest – The backrest needs to be comfortable, and with it, great lower back support must be available. Bad posture can come from a chair that doesn't allow a good back support.
Seat – The seat also needs to be just right; too hard can become unbearable if one would sit on it for a long time and too soft can still lead to having an uncomfortable sitting experience.
Armrest – These are optional, but it helps in having a place to put your arms onto.
As what with most office chairs, the height of the chair is not an immediate issue. Since anyone that will use an office chair is not of the same height, the office chair would have an optional height adjustment. It would typically come as a gas pump that can hold one's weight, and can be adjusted to almost any height one desires. The part that raises the chair must be stable as well, or if not, the office chair might end up swinging unnecessarily, making the experience more uncomfortable and will cause issues to the one that sits on it.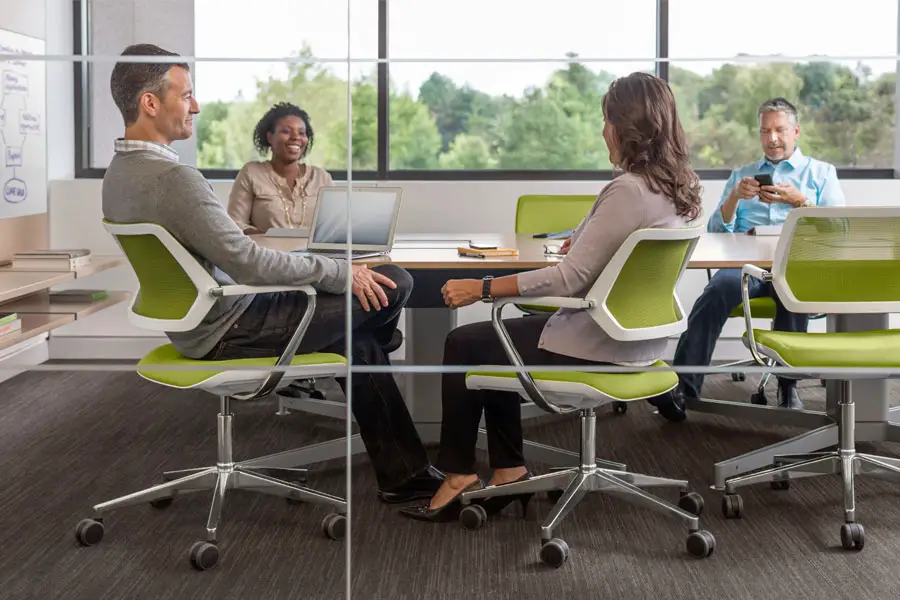 Types of Office Chairs
There are a few types of office chairs that you can choose from:
Traditional Office Chair – These are just typically a chair that is composed of a seat and a backrest. Armrests can be optional, and it can be on a swivel, or on four chair legs. Recliner chairs can be included with the traditional office chairs. Recliner chairs would have a special swivel at the backrest area where you can either rest your back and the backrest will follow, or it may have its own adjustment, so the user can change the angle of the backrest at will.
Kneeling Chair – This is the type that allows you to sit in a sort of kneeling position, which can help in lessening lower back pain, and can even help in straightening the spine. Usually, these would have a bar at the bottom to place their feet onto, while the knees would be resting on pads. The lower leg would just be below the thigh, but the thigh and bottom will be seated. It will appear as though the person is "kneeling" instead of sitting on the chair. The kneeling chair will not have a backrest, making this kind of chair not suitable for anyone that would have a known back problem. It still generally helps in promoting good posture, but the better practice is to use the kneeling chair for some time, and switch back to a traditional office chair after.
Exercise Ball Chair – This one will have the conventional backrest and armrest, but instead of a regular seat, you'll have an exercise ball to sit on. This may help in allowing some movement while sitting, since an exercise ball will have the flexibility to "bounce" on it, making their legs move. This kind of chair can be suited for those who like to slouch, as it would be near impossible to do that with this, and this will keep you positioned for a straighter back.
Saddle Chair – A saddle chair will be shaped like a horse saddle, with the legs apart, and it is typically higher than a traditional office chair. Benefits of a saddle chair include allowing your back to maintain the "S" shape of it which can help in lessening back and shoulder stress, and since the legs are at a different angle, it prevents fatigue from forming on the legs. There are types wherein the part for the legs can be adjusted so that they can be farther apart.
If you are still looking for the best office chair for you, try to consider all the factors that were mentioned earlier, and you should be able to look for the type of chair that will suit your need. Sitting for a long time must be as comfortable as possible, and it starts with choosing your office chair.