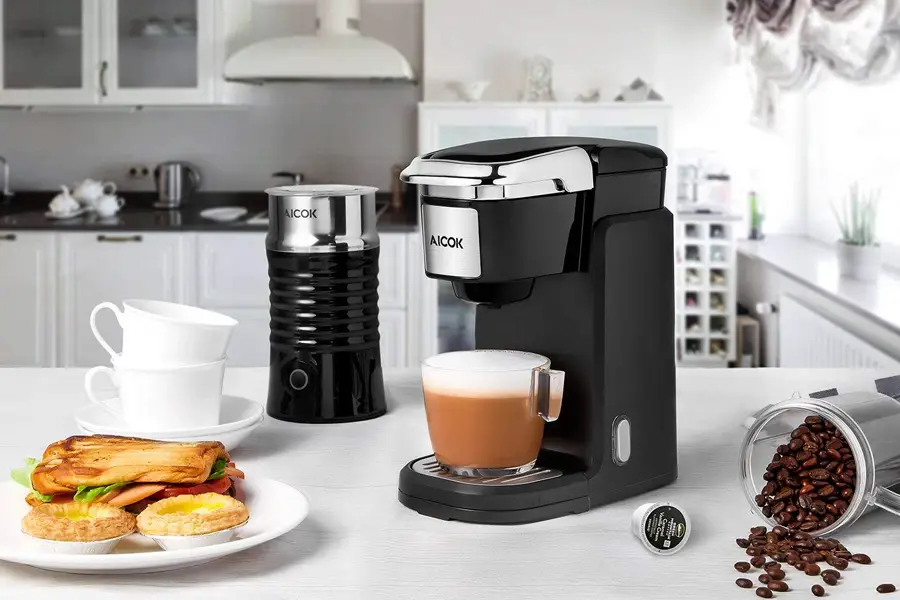 One Cup Coffee Maker Reviews
Single cup coffee makers have taken the industry by storm. No longer do home users need to brew an entire pot of coffee that will sit and get cold and eventually be thrown away. Today there are many coffee maker manufacturers that produce a single cup version. This allows home and business users to make one cup of coffee at a time. We have rated the top one cup coffee makers among the many coffee makers that are available on the market today.
Most Popular One Cup Coffee Maker
Mr. Coffee
Mr. Coffee Single Serve BVMC-KG5R Coffee Brewing Machine uses the Keurig patented brewing cups. You get the same great Keurig coffee, with a smaller single cup brewing machine. This is a great entry level brewing machine. It has two cup sizes available. You can brew a 6 ounce or a 10 ounce cup of coffee. There is also a removable tray which allows for the use of travel mugs. The water reservoir is 24 ounces, which is good for 4 cups of 6 ounce freshly brewed coffee, tea or cocoa. While the Mr. Coffee Single Serve BVMC-KG5R Coffee Brewing Machine does not have many of the bells and whistles of the Keurig Machine, it is also around half the cost. In the end the coffee tastes the same. For general home use the Mr. Coffee Single Serve BVMC-KG5R Coffee Brewing Machine will get the job done and provides excellent coffee.
Brew coffee, tea of cocoa with patented Keurig cups
2 different cup sizes 6 ounce and 10 ounce
24 ounce water tank
Light weight and compact for small spaces
30 day money back guarantee
– Anthony Dawson
Best Overall One Cup Coffee Maker
Keurig
Keurig K75 Platinum Brewing System is an excellent single serve coffee maker and has a lot of very useful features. If you want to have a fresh cup of coffee, tea or even hot cocoa, this brewer can whip up a fresh cup in a matter of minutes. The Keurig K75 also has the ability to brew iced tea and coffee. The Keurig K75 is fully programmable. This means you can adjust the water temperature, program the time that the coffee is brewed, and set the auto on/off feature for energy savings. There are 5 possible cup sizes, including one for travel mugs. This coffee maker is convenient for home or business use as well as on the go brewing. The water tank includes a filter and holds 75 ounces of water. There is a removable K-cup basket available for brewing your own brand of coffee in the Keurig K75 system. The removable parts are also dishwasher safe. The Keurig K75 Platinum Brewing System comes with a 1 year warranty and a 30 day money back guarantee.
Brew coffee, tea, or hot cocoa at your favorite temperature
5 different cup size options
Fully Programmable
75 ounce water tank with water filter
1 year warranty and 30 day money back guarantee
– Anthony Dawson
Best Budget One Cup Coffee Maker
Hamilton Beach
Hamilton Beach 49981 Single Serve Coffee Maker is a great machine if you want to use your own coffee. This brewer is made of stainless steel and is very sturdy. If you pack the coffee tight into the scoop filter you will get a strong cup of coffee, with whatever brand of coffee you have come to love. With companies like Starbucks and Dunkin' Donuts selling their coffee grinds, this is a great way to get your favorite coffee in single cup form. The Hamilton Beach 49981 Single Serve Coffee Maker has a 14 ounce reservoir so it must be refilled with each cup of coffee. It does have a built in stand, which fits travel mugs easily. 8 ounces of coffee (or other hot beverage) can be brewed within 90 seconds. It takes less than 2 ½ minutes to brew a fresh cup of 14 ounce brew for your travel mugs.
Brew your own coffee in single size servings
Up to 14 ounces per serving
Built in stand good for filling travel mugs
Stainless Steel design
Brew coffee for pennies a cup
– Anthony Dawson
One Cup Coffee Maker Buying Guide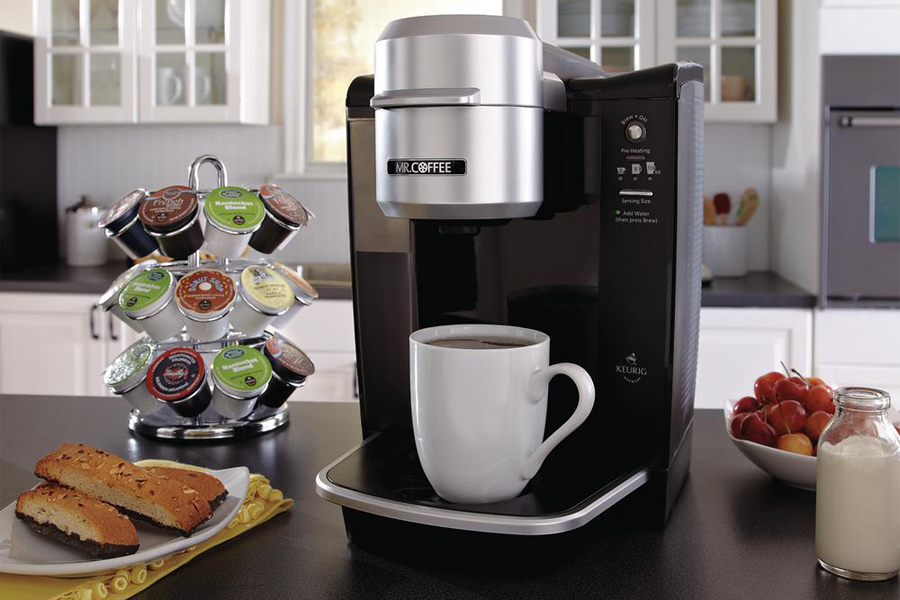 Being able to experience brewed coffee right at your home does not necessarily entail a great expense. If quality coffee is what you are after, investing on a coffee maker for your home is better than getting your coffee from coffee shops and will save you some bucks. Coffee makers have a wide range of selections available. Some are very cheap and there are more expensive ones, depending on the complexity of the machines. However, if you are the only one at home that wishes a regular coffee fix, a typically sized coffee maker that can make up to 6 cups of coffee may be too much for you. You can actually get your personal dose from a one cup coffee maker.
With a number of models out in the market, deciding on buying a single serve coffee maker may be confusing. Breaking down the options will help you better understand what the best choice for you is. Single serve brewers come in 2 types, drip coffee maker and coffee pod machines. While both generally operate on electricity and can give you your fresh cup of coffee, they are much different in some aspects. Drip coffee makers are the more traditional ones. Style and operation are very simple. Ground coffee beans are what these machines brew. You may adjust the brew strength by adding more or putting fewer coffee beans into the coffee compartment. They are the more affordable ones and light weight which may come in handy more if you are thinking of bringing one along to your office for a fresh brew any time you want. All you have to worry about is your supply of coffee beans. If you don't mind that you can only have either black coffee or with cream and sugar, depending on what you want to add after brewing, drip coffee maker will be a very reliable companion.
Coffee Pod Machines
Coffee pod machines appear more sophisticated when it comes to style and brewing functions. They cost more up front and require you to be prepared for more on-going costs of operations. Unlike drip coffee makers, they "brew" coffee pods which are packed blended coffee concentrates that come in individual cups. Each pod is suited for one brew. These pods are offered in a variety of blends modelled after those done in gourmet coffee shops such as lattes and cappuccinos. It is best to consider first the availability of the pods before opting for this machine. If your choice of blend is present, better consider as well the costs it will lead to in having to buy pods regularly. You may get some savings out of bulk buying, but they come in one type of blend per bulk. Because the single brew coffee pod machine is more techie, it requires a little bit more explanation on how it works. It's sleek and modern design allows operation to be quite easy as they are made with simple buttons for controls. If it is your first time to operate a coffee pod machine, it doesn't take too long for you to get familiarized with its functions and settings, even if there are more buttons to push than a drip coffee maker. These are the fully automatic ones which are more popular in modern homes. Some models offer different brewing sizes to cater to both typical coffee cups and mug. A preset size of 10 to 12 ounces is made for travel mugs for those on the go. A 4 to 5 ounces size is for your coffee cups. You also have the option to personalize the brew strength with one push of a button among presets. Some one cup coffee maker models also let you brew teas in place of coffee and have the option to serve either hot or cold.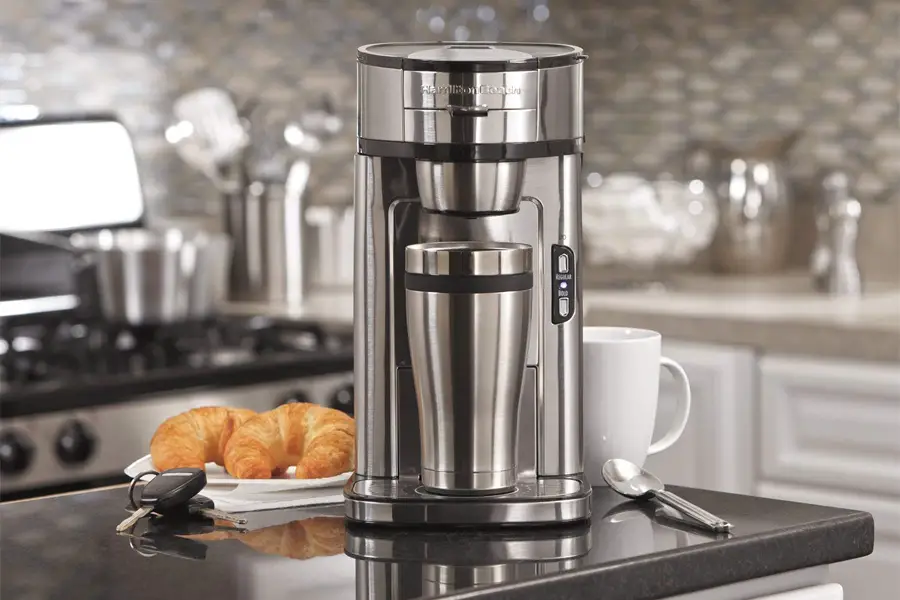 Factors When Buying a One Cup Coffee Maker
Other thing to consider in buying your personal brewer are power use, sound that the machine makes, timer, durability, maintenance, and accessories. Apart from comparing prices, checking the power of the machine will prevent overloading of your electrical system. Make sure that the device you are buying is applicable to the existing outlets in your home, otherwise you may need to purchase a wattage transformer to be able to safely use your machine. Some coffee pod machines emit sound that may be loud enough for your comfort. If this is an issue, you have a wide selection of quieter models to choose from. A timer may be more than just a feature of attraction to some. With other tasks to attend to while getting your coffee ready, the ability to set time periods for your machine to start and automatically shut off is important. This also prevents the machine from continuously working at times that you have accidentally forgotten it.  Durability may be hard to determine when buying for the first time. It is best that you browse through reviews so you can have at least an overview of how a certain model has served a user. This way, you will also have better ideas on what brands are best to rely on. One cup coffee maker products generally are easy to maintain and causes very minimal clutters. The water tanks are detachable in most models for easy cleaning. The filters are commonly reusable and may be washed regularly. You can add more efficiency to the existing filters by using disposable ones over them. The most complicated part of its maintenance is the electric component. Nevertheless, they may only require your attention when you noticed a difference in performance. Other than the coffee filters that usually come with the drip coffee machine package, there are other accessories that may help you conveniently preserve the machine's good performance. Water filter and water filter replacements will prevent clogging in the small tubes where the water passes through. Unclogged tubes maintain the quality of the brew and also make all servings uniform. In coffee pod machines, carousels and racks for your pods add more style to your machine and let you access the pods more conveniently.
In addition, you may also want to consider the machine's size. While some homes have more spaces on the kitchen counters, they still need to consider some clearance above the coffee maker when sitting on the counter top and below an overhanging cabinet. In most models, you will need to lift the upper flap of the filter to be able to put water in it, and having little clearance will make refilling a little bit challenging.