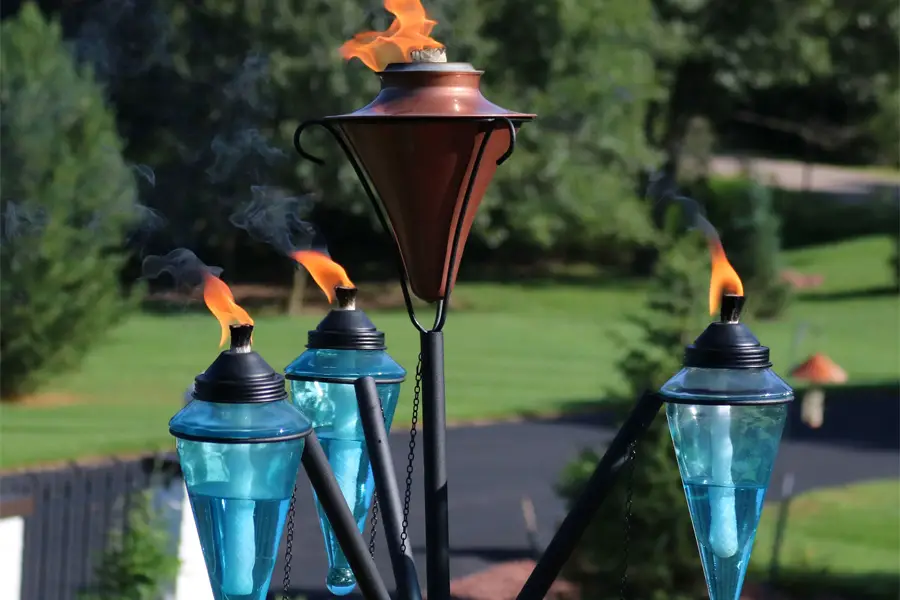 Outdoor Torch Reviews
If you're a first time torch buyer, you may feel overwhelmed by all the options that are out there. You need to begin by asking yourself what you're going to be using this torch for, as that will determine the flame intensity that you need. There are a number of fields that use a torch frequently, such as jewelry making, culinary arts, dentists offices, automotive and so much more. Different kinds of torches will work better for different applications, however there are a number of models that truly are multi-purpose and will allow you to use them for different projects. It's important to find a torch that has a nice ergonomic handle so you can best control the flame. Also, designs that allow for easy heat adjustment are ideal. At the end of the day, safety is key. The goal is to find a torch that allows you to get the job done with ease and the ultimate in protection. Also consider the size of torch that you're looking. Larger applications will require a big device, which is not necessarily the case if you're firing a creme brûlée.
Most Popular Outdoor Torch
Blazer GB2001
Blazer is the leader at making torches with a precise flame for the ultimate in accuracy and versatility. This self-igniting butane micro-torch is refillable and time-tested. This is a popular model for application in soldering, jewelry making, culinary arts, automotive, and dental use. The rubber, diamond-shaped outer body allows for a good, firm grip and is easy to use. With the handy adjustment level you're able to easily control the flame heat. Torch flame can adjust from yellow to the most precise hot blue flame. This is one of the safest and most effective torches that you can find, and it's amazing how multi-purpose it is. The torch operates on a standard butane canister, and works best with triple refined and high-grade butane gas. It comes with a nice attachable tabletop stand so that you can use it safely hand-free. All in all, another fantastic torch from Blazer that gets the job done safely and efficiently.
Fine rubber, diamond-shaped design
Easy to control flame with gas-flow adjustment lever
Hands-free use with attachable tabletop stand
Requires no electrical connection
– Anthony Dawson
Best Overall Outdoor Torch
Blazer GT8000
This refillable butane torch from Blazer is your standard gas torch with a brass frame nozzle. The flame that it creates is precise and allows for a good direct heat application to whatever you're torching. Great for jewelry making, culinary applications, plumbing, brazing, dental and lab applications. The brass frame nozzle is anti-flare which adds to overall flame control and safety. The design is intended to prevent blow-out, even when using the torch at difficult angles and when access is difficult. The gas-flow adjustment dial allows you to control the length of the flame to suit whatever you're working on. Maximum flame temperature is 2,500 degrees. Blazer Products certainly knows how to construct a good torch, and they're been doing it since 1985. Their professional and industrial tools are some of the best in the industry, and this multi-purpose torch is going to meet the demands of a number of different trade-workers.
Brass flame nozzle is anti-flare for extra safety
2,500 degree max heat
Torch flame for a precise flame tip
Gas-flow adjustment dial
– Anthony Dawson
Best Budget Outdoor Torch
Bernzomatic
The BernzoMatic is built for ease. If you're new to using a torch and a little apprehensive about it, or if you're an industry professional that simply wants a torch that is a no-brainer, then this is the perfect model. With a simple pull
of the trigger for ignition, and a release to turn it off, there's really no way to mess up the operation of this Trigger Start Torch. You get consistent performance thanks to the pressure regulation feature. Even when the flame is burning the replaceable brass tip remains cool, adding to the overall safety of this product. Everything in the construction of this torch is highly durable, including the burn tube, aluminum body, and brass burn tip. Its lightweight design comes in at 1.2 pounds, and the device is backed by a nice Lifetime Limited Warranty. This is one of the most user-friendly torches that you can find, and at a reasonable price.
Simply pull trigger to ignite, and release to turn off
Durable construction made of cast aluminum
Weighs 1.2 pounds
Lifetime Limited Warranty
– Anthony Dawson