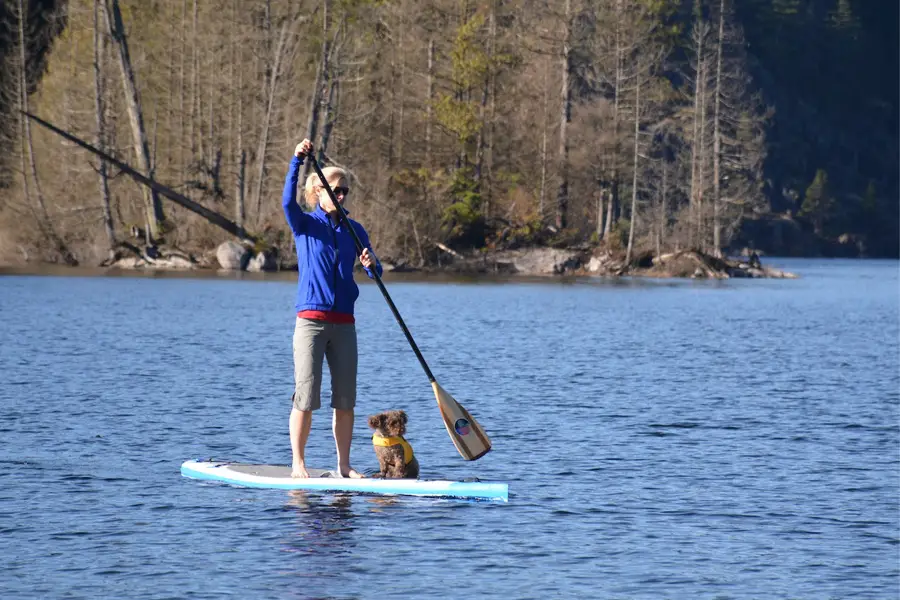 Paddle Board Reviews
Stand up paddle boarding is an easy sport to start and learn. The only requirements are the board itself, a paddle, and a life vest. The board is the most expensive and, obviously, the most important part of the setup. But in order to get the board to move in the water you need a means of propulsion, and that comes in the form of a paddle. SUP paddles blend elements of canoe oars, kayak paddle blades, and surfboard fins. They typically have ergonomic, T-shaped handles so you can maximize your grip, and triangular, slightly teardrop-shaped blades that can pierce the water at an angle and push the water with maximum surface area to propel you and the board forward. The shape and size of the blade is also optimized for stopping power and steering capabilities to allow for control in choppy conditions and strong currents.
Most Popular Paddle Board
Airhead
The Airhead Fiberglass SUP Paddle weighs just a hair over 2-pounds and adjusts between 160 and 210-centimeters. The paddle has a lightweight and adjustable fiberglass shaft and reinforced fiberglass blade that feels featherweight in the hands but flows through the water like the power of a motorized propeller. The duck-foot shaped blade is designed to give maximum speed efficiency and steering control in a variety of water types and surface conditions, allowing you to stay stabilized atop your board. Like any SUP paddle should, the Airhead Fiberglass Paddle floats, so you'll be able to recover it in the unlikely event it slips from your grip or falls off the deck of your board when you take a break and go for a dip.
Extremely lightweight fiberglass shaft and fiberglass-reinforced blade
Duck-foot shape is designed to maximize speed and control
User-friendly, inexpensive and easy to store/transport
– Anthony Dawson
Best Overall Paddle Board
BIC Sport
The BIC Sport Adjustable SUP Paddle offers a two-piece aluminum shaft construction that easily breaks down for transport and storage. The shaft adjusts from 170 to 210-centimeters, or 67 to 83-inches, that allows paddlers of all sizes and paddle styles to find a length that fits their body type. The aluminum constructed shaft maintains its stiffness over time and has the durablilty to stand up to bumps against the board and hazards in the water. The blade on the BIC Sport Adjustable SUP Blade is made of low-flutter, polycarbonate cadence that creates a quick turnover when flowing in and out of the water with each stroke. The shaft is topped with an ergonomic T-shaped handle that reduces fatigue on the hands and wrist and allows you to maintain a comfortable grip. Weighing under a pound, the BIC Sport SUP Blade makes a great companion piece for inflatable and lightweight, foam-cored SUPs. The paddle is also available in a one-piece model that has a larger blade for increased speed and power abilities.
Two-piece aluminum shaft adjusts between 67 and 83-inches
Low-flutter, polycarbonate blade is lightweight and provides quick turnover time in water
Comfortable, ergonomic T-shaped handle helps reduce hand fatigue
– Anthony Dawson
Best Budget Paddle Board
ADVANCED ELEMENTS
The Advanced Elements SUP Paddle features an aluminum shaft that breaks down into two parts measuring only 95cm for easy portability and storage. Weighing just under 3-pounds, the Advanced Elements SUP Paddle is easily manageable by riders of all sizes and experience levels. The paddle also adjusts between 170 and 210-centimeters, allowing 4-foot 10-year olds and 6-foot 40-year olds alike to find a size that works for them. The shaft uses an easy pin-lock system that keeps your custom length tight and secure without fail. The paddle's blade, measuring 16 by 6.5-inches, is ribbed as to increase stiffness to create a stronger surface when plunging through the water.
Paddle adjusts between 170 and 210-centimeters and weighs under 3-pounds to allow for use by paddlers of all ages and sizes
Easy-pin lock system securely locks customized length in place without falter
Breaks down into two parts for portability and easy storage
– Anthony Dawson
Paddle Board Buying Guide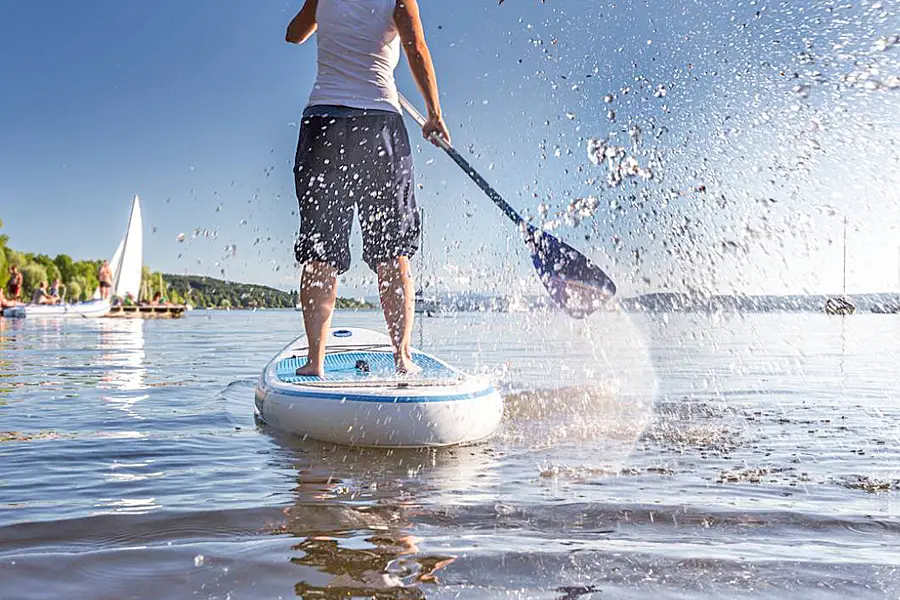 Paddle-boarding is a sport that requires proper skill. You need the proper paddle to excel. Similarly, if you want to enjoy the sport, it is important to purchase a paddle that is reliable and made specifically for paddleboarding.
There are some critical aspects you should never overlook when searching for the best paddleboard paddle. In this guide, we will provide you with the vital facts that you ought to look out for to avoid selecting the wrong tool.
Points to Consider while Selecting
Board Length
Purchase your paddle with an optimal length that suits your requirements. In other words, avoid a paddle that is too short for your height because it may prompt you to bend more as you put your blade in the water. On the other hand, a long paddle can be bulky, making it hard to pull, so think about what you want and need.
The length of the paddle comes in two categories. These are:
Fixed Length Paddles : The paddles with fixed lengths are always lighter because they lack complicated designs for adjustments. Try out several measurements until you arrive at your preferred size.
Adjustable Length Paddles: These are versatile paddles that have an option to fine-tune the length. Above all, the design is an advantage for both short and tall people. They can use it according to their preferred adjustment range.
When choosing the correct paddle for your recreational touring, it will be sound if you measure it against your height. The proper height is when the topmost part is 8 to 12 inches above you while in the upright position.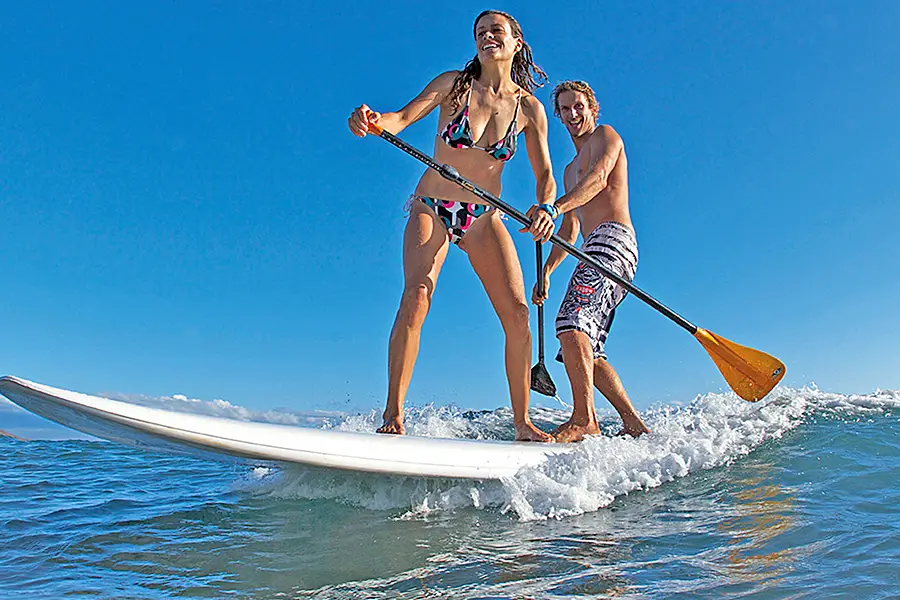 Blade Materials
The type of material used will significantly determine the durability and overall weight of the product. Preferably, a convenient one should be lightweight. For instance, an activity of two hours may require thousands of strokes; hence, a lightweight blade will do.
Still, you can determine the stiffness of the blade by the type of material used. You need a stiff blade to transfer the power of the stroke effectively. The common materials for the blades and shafts are:
Aluminum: Aluminum is lightweight and affordable. It is mainly used to construct SUP paddles shaft. If you are a beginner, then an aluminum shaft is ideal for you.
Fiberglass: The material is relatively stiff but less stiff in comparison to carbon fiber. Overall, it is lightweight, used to construct the blade and shaft. Fiberglass is expensive, although affordable when compared to carbon fiber.
Plastic: The material is reasonably cheap and durable. Manufacturers pair it with aluminum to suit beginners.
Carbone Fiber: This material is costly, lightweight, and stiffest. Beyond that, it suits long-distance paddlers since it is light. It has an excellent stroke transfer due to its outstanding stiffness.
Wood: You can use wood to construct paddles since it provides a beautiful impression. However, it is costly and weighs more than other materials.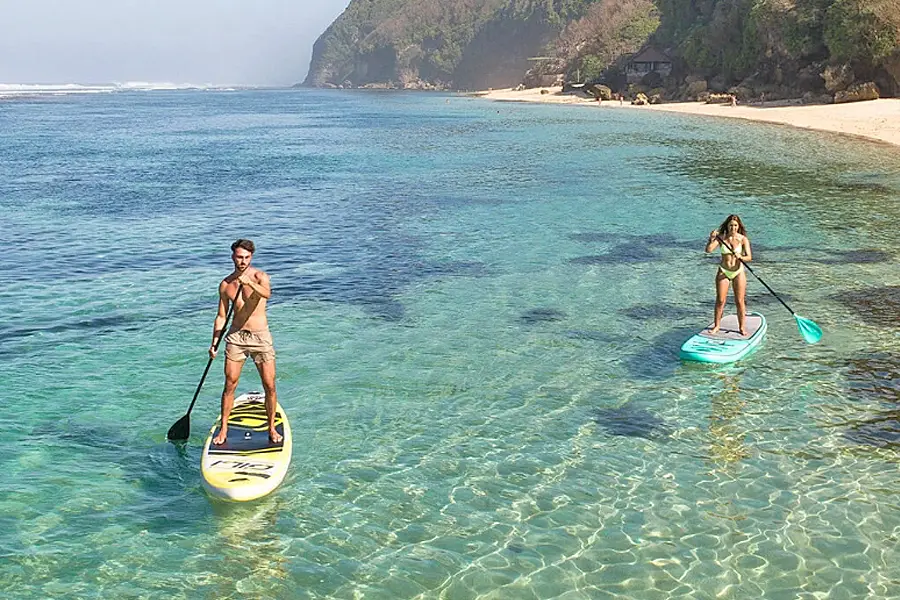 Blade Shape
The rate of your movements in water is directly connected with the shape of the blade. As a result, the shape affects the overall functionality of the blade. Each user has his/ her taste when it comes to the aspect of shape. The two primary forms are:
Tear Drop: The design includes the most extensive bottom. Most importantly, the setting provides a larger surface area to enable powerful strokes. Surfers use it to perform a more powerful stroke and slower-cadence.
Rectangular: In comparison to a teardrop, the rectangular blade has a narrow bottom. Indeed, there is less surface area leading to a gentler stroke, which is comfortable for your body. Also, the design supports a high-cadence stroke.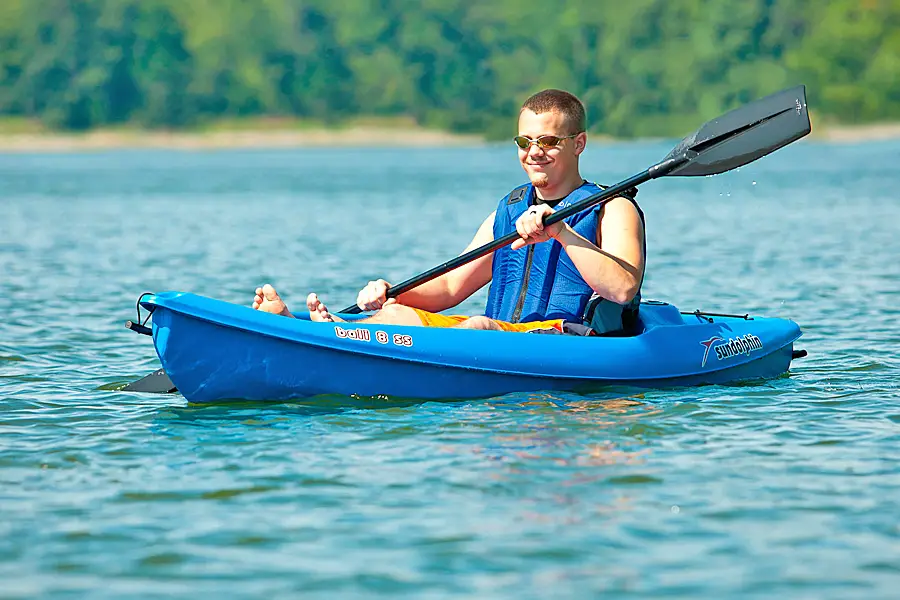 Blade Size
Your body type will largely influence your choice for a specific blade size. You may need a guideline if you are new in the game. For example, if you possess a larger body, you will probably require a larger size.
There are three different body types. These are; small, medium, and large, with each having its approximate recommended size.
Large blades are usually more efficient in providing a powerful stroke. Likewise, a smaller blade is easier to pull while in the water, thus, suitable for a long-distance racer since it preserves energy.
Grip
Some developers have designed ergonomic grips to maximize comfort. Your comfort depends on the style of the grip. In addition to that, some designs have a T-shape or ball shape on the grip.
Grips are necessary to secure your hand while navigating through the waters. You need to prioritize your comfort so that you can enjoy the sport.