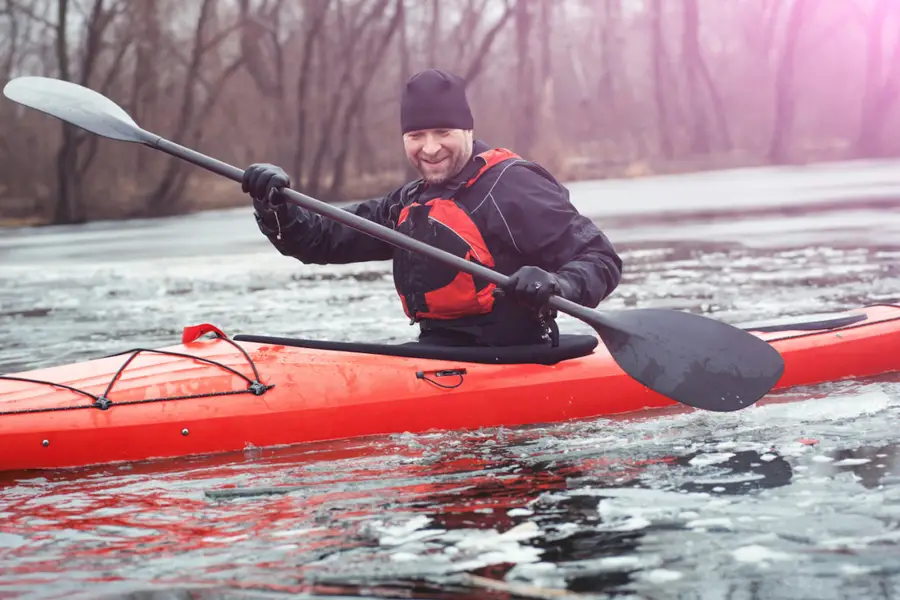 Paddling Gloves Reviews
Paddlers must always be vigilant against hypothermia. It's tremendously dangerous and can take hold even during what seem to be pleasant conditions. Any prolonged exposure to wind, cold, or rain can cause this to happen, and it's something that you must always defend yourself against. Gloves are an essential tool to keep hypothermia at bay. There are a number of different kinds of paddling gloves on the market, and some are heavier and constructed for more frigid temperatures, while others are more lightweight and breathable, and offer waterproof power without the downy insulation. What's important to look for are gloves that are well articulated and do not compromise your dexterity. You need to be able to grip the paddle comfortably while also being able to maneuver it with ease. Glued seams are tremendously important for locking the moisture out, and adjustable wrist features will do the same. Whether you're looking to spend a lot or very little, you should be able to find a glove that provides ample protection.
Most Popular Paddling Gloves
Neo-Sport
These Wetsuit Premium gloves from NeoSport are fantastic for very cold water conditions. They offer easy flex technology that delivers abrasion and provides thermal protection that won't compromise the dexterity of your hands. The special sewed and glued seams ensure that the moisture will not reach your fingers, and the tough Gator elastic closure means that you're getting a secure fit over wetsuit cuffs or kayaking jacket cuffs. The enclosure is streamlined and secure, and fits perfectly with most wrist sizes. Whether gripping a paddle, or while diving underwater, the high-grip textured palm makes it easy to handle slates, lights, and other items while submerged in water. The gloves are backed by a terrific warranty that protects you from poor workmanship or defects in materials. However, it's unlikely that these things will be a problem because these gloves are built to last. The lycra edge trim is just another feature that makes these gloves incredibly durable.
High quality neoprene
Offers superior dexterity while delivering abrasion and thermal protection
Sewn and glued seem for tremendous water protection
Gator elastic closure for a secure fit
Backed by limited one year warranty
– Anthony Dawson
Best Overall Paddling Gloves
Warmers
Paddlers know that there's nothing more important than being able to use the full motion of your hands and fingers, all while having a glove that provides a seriously strong grip. A half finger glove is just about as close as you can get to accomplishing this. There is no impediment to moving all your fingers with ease, and this design from Warmers Barnacle has the added feature of a terry cloth thumb panel that makes it easy to clear perspiration. The innovative silicone barnacles, for which the brand is named, provide superior grip on the paddle, as well as consistent control over its motions. The greatest thing about the 1/2 finger design is that you're protecting what are called the "hot spots" of the hands, while still allowing your fingers to do more refined tasks like fishing, using electronics, or even just enjoying a sandwich. A paddler has got to eat, after all.
High quality neoprene
Lycra and terry cloth for great grip and durability
Offers superior protection and control in a lightweight design
Silicone barnacles provide excellent grip and a soft skin-like feel
– Anthony Dawson
Best Budget Paddling Gloves
Neo-Sport 1.5mm
Any 3/4 finger glove will allow for exceptional articulation of the fingers, and these premium wetsuit gloves from NeoSport are some of the best. The flexible construction and secure grip offered by these gloves makes them ideal for a whole hold of water-sport activities. The 1.5 mm neoprene offers superior warmth without compromising mobility in any way. The leather palm is padded and vented, so your hands feel breathable and cushioned at the same time. The leather also provides a great grip for paddlers or those who are handling oars. The wrist fasteners keep the finger gloves perfectly in place, and well secured over any wetsuit or kayaking jacket. All in all, finger gloves are tremendously useful when you don't need full-finger protection, but desire a glove that does not in any way compromise finger articulation. Because they breathe so well and stay so secure, these finger gloves can be worn comfortably all day long.
High quality neoprene
3/4 finger gloves for multi water-sport use
Synthetic leather palms are padded and vented
Comes in a multitude of sizes
– Anthony Dawson