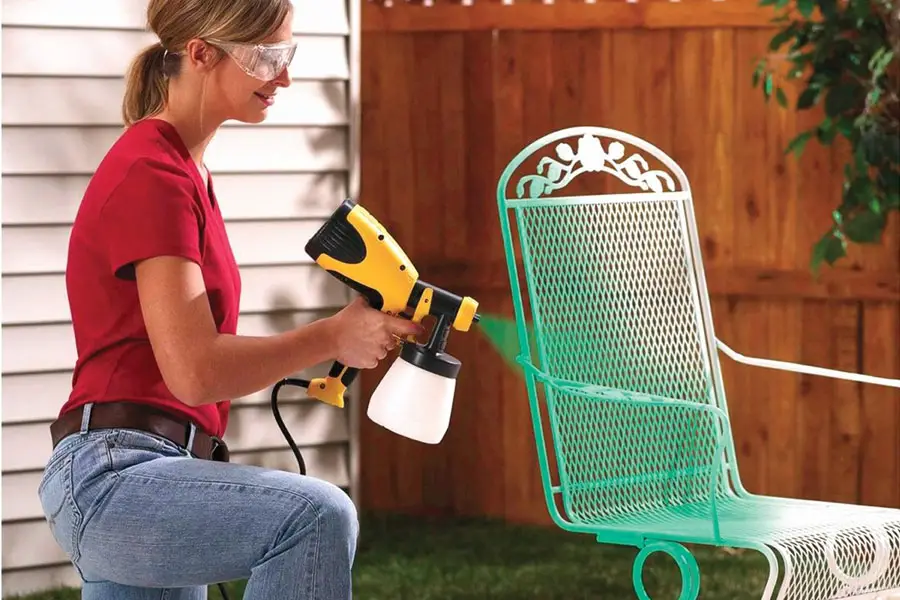 Paint Sprayer Reviews
Paint sprayers are the perfect solution to whole-house interiors. With the use of high-pressure air, a spray gun will atomize the paint and adds a fine finish. The innovative airless sprayers use an electric or gas powered system to mechanically get paint through the spray gun. Determining which paint spray gun is best for your will require you to ask some questions. For instance, do you want to be able to paint as fast as possible? This means that you're going to want a sprayer that has a larger horsepower. The type of coating you intend to do on your surface will also determine what kind of gun you need. For instance, thicker coatings will need a bigger tip on your sprayer. Also consider what is the size of your project. In the end, finding the right sprayer is going to allow you to paint large surfaces with ease and unity.
Most Popular Paint Sprayer
Wagner Spraytech
With variable air pressure control, innovative metal spray gun design, and durable two-stage turbine, the Wagner Control Spray Max is the perfect solution for all your big painting jobs. Great for all walls and surfaces that need latex paint and thinner substances like lacquers and stains. You get to choose between 3 spray patterns that provide the ultimate in versatility, and the 20-foot air hose allows you to extend your reach to all new lengths. Material changes are a snap thanks to the Lock-n-Go front end. The sprayer is so easy to use that it makes it ideal for homeowners and do-it-yourselfers that are perhaps trying a sprayer out for the first time. The two air filters provide the finish with protection from dust. This is one of the most versatile and cost-effective paint sprayers on the market, from a name that painters always trust: Wagner.
Finish is protected from dust with two air filters
Perfect for spraying latex, stains, and lacquers
Three spray patterns to choose from
Change airflow to shift from large jobs to more detailed work
– Anthony Dawson
Best Overall Paint Sprayer
Graco
This is the ideal light-duty sprayer for those who only periodically use it for touch-ups around the house. It's not meant to paint large surfaces on a consistent basis, but it is wonderful for those little odd jobs that are always springing up. Great for interiors, decks, fences, porches, and more. Everything that you need to get started is included in the box, including the SG10 metal spray gun, handle filter, 25 foot Graco hose, airless spray tip, and 8 ounces of Pump Armor storage fluid. There's also a handy DVD that shows you how to best use the Graco Magnum X5. It makes it so easy to pump directly from any 1 or 5 gallon paint can. Never have you seen such fast and smooth results as when using a paint sprayer. You'll never go back to that old, tired brush again. This airless painter is just the solution you've been looking for to keep the paint around your home perfect at all times.
Works directly with any 1 or 5 gallon paint container
Metal gun with comfort grip handle
In-handle filter
Comes with operational DVD and Quick-Start Guide
– Anthony Dawson
Best Budget Paint Sprayer
VonHaus
VonHaus is clearly a name we can all trust when it comes to tools and appliances, and this Gun Power Paint Sprayer is absolutely no exception. This is a floor-based sprayer that operates on high-volume and low-pressure. Perfect for free-flowing and thin paints and stains, this sprayer happens to be 4 times faster than any traditional roller or brush. This is a great choice if you need to paint window shutters, patio furniture, as well as storage sheds, decks, and fences. The Gun Power Paint spray tip maximizes coverage no matter what direction you're painting. You get a consistently smooth finish whether spraying horizontally, vertically, or in a round pattern. It's also backed by a 1 year limited warranty. This is a fantastic sprayer for those who want to keep the paint jobs around their home pristine at all times. A great investment for the overall appearance of your property.
Continuous, and correct flow for quick, powerful paint application.
Paints faster, and with one coat.
Adjustable spray pattern and volume.
Comfortable, and assured decorating through versatile hose and strap
– Anthony Dawson