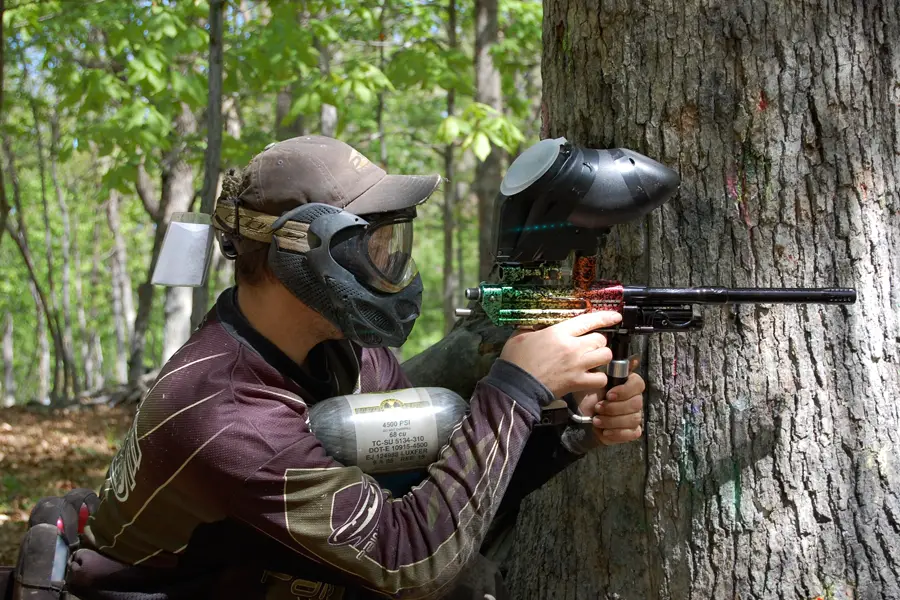 Paintball Gun Reviews
Understanding the different parts of a paintball guns is very important when choosing which is best for your own personal use. Reliability, durability, and if the paintbull gun will be used by adults and children have to be considered. A Paintball Gun is a device that propels the paintball and they come in a variety of styles, colors and price ranges. There are other components to consider also that may or may not come as part of a package; tanks, holders, googles, masks, packs and the paintballs themselves. Below you will find details about the 3 best paintball guns that we suggest and links directly to a website to order them from.
Most Popular Paintball Gun
Tippmann
The Custom "Platinum Series" from Tippmann just got easier. Easier to upgrade, easier to modify. Easier to maintian. The 98 Custom PS marker gun (3 Skull Mega Set) comes with: the PS GXG XVSN visor mask (with anti-fog lens); 3Skull 6 + 1 deluxe harness (black); six 140-round capacity heavy-duty clear tubes; a 1 ounce of Gold Cup oil; a 21″ 3Skull orange Jerk Squeegee; 3Skull 20 ounce CO2 tank (comes empty); 200 round hopper (black). With a designed split receiver, the rig gives easy access to the internal workings for modifications and quick install of grip upgrades. To make this marker simpler to service and faster to reassemble, there are trigger pins and a secure front-sight spring.
With a design featuring an easy to remove power tube comes a self sealing / locking gas line that keeps valves in place, eliminating 2 bolts from earlier designs. Simple is the new word to describe maintenance on this marker. The PS has full depth ASA pockets, getting rid of the bolt loosening steps during disassembly. Rounded out with a matte finish and barrel porting, the air efficiency is improved and glare from reflections is reduced. Convenience is also seen in the Picatinny rail system. Add your carry handles, scope, light and any other accessory. It's a snap. The front grip's vertical redesign provides a stability and texture that feels secure in your hands. Hauling is improved as well by the redesign of the end cap's sling mount, giving a variety of options for different styles of sling attachment. If you're looking for less time and effort in barrel swapping, Tippman offers the quick-thread barrel (Flatline). Players are saved time and effort, while still getting the core features seen in the original 98. The die cast receiver, aluminum through and through, a quick-release elbow style feeder. A hopper that holds 200 rounds. Totally compatible for compressed air, CO2, or even nitrogen. Tippman delivers.
Hopper: 200 round; Tank: 20 ounce w/ pin valve
Mask: GXG XVSN (w/ mask, visor, and lens (anti-fog)
Harness and tubes (6 heavy duty w/ 140 round capacity)
Oil: one ounce; Squeegee: 21 inch "jerk"
Note: Sale excluded in certain US zip codes
– Anthony Dawson
Best Overall Paintball Gun
MAddog
Get your hand's on Tippmann's Gryphon. The 3Skull Mega Set (4+1 9oz). Gryphon's lightweight marker rolls up several premium components. Presenting a clean look with an internal gasline, the Gryphon has rigid ergonomics in the front grip. Check out the center-feed design that maximizes mobility. The body is high impact with a smooth pull provided by a blade style trigger. High performance is the watchword, seen in the ported barrel. You get reduced sound and superior accuracy. Your opponents get "dead." Tippman's legendary reliability is still here, evidenced by an inline bolt system, a new frame body and loader position. All this works together, providing a balanced feel.
The Gryphon package gives you a .68 caliber marker. Included are a GXG XVSN style mask (anti-fog lens); a black colored hopper (200 round 3Skull); 3Skull CO2 tank (9 oz – empty); a deluxe style harness (4+1 black); four 140-round heavy duty clear tubes (Ultimate Paintball); one ounce of oil (Gold Cup); a 21 inch Jerk Squeegee (orange). The Gryphon marker has an internal gasline that makes for a cleaner profile with an inline bolt system. That means reliability and proven performance. The ergonomic, rigid front grip includes a center feed design that maxes out mobility for right or left hand shooters. The composite body is high impact, built for abuse and longevity. And you get a blade trigger for smooth pull, along with a ported barrel design that's high performance (read sound reduction and accuracy). The Gryphon's loader position and body frame deliver a balanced feel that you won't want to put down.
Mask: GXG XVSN style w/ lens (anti fog)
Hopper: 200 rounds (3Skull)
Tank: 9 ounce (CO2 – not included)
Harness: 4+1 deluxe 3Skull); Tubes: Four 140-round (heavy duty clear tubes)
Jerk Squeegee: 21 inch (3Skull); Oil: One ounce (Gold Cup)
– Anthony Dawson
Best Budget Paintball Gun
Spyder
The Victor has been resdesigned and Spyder now comes through with 15% less weight and 10% less length than previous models. You'll get a reworked look and feel. Also you'll notice the faster, simpler field maintenance effort in the field due to a tool-free striker plug.The Victor will give you everything you necessary to get started straight out of the box.
In the kit you'll find all the expected neccessaries: a 20 ounce tank with a pin valve as well as a 200 round hopper. For protection the included GXG XSVN mask and visor combo prevent any sight issues using anti fog lens technology. The 6+1 Harness and six 140-round tubes are also standard, as is a one ounce supply of Gold Cup oil and a Jerk Squeegee. A one year warranty from Kingman rounds out the kit and a manual and spare parts kit keep you up and running. An all aluminum extruded marker body will fill your hands well. The pull pin, top cocking Delrin style bolt is complimented by a standard CA-thread vertical Adapter. The Victor is a go to marker, evidenced by a tool-free design for its striker plug, and an impressive micro-ported barrel. Get out on the range with an external velocity adjuster, stay out because of a steel braided hose and a bottom-line ASA that runs CO2 or compressed air.
Spyder Victor comprehensive kit: paintball marker, loader, tank, harness, goggles
Body: Smaller profile aluminum composition; Bolt: Delrin
Tank: 20 ounce (aluminum); Tank: CO2; Goggles: Genx XVSN
Hopper: 200 round capacity; Harness: 6+1; Tubes and gun oil included
Note: Victor kit not for sale in certain US zip codes
– Anthony Dawson
Paintball Gun Buying Guide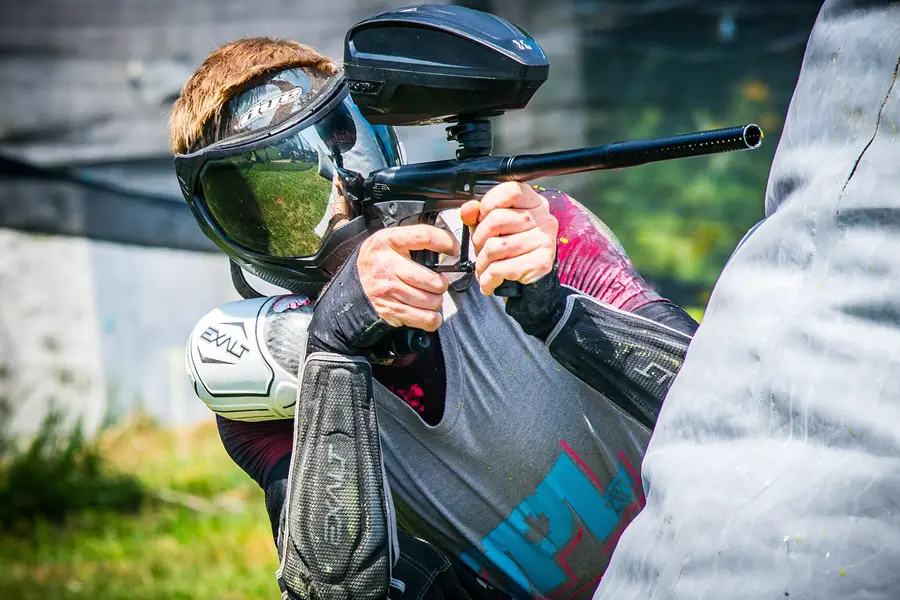 Choosing a paintball gun can be a challenging task, especially if you've never bought one before. There are many types of paintball guns from many different manufacturers. Therefore, you should know your specifications before you head out to buy a paintball gun. This guide will help narrow down your options.
3 Types of Paintball Guns
There are three common types of paintball guns. Each has its advantages and disadvantages. The three types include:
1. Mechanical
These guns are popular since they are easy to use and maintain. A gas, usually CO2 fire most mechanical guns. The guns have attached tanks that store the gas. They gravity hopple only allows one ball into the chamber. The gun releases a harmer when you pull the trigger, making the gas to send the bolt straight into the paintball. The mechanism is known as the blow-black mechanism.
2. Electronic
These guns work by combining electronic components with mechanical systems. They have a high firing speed and are more accurate than mechanical and pump guns. Electronic guns were rare in the past since they had a hefty price tag. However, technological improvements in recent times have lowered the cost of electronic guns.
Electronic paintball guns utilize the same firing system and components as mechanical guns. They use compressed gases like their mechanical counterparts. They come with a circuit board that provides electronic control to the shooter. The electrical capabilities increase the firing mode significantly.
Advanced electronic guns have display screens that show the number of rounds remaining and the status of the gas.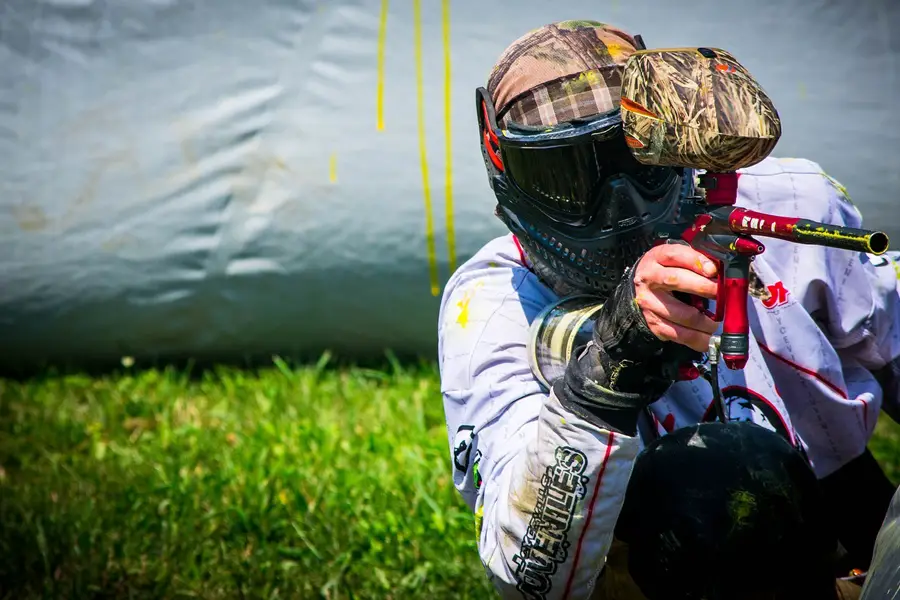 3. Pump
Pump guns were the pioneers of paintball marking and have dropped in popularity due to the introduction of more efficient guns like the electronic paintball gun. However, these guns have started reappearing in the recent past due to several factors. Some pump guns use gases like mechanical and electronic pumps, improving their accuracy. Note that pump guns can only fire a single shot at a time.
Modern pump guns have auto-triggers that allow you to hold down the trigger. You only need to pump for another round, unlike the old pump guns where you had to hold down the trigger and pump at the same time. You can use pump guns to improve your skills.
3 Things To Consider When Purchasing A Paintball Gun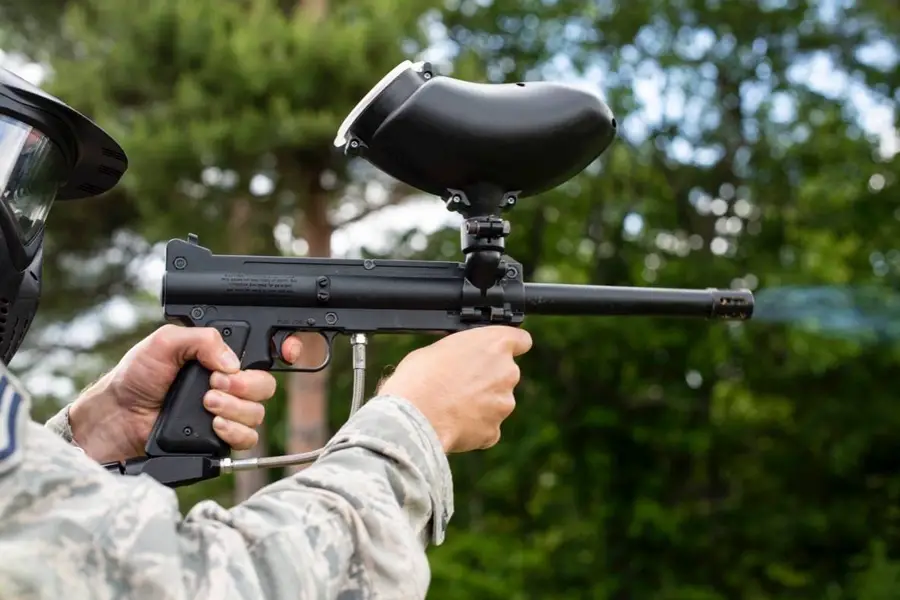 There are several factors that you should consider when buying a paintball gun. They include:
1. Gas Systems
Paintball guns use different gases, depending on the design. Note that you can't interchange the gases because you can damage the gun. The most common gases used in paintball guns are CO2 and Nitrogen.
CO2
CO2 is the most popular and cheapest gun gas in the market. Buying CO2 cartridges or refilling a tank is not expensive. A few bucks can keep you going for the whole day. Your gaming expenses will be cheap once you buy the gun.
The downside of CO2 is that it gets cold as you play. It can freeze the tank and the paintball. The pressure of the gas reduces as it freezes and can lower the velocity of the paintball.
Nitrogen / HPA
Nitrogen was created to correct the defects of CO2. The gas doesn't freeze no matter how fast you pull the trigger. Also, you can get a free refill once you buy an HPA tank since the gas is generated and not bought.
HPA tanks have a pressure gauge that helps the shooter know the status of the gas. However, you can only refill HPA tanks in pro shops. The tanks are expensive and large.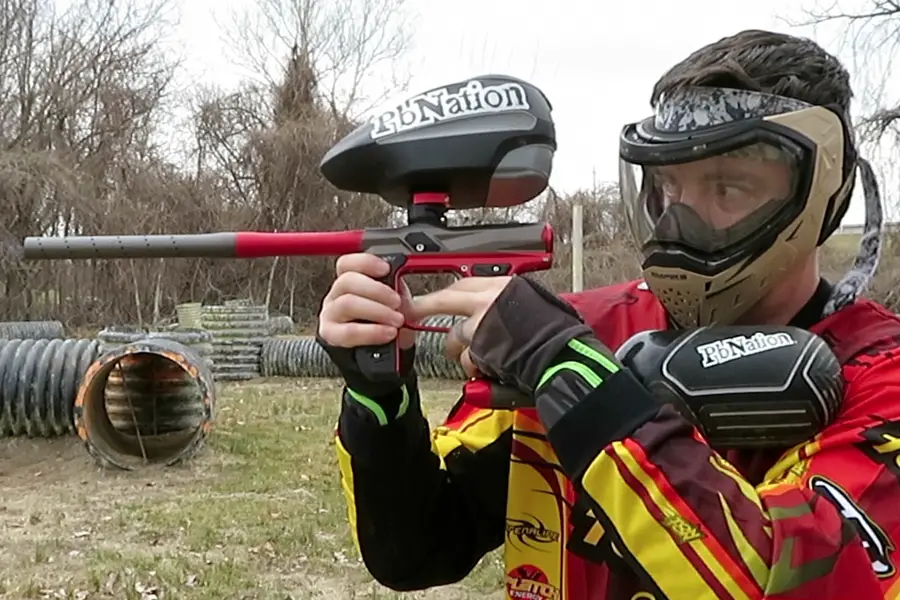 2. Barrel
The barrel can affect the precision and accuracy of the marker. Ensure that you choose a gun that has the right porting and length.
3. Materials
The materials used to make the gun determine its weight. Heavy materials may affect accuracy and precision. The most common materials are aluminum, ceramic, stainless steel, and carbon fiber. Aluminum barrels are light and affordable, making them suitable for beginners. However, they can bend easily. Ceramic is light but fragile. Stainless steel is durable but heavy. Carbon fiber is durable, lightweight, and easy to clean.
Conclusion
There are other things to consider, such as porting, bore size, and length. You should prioritize the performance of the gun and not the appearance. Rent a gun and test it out before you buy one. You can then buy a similar design if you like it.