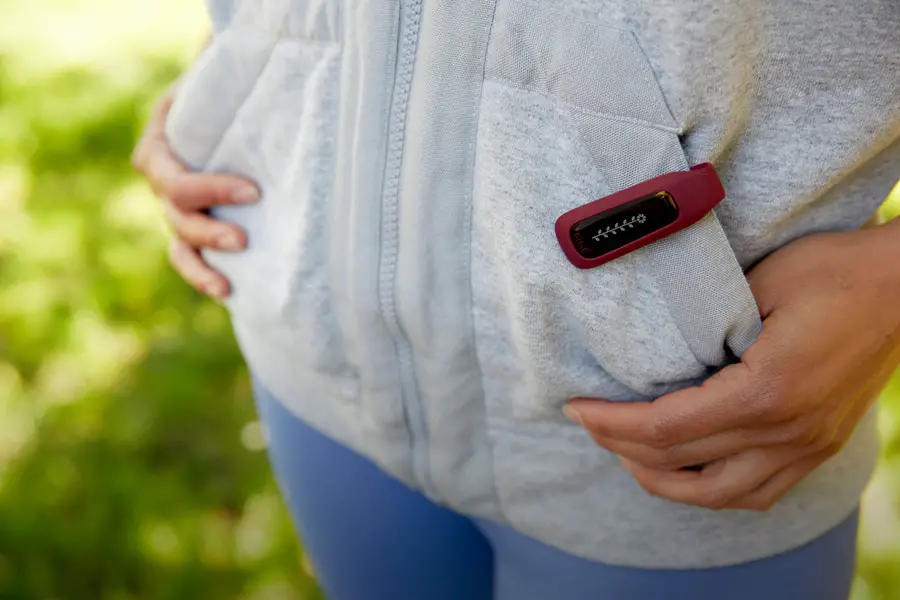 Pedometer Reviews
A pedometer is convenient device that measures a person's activity level during the day. These devises are small and affordable and are used mainly for motivation. There is a variety of pedometer available to meet your needs. Some are very simple and only count the number of steps taken in a day. There are others more advanced that can be synced in your computer and work as an alarm. You can wear them on your waist, arm, and even in your pocket. As long as you are consistent with where you place the pedometer you are guaranteed accurate tracking. Below are three of the latest, most advanced and coveted pedometers in the market.
Most Popular Pedometer
Fitbit Zip
This sporty fun small pedometer is small and efficient. There are five different colors to choose from. It has a clip that can conveniently be worn in your pocket, belt and even on your bra. By downloading the Fitbit app. you can track your progress, set goals, log your food, and challenge your friends. This will surely keep you motivated and focused throughout your fitness journey.
Weighs only 0.3 ounces
Syncs automatically to your computer, Smartphone, and tablet
Dimensions: 0.2 x 1.2 x 1.8 inches
You can compete with friends which will keep you motivated
Fitbit app compatible with iPhone and Android
– Anthony Dawson
Best Overall Pedometer
Fitbit One
This sleek and slender state of the art pedometer is designed with the latest technology to meet more than just your fitness goals. It can be worn in your pocket, belt, even on your bra for those days that you are wearing that little black dress. With a simple click of a button you can track your steps, miles, calories burned, and even count how many floors you have climbed. It also automatically syncs the information on your phone and computer, where you can create a personal dashboard. This feature allows you to further personalize your workout by setting goals, track trends, and even compete with others for that extra edge you need to stay focused and motivated. The manufacturers of this incredible and innovative device designed it to be sweat, water, and splash proof. As we all know to stay at our best, we not only need to stay physically active, but we also need to get enough sleep. This pedometer is also designed to track your sleep and it also works as an alarm. You will soon learn this tiny tracker will be the only device you need to ensure that you perform at your optimal level.
Dimensions: 0.2 x 0.8 x 2.2 inches
Weight 0.3 ounces
It has a silent alarm designed to wake you up and not your partner
Syncs automatically to your computer, Smartphone, and tablet
Create a personal dashboard where you can create goals, see your progress and even earn badges
– Anthony Dawson
Best Budget Pedometer
Omron
This pedometer is small and convenient. It is designed to be carried in your bag or pocket so you do not have to worry about finding where to clip it. It will record up to seven days of information allowing you to see your progress throughout the week. You can personalize it depending on your needs. It allows you to set it to record your regular walking steps, as well as record your aerobic steps. It comes with a holder, strap, and clip so you can secure it and not worry about losing it. Not only does this incredible device tell you how far you have walked but by entering your weight, it will give you exactly how many calories and fat you have burned on that given day. Finally, since you can set the time of day it also works as a watch.
With dual axis technology works accurately vertically or horizontally
Automatically resets daily to start a new record
The memory holds up to seven days of information
You can track distance, calories and fat grams burned
It separately tracks regular and brisk steps
– Anthony Dawson
[/su_column] [/su_row]
Pedometer Buying Guide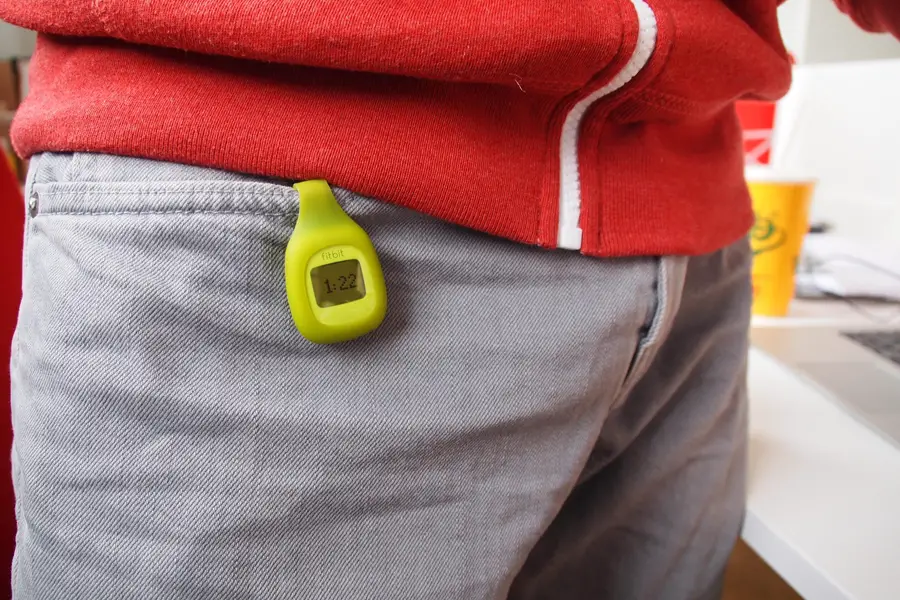 Pedometers are used to count each step someone takes by detecting his body motion. The distance of steps of every person is different, thus the pedometer measures the distance covered in a unit of length. Mostly used by sport enthusiasts, it has gained popularity for everyday exercise routines. Anyone planning to purchase this product must consider certain factors. Originally worn on the belt, it has been modified as well to be carried in the pocket, hung on lanyards or on the wrist. Having a pedometer is a good way to measure your exercise and can be a motivator. It can encourage someone reach his goal of staying fit and losing weight. They are also being integrated with portable electronics such as smart phones, music players and mobile phones.
Most pedometers nowadays also allow the upload of data on your computer. This will help keep track of your daily exercise regimen and help you plan your workout for the succeeding days. There are also pedometers with a flip-open cover. This helps in protecting the screen of the pedometer and to also keep it from accidentally pushing the buttons and giving inaccurate readings. This is contrast to the open-face pedometers that have the screen exposed. For these types of pedometers, they have recessed the buttons in order to avoid accidentally pressing them.
Various Types Of Pedometers
Wristband pedometers started in the year 2012. Examples are the Jawbone UP, Fitbit Flex and the Nike+FuelBand.
The Nike+Fuel Band has many features including device display, application display, Bluetooth capabilities, and social networking capabilities. The device display lets you view your steps, exercise calories, time of day, Nike Fuel, and progress towards goal with rainbow LED lights. Application display uses fun animations to show your progress in achieving a daily goal or milestone. Daily, weekly, monthly and yearly activities are shown in graphs. It is also capable of utilizing Bluetooth 4.0
Accuracy of the device depends on the mechanism. They either have spring-levered mechanisms or accelerometers.
Spring levered pedometers are the most common and less expensive types. It measures the steps you take via a lever arm. This arm swings downward to count a step. Each step that you take will have a corresponding click. They either have a hairspring or coiled-spring system. Coiled-spring systems are considered more accurate.
Accelerometers have no moving parts and are more accurate than spring levered pedometers. Instead it uses a strain gauge that measures your speed of movement. It relies on battery power to operate. They are resistant to being moved around and give more reliable information.
Another type of pedometer is the GPS pedometer. You can either download the GPS pedometer application onto your device or buy a stand-alone GPS pedometer device. Since these rely on GPS technology which uses satellites, they work better outdoors than indoors. So they are not advised to be utilized when walking in the treadmill or just walking in place.
Pedometers have been integrated into a wide array of personal electronic devices. The 5th and 6th generation iPod Nano has an integrated accelerometer. Another Apple product with pedometer integrated capabilities is the iPhone 5S. It uses the M7 chip. It can take information and store it without draining too much of the battery power.
The Nike+iPod Sports Kit was released by both companies on July 13, 2006. This uses a shoe sensor that communicates with the iPod receiver in transmitting workout information. Nike also released the Nike+ Running App. It is a free application downloadable through the App Store.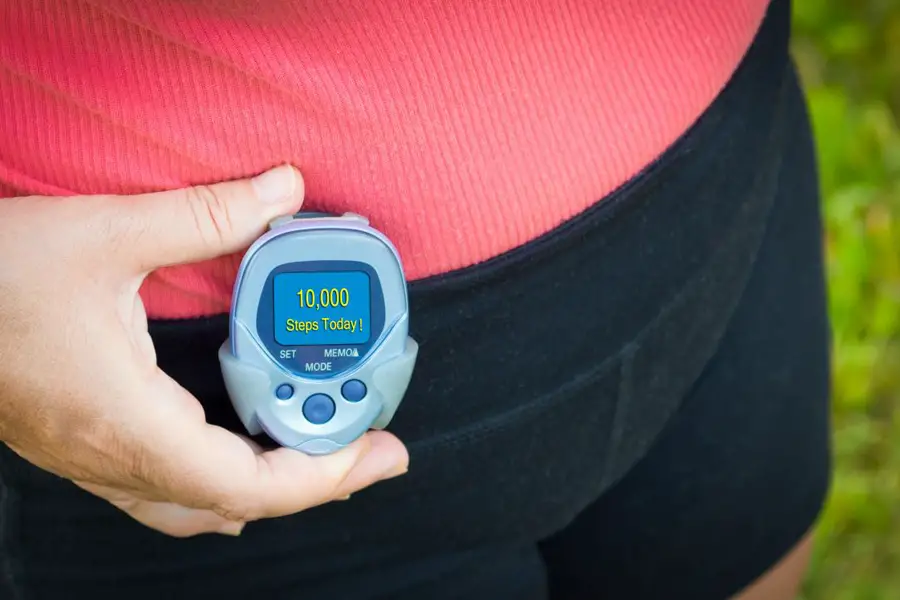 There are computer linked pedometers with no display. They have to be viewed on the computer. They can be accessed by the computer either through a wired or wireless connection. So it may be plugged in via a USB cable or transmitted wirelessly to the computer.
Wearing your pedometer on your waistband can be dangerous. It can fall off and be lost or damaged in the process. This is why there are pedometer leashes being sold to help prevent this from happening. The most common type of these leashes is the alligator clip leash. They are made of either metal or plastic. You can either purchase this or make your own leash.
Samples of popular brands of pedometers include the YAMAX Power-Walker EX-510 Pedometer, Omron HJ-112 Pedometer, NEW Lifestyles NL-2000i 3-D Piezoelectric Pedometer, MIO Pacer PC and the Oregon Scientific 3D Gaiam Calorie Coach.
The YAMAX brand is one of the most trusted pedometer brands in terms of accuracy and performance. They can be either worn on your waist or kept in your pocket. It has a 30 day and 30 week memory, and measures and captures activity time, steps, distance, calories, and fat burned. Omron HJ-112 Pedometer features a 7 day memory. It is user friendly with very simple controls. It is cheap and does not require being plugged into the computer. It can be clipped onto your waistband or placed inside your pocket.
NEW Lifestyles NL-2000i 3-D Piezoelectric Pedometer has a 7 day or 14 day memory. It can be carried via a lanyard or in your pocket. It does not require you to wear it on your waistband because of the 3-D sensor. It is available in different colors such as deep red, rojo red, blue and silver. The MIO Pacer PC is a multi function pedometer. It also lets you upload your data on their website on your personal page akin to a Facebook page. It is very compact so you can carry it in your pocket or purse. It also has an alarm clock and a timer. Oregon Scientific 3D Gaiam Calorie Coach has a 7 day memory and a time alarm. It is very simple to use.
Conclusion
Pedometers can be a big help to anyone, not just sports enthusiasts. Knowing which one to buy is important. One must take into consideration the reputation of the brand and its practical application to the user. Purchasing the physical one or simply downloading the application onto the device is up to the user's discretion. You should consider making your choice based on the ability of the device to provide information in order for you to get an aid in your physical fitness program.