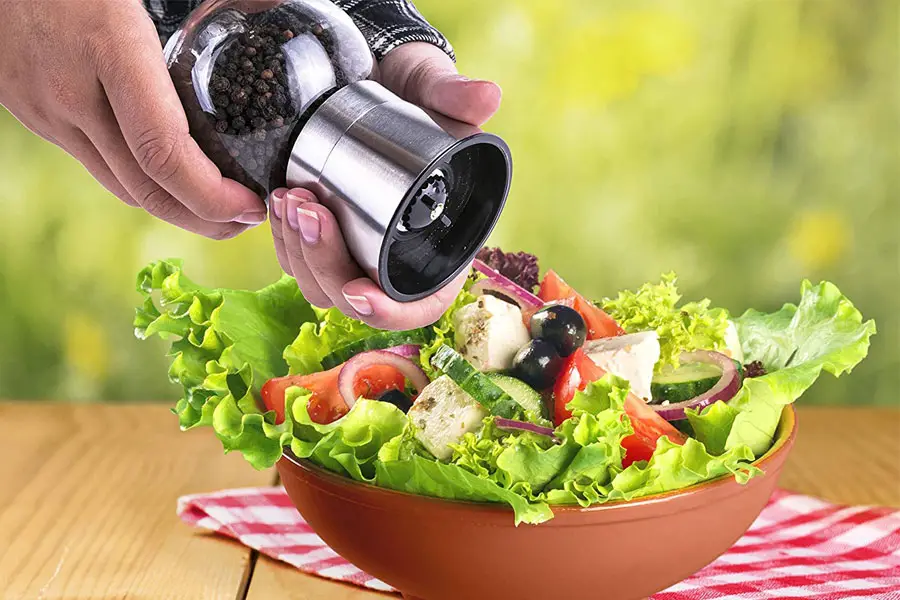 Pepper Mill Reviews
If you happen to be a pepper fanatic and are wondering what might be the best pepper mill to purchase, check out our Top 3 recommendations below. We've done all of the hard work for you and have narrowed down our choices based on the following factors: quality, customer reviews and price
Most Popular Pepper Mill
Peugeot
Back in the day, pepper mills were made from wood and sported short and bulky designs. You could generate a thin layer of pepper dust with these devices, before they would jam completely. All of this changed with the introduction of the stainless steel models. More expensive and better designed, these units were just marginally better at what they're supposed to do. Enter the Peugeot Pepper Mill– the King of all pepper mills. Recommended by America's Test Kitchen, this particular model is around 9 inches in height and effortlessly grinds hard-as-rock peppercorns into flakes/powder – within a matter of seconds. The end result? A mountain of fragrant and flavorful pepper grinded to absolute perfection. What's more, filling and re-filling is fast and easy, while capacity (storage area) is massive. Once you've topped it up, you're set for a long while. The bottom line is this: Get the Peugeot Pepper Mill. 
It's comfortable to use
The output is fantastic – you get plenty of pepper per grind
It consistently maintains your preferred grind
It's easy to fill
The storage space is very large
– Anthony Dawson
Best Overall Pepper Mill
Cole & Mason
Boasting an advanced new carbon steel mechanism, the Cole And Mason Precision Gourmet Mill is built for high quality flavor in much lesser turns. Featuring 6 different pre-set grinding levels, this amazing unit strips down every layer of the peppercorns as it grinds, as opposed to simply crushing them. The wonderful burst of flavors results in superior ground pepper that truly enhances the taste of your food. Measuring just over 7 inches in height, this nifty little gadget comes with clear sides (so you'll know when to re-fill) and a removable lid for easy filling. The Verdict? The Cole and Mason Gourmet Mill is reliable and works very well. All in all, it's an excellent pepper grinder for the money and is sure to become one of your favorite kitchen gadgets.
It has a superb output of pepper
You can adjust between fine and coarse grinds with a few quick turns
It's a snap to use
A lifetime mechanism guarantee is included
It's aesthetically pleasing and looks great on your countertop/table
– Anthony Dawson
Best Budget Pepper Mill
OXO
The most affordable of the 3 models listed here, the OXO Good Grips Pepper Mill is just the gadget you need when it comes to grinding fresh pepper. While some devices put out very little pepper and get clogged up after a few quick turns, you'll not have to worry about these issues with this particular unit. You simply turn the handle (which, by the way, requires extremely little effort) and an avalanche of pepper rains all over your food. Plus, you can get it in the coarseness of your choice. And thanks to the long, turning arm, it's super easy to get the grinder started. Some of the other notable features of the OXO Pepper Mill include a clear door for quick refilling, a matching base that prevents pepper from scattering everywhere and an adjustable ceramic grinding functionality that provides maximum durability. To conclude: The OXO Good Grips Pepper Mill a quality pepper mill that's loaded with a ton of great features. The best part? At just under $12, it is super affordable too!
It's very easy to turn
It is sturdy and durable
It has an adjustable grind mechanism
Cleanup can be done in a jiffy
The tray-style holder prevents ground pepper from spilling over
– Anthony Dawson
Pepper Mill Buying Guide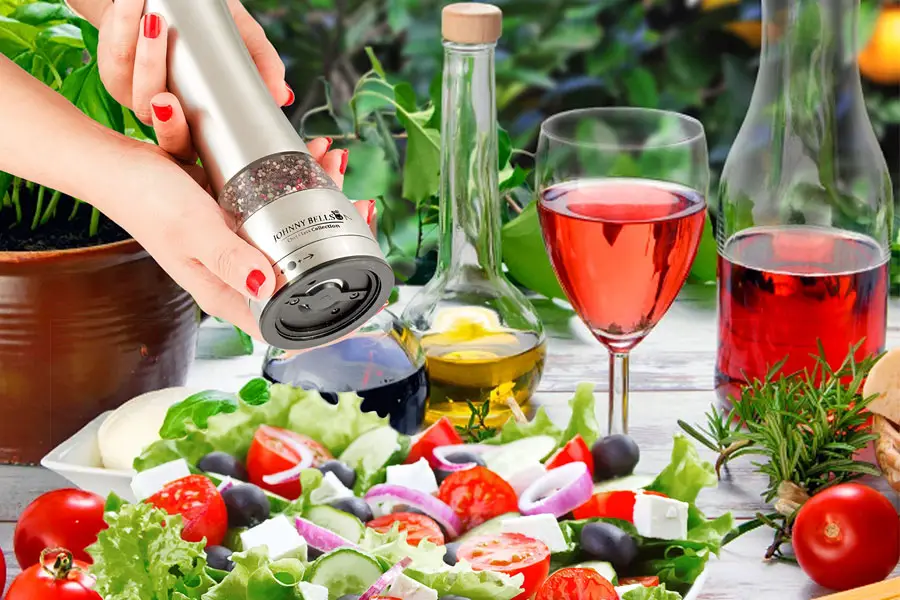 pepper stimulates the stomach to produce more acid to aid in digestion. A good pepper mill is an essential staple to every dining table. When it is dull, the ground pepper would just clog up the dispenser. Although choosing a pepper mill is lenient compared to deciding which refrigerator or air conditioner to buy, having a good and efficient peppermill would spare you from petty disappointments. Read the following guidelines on how to choose a good pepper mill.
What is a Pepper Mill?
A pepper mill is a no-fuss kitchen tool that grinds peppercorns. They come in manual and electric models, both battery-operated and rechargeable. Manual pepper mills require a good twisting of a crank at the top or the movable section near the blades. Older models do not necessarily mean manual. New electric models come with a button that you simply press if you want to grind peppers, thus eliminating all the twisting. But just because it's not electric doesn't mean it won't grind well.
So what is the difference between ground pepper available in packets in the grocery and the freshly ground pepper? The answer lies in the aroma. Freshly ground pepper is more powerful in delivering its flavor to the dish. Marinating beef with freshly ground pepper, salt and your preferred sauce would result to a deeper penetrating flavor as compared to using commercially available ground pepper. Commercially available ground pepper isn't all that bad, but it has already lost its aroma by being exposed to air for too long. Grinding or milling peppercorns would infuse its aroma and flavor immediately on the dish.
Guidelines on Buying a Pepper Mill
The primary concerns when looking for a pepper mill are the size and quantity of the ground pepper and the ease and speed it takes to achieve these. It is obvious that pepper mills would be used for cooking but questions arise as too how much and how often would you need to grind pepper. Also, it is wise to consider your budget. How much are you really willing to spend for a pepper mill? If you're a college student and your primary concern is just to bring an extra dash of aroma to your food when you cook in your apartment or boarding house, then a manual pepper mill would do fine. There are also prefilled pepper mills available. These are very affordable pepper mills filled with quality spices and salts. The bottle is made out of glass but grinder itself is usually just plastic. The disadvantage of these prefilled pepper mills is that sometimes the spice it came with can be difficult to find.
A good manual pepper mill should grind the pepper efficiently and quickly. A single turn must deliver around a small pinch's worth of ground pepper. Some manual pepper mills have an adjustable grind that delivers fine or coarse ground pepper. Coarse ground pepper is perfect for marinating and barbecue while fine ground pepper is suitable for pastas, breads, sauces and for seasoning cooked meat. It shouldn't be too hard to twist but definitely there would be some form of resistance because peppercorns are being crushed.
Using the traditional pepper mill is a two-handed operation. People who prefer the ease and speed of grinding opt for electric pepper mills. In case there's a need to grind a lot of pepper for a long or frequently repeated period of time, then an electric model would be the best option. Also, if you have problems with your wrists, have limited arm mobility or get cramps easily, then choose an electric one. Some electric pepper mills grind only if you keep the button depressed but some requires only a push of a button to start then another push to stop. Unless the button is wide, soft or responsive, it can be a pain to keep it depressed all the time. Rechargeable pepper mills come with a charging cord or a charging dock and will save you the cost of batteries.
Size
Consider the size of the pepper mill. The bigger it is, the more pepper it can hold. It should also be ergonomically designed. It should not be too big or too light and should be wide enough at the grinding head to distribute pepper easily.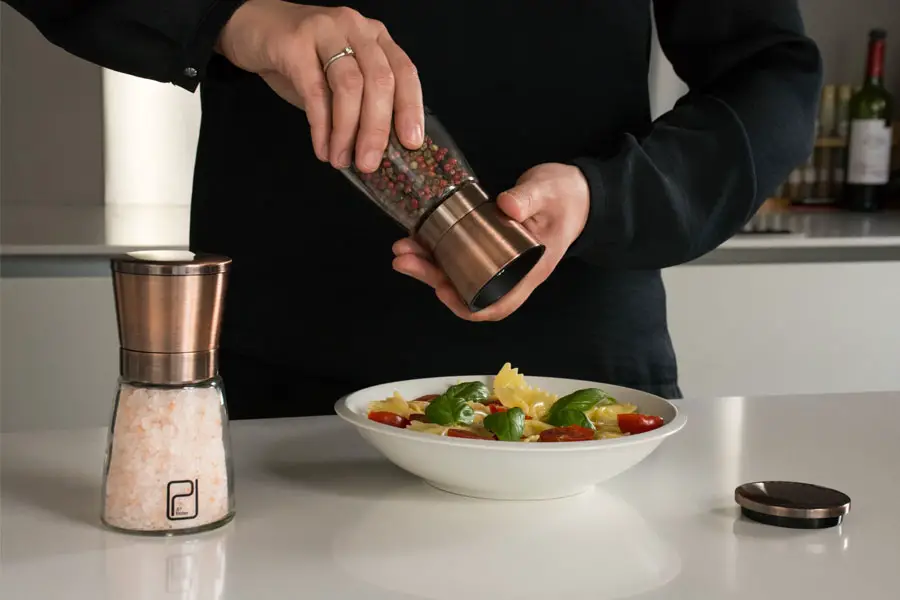 Additional Features
Some pepper mills have a cap at the bottom so they won't dust off any ground pepper on the table or in the cupboard when you store them away. Some newer models use ceramic grinders rather than stainless steel or plastic. There are even pepper mills with a built-in LED light at the bottom so you could see your food in the dark. If you are concerned about aesthetics, a lot of manufacturers have made efforts to create many designs and finishes for their pepper mills. They can be available in light or dark wood, chrome, brushed metal, matte and shiny colors, two-tone colors, etc. Light colored wood can look dirty after a few years.
Customer and After Sales Services
Good retail stores will accept a return within 7 days with a receipt and provided that your purchase was not tampered with. Electric pepper mills come with a 1-year warranty. Unless there is a demo pepper mill unit available, you cannot be sure if the pepper mill grinds efficiently and quickly. A word of caution: some pepper mills in department stores can be overpriced. Even the raved pepper mills online cost just under US$50.
Ratings and Reviews
In this age of information, people freely and voluntarily share their experiences about their purchases. From lipsticks to cars, people have blogged about it. Check for reviews and ratings of pepper mills online. In most online retailers, there is a 1-5 star basis for ratings plus users can post their opinion about the product. If you have a certain pepper mill in mind, go do a simple research online and check for the best prices.