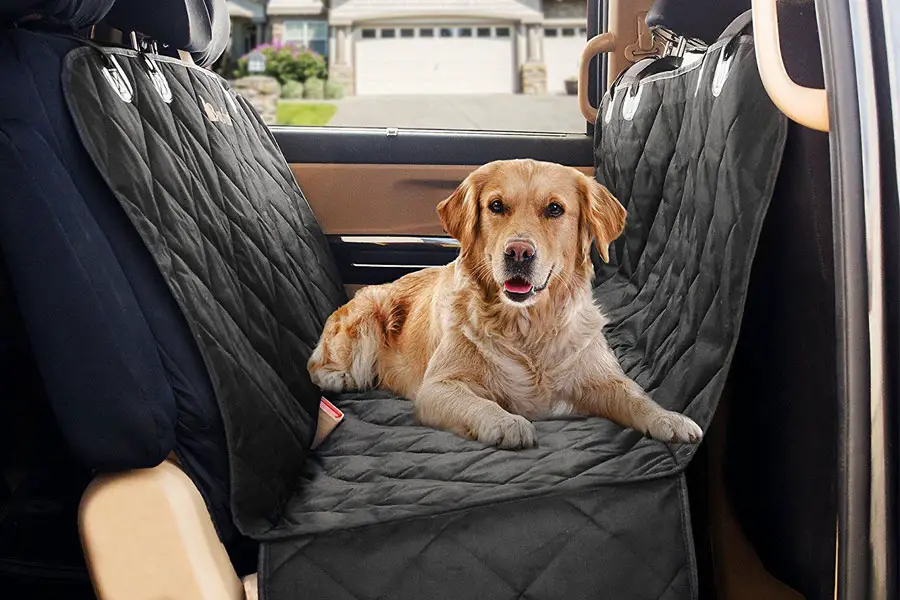 Pet Car Seat Cover Reviews
Your pet is very important to you and many owners love to travel with their pets. However, pets can be rough on your vehicles interior. Car seat covers are built to protect the inside of your vehicle while traveling with your animals. The following pet car seat covers are the best on the market and will protect your vehicles interior in a stylish way allowing your pet to travel with you without harming your vehicle.
Most Popular Pet Car Seat Cover
Emanuele Bianchi Design
The Petego Dog Car Seat Protector Hammock is a hammock style cover that will protect your backseat and provide a comfortable ride for your pet. The large size makes it perfect for SUV's. The back of the pet car seat cover is made out of an anti-skid material that will prevent the cover from sliding out of position. The belts on the Petego Dog Car Seat Protector Hammock adjust and will fit most vehicles. The polyester canvas material is built to withstand heavy wear and tear and yet be comfortable for your pet. To prevent debris, hair, and dirt off your seats this extra-large seat cover will protect your car or truck. It is portable and easily be installed in your vehicle. The cover is 59 inches by 64 inches.
Canvas material for extra durability
Hammock style cover for back seat of vehicle
Anti-skid material underneath to prevent it from moving
The belts adjust and will fit most vehicles
Portable and easy to install
– Anthony Dawson
Best Overall Pet Car Seat Cover
4Knines
The Dog Seat Cover is made of a quilted material. The material is water resistant and easy to clean because it is machine washable. The seat cover fits in the rear of the vehicle and has a rubber backing on the cover to prevent the material from slipping. There are seat anchors which can be used in the cars backseat, and SUV or a truck seat. The anchors will keep the cover in the correct place. This seat cover can also be used as a hammock for Your Dog. The standard cover will protect your car seats from both children and pets. This pet car seat cover is offered in two different sizes including regular and extra-large. You can also choose from two colors. The pet car seat cover is made of a polyester material that is quilted making it built to last. The pet car seat cover is 54 inches in width allowing it to securely fit in most vehicles. Not only will this pet car seat cover protect your interior from pets but from the spills and accidents kids may cause. It comes with a 100% satisfaction guarantee.
Offered in two different sizes
Choose from two colors
Made of polyester quilted material
Rubber backing to hold cover securely in place
Resistant to water and spills
– Anthony Dawson
Best Budget Pet Car Seat Cover
Solvit
The Solvit 62283 Deluxe Bench Seat Cover for Pets is ideal for protecting your vehicle from the many things that come along with your pet. It is only natural for pets to get dirty, shed, and bring debris into your car. Now you can protect your car from the unwanted things your pet may carry with them. This pet car seat cover's material is made of micro-suede. The material will last over time allowing your pet to be comfortable and your vehicle protected. The Solvit 62283 Deluxe Bench Seat Cover for Pets is great for any sized vehicle and is easy to install with adjustable straps. The cover is machine washable. You no longer have to hassle with dog hair and dirt from your pet or damage to you seats when you use the Solvit 62283 Deluxe Bench Seat Cover.
Made with micro-suede
Material will last over time
Great for any sized vehicle
Can wash this product in your washing machine
Easily installed with straps that are adjustable
– Anthony Dawson
Pet Car Seat Cover Buying Guide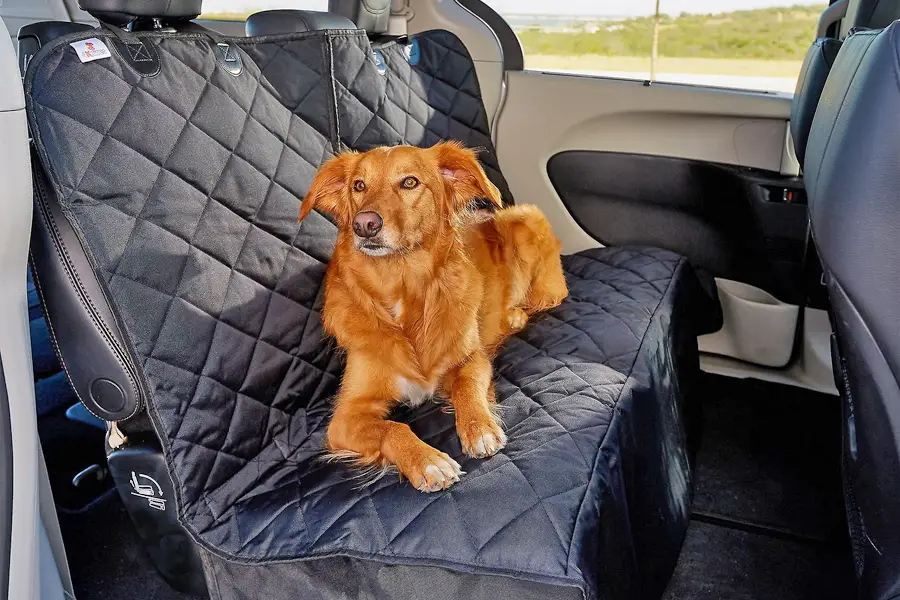 Traveling with your pet is a fun experience but comes with risks. Your pet may make a mess of fur on your beautiful car seats, leaving you with unpleasant stains and odors. You may wash the seats and apply air fresheners without getting rid of the smell.
This is the reason why you need pet car seat covers. They are an essential tool for car travel for every pet owner because of their multiple benefits.
Types Of Pet Car Seat Covers
There are different types of pet seat covers.
Bucket Seat: Covers cover the bottom, back and the sides of the seat and are mainly used for the front seat.
Bench Seat: Covers completely cover the back and the bottom of the seat.
Hammocks: Hang between the back of the front seats and the front of the back seat.
Why You Need Pet Seat Covers
They Prevent Odors And Stains
Unpleasant odors are nothing new to pet owners. However, these odors and stains can be tough to remove. Cleaning won't bring your seats back to their original conditions. A waterproof seat cover will help protect your car from stains and odors. A machine washable cover is more advantageous.
They are Safer and Comfortable
A seat cover will prevent your pet from slipping and sliding. Pet seat covers are made from slip-resistant materials that will help hold your pet in one position. A seat cover allows your pet to be comfortable and relax during trips.
They Protect Your Car From Interior Damage
Sometimes pets can chew or scratch your seats. They can cause a lot of damage to your car's interior that can be costly to repair. Seat covers create a barrier between your car seat and your pet. Some covers are made from durable materials that can withstand scratches.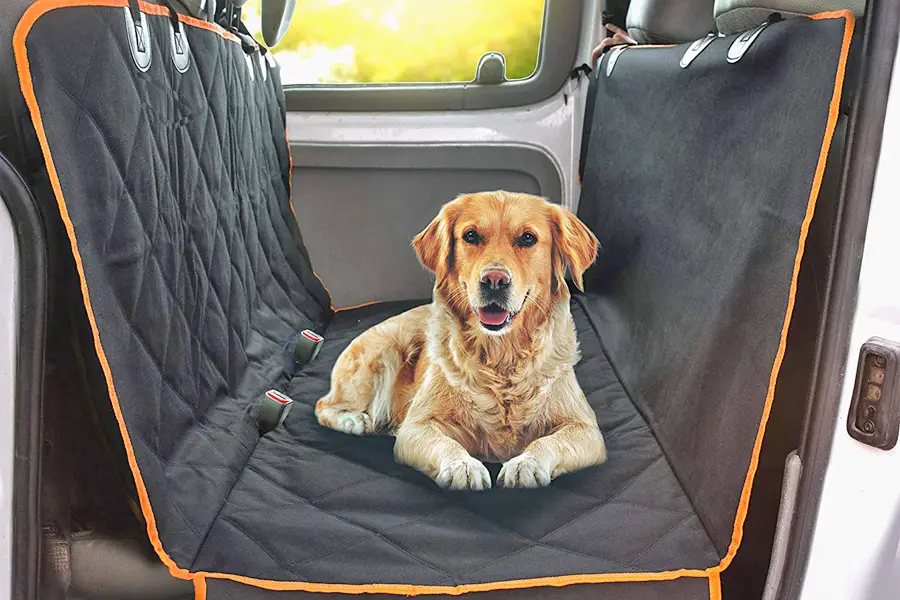 They Reduce Dirt And Hair In Your Car
It's normal for pets to leave hair in the car's interior or any other place. However, pet hair can create a mess in your car's seats, mats and floor. Also, some pets may enter the car with muddy feet. The dirt may get all over your car's interior, and you will spend a lot of time scrubbing and vacuuming. Pet seat covers will relieve you from all that work.
They Are Easy To Transport
Some pet owners prefer crates to seat covers. Crates are not a bad option, but carrying them can be bulky. You have to set up or break down the crate every time you travel. Seat covers, on the other hand, are easy to transport and only takes a few seconds to set up.
Things To Consider When Purchasing A Pet Seat Cover
1. The Size Of Your Pet
Different pets have different needs. A small cat seat cover is different from that of a big dog. Seat covers come in different sizes. Some covers cover part of the seat while others cover the entire seat. Ensure that you choose the right seat cover that suits the needs of your pet.
2. Ensure That The Pet Cover Fits Your Seats.
The cover measurements vary, and it's crucial that you select a covering that fits your seats correctly. You should measure the car seat before buying a cover.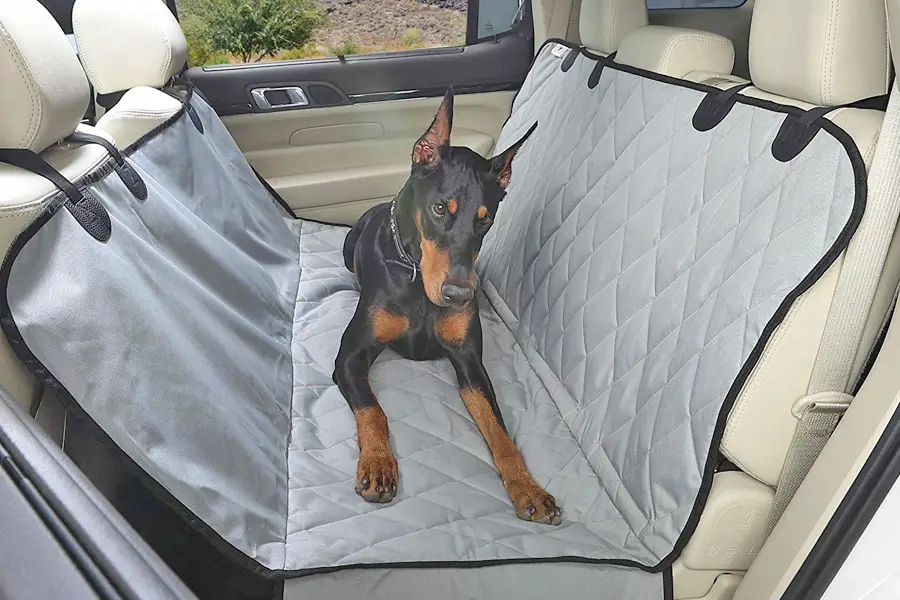 3. Buy Covers Made From Non-Rip Materials.
Buy covers that can prevent paw prints, claw marks and dog hair from damaging your car seats. Covers made from nylon and plastic are more effective in preventing such damage.
4. Consider The Fact That You Might Travel With Your Pet And Other People In The Car
Ensure that you buy seat covers that partially cover the back seat if you travel with other people in the back seat often. However, a full cover will be perfect if you are traveling with the pet alone in the back seat.
5. The Ease Of Cleaning
Pet seat covers can be washed by hand or by scrubbing. Some covers can be cleaned with a water hose. Ensure that you buy a cover that's not hard to wash.
6. Comfort and Durability
You should buy a quality cover that will last long and also offer maximum comfort to your pet.
Conclusion
You should be very keen when buying car seat covers since some people sell counterfeit covers. Ensure that a cover has a warranty before you settle for it.