Pet Clicker Trainer Reviews
Pets are like family members, but in order to behave they must be trained. One of the most challenging parts of owning a pet, is having them learn manners. With a pet clicker you can train your pet on the behaviors that are important to you. Some devices on the market can harm your beloved pets. Instead, by purchasing one of the following pet clicker trainers, you will be able to train your pet without bringing them physical harm. The pet clickers are one of the most effective training methods on the market today. We have selected the best pet clickers that will train your pets in a fast and safe environment.
Most Popular Pet Clicker Trainer
KPCT
The Karen Pryoni-Click Dog Training Clicker is a perfect method to train your dog without harming them. When you purchase this product you have the option to buy clickers in a pack of three, five, or thirty. By being able to purchase a pack, you can place the pet clicker trainers within all of the rooms in your home making it easier to train your dog wherever you may be. The Karen Pryoni-Click Dog Training Clicker can be held in many different positions without affecting the outcome and can easily be placed in the palm of your hand In order to activate the pet clicker trainer you simply press the device with a little pressure. Even for arthritis users, the device can be activated easily. You also have the option of placing the clicker on the floor and activating it with your foot.
Safe and effective dog training device
Comes in packs of three, five, or thirty
Great for pets sensitive to sounds
Fits in the palm of your hand
Can also be foot activated for those who suffer with arthritis
– Anthony Dawson
Best Overall Pet Clicker Trainer
Karen Pryor Clicker Training
The Karen Pryor Clicker Training Limited Edition Terry Ryan Treat Pouch for Pet Training, Black is the best way to carry your pet clicker trainer. Instead of worrying about where to put your new training device, this treat pouch will help you carry the tracker along with other necessities when training your dog outside or at the park. The Karen Pryor Clicker Training Limited Edition Terry Ryan Treat Pouch for Pet Training has a durable hinge that will keep the pouch open while you are using it. It can be closed by simply touching the latch. You also have the option of clipping the treat pouch to your belt or you can carry it over your shoulder. The belt is adjustable to fit customers of all sizes. Not only can you put your dog's training tools and snacks but it can also carry your cell phone, keys, or other important items that you need in the front pocket. There is a ring on the pouch allowing you to connect your keys, whistle, or pet training clicker. The treat pouch is machine washable.
Help you carry the tracker
Keeps necessities close by
Have the option of clipping it to your belt
Can carry it over your shoulder
A ring on the pouch allowing you to connect your keys
– Anthony Dawson
Best Budget Pet Clicker Trainer
StarMark
The StarMark Clicker Dog Training System will allow you to train your dog more effectively and efficiently. It has been scientifically proven to train your dog safely making you feel more comfortable with the training process and without bringing harm to your pet. This pet clicker trainer was designed to fit in the palm of your hand. The device is made out of stainless steel preventing the product from rusting and creating a durable piece to help train your dog. Many small devices are hard to keep up with and are easy to misplace after use. The StarMark Clicker Dog Training System can be clipped onto a key ring making it easier to use on a regular basis and harder to lose. The clicker comes with a training manual with easy instructions. This will help you with tips on how to train your dog faster and receive consistent results. The StarMark Clicker Dog Training System can be activated with the press of a button. Ituses a high pitched noise to guide your dog in the behaviors you are reinforcing.
Allows you to train your dog more effectively
Fits in the palm of your hand
Made of stainless steel
Can be clipped onto a key ring
Activated by pressing a button
– Anthony Dawson
Pet Clicker Trainer Buying Guide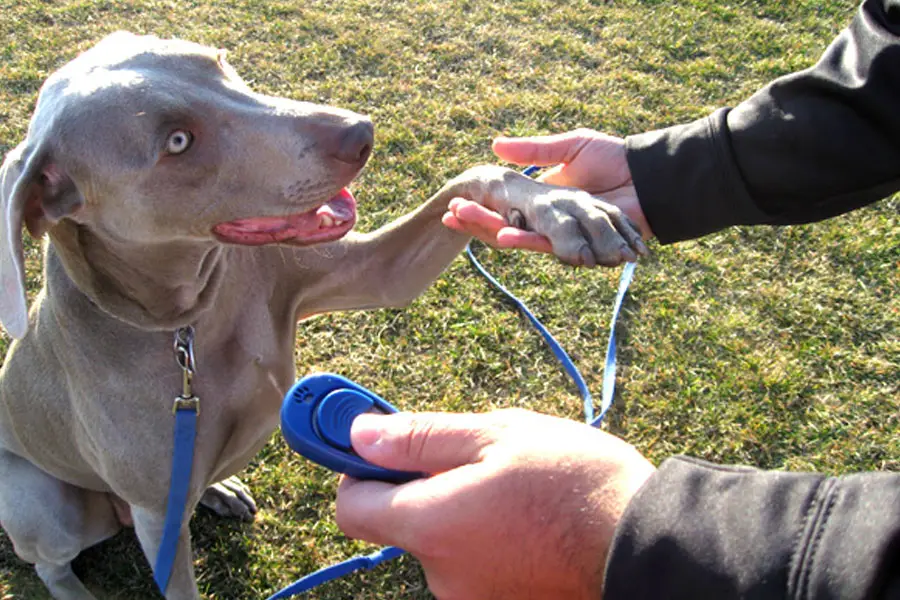 Training your dog to be obedient will help cultivate trust and respect. By making your dog learn the basic commands, you can expect to have a behaved dog and both of you will enjoy the whole experience. Using a clicker trainer is a fast and easy method for those who are just starting.
Clicker training is a fast, fun, and easy way to train your dog. This can solve unwanted behaviors and teach your pet a new one. Training you pet with the use of a clicker device is very simple and your pet will surely love this. Once you train your pet using a clicker, he can learn faster and retain the things and behavior being taught.
Using a clicker is most often times used among dogs but this can also be used with a cat, horse, or even wild animals.
What is Clicker Training?
This is a type of dog training where sound is used to tell the animal that he has done what his owner expects of him.
The clicker trainer is a small toy-like device made of plastic that is used during the first part of behavior training. You can concentrate on your dog and the training so that both of you can enjoy the training sessions. This is a popular tool among dog trainers but can also be used to train other types of animals.
Train Your Dog at Home
By doing hands-on training, you can have a good experience and get more bonded with your dog. Training at home is very easy and you can also adjust your schedule to add training sessions during the day.
Clicker training is a top choice among trainers because there is no punishment used and your pet is not abused.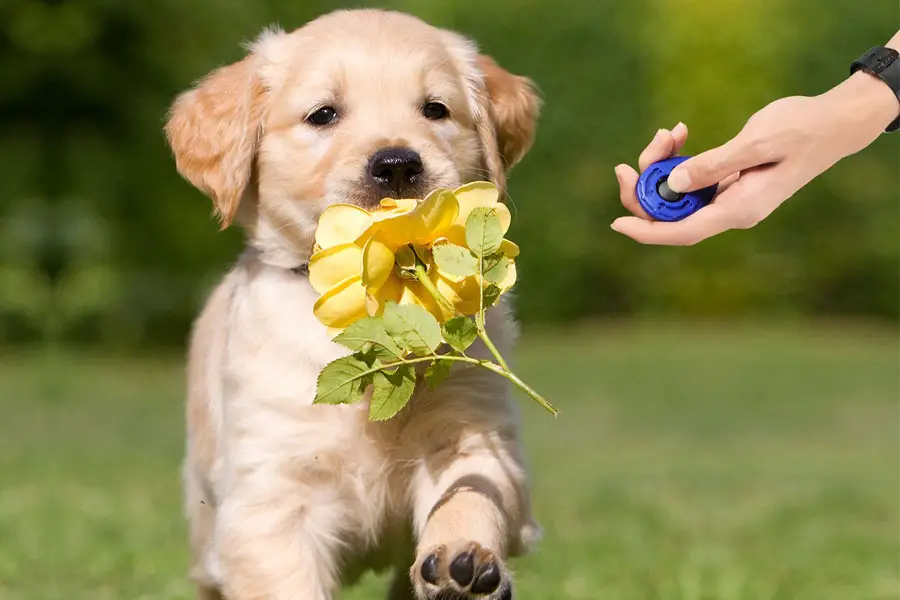 Advantages of Using a Clicker
A clicker has a different sound from a human voice because it has a short, and sharp clear sound. Most of what humans say does not really apply to dogs. They just choose what word is applicable to them. Hence, the sound of the clicker is something special for them.
With clicker training, you can observe your dog more and train him better. By understanding the movements of your dog, training will be simpler. You no longer have to expect your dog to learn about the human language when you use a clicker for training them.
When using a clicker, you can time giving the treats to your dog. When your dog understands that a click means a reward, you do not have to keep the food in sight. By using the clicker and giving a treat to your pet, this allows your pet to pay attention to you without you having to use force.
Training time is the best time for both you and your dog to get even closer with the use of a clicker.
When you use this device, you do not have to touch your dog and force him to do something that he does not understand. Once you know how to use a clicker, training will become a breeze.
The use of clicker can be ideal for puppies since there are no punishments involved in this type of dog training.
Why Use a Clicker?
The sound of a click is more powerful than the sound of the voice because a click is not heard always as compared to the sound of the spoken word. For your pet, when a click is heard, it only means that a reward is coming.
Buying a Clicker Trainer
Before you decide to buy a clicker for pet training, make sure that you are ready and responsible to perform this training with your dog. Here are some things to be considered whenever you plan to buy a clicker.
Ease of Use
The key thing to consider when buying a clicker trainer for your pet is to check whether you can comfortably use it. It is a very simple device that has a button for you to click to emit a click noise.
The trainer must be able to hold it even for long periods of time.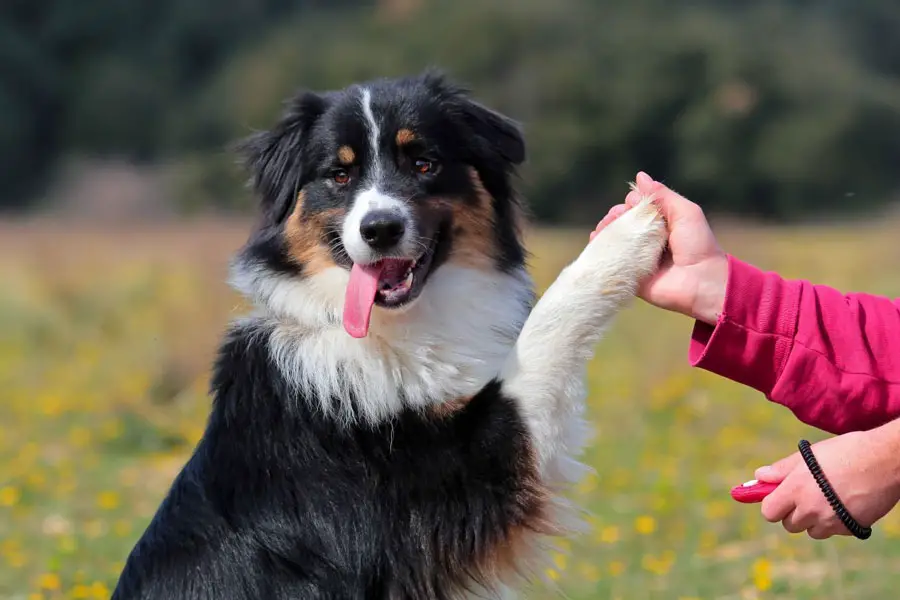 Ergonomic Design
A good clicker is something that can be held just perfectly in the palm of your hand. The edges must be smooth and rounded.
Durability
Even though the clicker is just a small device, it has to be sturdy. Since you are going to use the clicker for an extended period of time, make sure that you are buying a quality clicker that can even be used later on should you decide to adopt more pets.
Volume Control
There are some dogs that are sound sensitive. Hence, you need a clicker that is not too loud. There are some clickers that are equipped with a volume control. Dogs have very good hearing which is why you do not really need a very loud clicker.
Colors
There are clickers that come in different colors. You can choose the best color that you want. However, it is suggested that you do not buy a clicker with a very bright color that can distract your pet.
Wrist Strap
Some clickers come with wrist straps so that you can easily wear on your hand and not worry that it will fall.
Price
Price is of course another consideration. This will depend on any additional features of the clicker as well as the brand.
Using Clicker with Other Animals
The clicker device can be used with other animals that need to be taught a certain behavior. As a matter of fact, dolphin trainers first used clicker training. Eventually, the clicker has been used with animals big and small, domesticated and wild, young and old. Training with clicker can also be applied to cats, birds, leopards, rabbits, fish, and so many more.
What Makes This Training Effective?
Animals associate an event with something as either pleasant or unpleasant. This is called classical conditioning. As soon as the animal repeats the action intentionally to earn a reward, it becomes operant conditioning.
Classical conditioning results in a habitual behavior while operant conditioning results in a purposeful behavior. Regardless, the consequences are pleasurable for the animal.