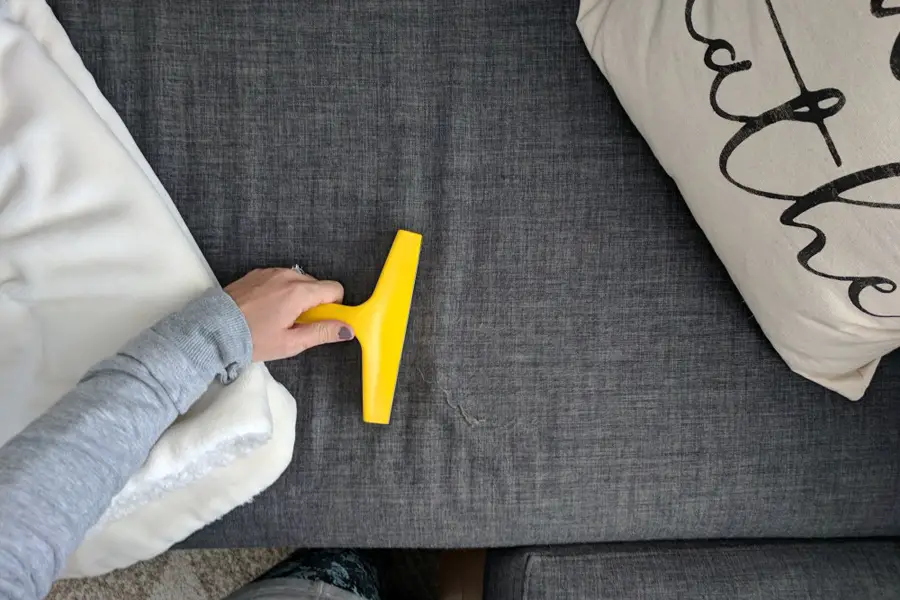 Pet Hair Remover Reviews
Sometimes a traditional lint roller won't do the job right when you're looking to remove some serious quantities of pet hair from your furniture and clothing. There are a whole host of new products on the market that are designed just to remove pet hair, and some work a lot better than others. From swiffer-like devices, to gloves and pads, there are a number of different styles to choose from, and it takes a little experimentation to find out which one works best for your pet's hair texture. You also want to keep in mind that it's important to find removers that are gentle on your furniture, especially if you have super-fine fabrics and upholstery. Almost all of these things, unless you're buying a pet vacuum, are quite inexpensive, so if something doesn't work you won't feel bad about having to throw it away. And, lets face it, if you don't feel like buying a specialized pet hair remover, you can still pull out the trusty lint remover and at least put a nice dent in the layer of hair on your couch.
Most Popular Pet Hair Remover
Scotch-Brite
This kit from Scotch-Brite provides everything you need for speedy and efficient removal of hair from upholstery, furniture, and carpeting. The Scotch-Brite technology is some of the best on the market, and very popular among consumers, thanks to its Microtrap design that utilizes thousands of small rubber fingers to grip the most embedded fur and pull it away. It acts as a sort of brush that you can gently use on all your fabric surfaces that need cleaning. This starter kit comes complete with 1 handle and 5 sheets. You're going to see hair removal power that works 3 times better than a lint roller. If you have allergies, then this kit is a must for removing dander; one of the leading causes of allergic reactions. The makes it incredibly easy to clean everything that the vacuum leaves behind, including fur in those hard to reach spaces. Finally get your house looking clean again with the help of this tool, and you won't feel so embarrassed the next time the neighbors come over for dinner.
Great for removing embedded hair
Microtrap Grippers
Fast and easy to use
Picks up where the vacuum left off
– Anthony Dawson
Best Overall Pet Hair Remover
Scotch-Brite 3M Upholstery
With the fantastic Microtrap technology of this pet hair remover, you are getting a fast and easy way to remove the most difficult to grasp hairs. The technology uses thousands of tiny rubber fingers that trap and grip hair while you gently brush the tool over whatever surface needs cleaning. The tool is tremendously gentle on your furniture and tough on hair. Consumers love this remover because it doesn't just remove hair that is sitting on the surface of your furniture, it goes a step further to take up embedded hair that has perhaps been there as long as your dog has been living in the house. This is a great way to finish up the hard to reach areas that your vacuum cleaner can't reach, and the spots where the vacuum inevitably leaves tufts of hair behind. If you have friends coming over, or you simply can't stand the site of all that hair piling up, this is a great tool to get your house clean again.
Removes dander that is a source of allergies
Gets what the vacuum cleaner can't
Microtrap Grippers get stuck hair out of upholstery
Quick and easy to use
– Anthony Dawson
Best Budget Pet Hair Remover
Petmate
This pet hair magnet from Petmate is the perfect solution for removing hair from couches, corners, and hard to reach places. Designed for small jobs, you're not going to want to use this on your carpet (because it might take all day), but you will find it tremendously handy on little places that collect fur-balls. It's much more fast and effective than using a lint roller. It's designed to work as a kind of scraping method for pulling away pesky hair, and its state-of-the-art rubber blades effectively pull away hairs that seem like they're embedded in the fabric of your couch. Perfect for working around the baseboards and collecting hair that no vacuum cleaner can touch. It's incredibly easy to use, and this particular magnet comes in a vibrant yellow color. The durable rubber blade will last you for a number of years of intense hair removal. The bright color makes it appealing to dogs, so be sure to stow it somewhere safe so it doesn't become a chew toy.
Makes cleaning a snap
Scrapes off even the most pesky pet hair from furniture
Great for carpet and baseboards
Bright yellow
Durable rubber blades last for years
– Anthony Dawson