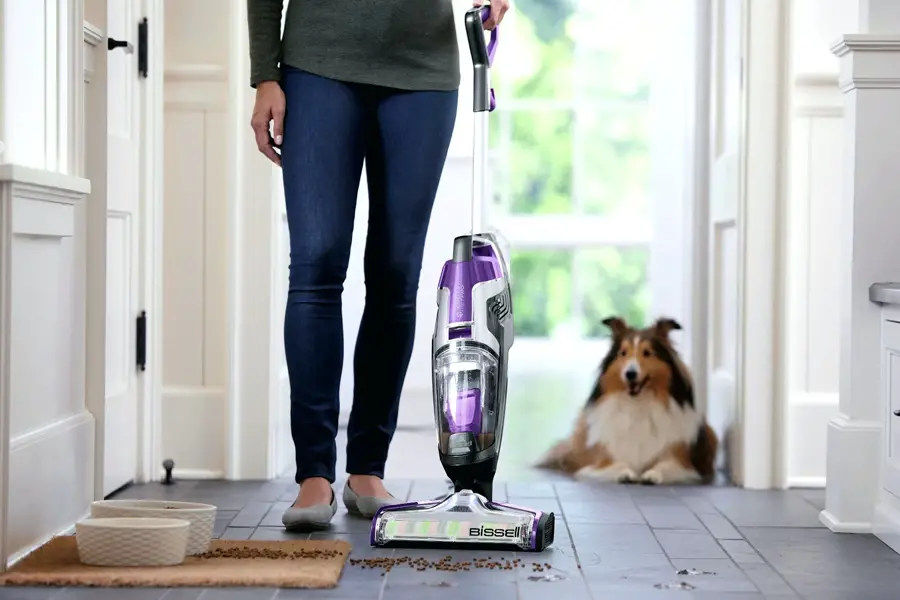 Pet Vacuum Reviews
If you have a furry friend, you're no doubt often engaged in the battle of the fur. Dogs and cats shed like crazy, and conventional vacuums just don't seem to get that embedded hair as you'd like. That's why specialized pet hair vacuums are the best choice to clean your house thoroughly and rid it of unwanted allergens like dander. You'll be able to choose from upright vacuums, canister-style vacuums, and all-round models. Dependent upon the size your home, you should decide if you need an extra large vacuum or something more compact. It's easier to maneuver a canister vacuum than an upright, and that makes it ideal for vacuuming corners and hard to reach places. Special attachments can offer you a variety of cleaning-nozel sizes, and it's especially great if you can find a vacuum that has an attachment especially for furniture and upholstery. Buying a vacuum is the best step you can take to ensure that your home stays clean.
Most Popular Pet Vacuum
Bissell
This handheld vacuum cleaner from Bissell provides all the power you come to expect from the brand, with the ease of lightweight construction. Just because this vacuum is so portable doesn't mean that it's not tough on hair. The handle is quite comfortable to grip and the on/off switch is conveniently located within reach of your fingertips. It is recommended that the dirt container should be cleaned after every use for optimal results. The 16 foot cord is easily stowed with the cord-wrap system. Coming in at just about 10 x 5 x 8 inches, it's very easy to store the Bissell between uses. Backed by a one year limited warranty, there's no harm in giving this vacuum a try and trusting that it will stand the test of time. You get two different nozzles to customize your cleaning experience: the hard nozzle and flexible rubber contour nozzle. All in all, this is a fantastic vacuum that picks up even the most stubborn pet hair, and all at a reasonable price.
Includes a hard nozzle and flexible rubber nozzle
Multi-level filtration
1 year limited warranty
Easy to grip handle
– Anthony Dawson
Best Overall Pet Vacuum
Miele
Miele is setting new standards when it comes to removing hair from the floors of your home. Their S8 series is a full-sized canister that combines all the features and efficiency you need for professional cleaning results. The durable stainless steel wand is easy to use and will last you for years of thorough cleaning. The innovative skeleton construction makes it incredibly lightweight, and easy to store when not in use. Foot pedal controls make this vacuum ergonomically sound, and the 36 foot operating radium means that you can cover most floors of your home without needing to re-plug. The motor is exceptionally quiet, and thanks to the AirClean Sealed system, you're not only getting that embedded hair, you're also clearing the air that your family breathes. The deluxe comfort grip of the handle makes it easy and comfortable to use this vacuum, and the 2 lb weight means that it's not a strain to carry up and down stairs.
Active Air Clean filter is enhanced by the AirClean Sealed System
36 ft cleaning radius
Mini Turbo Brush, integrated dusting brush, upholstery tool, and crevice nozzle
Deluxe Comfort Grip handle
– Anthony Dawson