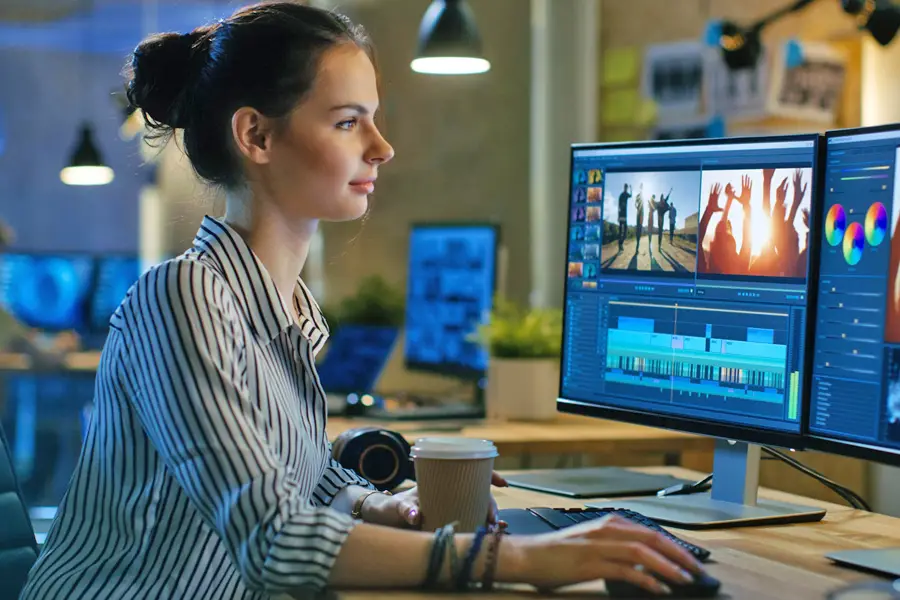 Photo Editing Software Reviews
Whether you like to take pictures with your smartphone or you are a more serious photographer using a DSLR camera, these photo editing software tools can help you improve your image quality. If you take an image that is tilted and not looking its best or the lighting was just not right, photo editing software, can correct these flaws and make good images look great. We have selected the best photo editing software for you to review. The software provides tutorials and training to teach you how to make your images look their best. They are all easy to use and provide support for questions and problems that might arise. Create images that will make your friends and family consider you a professional with this photo editing software.
Most Popular Photo Editing Software
Adobe Photoshop Elements
The Adobe Photoshop Elements 2019 & Premiere Elements 2019  is compatible with both Mac and PC computers. The elements 2019 is the latest version of Photoshop that allows you to quickly edit images and create a professional look to snapshots. You are able to seamlessly organize, edit, share and print your favorite photos. With the organizational tools you can easily file and find photos by date, location, or a customized organizational system you create. Edit photos and correct any noise, color or exposure issues that were not able to be adjusted at the time the shot was taken. Use the included templates to build photo libraries or photo books that can be enjoyed and shared with your loved ones. The Adobe Photoshop Elements 2019 & Premiere Elements 2019 also makes it easy to share photos through social media outlets like Facebook and Flickr. There are level of editing that will accommodate new users, as well as editors who want to add special effects and special features to their images.
Manage photos easily from organization, editing and sharing
Newbie and professional editing features so you can learn as you go
View photos on smartphones or tablets for the ultimate ease and portability
Advanced features that allow you to add or remove objects smoothly
Create professional images with a fast learning curve
– Anthony Dawson
Best Overall Photo Editing Software
Adobe Photoshop Lightroom
The Adobe-65215211-Photoshop-Lightroom-5 offers software that is compatible with both Mac and PC computers. The Lightroom software includes all of the essentials needed for enjoying your photographs. The software includes editing and processing capabilities, organization, storage and viewing capabilities, along with printing capability. The advanced tools that are offered with Lightroom will make every picture look its best. Whether you took the picture from your camera phone or a DSLR, Lightroom can enhance that image and bring out the best features. Lightroom offers noise reduction, color correction, red eye reduction and many more features. The software is simple to use and easy to train yourself on. Pictures can quickly be shared through social media outlets like Facebook and Flickr. The easy to use healing brush allows you to adjust photos and remove unwanted distractions with ease. The video galleries help you organize your photos. There are also features that allow you to create photo books, online photo galleries, location based organization and more.
Advanced black and white photo conversion
Preset corrections for a specific photo groups and make adjustments to several photos at once
Original photos are never altered allowing you to make adjustments and experiment
Superior noise reduction for the entire photo or specific targeted areas
Manage, organize, edit and share your photos all with one software
– Anthony Dawson
Best Budget Photo Editing Software
Corel
The Paintshop Pro 2019 Ultimate offers professional quality editing through this easy to use software. The editing tutorials can assist those new to editing software, who want to tweak photographs and make them pop. It also provides advanced tools for experimental photographs who want to adjust layers and color techniques and edit in RAW or HDR. Video tutorials are included with the software to take you where you are and help you advance to the level of editing offered by professionals. The auto adjust feature uses advanced technology to improve images with one click. The auto feature can reduce noise, auto correct color and tilt, and correct exposure issues. The Paintshop Pro 2019 Ultimate includes templates for more detailed corrections. Reallusion face filter allows you to make facial corrections and eliminate blemishes while still allowing the photo to look natural. Brushes and textures allows you to prefect an image making it looking professional. The Paintshop Pro 2019 Ultimate is compatible with PC Windows's computers.
Professional photo editing image quality
FaceFilter3 retouching for people corrections
Perfectly Clear photo technology for clearer images
Auto correct for one click corrections
Additional brushes for adding textures and perfecting images
– Anthony Dawson