Pillow Reviews
Not too many years ago pillows were simple items that were either soft or hard. Today, with advances in technology pillows have become a sophisticated and complicated purchase. A good pillow can improve a user's night sleep, prevent headaches and enable them to wake up refreshed and ready for the day. Instead of being weary, trying to find the right pillow, we have selected the best pillows on the market that will improve your nights rest and have you ready for all the challenges a new day brings.
Most Popular Pillow
Tempur-Pedic
The Symphony Pillow is a softer Tempur-Pedic pillow that accommodates all sleeping types. The Symphony Pillow offers pressure relieving support combined with a soft plush feel of the softer pillow. The Tempur-Pedic Pillow supports the head and neck muscles allowing the neck and shoulder muscles to completely relax. The Tempur-Pedic pillow is recommended by over 25,000 medical professionals and is endorsed by the Arthritis Foundation. It is also one of consumer digests best buy picks.
The Symphony Pillow has a gentle arch that provides support for the head and neck for back sleepers. Both sides provide pressure relieving support and comfort that accommodates side and stomach sleepers. The dual side design creates a pillow that accommodates all sleep types for a better rest. The Symphony Pillow responds to temperature and weight and conforms to the contours of the head and neck allowing for better relaxation and better sleep. It comes with a three year warranty.
Soft pressure relieving support
Gentle arch designed for better sleep
Recommended by 25,000 medical professionals and the Arthritis Foundation
Allows muscles to relax for better night sleep
3 Year warranty
– Anthony Dawson
Best Overall Pillow
Sleep Innovations
The Sleep Innovations Contour Memory Pillow has a two layer construction and design. The bottom layer is a firm memory foam support that will support the head, neck and shoulders for a better night's sleep. The second layer is cooling memory foam that ensures a comfortable sleep temperature throughout the night. The Sleep-Innovations-Contour-Memory-Pillow retains its shape giving you continual support all night allowing you to wake up refreshed. It relieves neck shoulder and back pain by allowing the muscles to fully relax at night.
The therapeutic benefit of the contour pillow is well tested. The Sleep Innovations contour pillow is built in an ergonomic shape to promote proper spinal alignment. This results in a more restful night sleep and less back and shoulder pain and less headaches. The Sleep-Innovations-Contour-Memory-Pillow has both a high and low loft to accommodate all sleepers' preferences. This Sleep Innovations pillow comes with a 5 year warranty and is made in the USA.
Made of 75% cotton / 25% polyester, machine washable cover
2 Layer design with memory foam and memory foam gel
High and low loft for better neck support
5 Year Warranty
Made in the USA
– Anthony Dawson
Best Budget Pillow
SleepBetter
The Beyond down Gel Fiber Sleeper Pillow is stuffed with micro-denier gel fiber. This creates a pillow that is soft but has a firm structure to support the head and neck, enabling you to get a restful night sleep. The gel creates a cooler pillow that will help you stay cool throughout the night. The Beyond down Gel Fiber Sleeper Pillow has a 300 thread count cover that is made of 100% cotton. The edges are double threaded and corded. The Gel Fiber Sleeper pillow cover is machine washable and hypo-allergenic.
This synthetic down sleeper pillow offers a comfortable night sleep for back, side and stomach sleepers. The cool gel keeps the head cool for a sounder night sleep. The gentle pillow forms to your head and neck, yet has a firm center for support to provide a luxurious night sleep. The Beyond down Gel Fiber Sleeper Pillow will help you fall asleep quickly and stay asleep all night, waking up refreshed the next morning.
Micro-Denier gel fiber pillow
300 Thread count 100% cotton cover
Hypo-allergenic
Machine washable
Double needle corded edges
– Anthony Dawson
Pillow Buying Guide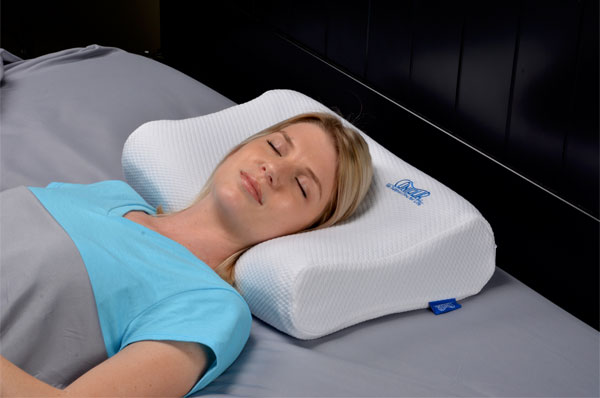 We use pillows to make us comfortable whenever we recline for sleeping, watching TV, reading or just cuddling. Pillows, especially the soft ones, give us a more relaxed feeling. Some people sleep with lots of pillows on their beds while others choose to have only one or two. But nevertheless, it cannot be denied that pillows serve a great purpose for providing us a comfy environment. Pillows are cushioned materials that are made of different materials like fabric, feathers, foam and any others. Bed pillows are used for sleeping while the throw pillows are placed on sofas. However, not all pillows are comfortable to use. That is why it is important that we learn to check and identify what is the best pillow for your needs.
Parts of a Pillow
Pillows have different parts. On the inside, that is what we call fillers. This filler is used to create a bulky appearance in the pillow. Without the fillers, pillows serve no good purpose. Fillers, most of the time, will define the how comfortable a pillow is. There are a lot of materials used to fill a pillow. Some filler are made of feathers, plastic fibres, artificial foams and cottons.  Among these materials, feathers are the most comfortable because of the softness it offers. Because of that, it also is the most expensive of all. However, feathers are sometimes not recommended if the one who is going to use it has an allergy.
Fillers, on the other hand, are covered by a pillow slip. This encases the fillers to intact them together. Pillow slip should be large or small enough to sheathe the fillers. Too small case will create a bloated and massive pillow while a too large one will make it shrink. Both ways, however, will make the pillow unsuitable to use.
A pillow slip, on the other hand, is further covered with another pillow case that will serve as its outer covering. Pillow cases come in different designs, colours, sizes and materials. For bed pillows, it is recommended that you choose the ones with simple designs and adornment so as to avoid irritations during sleeping. Some pillow case have no zippers, some have.
This is not a problem at all as long as the pillow remains in its proper form and does not create irritation once used.
Types of Pillows
Generally, pillows are used to provide comfort. Nevertheless, there are more specific purposes that each type of pillow provides to us. Pillows can be classified into bed pillows, orthopedic pillows and decorative pillows. So whenever we decide to buy a pillow, we should be conscious to the specific purpose that this pillow will be used.
Bed Pillows
This type of pillow is used for sleeping. They are placed in beds having a typical shape of rectangle or square. The sizes of bed pillows vary. The usual size is 20 x 26 inches. The queen size is 20 x 30 inches while the biggest, the king size is 20 x 36 inches. The size of the pillow to be used should also be proportional to the size of the bed. Oversized pillows over a small bed will just consume space and create discomfort to the user.
Orthopedic Pillows
This kind of pillow is used to support certain body parts. For example, a neck pillow is used to support the neck and allow it to have a proper alignment with the person's spine. Donut pillows are donut-shaped pillows with space in between. This is used to support the tailbone of the person by removing the pressure in the hollow part. A lumbar pillow, on the other hand, has a design that is suited to support the lower back. This pillow fills the space between the back and the chair to make the position more at ease. Lastly, travel pillows are used to support the neck while the person is sitting. It prevents the person's head from slipping whenever he/she sleeps during travel time.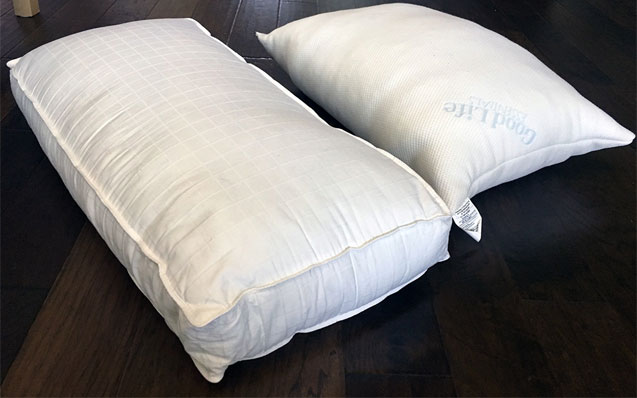 Decorative Pillows
This sort of pillow is mainly used for aesthetic purposes. They are normally displayed on the sofa in the living area to create an attractive interior inside the house. These pillows are normally fancy and embellished. Most of them are custom-made to suit the existing design of the house.
Materials Used in Pillows
Today, there are different types of materials being used to make a pillow. It is important that before we buy a certain pillow, we should familiarize ourselves with these materials to avoid future discomfort.
Latex
This material is the extract coming from a rubber tree. The sap of that tree is what we call the latex. This latex is being mixed with water and other chemicals to create a composition that can be molded into a pillow.
Feathers
This material are the ones that come from different avian species particularly fowls and ducks. They are used as fillers to create a fluffy and soft feeling in the pillow. Feathers are even warmer than other materials used.
Gel
This material is a synthetic one made from silicone. The material itself is a semi-solid, semi-liquid substance that provides warmth. Gel has also cooling properties that gives relief to the one using the pillow.
Polyester
These particles are used to fill the pillows and create mass. However, this material is not much used today because it offers lesser support.
Visco-Elastic
This material is also known as memory foam. This material is created by adding chemicals to polyurethane. By doing this, the material's viscidness increase and it creates bulkiness in the pillow. This material allows the pillow to mold into the shape of the body which makes it more comfortable to use.
No matter what kind of pillow you are buying, always bear in mind that it should not defeat the purpose for which you buy them. This is, of course, to provide comfort once used. Pillows may come in different sizes, designs and forms, but remember that it must always offer you relaxation whether you are sleeping, travelling, sitting or just watching.